The Best Way To Amp Up Your Bathroom For Less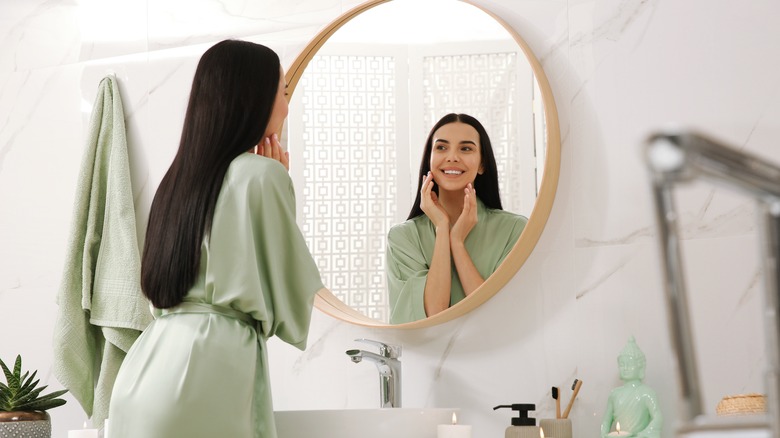 New Africa/Shutterstock
We may receive a commission on purchases made from links.
No one wants a bathroom with a bland design, but we also don't want to break the bank renovating it either. Homeowners typically believe elevating the style of a bathroom includes redoing the tile, replacing the countertop, or even changing up the plumbing, such as by introducing a freestanding tub. But a bathroom renovation can cost as much as $16,000, according to Bankrate. But you don't have to spend nearly that much to give your bathroom the fresh, new look you've been waiting for.
We at House Digest will show you a few different ways to give your bathroom a fabulous update while keeping costs low and your aesthetic show-stopping. These tactics involve a quick trip to the home improvement store, as well as some patience as you decide the style, color, and installation methods. If this seems like the advice you've been waiting for, take a look at our bathroom-altering recommendations.
Fresh DIY paint job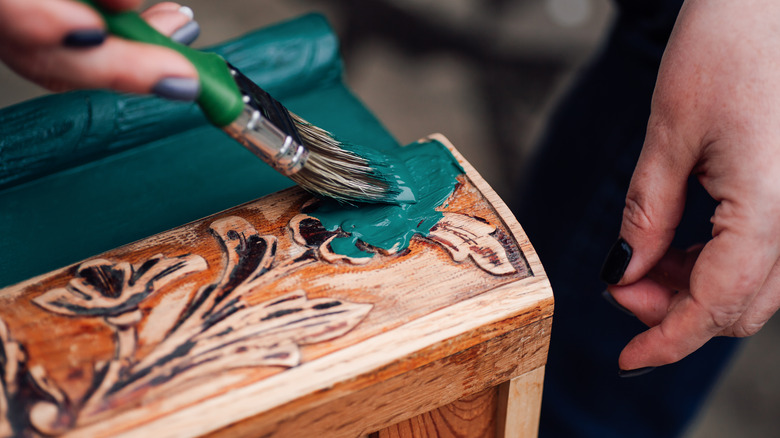 Lia_Russy/Shutterstock
Painting your vanity cabinets may give you the updated look you've longed for! Driven By Decor painted their vanity cabinets white to brighten the space. The vanity was initially composed of brown cabinets and a brown granite countertop, which made the area feel murky. Although they used white for this project, any paint color will do as long as it elevates your overall design.
Driven By Decor started by removing all the cabinets, drawers, and hardware, leaving behind only the frame. They advise choosing a specific area with a table to paint and then covering the floor with a drop cloth. This project includes washing the cabinets with a cloth and cleaning solution, filling in hardware holes with wood fillers (if you're changing the hardware), and sanding down all surfaces so the paint and primer stick to the cabinetry. The project length will probably be at least two days to allow for the primer and paint to dry. But once you're done, you can reinstall your cabinetry and enjoy your bathroom's brand-new look. For some, this project only costs about $100, per The DIY Nuts.
Sparkly new light fixtures
Add a touch of glam to your bathroom by swapping out your old light fixtures with something more cheerful. There are a plethora of light fixtures to choose from, per HGTV. You can install bathroom bar lights on both sides of your vanity mirror for an updated modern look or a crystal flush mount to give the space an added sparkle. There are so many to choose from at different prices; you are sure to find something that will push the aesthetic of your bathroom in the right direction.
Amazon has several affordable choices, such as the Kyrid 2-Light Bathroom Vanity Lights. It's only about $50 and comes in two colors: painted antique brass and brushed bronze. It has a skinny glass shade, and the fixture is made entirely of straight lines, which gives it a modern feel. You can either install it upright or upside down; it all depends on the look you're going for. If you cannot install it yourself, labor will cost anywhere between $75 to $125, per Home Depot. However, the overall cost of changing your vanity light would still be under $200.