Does An Outdoor Pizza Oven Add Value To A Home?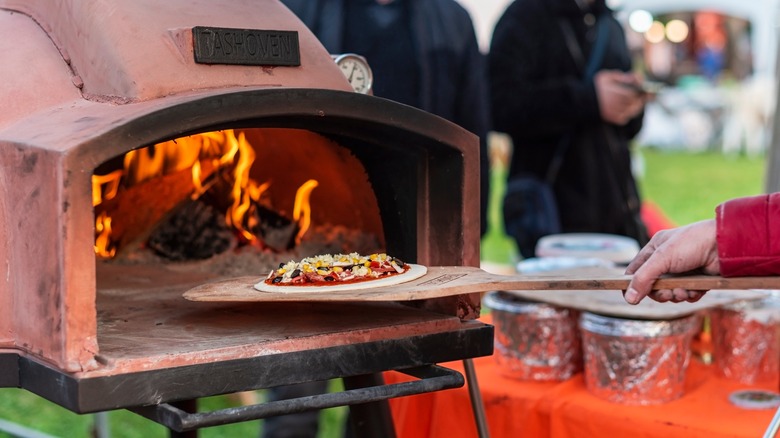 Burcu Akcakaya/Shutterstock
Whether you believe pineapple belongs on pizza or not, we know one thing, pizza is the most beloved food in the world. The Washington Post claims that 40% of Americans consume pizza one day out of the week. It's perfect for kid's parties, sleepovers, movie nights, game days, and many other occasions. When making a pizza, the type of toppings to use are endless. You might host a pizza-making contest at home with friends or family or simply enjoy eating a fresh-baked pizza instead of waiting for it to be picked up or delivered from your local pizza spot.
If you're a pizza fanatic, you probably already own an outdoor pizza oven. For folks who don't have one, you'll probably start looking into different options by the time you finish reading. While a pizza oven can come in handy on a Friday night when you don't want to do heavy cooking or go out to eat, does it add any value to your home? According to Realtor, it can increase the value of your home by a small amount. Here's the inside scoop.
Cost of outdoor pizza oven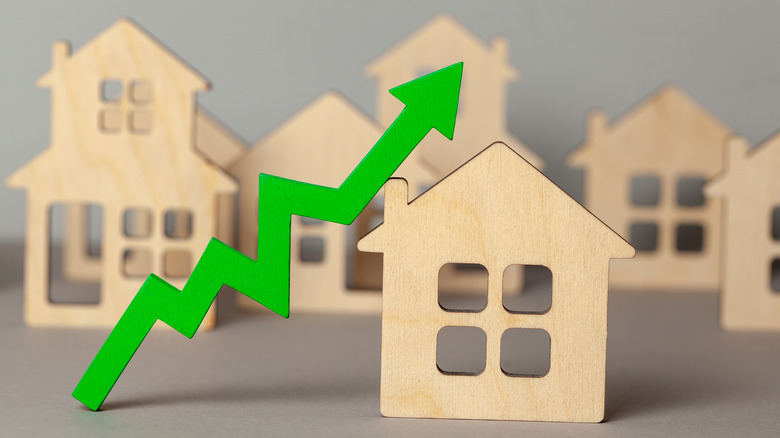 ADragan/Shutterstock
You're probably thinking, how can something small that is located outside add any value to a home? Well, the great thing about a pizza oven is you're not tethered to using it only to make pizza. Instead, you can cook an abundance of things, such as ribs, focaccia, corn on the cob, bananas foster, cinnamon rolls, pulled pork, etc., claims Forno Piombo. Of course, new homebuyers look for homes that offer high-quality features in a home, such as walk-in closets, wood flooring, a patio, etc. Still, they also keep an eye out for amenities they can't find anywhere else, like a hot tub, an inground pool, or an outdoor kitchen which could include a pizza oven.
If you decide to sell your home in the future, clever features could improve the value and make the sale happen. For example, while a brand-new pizza oven could cost anywhere between $30,000 to $50,000 (per Realtor), building one on your own or with a few friends could cost up to $950 for a brick oven via HomeServe. A more affordable option would be making one out of clay or concrete, costing $275 to $350. Sticking with the inexpensive option would be quickly recouped when selling the home; it can be trickier if it's a more expensive pizza oven.
Expand into outdoor kitchen
There are different types of pizza ovens to choose from for the backyard. According to Kitchen Infinity, pizza ovens could be powered by stainless steel, wood, coal, or gas. Each style will cook any food at a specific temperature depending on your preference. For example, a coal pizza oven can reach 650 degrees Fahrenheit and cook the pizza in 10 minutes. On the other hand, a gas pizza oven can bear almost any temperature quickly and cook a pizza in two minutes, per Kitchen Infinity.
You might consider expanding the pizza oven into an outdoor kitchen to ensure the best quality. Designing a second kitchen will enhance the overall look of the backyard, create another relaxing hang-out spot, and can increase the value of your home even more, states Absolute Outdoor Kitchens. The return on investment can be between 100% to 200%, saving you money from having to go out to dinner and encouraging you to eat healthier (unless you have pizza every Friday). But, of course, you'll forget that restaurants exist once you start making pizza or any meal outside.