The Mirror Trend Emily Henderson Thinks Is Making A Comeback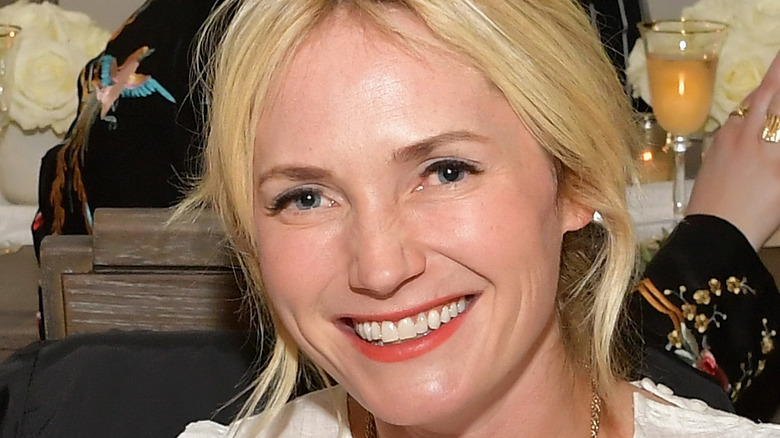 Amy Sussman/Getty Images
While some love the look of a completely new and modern space, others choose to incorporate some antique décor items. Why? Well, according to Eugene Magazine, older items make us feel connected to history and the past. They infuse character and interest by adding remnants of an older time, one we weren't able to live in ourselves but still feel connected to. Ancient pieces feel like they have a soul and a story, something newer items just don't have.
Emily Henderson, interior designer and HGTV host, completely understands the hype around older-looking pieces. However, she also knows that authentic antiques can be quite expensive. Because of this, she says that sometimes faux-aged items are the way to go. While she doesn't love the look of faux-aged furniture, wooden flooring, or walls (per Style By Emily Henderson), she does believe that fake vintage mirrors are making a comeback. Below, you'll discover why Henderson loves this trend and how to incorporate it into your own space, as well as how to make or find one yourself.
Why Henderson loves faux-aged mirrors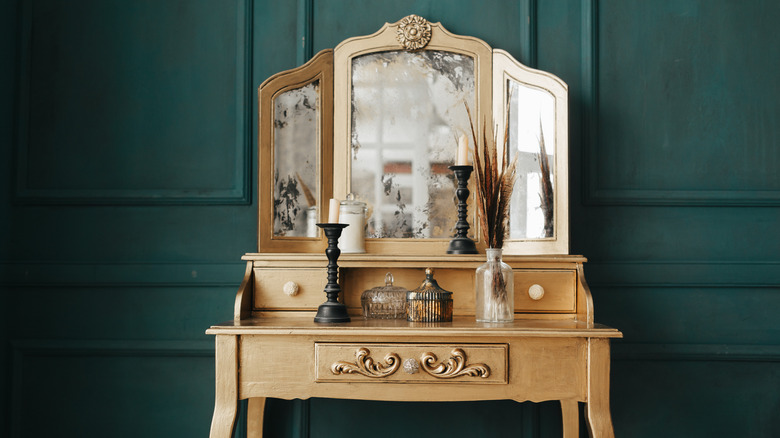 Alena Gan/Shutterstock
According to Style By Emily Henderson, antique mirrors are appealing because they "add both a ton of character and light to the space." She applauds Nate Berkus and Jeremiah Brent for using these pieces throughout their renovations. Berkus says that "There's always a place in your home for a big, beautiful vintage mirror. It always makes the room feel taller," per Domino.
Emily Henderson's favorite way to use faux-aged mirrors is as a background piece behind a bar or shelving. She says, "That way you get the visual texture and don't immediately think, 'Woah, that's a big faux-aged mirror.' It's more of a fun surprise." She also suggests limiting your use of ancient-looking pieces: "I think the key to successfully adding faux-aged decor to a home is to do it sparingly." If you overdo it, it could become obvious that your pieces are not truly antiques — or it could make your home feel rundown with old-world items. The best way to design these items is by surrounding them with some modern pieces, which will create a more dynamic appearance.
How to achieve the faux-aged look
If you're searching for an older-looking mirror, Emily Henderson suggests looking at vintage shops, flea markets, or online. She also says that Pottery Barn has quite a stunning piece, per Style By Emily Henderson. However, DIY distressing is also a great option, especially for those who want to control their mirror's aged appearance. Henderson says, "Remember that there are leveling degrees of 'age.' If you like the idea but don't want your mirror to look like it came straight out of the Haunted Mansion, then go for one with light aging."
When distressing a mirror, The Navage Patch begins by removing the mirror from its frame and placing it on a plastic sheet with the back facing up. To remove the backing, they apply stripping gel and allow it to sit for 30 minutes. Then, they remove it with a plastic knife wrapped in a cloth. Next, they wipe the excess gel off and wash the mirror. To begin the distressing process, they spray bleach onto the back and watch as dark spots appear and the reflective surface begins to come off. Once it looks how they desire, they wipe off the bleach and wash it with water and glass cleaner. Then, they spray the back with a light coat of metallic bronze spray paint and a full coat of flat black spray paint. Finally, they clean the front and place the mirror back in the frame.