Nate Berkus And Jeremiah Brent's Design Tips For Cozying Up Your Living Room This Fall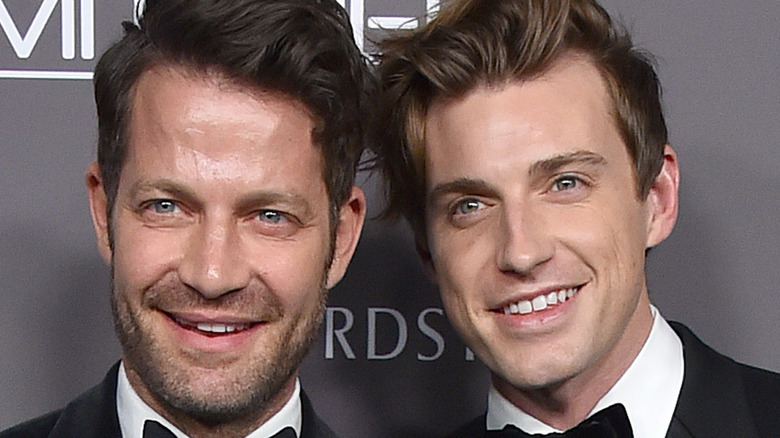 DFree/Shutterstock
Temperatures are dropping and leaves are falling! It's the perfect time of the year to bundle up in your living room with soft blankets and a bowl of popcorn to watch the new Hocus Pocus movie. However, it's hard to relax and find comfort in a room that isn't designed for ultra coziness. Luckily, interior designers Nate Berkus and Jeremiah Brent are here to share some excellent tips for turning your home into a beautiful autumn retreat, (via Camille Styles). These two designers have represented their elegant style in so many projects over the years, we know we can trust them to get this right.
Of course, we're aware of the typical techniques of throwing plush pillows and blankets onto the sofa and calling it a night, but trying out something new and stylized may create the intimate living room you've always wanted. Now, you can use the expertise of two top designers to devise the autumn-inspired living room of your dreams. Let us show you some of the duo's top tips as well as different ways to work them into your home.
Simple updates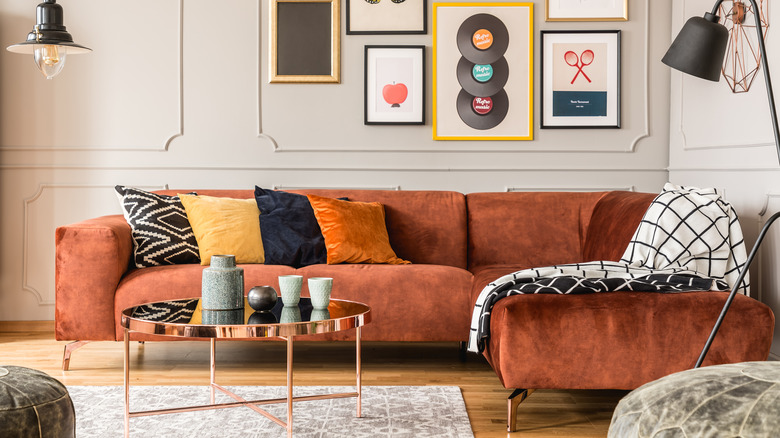 Ground Picture/Shutterstock
The tips Brent and Berkus offer to create a cuddly living room are easy enough for anyone to implement. According to the designers, velvet is the comfy fabric must-have for fall, per Camille Styles. "Luxuriously plush and all-around irresistible, it's the perfect way to bring in texture and add an element of coziness," they point out. "We recommend incorporating velvet as a main statement piece." You can go big and introduce a velvet couch, or keep it simple and replace your coffee table with a velvet ottoman.
Brent and Berkus also say mixing new and old home decor can go a long way to up the cozy factor in a space. To accomplish this, they suggest purchasing vintage decor. "A favorite vintage item we recommend keeping an eye out for? An antique gilt mirror," the team advises. "You will always find a place for it, no matter how big or small your living room is." There are lots of ways to style your home with antiques this fall. Other vintage decor items that are sure to add personality to your space are cloth bound books, stacked suitcases, glass bottles, and wicker baskets, suggests Shiplap and Shells.