Renovation Impossible Explains How Upcycling During Your Remodel Can Save Money
Upcycling is the act of obtaining an item that has outlived its original purpose and giving it a fresh start by finding a new use for it, according to YouMatter. You can upcycle almost anything from a wide range of industries, such as fashion textiles, industrial objects, and home décor. Participating in upcycling is also beneficial for the environment because as you repurpose items, you can avoid spending the energy required to create a new one. Another positive to upcycling is the financial factor, and host of "Renovation Impossible" Russell Holmes explains how upcycling has helped him stay save costs (via Realtor).
Holmes is a contractor who is known for helping his clients renovate their dream homes while on a tight budget, according to HGTV. He'll show you that there's no need to purchase a brand new home décor piece and how upcycling can create the modern design you've been working towards.
Save thousands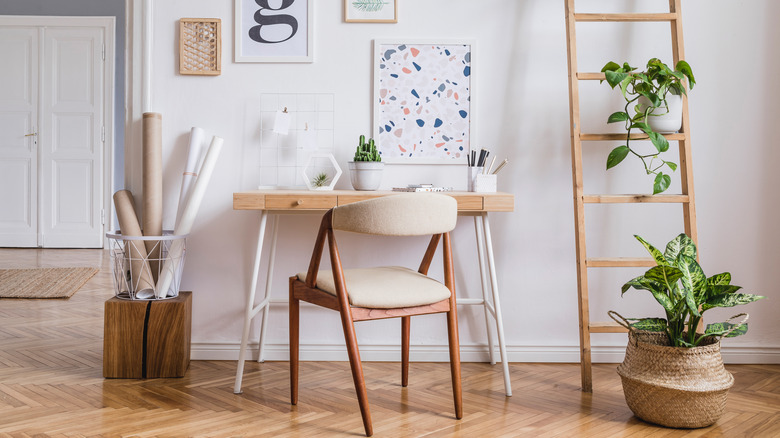 Followtheflow/Shutterstock
During one of his renovation projects, Holmes and designer Paige Poupart visited a vintage shop in search of some affordable accessories, according to Realtor. During his search, he found a large gold bowl and flipped it upside down to turn it into a hanging lamp. "A nice mid-modern light fixture would normally cost about two grand," Holmes noted. However, his upcycled light fixture had only cost them about $125, and this golden bowl ended up beautifully complementing the modern living space.
There are so many items you can upcycle, such as barn wood, per Urban Legacy. You can use barn wood to create floating shelves, serving trays, and wall art. A wood ladder can be converted into a rack for clothing, towels, or even a nightstand. You can also collect empty wine bottles to create beautiful candle holders, light fixtures, flower vases, or even unique wedding centerpieces for your guests.