The Best Wireless Charger To Give Your Nightstand That Perfectly Sleek Look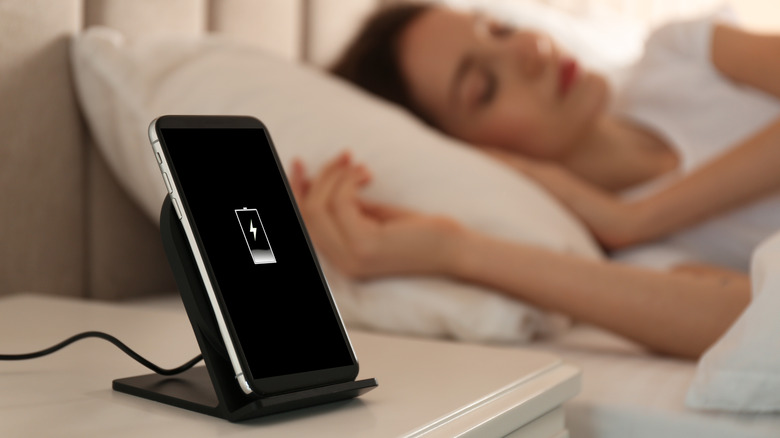 New Africa/Shutterstock
If you use standard chargers for your phone and other electronic devices, you're probably familiar with the unsightly appearance they create in your space. No matter how pristine your bedroom is, all it takes is one charger cable hanging off the nightstand to completely ruin the aesthetic. You could hide the cords, but that takes more work and effort (and might not be an option depending on where your outlet is). Thankfully, wireless chargers were created. According to Popular Science, all wireless chargers use the Qi system, a technology that allows you to charge any gadget from any wireless pad, with the exception of the Apple Watch.
Because wireless chargers can accommodate nearly any device, there's no reason you shouldn't have at least one in your home. Think of how clean your space will look without a wired charger hanging out of the wall or extension cords draped across the floor. There are several wireless chargers on the market, but this one will give your nightstand that perfectly sleek look.
Catch:3 by Courant
The Catch:3 wireless charger is the third installation in the Courant Catch series. Priced at $175, the Catch:3 is made of Italian-sourced leather and is available in five chic colors, as noted in its product description. The great thing about the color selection is that the charger is suitable for masculine, feminine, or neutral aesthetics. The Catch:3 is Qi-enabled, so you can ditch the bulk of wired chargers you have lying around and use this wireless pad as your one-stop shop for all your charging needs. It doubles as a tray to hold your personal belongings (perfect for those who are constantly losing their keys).
With a 4-star rating and more than 660 reviews, the Catch:3 has proved itself a reliable charger. Many customers complimented the charger on its quality, saying it's not only beautiful but functional. Another reviewer raved about the classiness the valet added to their nightstand and even recommended it for someone "looking to charge their phone while adding some flair." A number of customers said they plan on purchasing more chargers for other areas in their homes.