20 Log Cabins You'll Want To Spend The Night In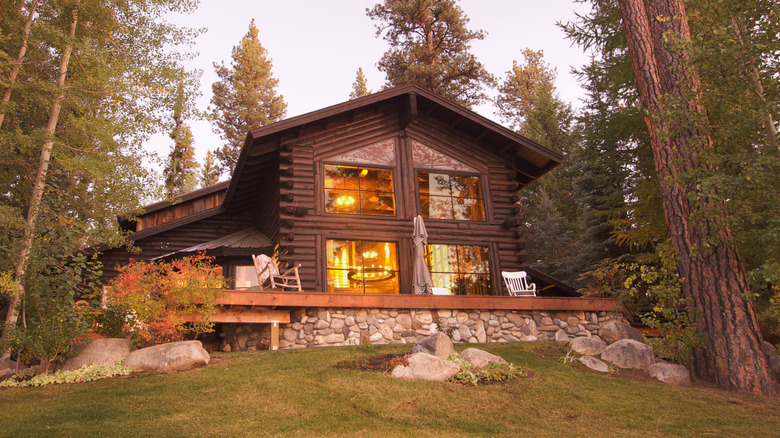 Andy Dean Photography/Shutterstock
Time for a retreat. Secluded and serene, the woods can offer ample amenities to indulge in, especially when staying in a grand log cabin like the one pictured above. What's on your wish list? A hot tub/spa, games, nearby hiking trails, or a big wrap-around porch to grill or sip coffee on? Whatever you seek, there's a cabin getaway for you. Originally used as small houses dating back to the Roman Empire and on to parts of Europe, modern log cabins come in different sizes and shapes, including their structure. According to Zook Cabins, some of the earliest American-style cabins were rooted in Scotch-Irish designs, often appearing as a 16 x 20-foot rectangular-shaped room with front and back entrances, as they were often made of stone, clay, and wood, among other perishable items.
With all the comforts of home, log cabins have come a long way. Many are now equipped with charming porches, mountain views, game rooms, high-end appliances, wood-burning or electric fireplaces, and overall lofty spaces. From rural to luxurious, private to entertaining, there are plenty of reasons to escape to the woods. Keep reading to discover some of the finest log cabin styles you don't want to miss.
Simple splendor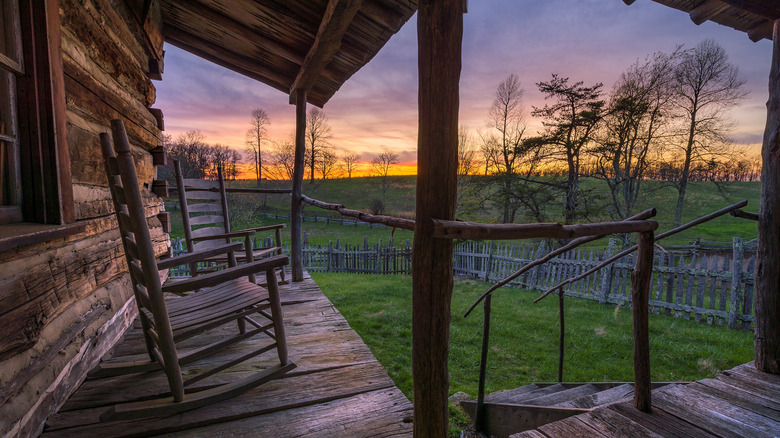 anthony heflin/Shutterstock
For those seeking quiet simplicity, you can rock in a chair on the quaint porch of this rustic cabin near Cumberland Gap National Historical Park. Known as the first gateway to the west, the Gap itself, including the Pinnacle Overlook, offers captivating sunsets and historical views of Kentucky, Tennessee, and Virginia.
Modern vintage
Ready for entertaining, this rustic cabin features an open concept with a dining room that adjoins the living area. The neutral color scheme of black, gray, white, and brown blends a modern vintage panache with the leather couches, wagon wheel candle chandelier, lamps, and wooden beams. A cozy loft is also visible through the upper portion.
Massive stone fireplace
Like your own personal ski lodge, this log cabin features a large stone fireplace as the focal point of the main floor. Located between the kitchen and a log step stairway, the unique design features sizeable stones with a rustic wood frame and mantel, along with a built-in bench. A sure gathering place for family and friends.
Exclusive master bedroom
Open and airy, this exquisite master bedroom receives tons of natural light from two floors. With a medieval modern vibe, the main floor features a fireplace, an alcove seating area with windows, an iron chandelier, and an animal fur area rug. There's room to roam in the exclusive suite while gazing out the windows from either level. 
Chic bathtub
Simple and chic, this log cabin bathroom features a modern freestanding bathtub with a dark metal faucet and small wooden table and basket. The sheer neutral curtains contrast the light pine like logs for an elegant appeal while remaining rustic.
Private billiard room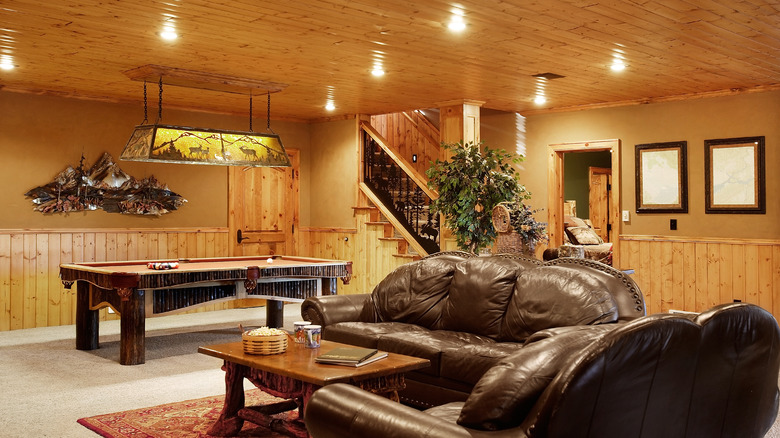 B Brown/Shutterstock
A cabin getaway may not be complete without games and leisure for the kids and adults. This picture features an exclusive downstairs entertainment room with a dark, wood-sided pool table and posh leather furniture, including an outdoorsy motif with pine wainscoting and a wildlife billiard pendant. A private bedroom is visible in the background.
Mountain view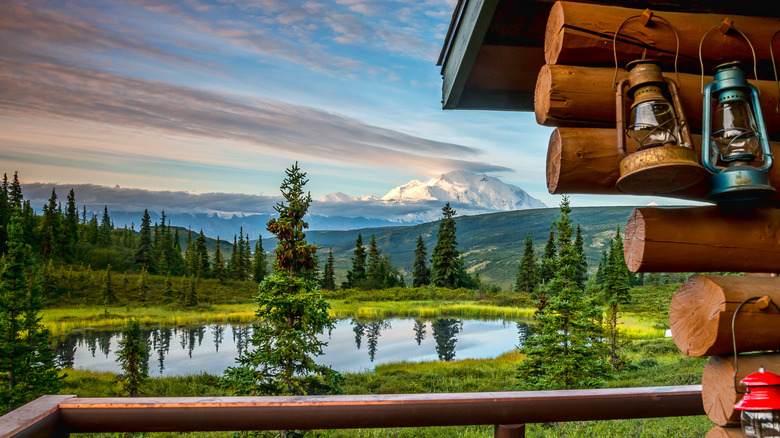 FloridaStock/Shutterstock
If you travel to somewhere like Alaska (as pictured), Colorado, Tennessee, or elsewhere, you might want to stay as close to the mountains as possible. This rustic log cabin located near Denali National Park features breathtaking views of Mt. McKinley morning and night within steps of the patio door, including a tranquil pond amidst the hills and trees.
Elegant sitting room
With rustic elegance, this charming lounge area features pine log walls mixed with traditional upholstered accent chairs and a vintage-style chandelier. The decorative pink and purple design of the chairs and modern table fancifully contrast the rural surroundings amidst the cozy space.
Private jacuzzi and sauna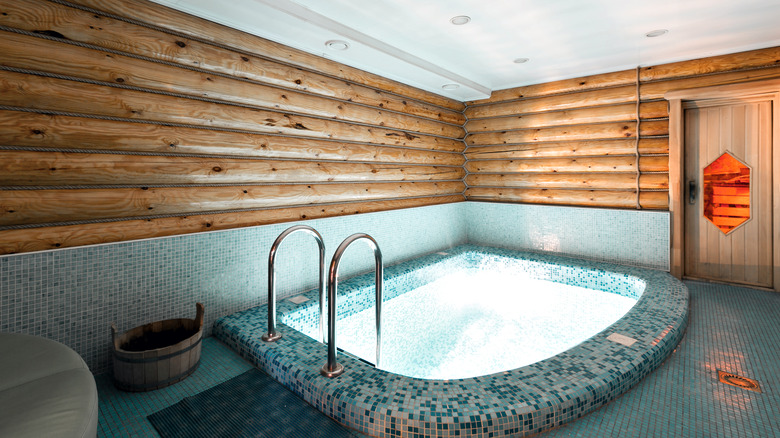 Fusionstudio/Shutterstock
Completely reserved for plunging and steaming, this enclosed room features a beautiful blue tile around the jacuzzi/pool, the wainscot on the wall, and ambient lighting from the spa. A convenient sauna room is located adjacent. You can almost smell the wood from the pine log walls sauntering through the mist.
Entertaining fire pit table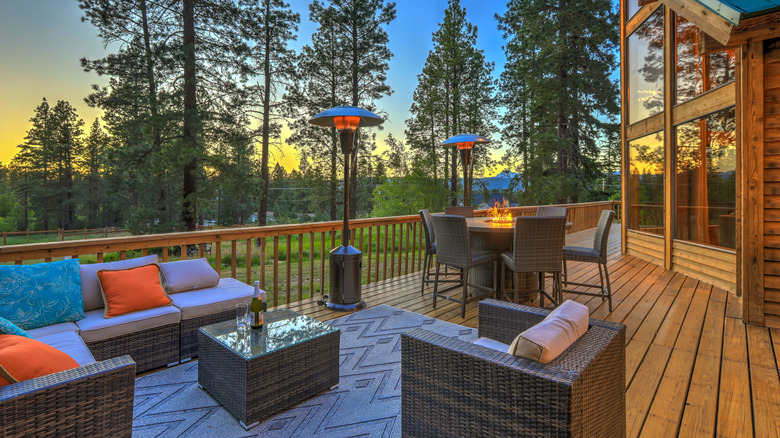 Artazum/Shutterstock
With expansive decks and patios, log cabins often provide generous spaces for entertaining. This convivial deck is ready to entertain during the cool nights with comfy seating, heaters, and a high round table with a fire pit for guests as it overlooks the natural scenery.
Modern log-kitchen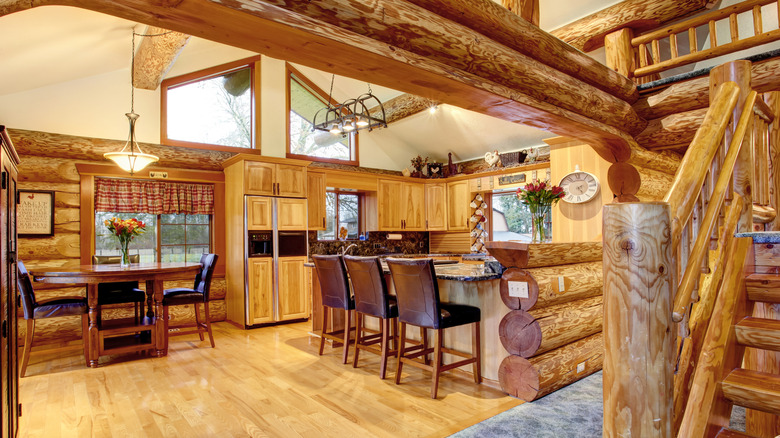 Artazum/Shutterstock
With most everything decked in light pine within this kitchen and dining area, there is an essence of log cabin meets modern farmhouse. Several stacked logs accentuate the space from the staircase to the beams, including the island and walls. The cabinets and refrigerator are clad in pine, while the eyes gaze up toward the A-frame windows.
Fairytale forest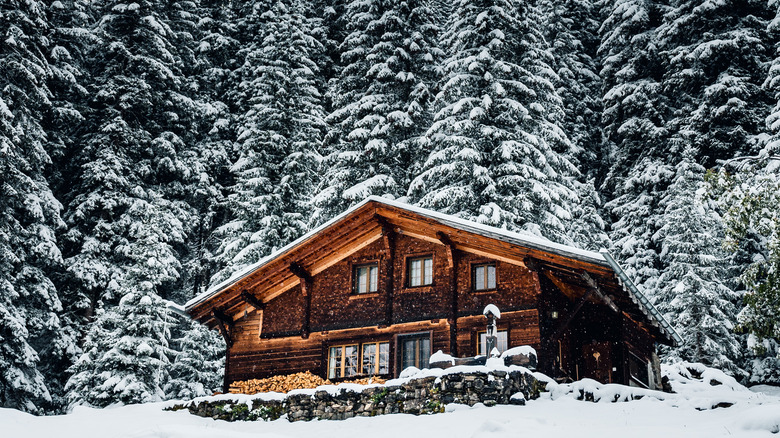 schame/Shutterstock
Surround yourself with massive evergreens amidst an enchanted forest. This image features a picturesque two-story hut-style log cabin set in its own private location within the secluded woods. With snow falling all around and plenty of firewood stacked near the door, it's the perfect escape to cozy up.
Open concept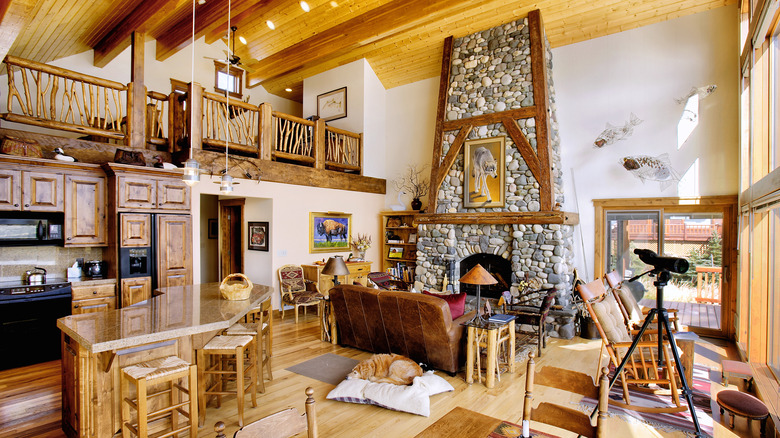 B Brown/Shutterstock
A space where everyone can come together, this modern rustic cabin features a grand open concept with high ceilings, a tall stone fireplace, a large kitchen with an island, and various sitting areas, including a loft with a pine branch railing. A magnificent space, there are also rocking chairs and a telescope on the main floor for observing the outdoors.
Summer lake house
This immense log cabin may have it all. Situated near the base of the Canadian Rockies, the multiple-story retreat features immediate access to Emerald Lake, including a private dock, and a personal view of the mountains. A pristine, outdoor sanctuary perfect for family vacations or entertaining.
Peace by the river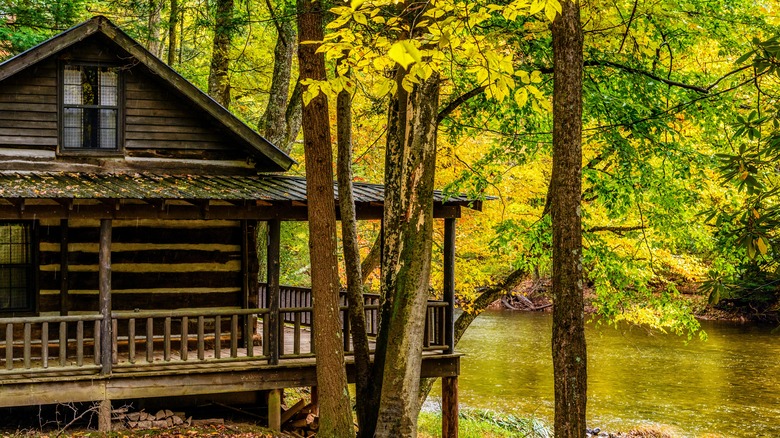 Malachi Jacobs/Shutterstock
Find peace and tranquility by the river. With the constant sound of rushing water going by, it's like having your own meditative fountain. Located in West Virginia, this old-style cabin is situated right next to a shallow river and features a wrap-around porch for taking in nature amidst the changing colors.
Idyllic cabin in the woods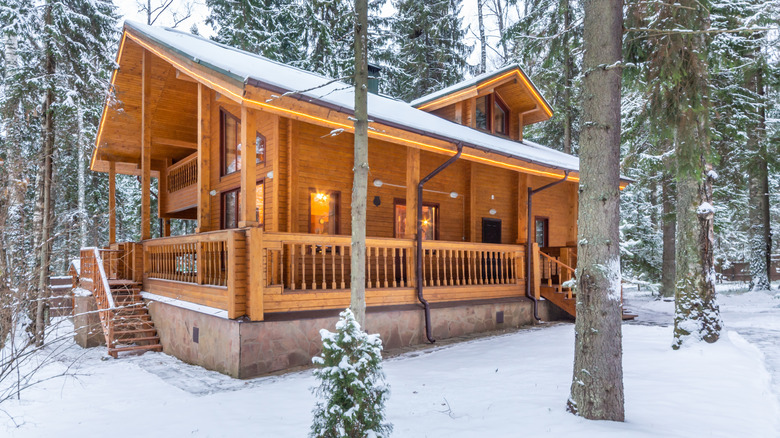 Alhim/Shutterstock
Classic and cozy, this glowing pine wood log cabin sits snug among tall snowy trees, as it appears like the perfect place for an idyllic stay in the woods. A modern structure, the charming cabin features a wrap-around porch with a second-story patio/porch and a few A-frame windows.
Ultra-modern escape
Minimal and modern, this cabin is set on a lake with large floor-to-ceiling windows and a firsthand view of the water. With a relaxed and minimalist style, the living space features a suspended fireplace, hanging egg chair, fur rug, floor pillows, plants, and a desk. As the view takes precedence here, there is little need for furniture.
Classic A-frame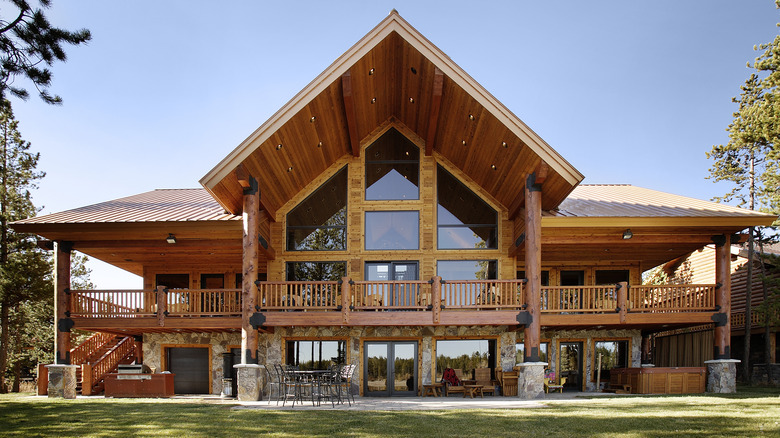 B Brown/Shutterstock
Many modern log cabins may feature A-frame rooftops, or high-pitched lines, making it ideal for heat to rise within the structure while keeping the weight of snow minimum. This colossal cabin is complete, including immense, cathedral-like windows, a grill, and a hot tub with vast entertaining areas and walkways.
Relaxed, boho vibe
A casual, bohemian style may not typically be seen in a log cabin, although rest and relaxation are crucial. With a neutral palette, this bedroom appears inviting and warm against the pine log structure, with soft, natural light radiating from the windows.
Sheltered hot tub
Many cabins offer hot tubs on the deck, either exposed or possibly with an awning or other covering. With a focus on the elements, this steaming hot tub is built into a deck and features an enclosure designed for ultimate seclusion while gazing out at the river.