Are Bathroom Islands The Next Big Thing?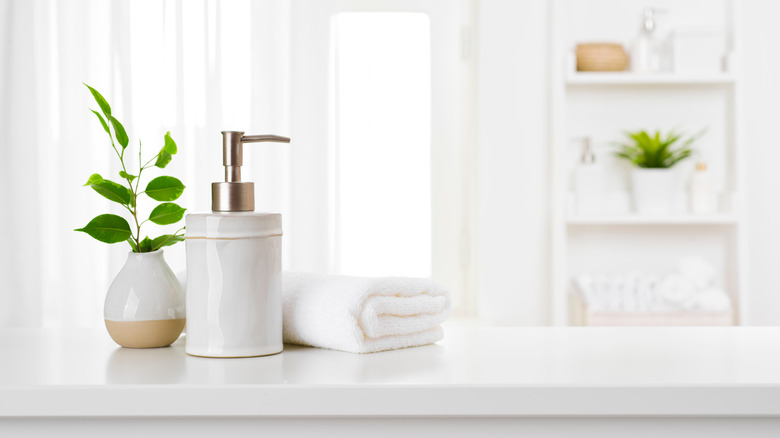 Didecs/Shutterstock
A few years ago, the kitchen island took the design world by storm. For many homeowners, a kitchen island is a must-have feature. According to Singer Kitchens, the modern kitchen island evolved from wooden farm tables in the center of the room. This freestanding structure provides a space to prep food, gather around, and eat. But now, this feature, so beloved for its function and aesthetic, has made its way into another room.
Bathroom islands might be the next design feature. Similar to the kitchen island, a bathroom island is a freestanding structure that can have storage options, a place for the sink, or an area to get ready. But despite their usefulness, bathroom islands might not be the must-have feature in most homes the way that their kitchen counterparts are. For most homeowners, this detail isn't high up on the list. And experts have mixed opinions on bathroom islands, whether they're useful, necessary, or really the next big thing.
Good for extra storage
Homeowners know the perils of lacking bathroom storage space. From cleaning supplies to toiletries to linens, the average bathroom requires a good bit of drawers and cabinets. Bathroom counters can also often get full of products, so a little extra space won't hurt. That's why many designers are bringing the island from the kitchen into the bathroom. Storage is one of the many benefits of adding a bathroom island. A bathroom island can store items that you don't use often, suggests She Knows, and leave space on your main counter or vanity for products and items you use daily.
Bathroom islands make for a stunning design feature, and they can be truly customized to fit your design style. Put the sinks on the islands or add a seating area attached to the island. They can add a chic accent to a bathroom and work especially well with suites that have an open-concept bathroom and closet.
Best when there's lots of space
Bathroom islands aren't as popular as kitchen islands, and one reason might be because not every bathroom is made for them. Kitchens need to be large to accommodate an island, but most kitchens are designed as one of the larger rooms in the house. The same can't always be said for a bathroom, even a primary suite. For a bathroom island to work, you need a lot of open space, which means it's often not an option for the average bathroom. Not only do you need the space the place them, but also the space to get around them comfortably.
To add a bathroom island, you may need to plan to do a larger renovation to increase the square footage of the room, which designer Leah Tuttleman tells Realtor can be expensive, especially if you have to run plumbing or electricity to the island. Bathroom islands aren't always a practical option. Designer Anna Cummings shares mixed feelings, telling Realtor that bathroom islands work with large primary suites or a bathroom that's open to a combined closet. While they might be good for storage or add a unique aesthetic detail, until bathrooms are regularly designed to be much more spacious, there may be limits on how widespread this trend will grow.