The Number One Thing To Remember When Designing A Closet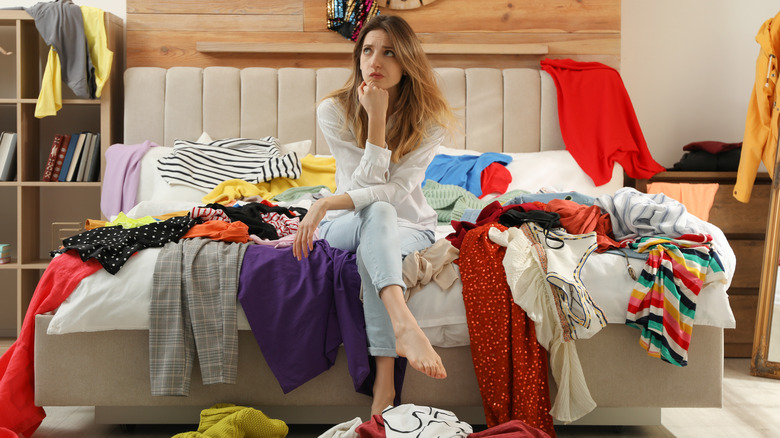 New Africa/Shutterstock
As much as dreaming about the perfect house or garden is fun, we know that we're going to have to work within the constraints of a budget, building codes, and the climate of where we live. A closet doesn't come up against nearly as many difficulties, and, according to Organized Interiors, giving your storage space a design update can have many beneficial aftereffects for your bedroom and your life!
Designing the perfect closet is a tantalizing goal. It just feels so aspirational. Whether you're imagining a minimalist dressing room with hidden drawers, cleverly positioned mirrors, and all of the lighting on you; or a personal style museum with display cases showcasing your stiletto collection, there is one area that you have to make certain to get right from the design phase onwards. The top shelf.
Per Cabinet Chic, the first and most easily avoided mistake in custom closet design is neglecting the top shelf. It's not hard to understand why the top of the closet is overlooked. It's out of reach, both for installers and users. And unless you make a point of looking up, it's out of sight and, therefore, out of mind. Custom closets don't come cheap, though, and they're supposed to go a long way in organizing your bedroom. This means making the most of whatever space you have, so don't miss out on this crucial area!
What to aim for with the top shelf of a closet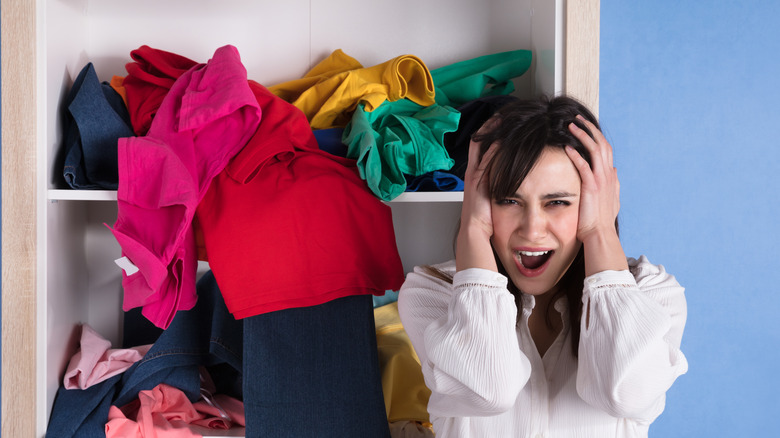 Andrey_Popov/Shutterstock
According to This is Carpentry, the highest shelf of the closet should run completely across the top, or around all three sides of a U-shaped closet. In the standard example, you have an 8 foot tall closet space to fill and set the top rail of your closet at 84 inches high (typical of a double pole closet for someone of average height). This leaves 12 inches of space above the pole to fill. This is ideal! A foot of bonus storage is ample for shoeboxes, suitcases, or other things that are necessary in a closet but not in everyday use. Winslow Design Studio points out that having more than 12 inches of space above the top shelf actually makes whatever's stored up there harder to access.
As Artisan Custom Closets makes clear, the key is to design your closet with hanging space and ceiling heights as the two key variables. Have fun deciding between shelves, drawers, and single- or double-poled closet systems in order to make sure you have space to hang your clothes. Then adjust the closet's overall design to get as close as possible to 12 inches of clearance up top. If you're very tall and your clothes require more hanging space, or you have a particularly low ceiling in the room, then you're able design the closet right up to the top corners and leave no dead space at all.
Creative ideas for your custom closet's top shelf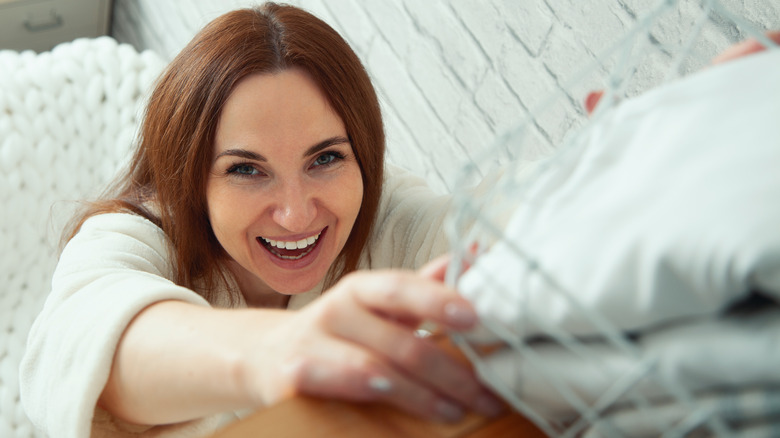 Kostikova Natalia/Shutterstock
We've minimized the number one cause of dead space in closets by becoming conscious of the gap between the top of the closet and the ceiling. What else can we do to maximize the usefulness of this space? Here are a few ideas.
In terms of clothing and making it easy to choose an outfit, The Brain and the Brawn suggests the elegant solution of a hat shelf between your hanging space and the top shelf. The additional shelf space can be used for shoes, purses, or other accessories if you'd prefer, but the visual flow of hats, above tops, above pants, above shoes is the stuff that closet nerds live for.
Alternatively, if you've got a high ceiling (and have secretly always wanted to be Belle in the library scene from Beauty and the Beast), Closet Works recommends a closet ladder as a way to open up access to the upper reaches of your wardrobe.
Finally, the simplest, most efficient, and organized thing to do is to invest in space organizers that you like the look of, and learn to treat the top of your closet as a valid part of the entire system. Make good use of it and in no time at all, you'll be feeling like you've got your dream closet already!