How Renovation Impossible Urges Homeowners To Find Alternate Ways To Decrease Reno Costs
Contractor Russell Holmes knows that no renovation ever goes completely according to plan — but that doesn't mean your vision for a beautiful and successful transformation ever has to be taken off the table. As the host of HGTV's new hit series "Renovation Impossible," Holmes proves being resourceful with your design and budget is just as important as being handy when it comes to pulling off your dream home renovation.
After being called in as the expert to help homeowners get their derailed reno plans back on track, Holmes develops out-of-the-box solutions to tricky project setbacks and helps clients stretch their budgets and reach compromises on their dead-end renovation plans.
On a recent episode of "Renovation Impossible" titled "Diamond in the Rough," Holmes is tasked with helping the Diamond family pull off their stalled home remodel after their initial expected loan amount from the bank ends up being halved (per Realtor), but one smart phone call saved them.
Check with your insurance company first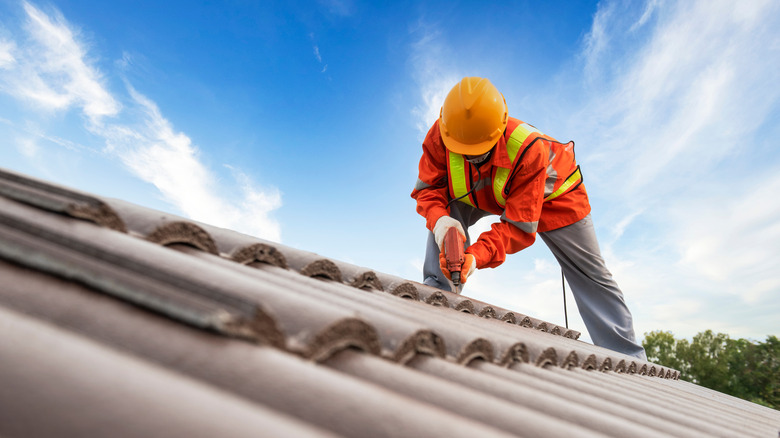 Somchai_Stock/Shutterstock
Stuck and not wanting to give up their vision of their dream home remodel, the Diamond family calls upon Holmes to stretch their budget while sticking to their original design plan — leaving him to figure out how to make a seemingly impossible renovation work.
Already well into the remodel, Holmes notices that the roof is in far worse shape than they had initially thought, thanks to some hidden damage from Mother Nature. "There was some hail damage, there was some freeze damage," he said. "So we called the insurance company, and they said, 'Yeah, we'll get it replaced for you.' So it's not coming out of the Diamonds' budget" (via Realtor).
While your insurance company will not cover every home renovation and certainly won't replace your roof simply because you ask them to, if it has suffered from any sort of severe weather damage, you might be able to cut down on some of your renovation expenses. According to Progressive, damage from factors out of your control, such as snow and ice, hail, lightning, fire, or falling objects, are typically covered by most insurance policies. Familiarizing yourself with your insurance policy can prevent you from spending money you don't need to and will help you make the most of your budget.