An Expert Explains What To Plant In Fall For A Colorful Spring Garden – Exclusive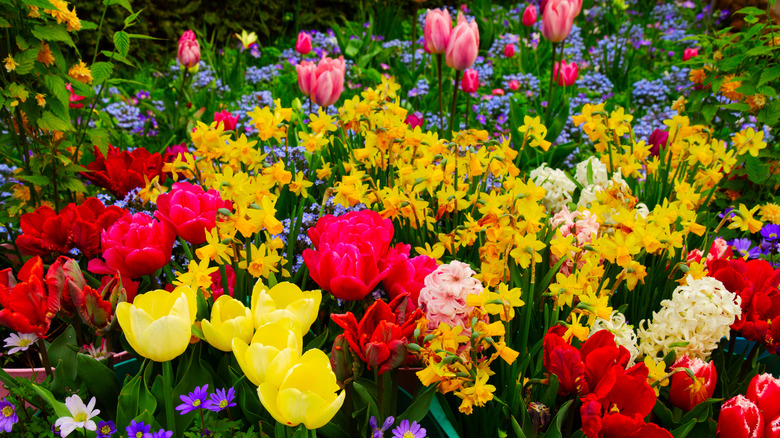 Neirfy/Shutterstock
Fall often heralds the end of the traditional summer growing season, but that doesn't mean it's the wrong time to do some gardening. The University of New Hampshire notes that autumn has many of the same planting benefits as the spring months, providing less stress and better rain levels than in summer as well. Noting this, you may be wondering what you can plant during this season.
In an exclusive interview with House Digest, Learn to Grow Gardens founder Liz Will — a Master Gardener through Michigan State University Extension and a certified garden coach and garden consultant — shares some key tips. "When planting perennials, trees, and shrubs in fall, be sure to plant a few weeks before your first frost date," she advised. "Water generously at planting time, and keep them well watered until the ground freezes. This will allow them to settle in and grow new roots before they go dormant for the winter."
Another step that applies to all plants is providing insulation from the cold weather right from the start. "A generous layer of mulch or shredded leaves around their roots will protect them from heaving as the ground freezes and thaws," Will continued. "Come spring, your hard work will have paid off in a beautiful explosion of color."
Bring in the brightness with spring bulbs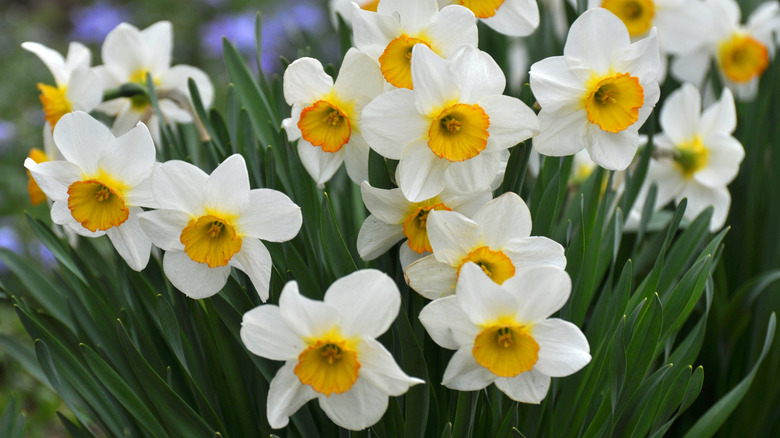 Orest lyzhechka/Shutterstock
In some gardening situations, you have to do the work now so that when spring arrives, you have something special happening as the days start to warm. That includes planting pretty flowers, as noted by Liz Will. "Tulips, daffodils, hyacinths, and other spring bulbs are a great way to brighten up the spring garden," she shared. "Ranging from shades of red, orange, and yellow to pretty pinks, purples, and blues, spring bulbs are a must to plant in fall for cheerful spring color."
Even if you're not thinking about or planning for the arrival of the warmer months yet, it's critical to get bulbs into the ground now. "Spring bulbs require a period of cold in order to bloom, so be sure to plant them in fall before the ground freezes," Will continued. Be sure to pick out some fabulous options that you want under your windows to bring in a sweet scent, or perhaps to lighten up a corner of the garden. 
Spruce up the space with perennials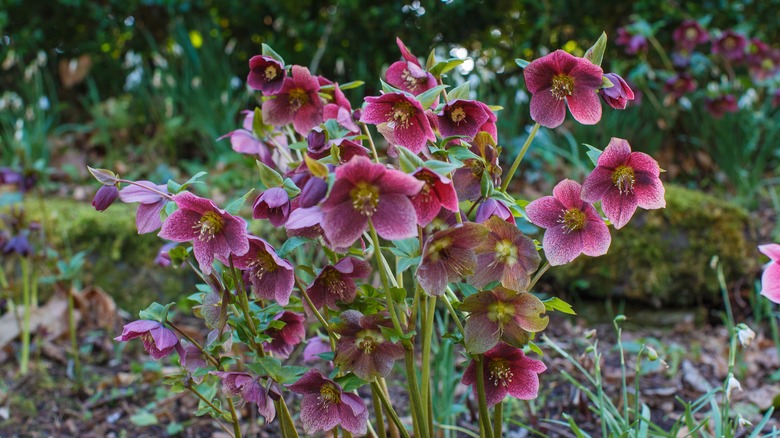 DesignAndPhotography/Shutterstock
Though you may be one of the many folks who head to the garden center to pick up annuals in the spring already in bloom, planting perennials now may be the ideal decision — especially if you want your garden to be full of color on its own without the addition of new plants. "Fall is a great time to plant perennials, with its cooler temperatures and increased rains," Liz Will pointed out. "Choose spring blooming perennials to brighten your spring landscape year after year."
If you're looking for a few ideas of what specifically to plant now, Will has some great suggestions that may work in many climates. "Hellebores are a great choice for late winter blooms, followed by bleeding hearts that bloom in early spring," she continued. "Peonies actually prefer to be planted in fall and will provide beautiful spring color as the bleeding hearts fade. Woodland phlox, astilbe, and dianthus are other great choices for colorful spring blooms."  
Add shrubs for a colorful spring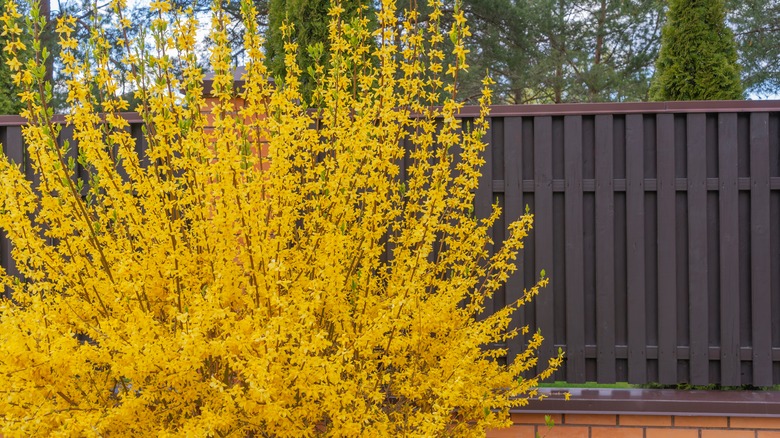 kalyanby/Shutterstock
Perhaps you want to add more substantial plants to your outdoor space or a bring in a few easy-to-maintain options. If so, Liz Will heartily endorses the idea. "Shrubs are the backbone of the garden, and many shrubs provide lovely spring color," she revealed. "It's always wise to choose those that are best suited for your environment based on weather patterns and water availability, but there are lots of choices available in most areas."
If you're looking for specifics, Will has some recommendations that will bring in the drama. "Forsythia is an early spring bloomer featuring eye catching bright yellow flowers," she continued. "Azaleas and rhododendrons celebrate spring in an explosion of blooms and can be found in pinks, reds, whites, yellow, and purpose." 
Choosing shrubs could add not only color to your garden, but Will says they also attract even more of the beauty of nature with wildlife. "Flowering quince is another spring blooming shrub and is known to attract hummingbirds and butterflies," she added.
Enhance your landscape with trees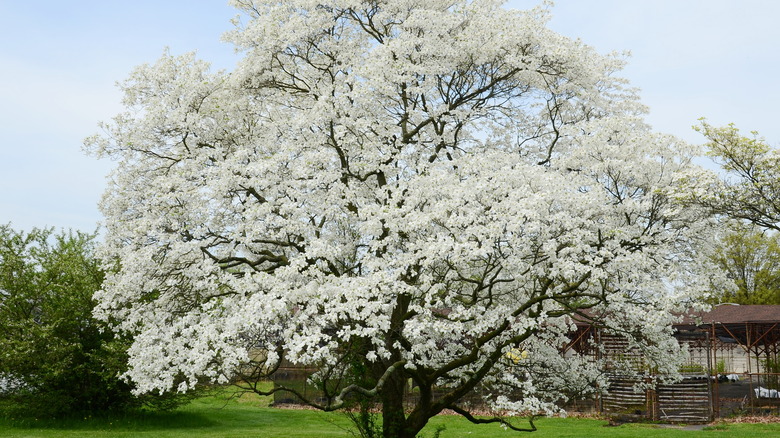 Virunja/Shutterstock
Many people may not realize they can plant trees during the fall months since many lose their leaves during this season, but doing so gives them ample time to establish before the peak blooming season. "Flowering trees are a wonderful option for a colorful spring," Liz Will explained. Adding trees to your yard could offer benefits come summer, too, like shade and a place for birds to nest.
Choosing the right trees is important, however. So for those considering bringing in spring beauty with these stalwart plants, Will has a lot of recommendations. "Eastern redbuds bloom in purplish-pink flowers that are later replaced with heart-shaped leaves," she continued. "Dogwoods are available in both white and pink bloom varieties, while flowering crabapples tend to be a darker pink to red." 
Though choosing based on the color and look of the flowers is important, you also want to be sure you select a species that really works in your space. "Flowering trees can reach heights of 40 to 50 feet, so be sure to choose varieties that fit your landscape," Will adds.