Stylish Shag Rugs That Will Make Any Room In Your Home Cozier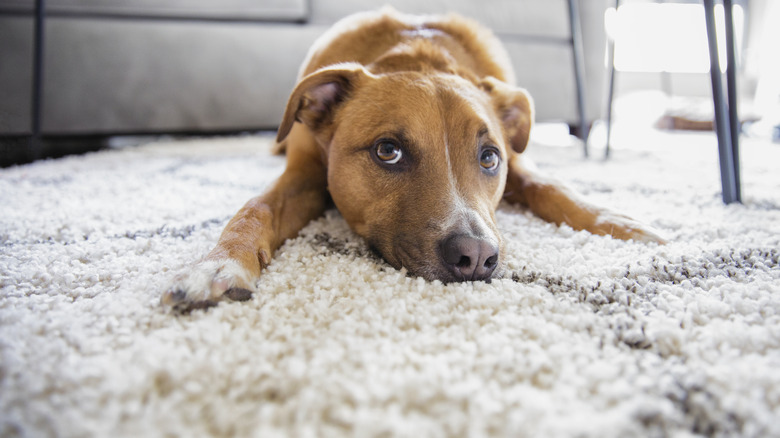 N K/Shutterstock
Those who love creating a comfy atmosphere in their home have probably considered layering with a shag rug. According to RugKnots, these rugs feel extra soft; in fact, some say they even feel like satin. Because they are created with a high or uneven pile (or they are made up of lots of long strands that aren't trimmed), they are thick and comfortable. These rugs are made from lots of different materials, which means that they can bring an extra personalized appearance to a space, depending on the fabric you choose.
Shag rugs come in a number of styles, from solid colors to patterns and from large-area rugs to skinny runners. Another benefit? You could use them in just about any home area, but they're most commonly seen in bedrooms and living rooms. If you're trying to decide which shag rug to add to your place, below are 20 options that could inspire you.
1. Area rug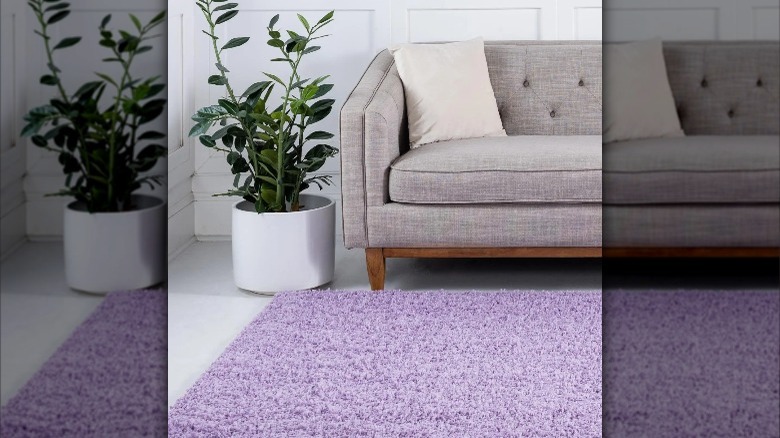 DesignStock09/Shutterstock
To create the comfiest vibes possible, you could use an area rug. This large design would best be better placed in the living room or the bedroom. 
2. Small size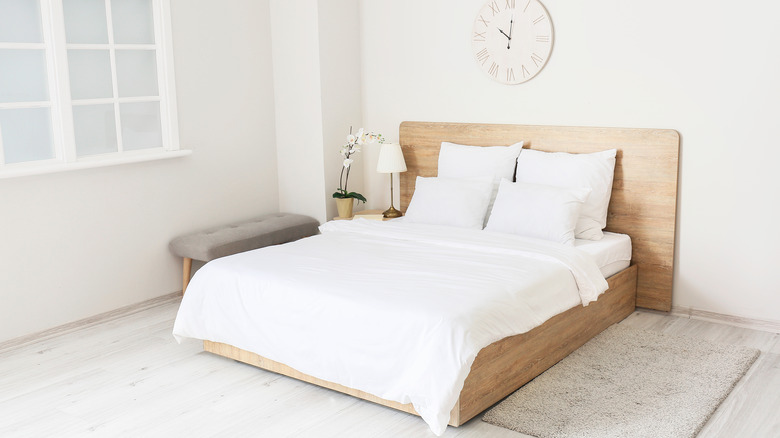 Pixel-Shot/Shutterstock
If you're not ready to fully commit to a large area rug, you could try out one of a much smaller size. This would be a great piece to use next to a bed, in front of a fireplace, or near a doorway. 
3. Round design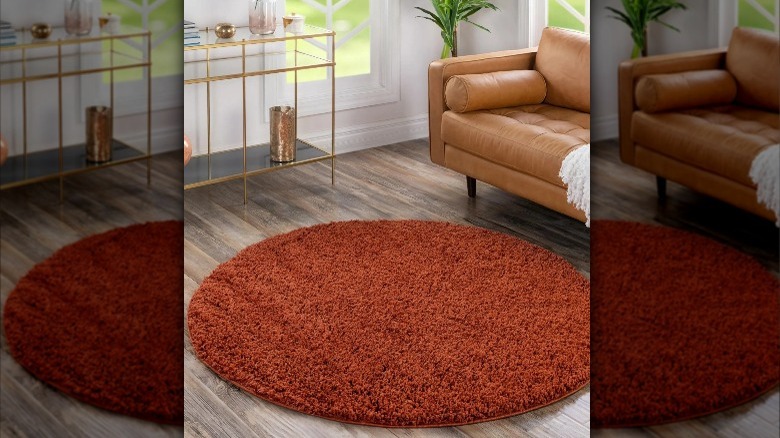 DesignStock09/Shutterstock
Or, you could choose to add a round shag rug to any area of your home. This could be a great layering piece above another larger rug, not to mention that it will make a statement.
4. Thin runner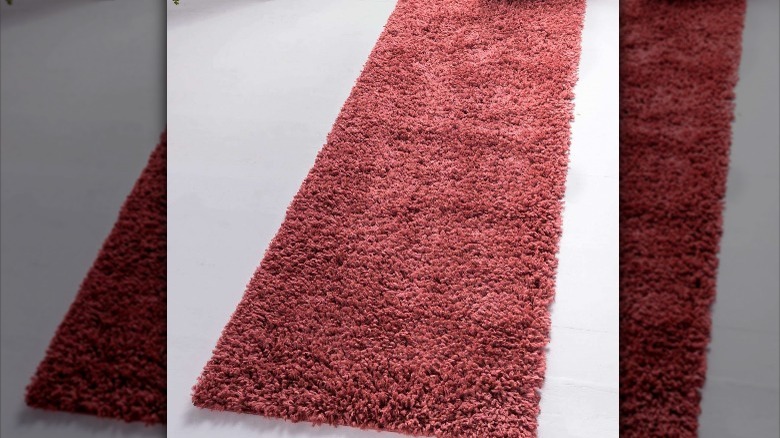 DesignStock09/Shutterstock
Best used in the hallway or the kitchen, a long and skinny shag runner would add a comfortable feeling to unexpected places in the home. 
5. Blending in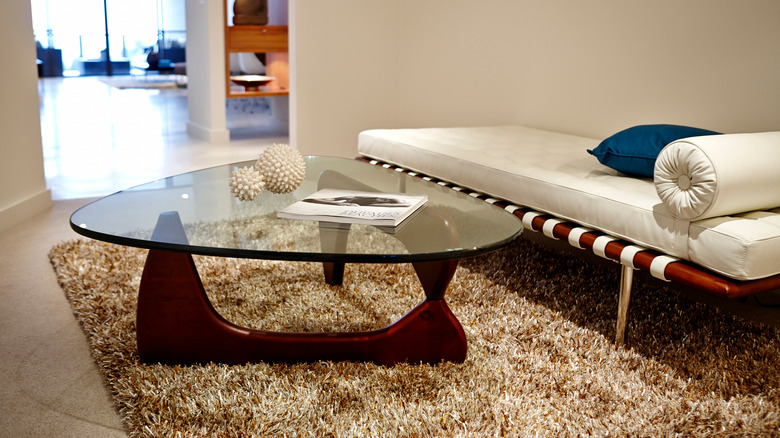 PhotoMavenStock/Shutterstock
Choosing a shag rug in a color that matches your flooring will add comfort without drawing too much attention. If you have another clear focal point in your space (such as a fireplace), this may be the way to go. 
6. Fresh white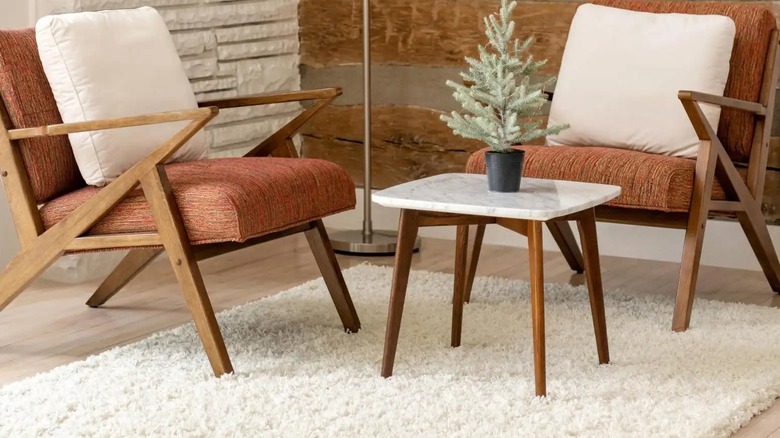 DesignStock09/Shutterstock
Or, you could choose a shag rug in a neutral color like white or off-white, which would also keep it from catching the eye. A white rug is a great way to freshen up a space. 
7. Moody black
To create moodier and more sophisticated vibes, you could go for a black shag rug. This would pair great with wooden details and elegant furniture. 
8. Geometric pattern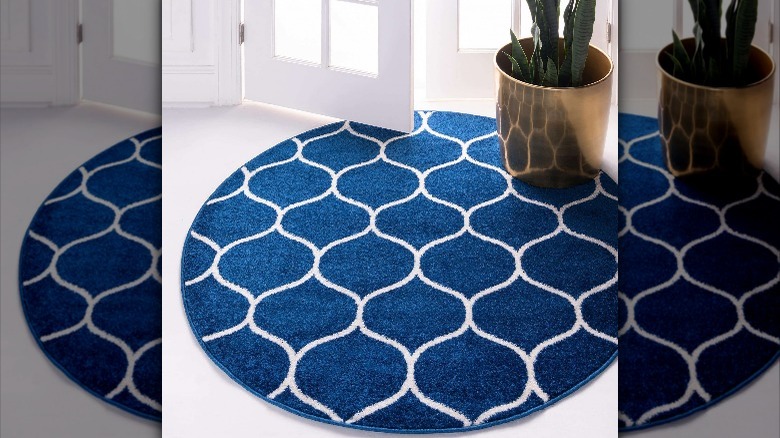 DesignStock09/Shutterstock
Many shag rugs also have interesting patterns, like the one above. Picking one with a repeating geometric design would give your space an orderly appearance.
9. Minimalist design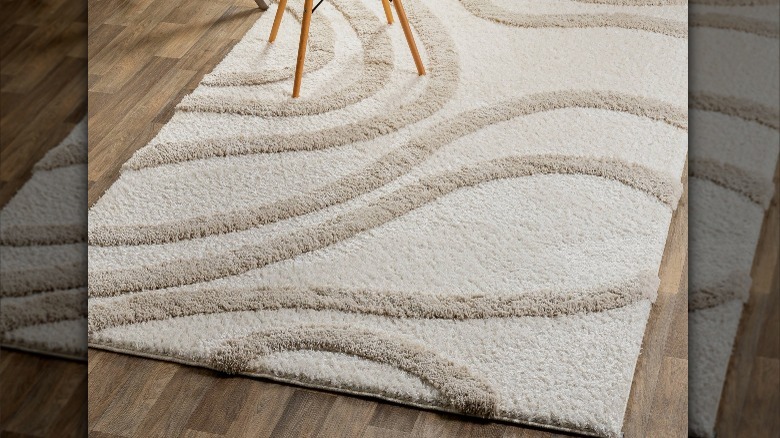 Design gallery01/Shutterstock
A minimalist-looking shag rug is achieved by using two similar colors and a simple design. To make the design stand out, the pattern typically has a slightly higher pile than the rest of the rug. 
10. Delicate style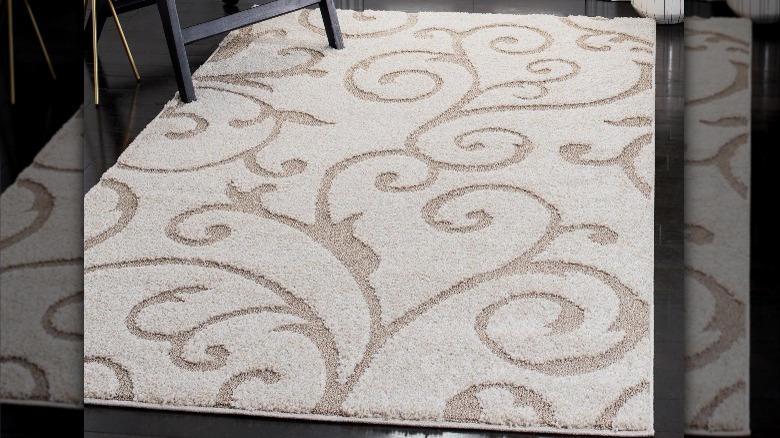 Design gallery01/Shutterstock
Here's another example of a minimalist design, but the delicate details have a shorter pile than the rest of the rug, drawing attention to the pattern.
11. Rainbow details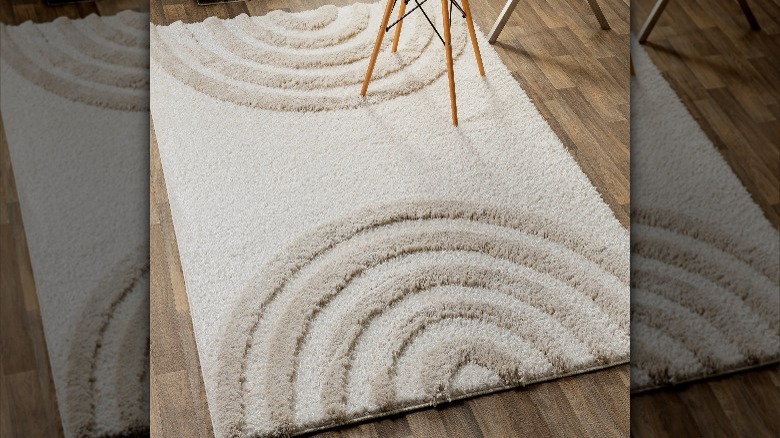 Design gallery01/Shutterstock
This minimalist style shag rug brings in playfulness through the rainbow design without having to use any bright colors. 
12. Simple stripes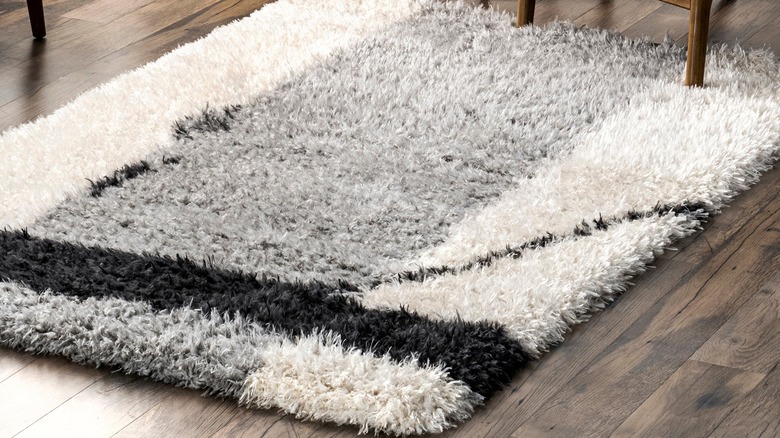 Design gallery01/Shutterstock
This small rug has a simple design with two stripes in neutral tones. This would add interest and texture to any room without being too eye-catching and bold.
13. Pop of color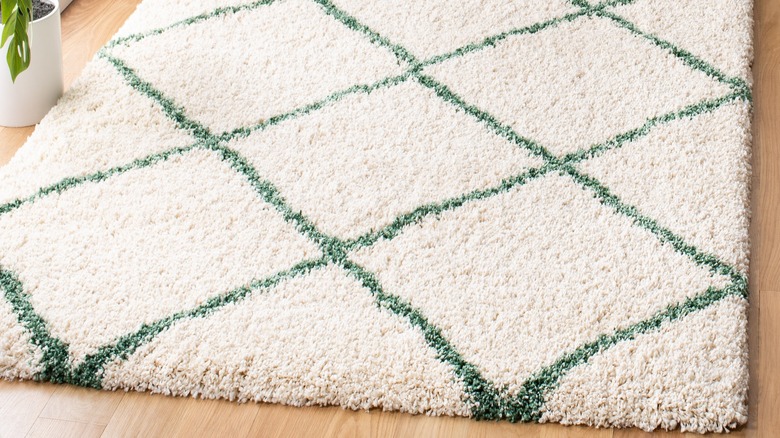 Design gallery01/Shutterstock
If you want your carpet to draw more attention, you could choose one with a fun pop of color, like the green shade in the above geometric patterned piece. 
14. Marble appearance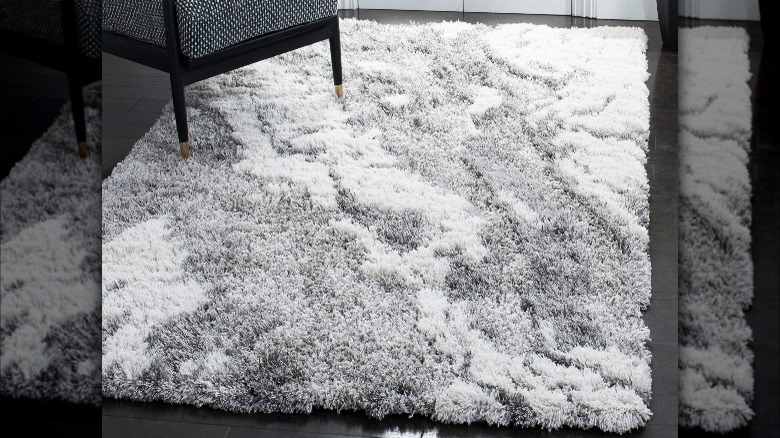 Design gallery01/Shutterstock
Or, you could choose one that looks like a different material, such as the above gray and white marble rug. 
15. Basic border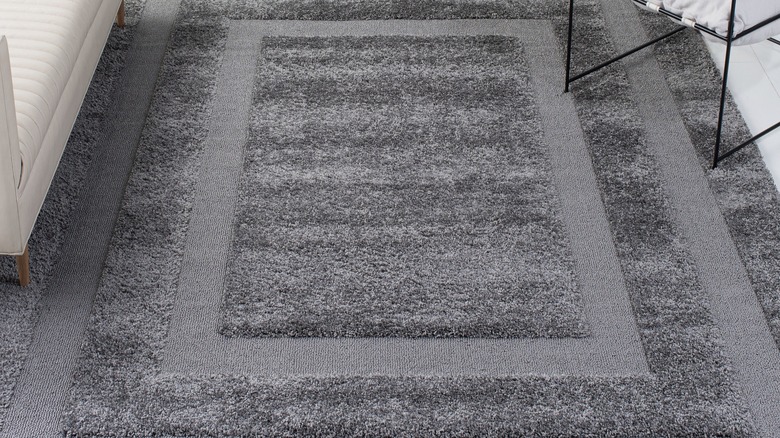 Design gallery01/Shutterstock
To add interest without being over-the-top, go for a rug that has a border or more, which is achieved by using different pile heights.
16. Abstract design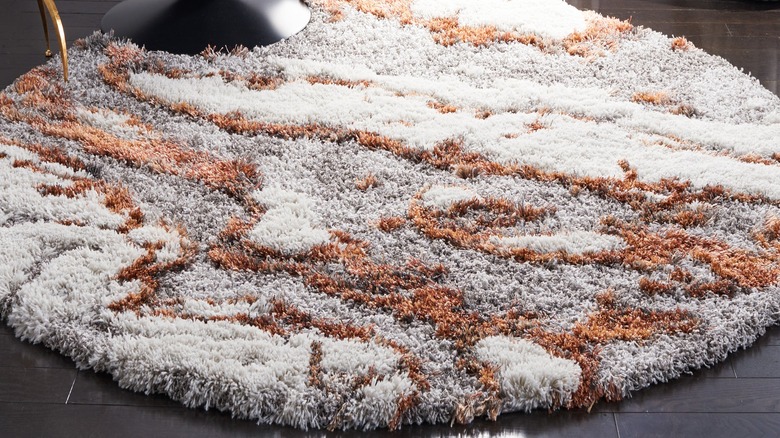 Design gallery01/Shutterstock
A shag rug with an abstract design and a pop of bright color would give your space a more modern and less orderly appearance. 
17. Tassel detail
Some rugs have extra details that make them more fun, like the tassels on the borders of the striped design above. 
18. Striped pattern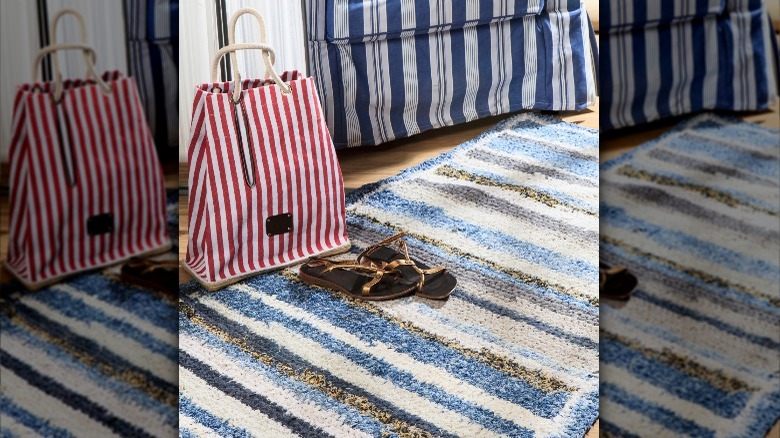 Elena Rostunova/Shutterstock
Here's another example of a striped pattern that uses multiple colors. Again, lots of interest is achieved by mixing blue tones and adding a metallic gold shade.
19. Circular pattern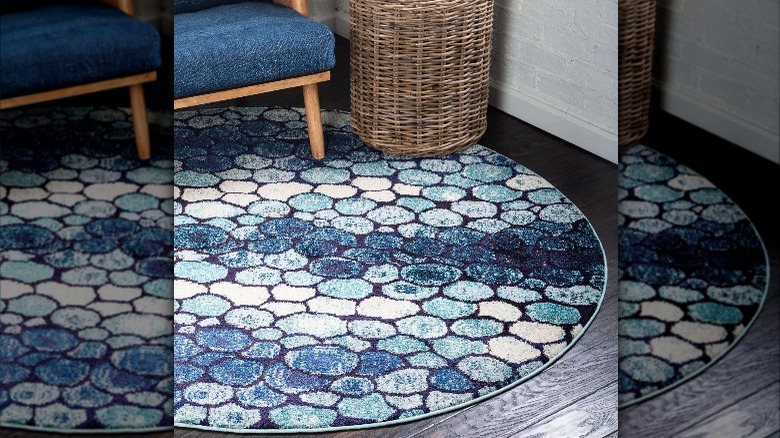 DesignStock09/Shutterstock
Instead of stripes, you could opt for a rug with circles. This item also uses many different blue tones, perfect for a space in which you'd like to relax.
20. Combining designs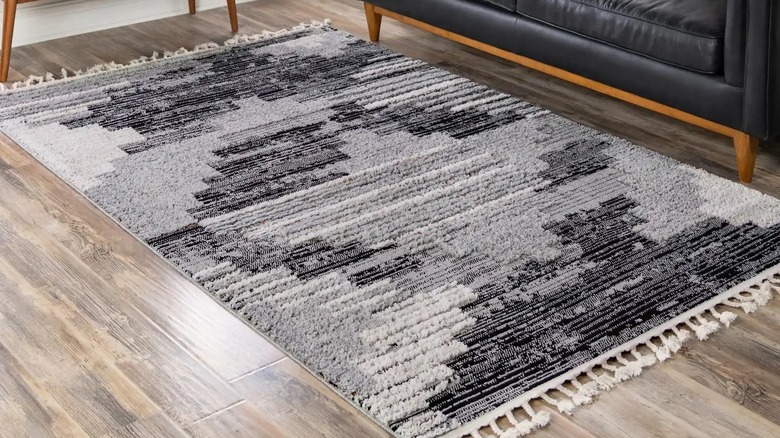 DesignStock09/Shutterstock
The above shag rug mixes many of the designs already displayed; it has tassels, stripes, and an overall geometric design. Place it in the living room to add some interest.