Is Shag Carpeting Coming Back In Style?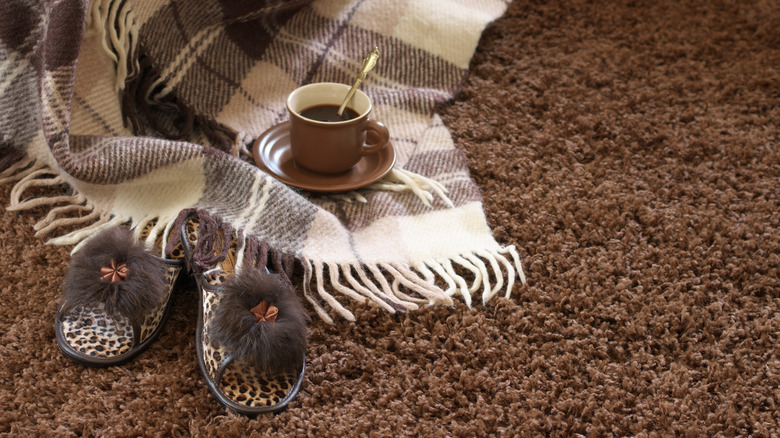 Svetlana Lukienko/Shutterstock
When it comes to home décor, it seems like everything is coming in and out of style so quickly that we can hardly keep up! Many of us attempt to go for a timeless design to prevent having to switch everything out every few years, but a lot of us like to also stay on top of the latest design crazes. For example, per Carini NYC, shag carpeting is a trend we've seen in and out of style for decades. It was stylish during the 1960s and 1970s because it came in various colors, and people also adored this material because of its comfy appearance and versatile use. 
So, the question is, is shag carpeting coming back in style, and can we incorporate it into our homes? Some may find this type of material frustrating to deal with, but its manufacturing and fabric quality have improved over the past couple of years, according to Rugs. If this is a style you'd love to bring back but aren't sure if you should, we'll guide you in the right direction.
Shag is back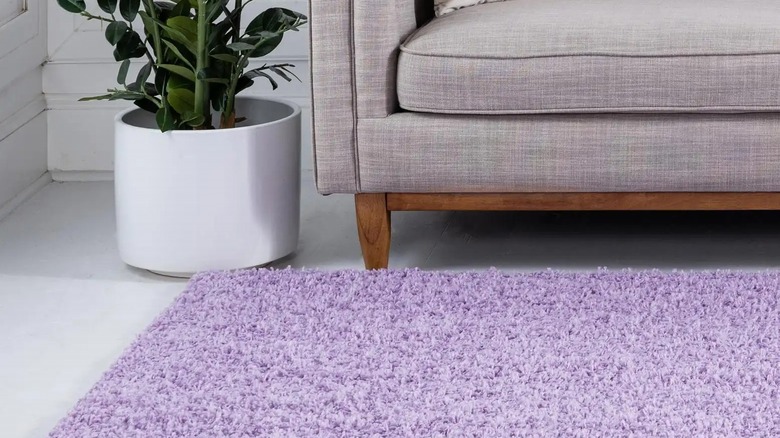 DesignStock09/Shutterstock
Rugs says shag carpeting is back in style now more than ever, even more so as manufacturers work hard to create high-quality materials. They're a great option with different levels of pile height, which offer a variety of comfort for each room. If your goal is to create a soft landing spot for whenever you get out of bed, a shag rug with a pile height of 2 to 2.5-inches will work. The higher the pile of the carpet, the shaggier your carpeting will look.
If you're planning on introducing shag carpeting to your living room, you'll have to aim for a pile height of 1 to 1.5-inches in length, as this is a more practical option for this type of space. Since this is an area of endless activities, you'll have to find shag carpeting made of a material that can resist stains. For example, polypropylene and polyester will do an excellent job of keeping your carpet looking pristine.
Maintenance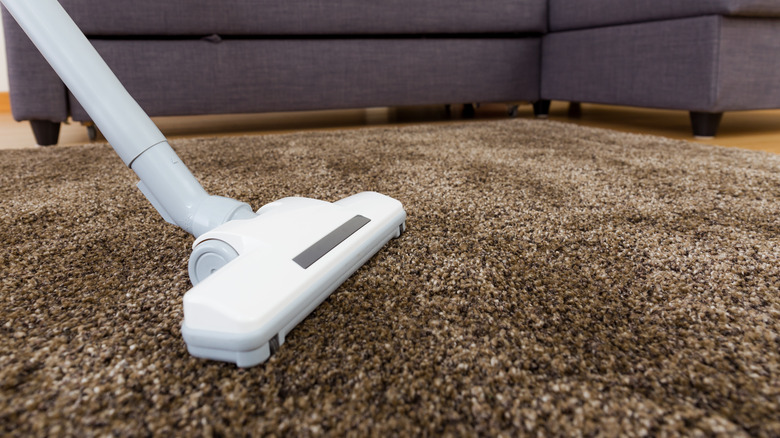 leungchopan/Shutterstock
If you're hoping to incorporate shag carpeting into your home, maintenance is something that cannot be overlooked. Due to their fuzzy texture, these types of rugs tend to collect a lot of dust and dirt, according to Home Depot. Find time once or twice a week to hand vacuum your shag carpeting, as hand vacuuming tends to pull more filth from the material. If your shag rug needs a deep clean, you'll need a variety of materials: a broom, vacuum cleaner, and dry carpet shampoo.
You'll begin by hanging your rug outside to beat out any dust or dirt with your broom. While outside, the sun's rays will rid your rug of bacteria. You'll then grab your vacuum and ensure its height is set at the highest level to prevent damaging the carpet, and also ensure you vacuum the underside if it's in an area with a lot of foot traffic. To freshen up your rug, it's recommended to use dry rug shampoo by pouring small amounts on top.