Home Depot's HDX Batteries Vs. Name Brand: How Does It Compare?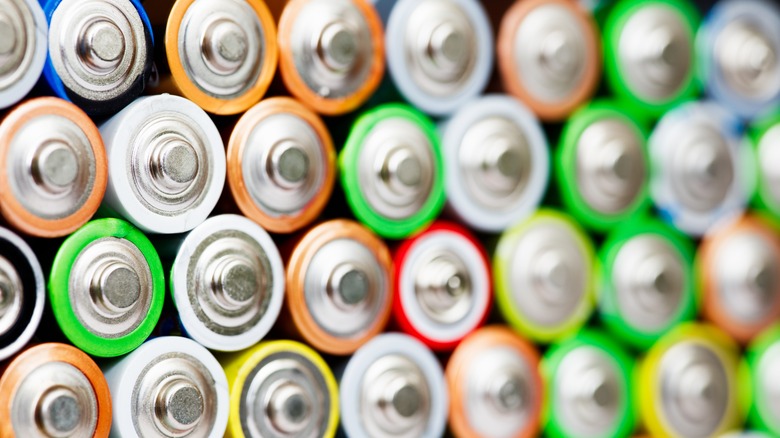 Matveev Aleksandr/Shutterstock
With so many options on the market, it can be hard to determine which battery brand is best. Yet, more often than not, consumers will say either Duracell or Energizer. After all, Ranker has both of these brands listed in their top two best battery rankings. But what makes these two brands so popular compared to others?
According to Battery Specialists, these brands are allegedly known for their high-quality performance. Each company is said to produce its respective batteries with high-end components to give them the best performance possible, thus making consumers choose them time and time again. However, there are a few lesser-known batteries available as well such as Home Depot's brand HDX.
As per Supply Works, these batteries were invented with performance, power, and quality in mind. Unlike other brands, HDX batteries are allegedly available at a low cost and are made from an advanced formula used to provide reliability and performance. So, how exactly does it compare to name-brand models? Fortunately, we've broken down Duracell, Energizer, and HDK's standard AA batteries based on their price, efficiency, and customer reviews.
The main comparison: Price
Arne Beruldsen/Shutterstock
While the two most popular brands are available almost anywhere, let's look at their prices on HDX's home base Home Depot. Duracell batteries on this site are available in seven different packs. For $4.99, you can get a small pack of four, or for $7.87, you can get a six-pack. Into the double digits, a 10-pack is available for $11.87, an 18-pack is available for $17.87, and a 24-pack is available for $18.49. Lastly, for $33.95 you can purchase a pack of 36, and a 48-pack for $35.13.
Its competition, Energizer, is available in four different packs. At $4.87, you can purchase a pack of four batteries or for $8.87, you can purchase a pack of eight. If you're in need of a bigger bundle, for $17.87, you can purchase a pack of 20 batteries or a pack of 36 for $21.87. Finally, the lesser-known competitor, HDX, is available in just two different packs. For a pack of 20, it'll cost $12.97, or a pack of 48 batteries can be purchased for $16.49.
As with most brands, the more of a product you buy, the more you save. Therefore, if you buy the biggest packs available, each battery will be cheaper. The cheapest you can purchase a Duracell battery for is just $0.73 whereas Energizer is available at $0.61. Finally, HDX costs $0.34 per battery, making it the cheapest to purchase.
A look at efficiency and reviews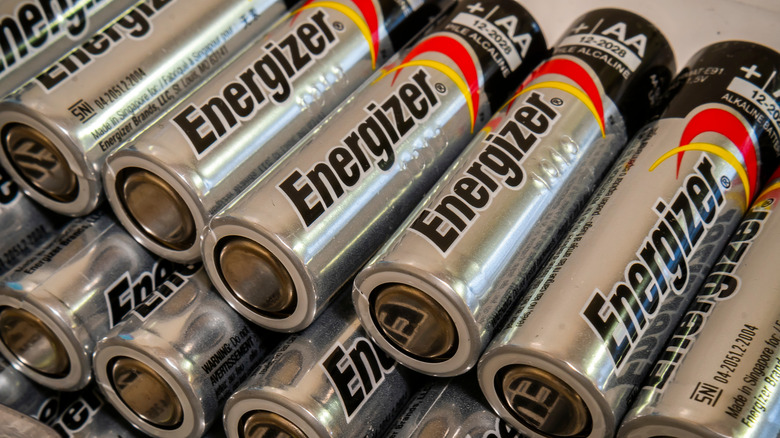 rblfmr/Shutterstock
So, how long do these batteries actually last? Fortunately, DOWN TO DIY put each of them to the test. Duracell's battery lasted for 28 minutes and 50 seconds. Energizer, on the other hand, lasted for about 31 minutes and 15 seconds. Lastly, HDX batteries lasted for a full 32 minutes, thus making Home Depot's brand the longest-lasting battery. However, we should also take a look at the reviews and see what consumers say.
As for Duracell, reviews are mostly on the positive side as this brand received a 4.8-star rating on a scale of five. Based on 2,504 reviews, these batteries received a recommendation rate of 92%. Many consumers say that these are still the world's best batteries and they use them for every electronic device they own. Energizer also has significantly good reviews with an equal rating of 4.8 stars on a 5-star scale. Out of the 9,048 reviews, these popular batteries received a 98% recommendation rating. This is mostly due to consumers stating that these batteries are long-lasting and are their go-to brand.
Finally, HDX has a 4.7-star rating out of five and has been reviewed 583 times. Due to the reviews, these batteries also have a recommendation rating of 91%. The reviews are mixed with some consumers stating HDX has good batteries for a good price. However, others complained that they leaked in the device they put them in after little usage.