25 Crisp Bathrooms That Prove That White Will Always Be A Clean And Classic Color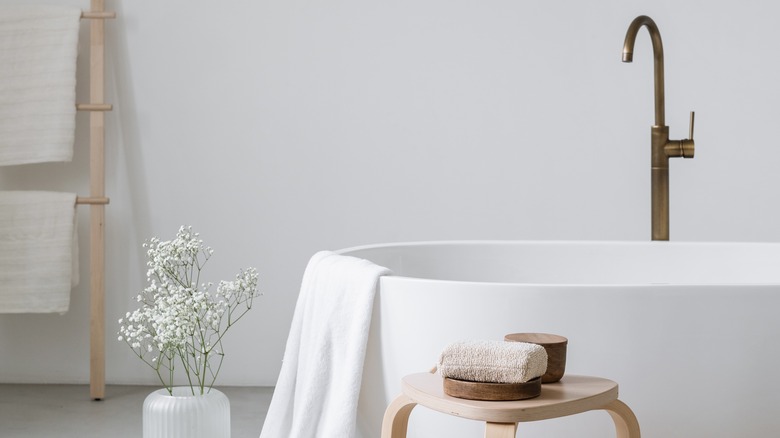 brizmaker/Shutterstock
Those who want a clean-looking bathroom will most likely focus on adding one color: white. And who can blame them? Nothing creates a more crisp appearance than choosing only to use the color white. Some may assume that neutral and monochromatic spaces are uninteresting. However, while we love a bold pop of color, white provides a classic look that will never go out of style. 
According to All Bathroom Designs, this choice always creates a calming atmosphere that will allow you to relax fully. Additionally, it can make a cramped bathroom feel more spacious. And, with exciting textures, you can create a dynamic design, all while using just one color. Further, because there are so many shades of white, you can still design a personalized space unique to you and your tastes. If you doubt the beauty of a white bathroom, below are stunning designs sure to change your mind.
1. Clean walls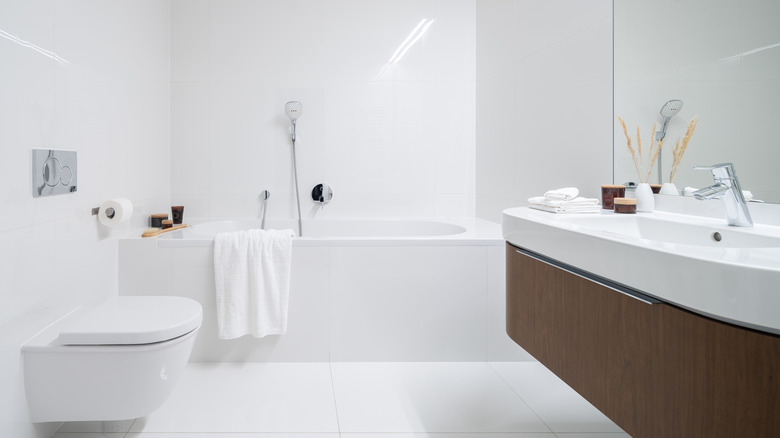 Dariusz Jarzabek/Shutterstock
One of the best outcomes of choosing an all-white bathroom is that your walls will always appear clean, as they do in the space above. 
2. Simple subway tiles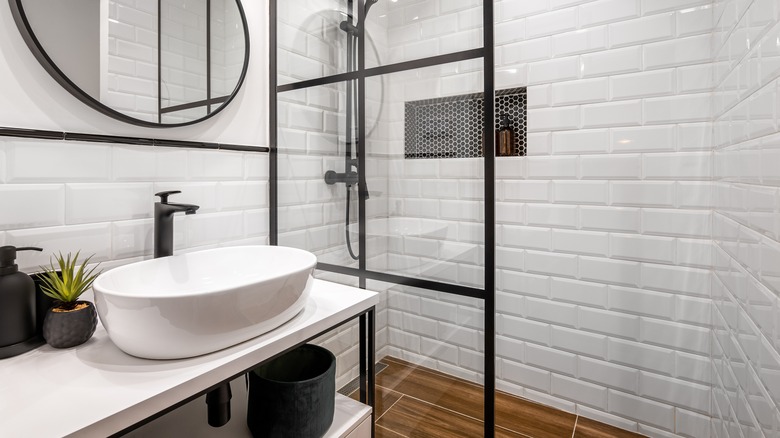 Pavel Adashkevich/Shutterstock
To add some very subtle texture, you could choose to line your shower or the wall above your vanity with completely white subway tiles. 
3. Light gray flooring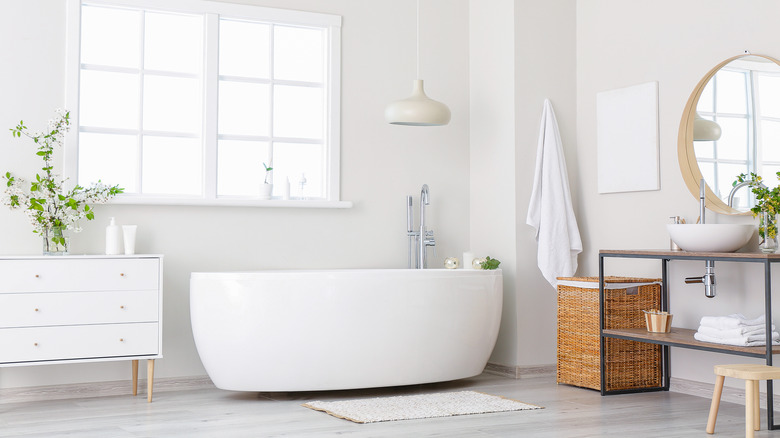 Pixel-Shot/Shutterstock
To surround your entire room in airy tones, you could choose a light gray vinyl material for your flooring, as in the bathroom above. 
4. Black details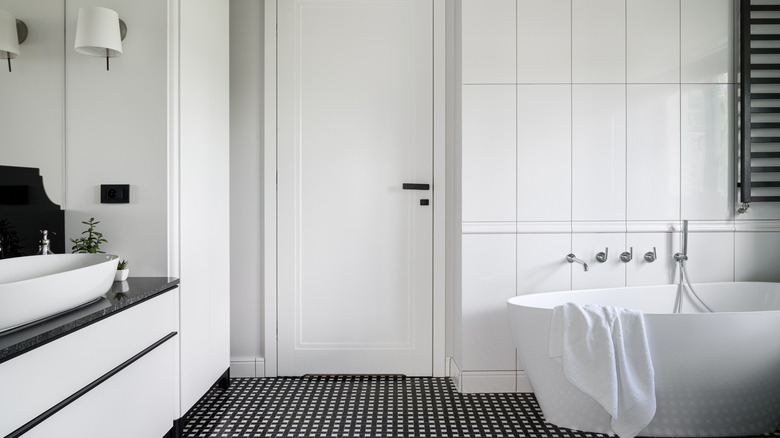 Dariusz Jarzabek/Shutterstock
For a contrasting appearance, you could add black details. This could be done through the countertops, flooring, or hardware. 
5. Wooden accents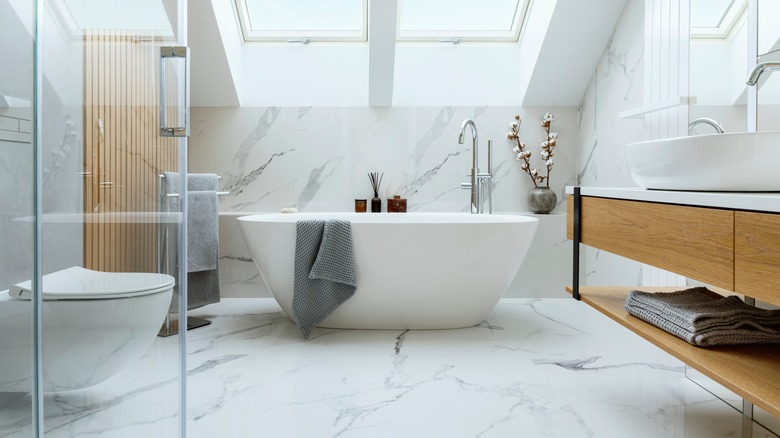 Followtheflow/Shutterstock
Wooden accents will provide an all-white bathroom with extra warmth. You could include a wooden vanity or foldable wall in your space. 
6. Gold faucets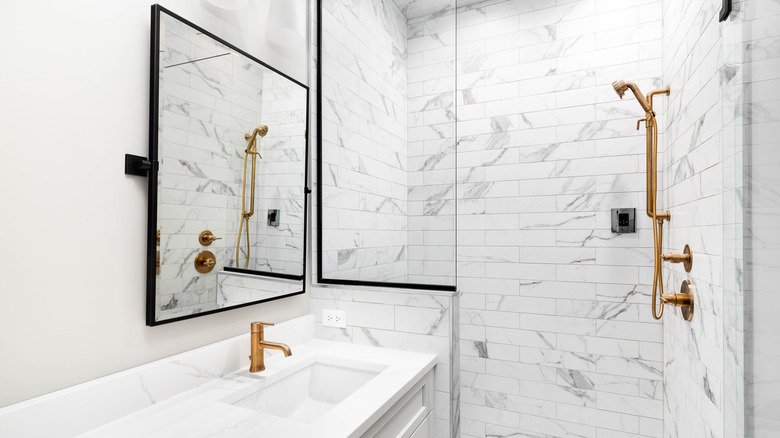 Hendrickson Photography/Shutterstock
Choose matching golden faucets for the shower and the sink to make your room feel more luxurious and expensive. 
7. Light gray walls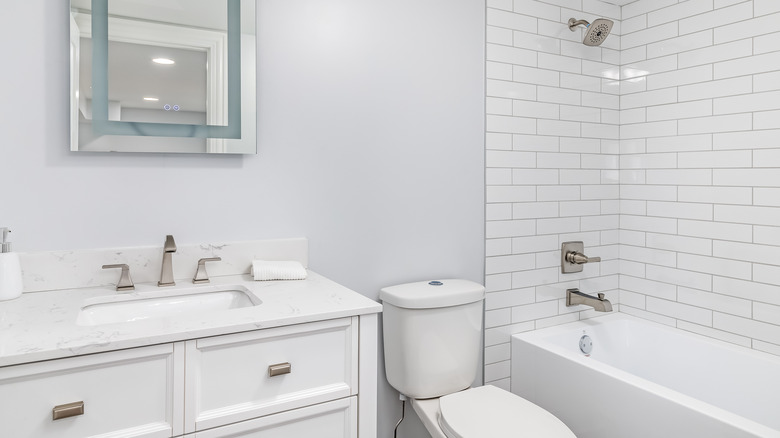 Hendrickson Photography/Shutterstock
You could pair your clean vanity and shower with light gray wall paint for an extra cool-toned appearance with subtle contrast. 
8. Marble walls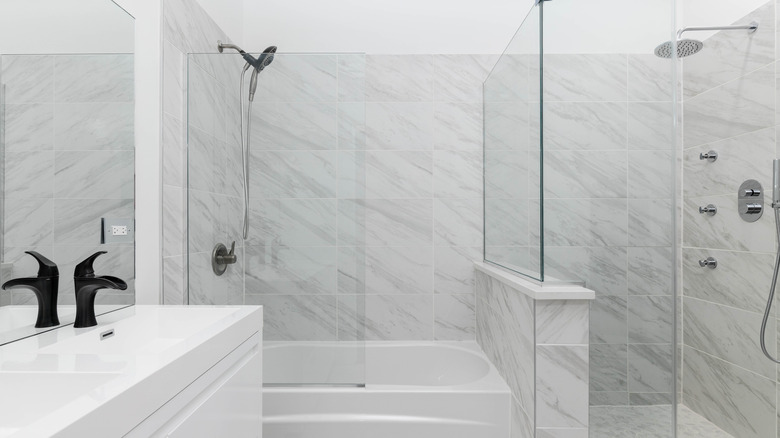 Hendrickson Photography/Shutterstock
A textured appearance could be added to your walls in the shower or the tub by including white marble tiles. 
9. Dark flooring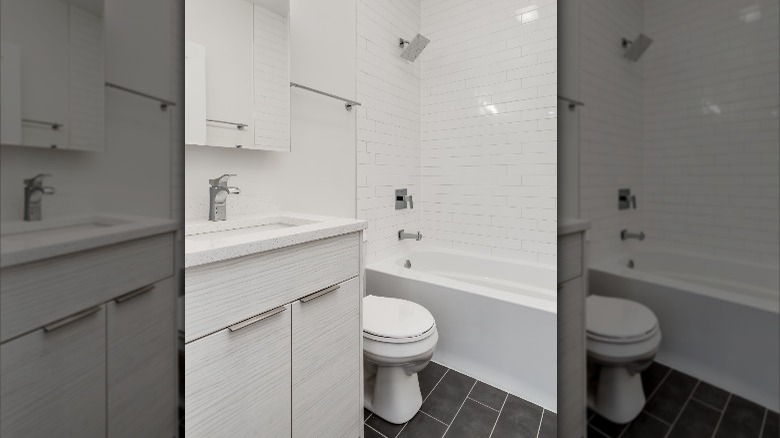 Hendrickson Photography/Shutterstock
A dark gray floor tile could become the focal point in a monochromatic bathroom. This will provide interest without taking away from your room's airy feeling. 
10. Natural light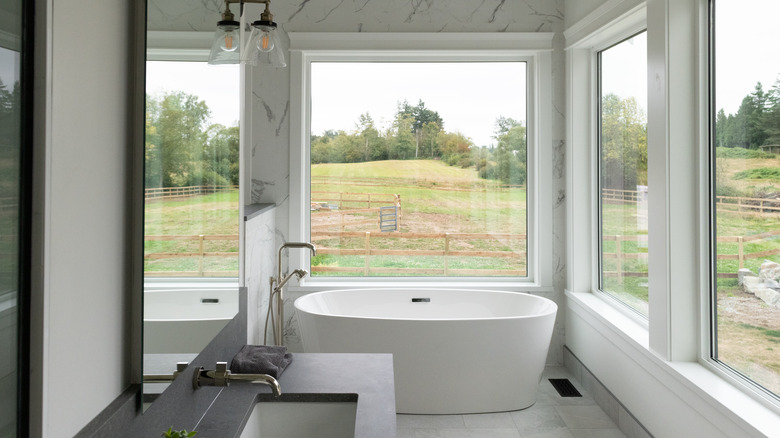 TheCreativeBrigade/Shutterstock
A great way to add color is through large windows, and these will also provide your neutral space with lots of warm, natural light. 
11. Pedestal sink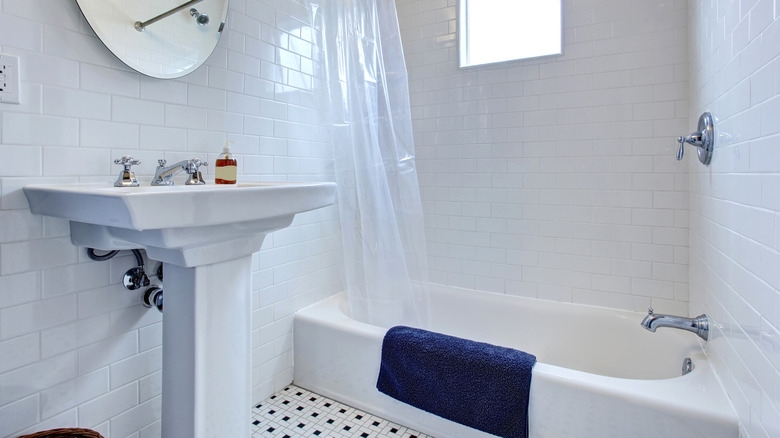 Artazum/Shutterstock
You could choose unusual pieces, like a pedestal sink or a gorgeous bathtub, to create more interest. 
12. Luxurious shower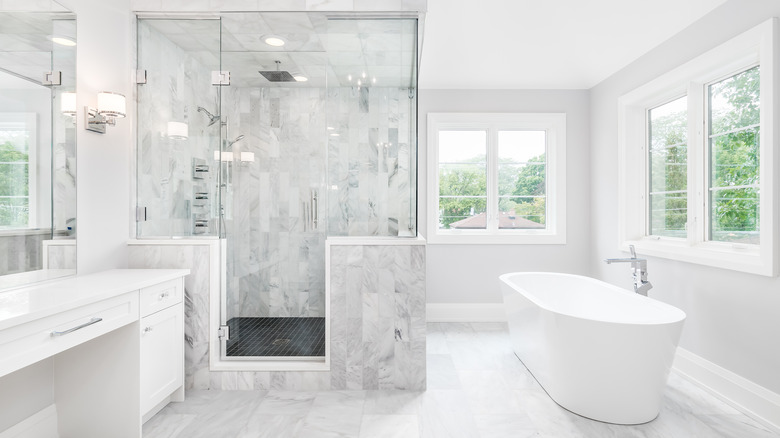 Hendrickson Photography/Shutterstock
Large bathrooms can benefit from the all-white aesthetic, as it can make the spacious area feel even more elegant. The above bathroom has a huge shower with lots of detail that stands out. 
13. Warm white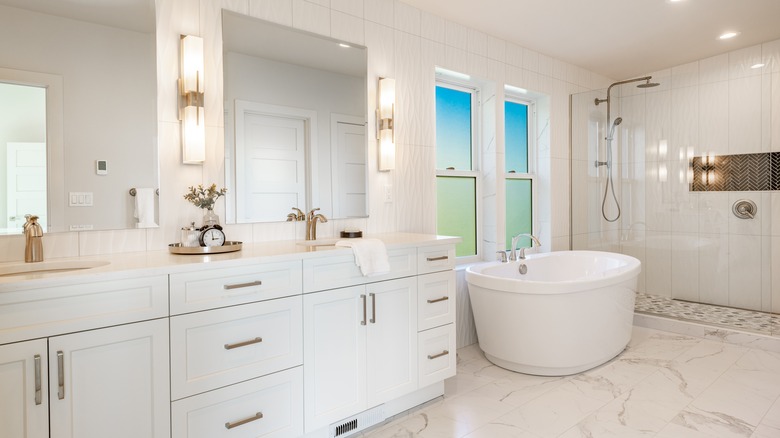 Sheila Say/Shutterstock
While most white bathrooms are cool-toned, they don't have to be. With the help of warm-toned paint and lighting, your space could feel extra inviting. 
14. Modern vanity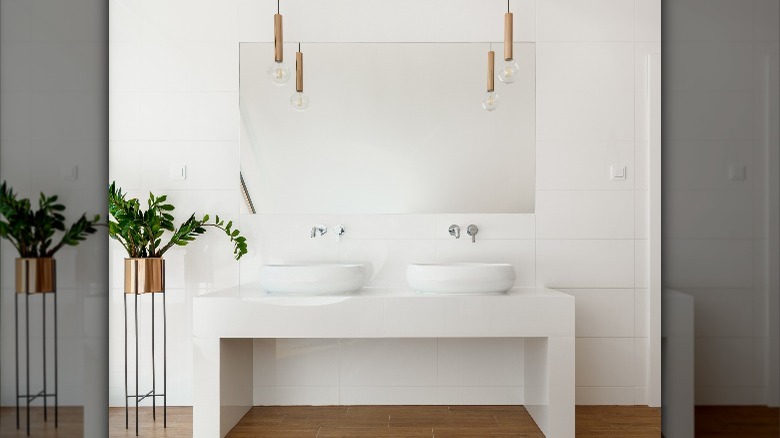 Dariusz Jarzabek/Shutterstock
You could choose a vanity with straight lines and clean edges to give your bathroom a modern appearance, like the crisp piece above. 
15. Light wood vanity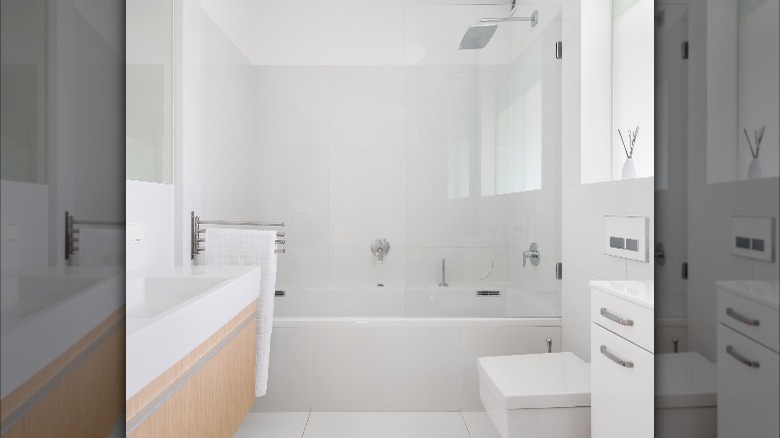 Dariusz Jarzabek/Shutterstock
Or, you could use the vanity as an opportunity to add some texture, like the wooden piece above. 
16. Lots of plants
A great way to infuse a fresh feel and some natural color into your bathroom is by hanging or decorating with plants.
17. Golden accents
Another great way to add some color is through your hardware. Include gold faucets, handles, mirrors, and stands for an expensive feel. 
18. Central marble
Place a marble wall in the center of your room to make it stand out — the above marble tiles and mirror act as the focal point in the space. 
19. Completely tiled
To encompass your bathroom in white, you could completely tile everything, including the walls, the floor, and around the bathtub. 
20. Bright skylights
On days with clear skies, skylights would add a pop of blue to your bathroom without compromising privacy. They'll also add warmth from the natural light. 
21. Yellow tint
This white bathroom has a slightly yellow or beige tint, making it feel warm and more traditional. 
22. Wooden ceiling
To create a cozy and natural feel, you could add wooden panels to your ceiling, making your bathroom appear taller. 
23. Comfortable rug
While uncommon, white bathrooms with lots of floor space could benefit from a large, soft area rug, adding comfort and texture. 
24. Contrasting textures
To create subtle contrast and add dimension, you could pair a warm-toned textured wall with cool-toned subway tiles.
25. Woven details
Once your all-white bathroom is completely renovated, you could incorporate small woven details that make the area feel cozier.