15 Types Of Bathroom Tiles You Should Know About Before Your Renovation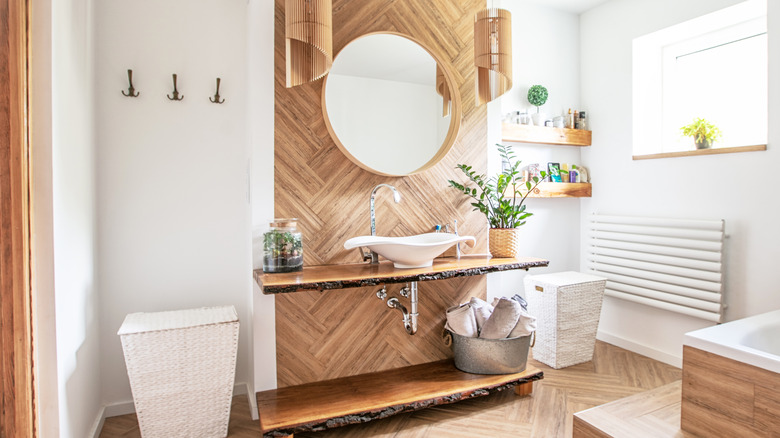 NeonShot/Shutterstock
So you're getting ready to finally remodel that outdated bathroom that's been an eyesore in your home for years now. You've decided on the overall aesthetic of the space, and you've selected whether you want to upgrade items like your shower or bathtub, or even the sink and vanity area. Perhaps you've identified a particular shade of paint that will spruce up the space, or have picked out some new light fixtures to add a certain ambience. There's one key thing to consider when renovating a bathroom, though: the choice of tile. Whether you're tiling the walls around your shower or tub, the floors, or both, tile is a crucial feature of all bathrooms.
In terms of tile, there are a lot of things to think about. First, the appearance — do you want something classic, or as Sebring Design Build details, something on trend? In terms of functionality, you likely want something that is easy to clean, and something that can withstand the humidity found in bathrooms. The finish — whether a particular type of tile is glazed or unglazed — is also important. Since there's the potential for water to splash around, you want to ensure that your choice of tile isn't perilously slippery when wet. Finally, consider your particular bathroom layout — tricky corners or tight spaces may potentially limit your options, and there are certain considerations for small bathrooms (via Bob Vila).
Here are 15 different types of bathroom tiles, and what you need to know about them.
1. Porcelain tiles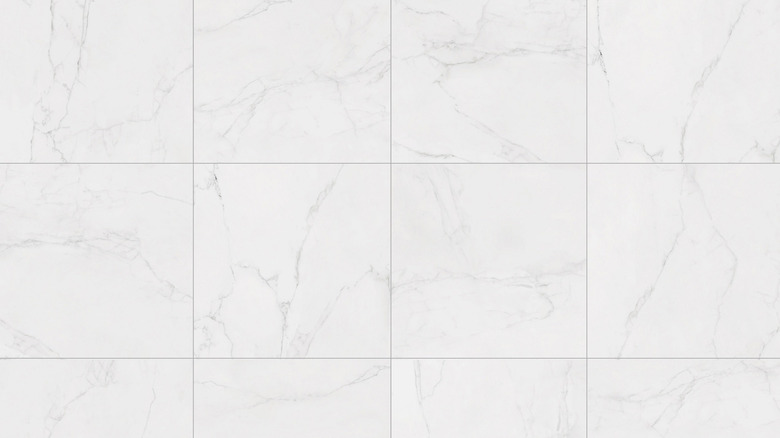 7 Company/Shutterstock
Porcelain tiles are an incredibly durable choice, and they're both stain-resistant and water-resistant, according to The Spruce, making them ideal for a bathroom. They're a low maintenance option that can easily be cleaned and even disinfected if needed. Another perk is the sheer amount of design options out there — you can get porcelain tiles in many different shades and patterns.
However, the downside of porcelain is that the tiles can sometimes be a bit more brittle, which could lead to cracking, and the material can be slippery when wet. They're also a relatively pricey option and typically require professional installation. Finally, the grout requires sealing, and you may run into issues with the porous grout becoming discolored by moisture.
2. Ceramic tiles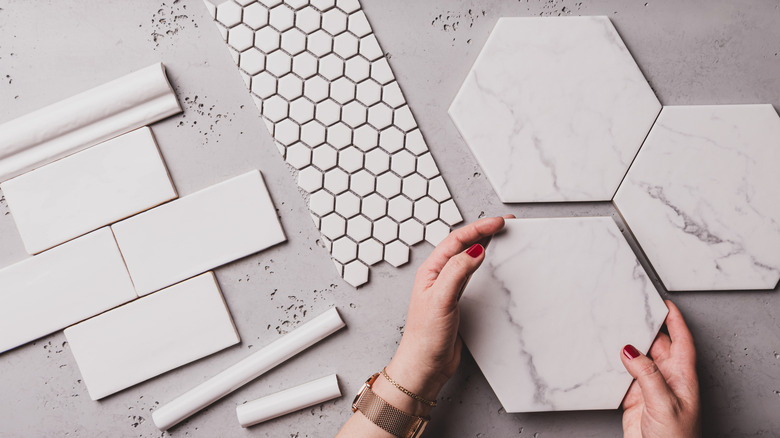 Pinkyone/Shutterstock
Ceramic tiles are available at a relatively low cost, as Countertop Specialty reports, making them ideal for budget-conscious renovators. This durable selection is also easy to clean, waterproof, and stain-proof, so they'll be able to withstand a lot in your bathroom. You don't need to worry about sealing them if they're glazed tiles, and there's a huge variety of colors, patterns, and textures to choose from. Just be aware that ceramic tiles are manufactured in runs, and there can be variation between lots.
The major downside is that if the glaze is chipped or scratched, ceramic tiles can be quite difficult to repair or resurface to fix the damage.
3. Marble tiles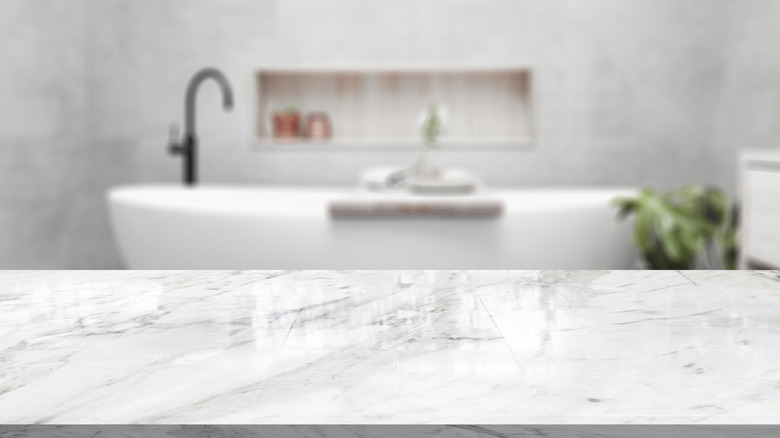 Soukaina EL Atrass/Shutterstock
Marble is an absolutely stunning material that can add value to your home and make a major impact in terms of your bathroom's design, and features a sheen that can be polished until your space is absolutely sparkling, says CRD Design Build. Since it's a natural stone, it's also more environmentally-friendly to produce than its synthetic counterparts.
However, marble is a very porous and absorbent stone, which may be an issue for some — for example, something like hair dye can potentially stain marble tiles (via Houzz). It can also be damaged by acidic materials such as lemon, or harsh cleaning products.
4. Limestone tiles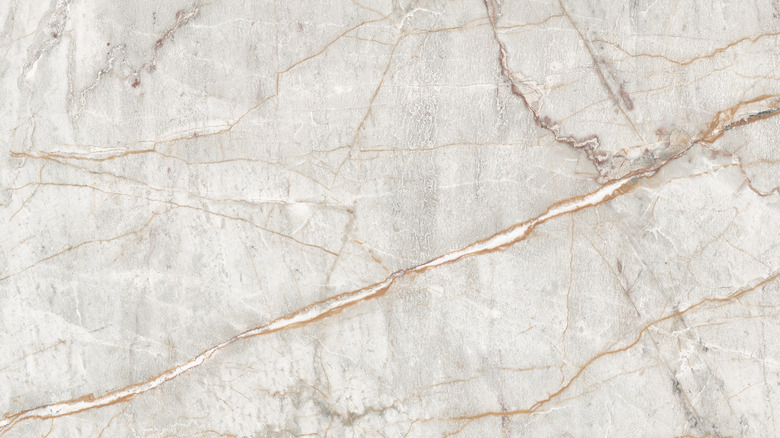 Elon Texture/Shutterstock
Limestone adds a brightness and lightness to any space, making it a great selection for bathrooms, according to Build Direct. While it's not the cheapest option, it's more budget-friendly than most other types of natural stone.
However, since it's a natural stone, you'll need to ensure you properly seal your limestone tiles. You also need to be careful, as things like vacuums or even sweeping dirt and debris could potentially scratch the tile's surface. It's not quite as durable as some other options, meaning it may not be the best pick for a high-traffic bathroom, as it can also get stained or even cracked if things are set down too recklessly. Additionally, this isn't a DIY-friendly option — installing limestone tiles is something best left to the professionals.
5. Mosaic tiles
Floral Deco/Shutterstock
Mosaic tiles are a stunning choice that can be arranged in gorgeous patterns, allowing you to customize your bathroom tiles to your specifications, as noted by The Spruce. They're also a relatively eco-friendly choice, and you can even find recycled glass options. Finally, they're very easy to clean, and are quite durable, although they are vulnerable to scratches.
However, mosaic tiles have a relatively high cost, and are fairly difficult to install — you'll want to pay a professional to ensure no adhesives are showing through the small tiles. And, as they're glass, they have the potential to crack, leaving a hazardous sharp edge.
6. Slate tiles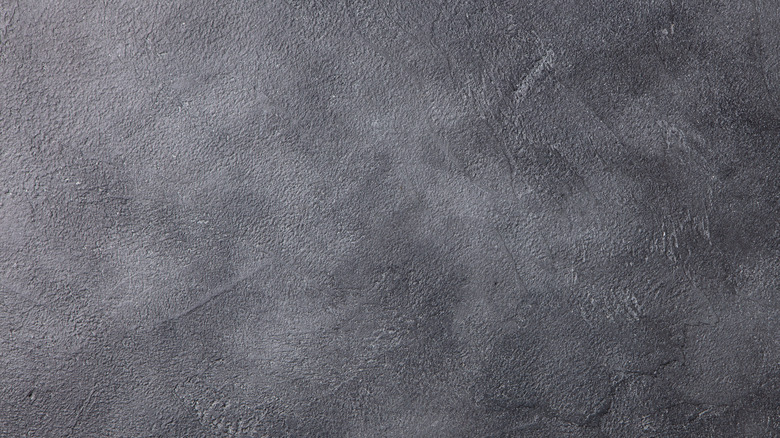 Anna_Pustynnikova/Shutterstock
Whether you go for polished, smooth slate tiles or rustic, textured options, slate has many pros, according to Floor Coverings International. The eco-friendly option is resistant to scratches and scrapes, is water-resistant, fire-resistant, and low-maintenance. As an added bonus, the coloring and texture means any dirt or chips won't be too noticeable.
However, slate is a bit pricier, and though hard, is brittle enough that dropping something heavy may cause it to break. When barefoot, as you often are in the bathroom, slate can also be potentially uncomfortable on chilly days, and can be tough to stand on for long periods of time due to the density of the material and the texture of the tile.
7. Vinyl tiles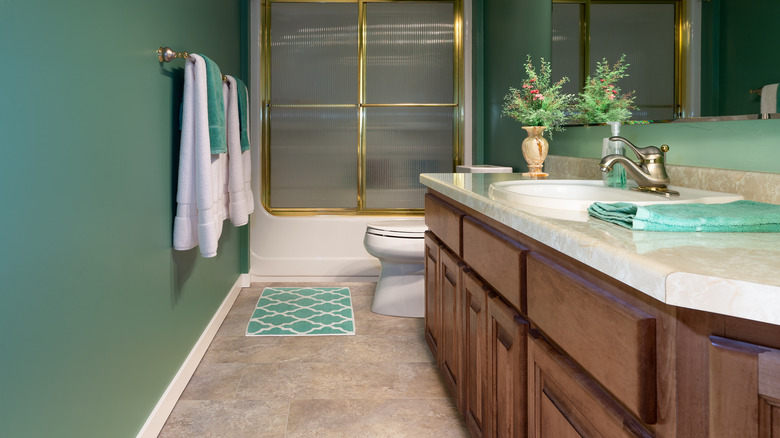 James.Pintar/Shutterstock
For budget-conscious homeowners, vinyl tile can be a solid choice because it's affordable. As HGTV explains, it's also relatively easy to install peel-and-stick varieties, meaning you could potentially DIY this option. If you live in a space with shifting floors or extreme temperature variations, the flexibility of vinyl can be a benefit. It's also very easy to clean and maintain.
However, since vinyl is somewhat softer, it is vulnerable to cuts and gouges. Some may also be concerned about vinyl releasing volatile organic compounds (via Home Reference). Finally, the affordability of vinyl means it won't really up your home's value the way other materials might in a bathroom renovation.
8. Pebble tiles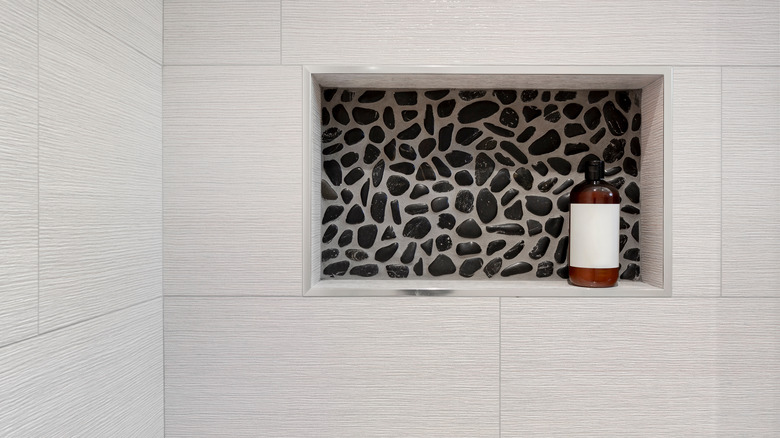 Berkay Demirkan/Shutterstock
Fans of a rustic aesthetic may be swooning over pebble tiles, and this type of tile has many benefits. According to Loo Academy, the shower-friendly tile is slip-resistant, comfortable on your feet, and has a unique look. Also, while you may want to take some time to determine the layout, it's relatively easy to install.
On the downside, this type of flooring will last about half as long as some other forms of tile, even when treated properly and resealed. It will also require ongoing maintenance to ensure it remains waterproof, and the additional grout means there's a slightly higher risk of mold.
9. Terracotta tiles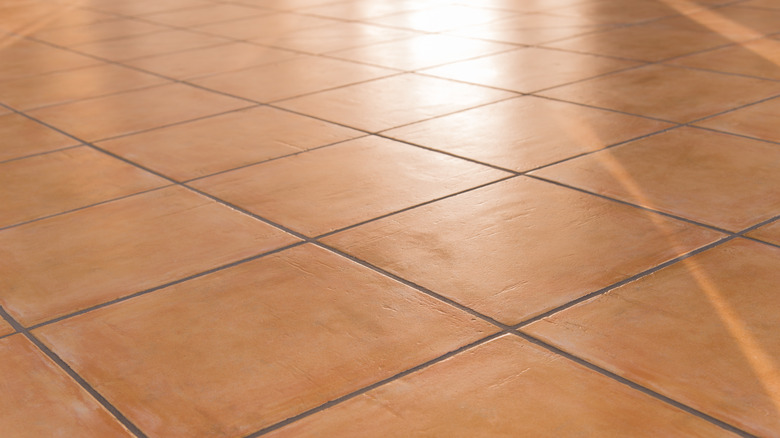 Gordine N/Shutterstock
Many are drawn to terracotta because of the warmth and earthy vibes it imparts, and the material has many pros. Not only is terracotta durable, it's also resistant to mold and bacterial growth, a major bonus in a bathroom, per Kitchn. And, you can find it in a variety of finishings, from matte to high gloss, allowing you to customize according to your needs.
However, the material is incredibly porous, so it'll absorb bathroom moisture quickly and potentially stain easily, and is very susceptible to oils and acids. Additionally, terracotta is relatively high-maintenance, requiring annual sealing, and should be professionally installed, adding to the price tag.
10. Glass tiles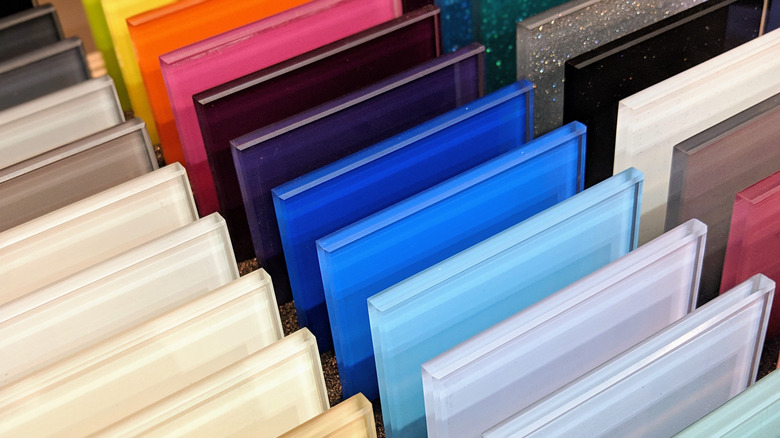 mbrphoto/Shutterstock
Glass tiles are stunning, and come in a massive variety of colors and styles, as Mission Tile West explains. Though you may be accustomed to seeing mosaic-style smaller glass tiles, they're available in many sizes. They reflect light and can really brighten up your bathroom, are an eco-friendly material, and are very easy to clean and maintain, standing up to moisture and other substances with no issues.
However, glass tiles can potentially get scratched by harsh cleaners or gritty substances. Additionally, they're a somewhat pricey option that needs to be professionally installed, as any imperfections with the adhesive application will be clearly visible.
11. Granite tiles
RossHelen/Shutterstock
A prized material for kitchen countertops, granite can also be a good choice for bathrooms, as HomeSteady explains. It's an incredibly durable material that can withstand spills or drops, it's quite low-maintenance, and it's also available in a ton of different colors and styles to fit your home's aesthetic.
However, granite is relatively pricey, and because of its weight, it should be professionally installed, as the subfloor must be perfectly level. It can also potentially be slippery or cold underfoot.
12. Laminate tiles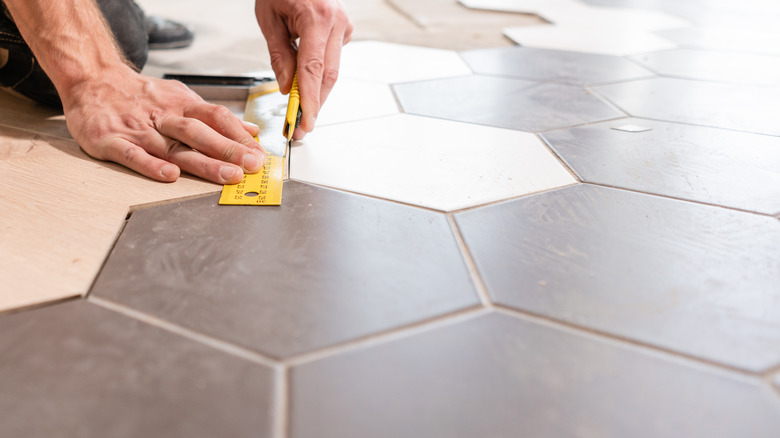 Fusionstudio/Shutterstock
Laminate is a budget-friendly tile option that is quite easy to DIY, according to The Spruce. It's relatively resistant to stains, and is easy to clean.
However, there are a few downsides. Some may be concerned with the chemicals used in the manufacturing process, and others simply don't like the appearance of the material. Laminate is also somewhat susceptible to moisture damage, can be a bit hard underfoot, and given how thin it is, doesn't do much to muffle any noise, which may be an issue in a smaller space.
13. Linoleum tiles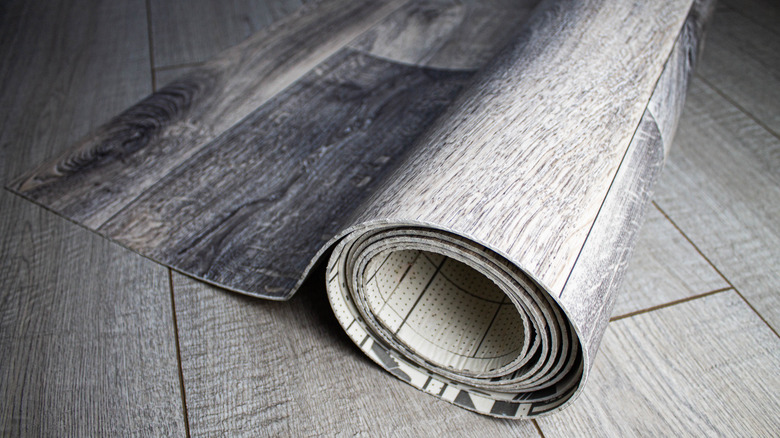 Alex Verrone/Shutterstock
Linoleum is available in a wide variety of colors and patterns; the particular dye used means it holds colors better than similar materials like vinyl and laminate, according to Greenfield Flooring. It's also soft underfoot, relatively easy to install, and an environmentally-friendly option.
However, the softness of the material means it's somewhat easy to scratch, and too much humidity can potentially cause issues with certain areas curling. Light exposure can impact the color, giving the material a bit of an unpleasant yellow hue. Finally, while it doesn't emit volatile organic compounds, linoleum does give off some fumes for anywhere from a week to month after installation, which may be challenging for some renovators.
14. Cork tiles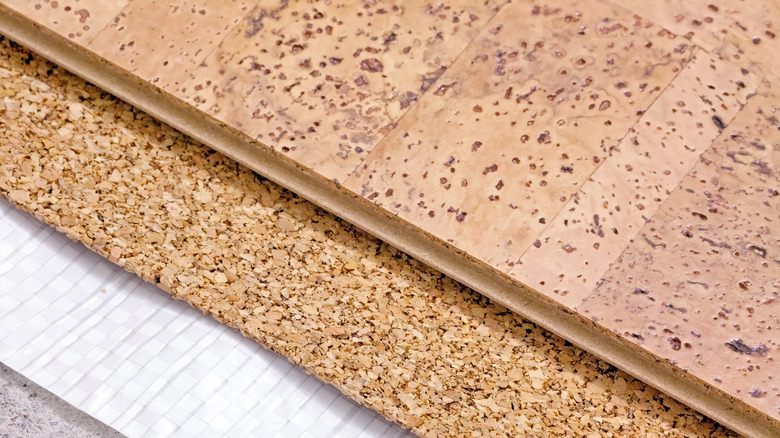 Evannovostro/Shutterstock
For those in search of a unique tile option, cork just might be the right pick. The material is environmentally-friendly and hypoallergenic, as Bob Vila reports, and is also easy to install and maintain. Additionally, it's comfortable to walk and stand on, reduces noise, and remains at room temperature, perfect for chilly mornings.
However, cork can fade from long-term exposure to direct sunlight, sharp objects can potentially dent or scratch it, and it can be impacted by big changes in humidity (via Flooring Stores). And, since cork can absorb water, you want to be careful about the specific type you purchase, and the finish it's treated with.
15. Travertine tiles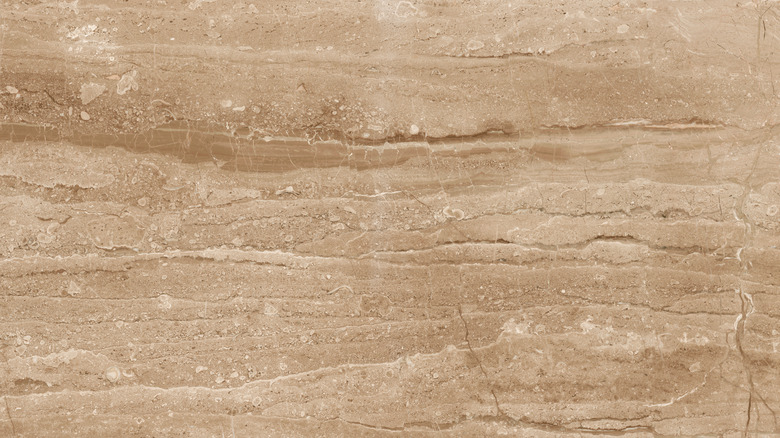 Obsessively/Shutterstock
According to Floor Techie, travertine is a long-lasting, durable material that is relatively easy to repair if damaged, and as an added bonus for bathroom spaces, it's naturally non-slippery. It's also aesthetically pleasing and comes in a variety of different finishes. Finally, though not the cheapest option, it's less expensive than other natural stone tiles.
Travertine tiles are heavy, though, so you'll be best served by having a professional install them. They can also be cold on your feet, and require regular maintenance to ensure they're properly sealed. Finally, travertine is sensitive to acids, so even a few drips from your morning cup of coffee might easily stain the surface.