Which Furniture Store Has The Cheapest TV Stands?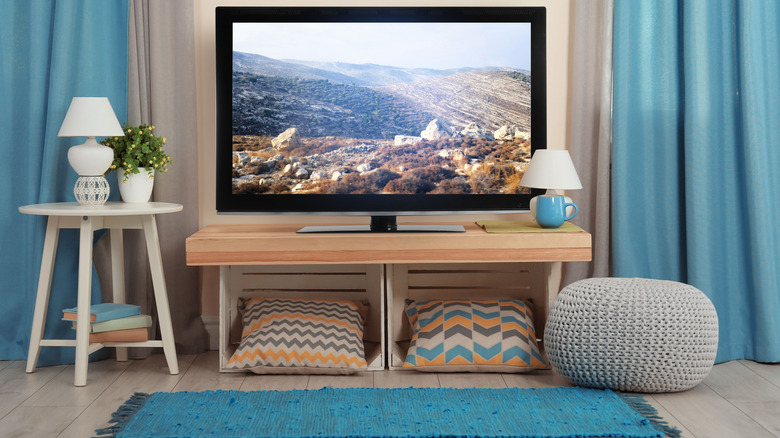 Africa Studio/Shutterstock
Who doesn't love a great bargain? As you may have found out, finding what you want at a low price may not be an easy feat, but it is not totally impossible with a bit of research.
The same can be said about finding a TV stand that provides functionality (per IGN), enhances your room's aesthetic, and comes at a reasonable price. While you might wonder if you have to sacrifice quality and durability to find something cheap, fear not. There are TV stands out there that will last a long time and pair well with any type of decor, from modern to minimalist. Best of all, if the unit provides ample storage to organize your gadgets, books, or knick-knacks, then you'll have some extra space on your hands. Luckily, we have done our homework and found out which furniture stores offer the best deals on TV stands. Here's what we found.
Where to find TV stands at a reasonable price
New Africa/Shutterstock
Ashley Furniture, known for its vast number of retail and outlet locations, offers TV stands that range from $45 to just under $200. For example, you will find some open-shelf units like the Jaya Corner TV Stand, which costs $51.99 and features an ergonomic design that fits in the corner of the room and visibly displays any gadgets, game systems, or DVDs for quick retrieval. Another open-shelf option that has more definitive divides is the Rustic TV Stand at $94.99. The middle compartment has dividers that separate it from the two side compartments. Likewise, you can find stands with bins or closed cabinets like the Econ TV Stand with Storage Bins that safely store your entertainment equipment, games, or DVDs.
One thing to keep in mind, however, is that these items are available only online and not at the Ashley HomeStore locations. At the same time, you can still find deals at any Ashley HomeStore during holiday sales. They also have a vast clearance and price cuts area in the store where items from the past seasons are located. Additionally, Offers.com mentions that you save up to 60% by shopping at an Ashley's Outlet, which is ideal for finding stand-alone pieces.
How to find great deals on TV stands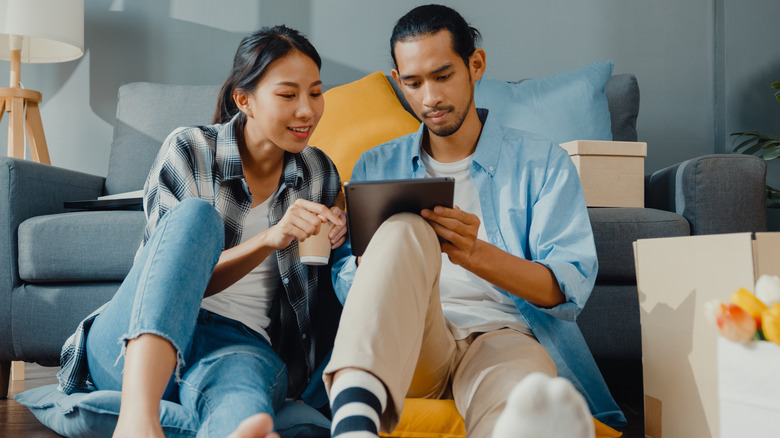 Tirachard Kumtanom/Shutterstock
In your search, don't forget other stores that may not specialize in furniture but still offer some great TV stands at great prices. These include department retailers like Big Lots and Target. For instance, at Target, you can find the Room Essentials wood and metal open storage stand for $80. At Big Lots, you can find the Real Living Media Console with cabinets for $100. Of course, inventory and prices vary by location, but utilizing their online tracking tools can help you find what is available near you.
Of course, if you're dead set on a pricier piece, you can always search for discounts throughout the year. Even higher-end stores like West Elm usually have sales on Labor Day, Memorial Day, Veteran's Day, and around the holidays. Also, going-out-of-business sales present an opportunity to find a TV stand with a deep discount, or you can keep an eye on your local furniture stores when they advertise new inventory because that means they will be clearing out (or even closing out) the previous season's items.