Home Depot Or Lowe's: Which Has Better Deals On Kitchen Cabinets?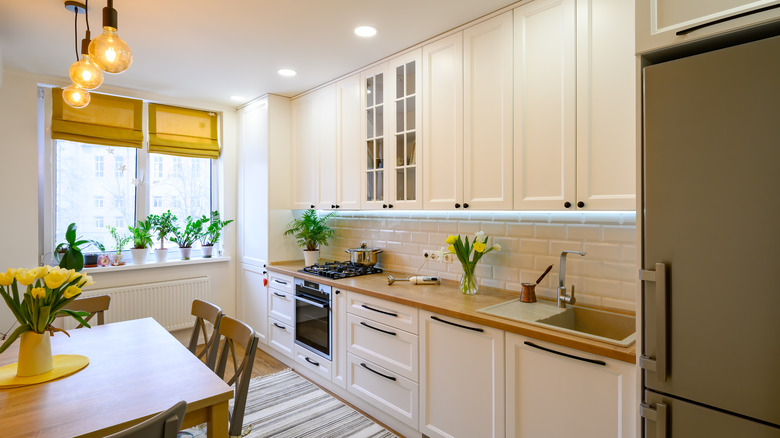 Serghei Starus/Shutterstock
New kitchen cabinets aren't cheap. According to Kitchen Cabinet Kings, homeowners can spend upwards of $12,000 on kitchen cabinets alone. That being said, you want to ensure you're getting the highest quality materials on the market. Fortunately, you can still get that high quality at a much lower cost. In order to do so, it's best to explore all of your options – Home Depot and Lowe's each have a wide selection of cabinets to help create your perfect kitchen, but which store is going to give you the better deal?
When deciding which retailer is going to give you the most bang for your buck, you have to look at the cabinets' materials and reviews. Purchasing kitchen cabinets solely on their price may leave you with low-quality furniture that will eventually need replacing, costing you more money in the long run. If you want to get the best deal on kitchen cabinets, there's only one place to look. Keep reading to find out where.
Compare prices and materials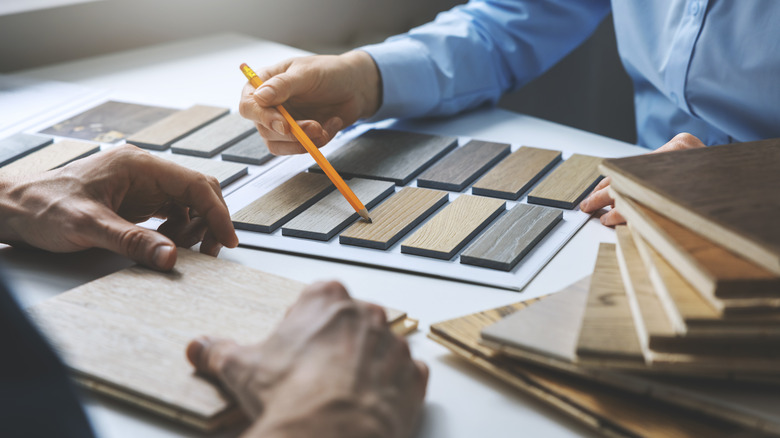 ronstik/Shutterstock
To keep this comparison as fair as possible, we looked at each retailer's least expensive base kitchen cabinets. First up is Home Depot's Hampton Bay sink base kitchen cabinet in cognac, priced at $194. The cabinet measures 30 inches wide by 34.5 inches tall by 24 inches deep, according to the product description. The cabinet is available in several other finishes, including medium oak and satin white, but prices vary per finish. You also have the unfinished beech option, which gives you the freedom to match the cabinet to any style.
Looking at Lowes' Project Source natural oak sink base cabinet. Priced at $149, it's a bit taller than the Hampton cabinet, measuring 30 inches wide by 35 inches tall by 23.75 inches deep. The biggest difference between the two cabinets is the finish. Lowes' cabinet only offers the unfinished version, so you have to factor in the cost of any stain or paint you need. On the plus side, its natural oak material is one of the best choices for kitchen cabinets because of its durability and affordability, Zeeland Lumber and Supply states. 
Stellar reviews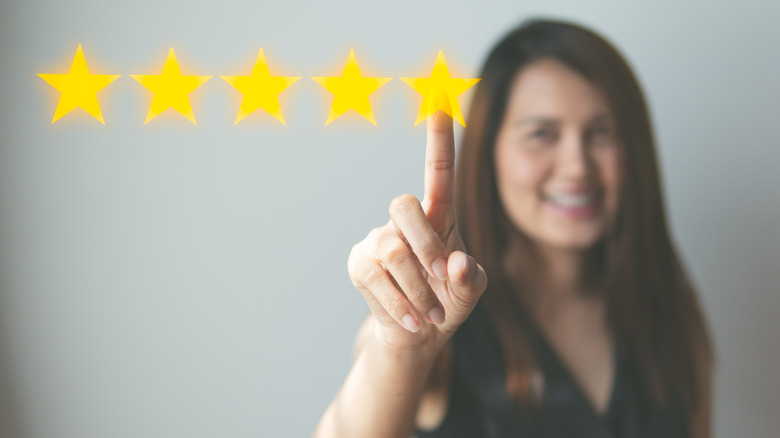 Ken stocker/Shutterstock
When it comes to comparing two products, the proof is often in the reviews. With more than 850 reviews, Home Depot's Hampton sink base cabinet has a 4-star rating, per Home Depot. Customers said the cabinet has plenty of room, while another reviewer stated how much they enjoy how the cabinet doors are framed out. Many people claimed it was easy to install, making it a great option for beginners. Unfortunately, some had issues with defects when the product arrived, such as blemishes and missing pieces.
Looking at the Project Source cabinet, you'll notice its 3.7-star review, as seen on Lowe's. One customer stated how nice it is that the cabinet is backless, creating ample room for plumbing. Another reviewer recommended this cabinet for homeowners looking to affordably renovate their kitchen. However, someone commented on the flimsy construction, noting they had to use support strips to reinforce the bottom of the base. With that being said, In the end, you're better off shopping at Home Depot for your kitchen cabinets. Between the 4-star review, and the fact it requires no additional finish or paint, the Hampton sink base cabinet beats the Project Source in a number of key areas.