15 Art Deco Color Combinations That You'll Want To Use In Your Home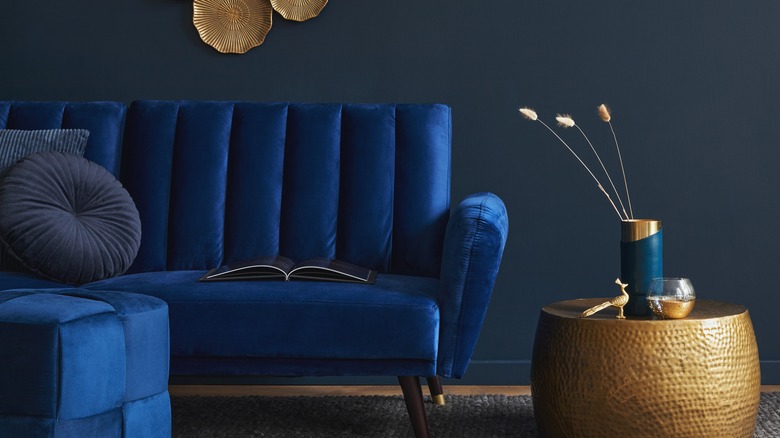 Followtheflow/Shutterstock
Bold and sophisticated, the art deco design movement left a colorful impression on the modern era. Art deco (French for arts décoratifs) emerged in France in the early 20th century and went on to inspire Europe and beyond through the elements of architecture, interior design, and the visual arts — up until the 1930s. Art deco colors tend to concentrate on more subdued shades with a little bling (via Dunn-Edwards). Commonly used colors include vivacious yellows, blues, and greens, along with pinks and reds, while more passive hues include beiges and creams, including black and white.
What kinds of vintage color combinations might work in your home? There are a few ways to go. For example, you could blend several colors into an eclectic art deco style, or if using only a few, something a bit more minimal. Art deco color options also easily complement metallic elements like gold and silver. A monochromatic scheme of cobalt blue or emerald green might also encapsulate an area.
Whether your design is classically gilded like the Roaring '20s or subtle and contemporary, there are numerous art deco colors to mishmash and try out. Read on to discover some noteworthy color combinations to utilize within your home space.
1. Pink, green, and gold
Like a flamingo amidst the palms, pink and green mingle well together for a sense of the tropics. Seen here is a plush pink armchair, which contrasts the rich, dark green wallpaper featuring a gold geometric pattern. Other complementing brown and gold elements can be seen in the accent table, chair legs, lamp, and baseboards.
2. Brown, cream, and gold
A cozy, neutral vibe exists amidst this urban loft with roomy brown and cream armchairs, brown and white furnishings, and gray walls. Hints of yellow and gold emerge from the ornamental picture frame and geometric rug, to go along with some black elements within the frames and bookshelves.
3. Soft blue with neutrals
Blue is a cool, tranquil color that mixes with many colors, including neutrals. This art deco-style living room features delicate blue walls with gray accents in the clad material and curtains. The black and white area rug and black/gold mirror give a dramatic appeal to the softer hues, including beige, brown, cream, and white.
4. Purple monochrome
Sometimes purple appears in art deco designs, as it pairs well with silver and gold metallics. Here pictured is a unique monochrome-colored dining room and kitchen that features various lilac-purple shades throughout, including the curtains and cabinetry. Gold and silver metal décor give shine to the delicate hues.
5. Eclectic colors
You might define a space with an assortment of colors and textures. This velvety emerald couch takes centerstage amidst a black and white checkered floor. The greenery present in the planters and picture gives the space depth with its various shades of green. Blue and red accents also appear in the pillows and plant décor.
6. Teal and gold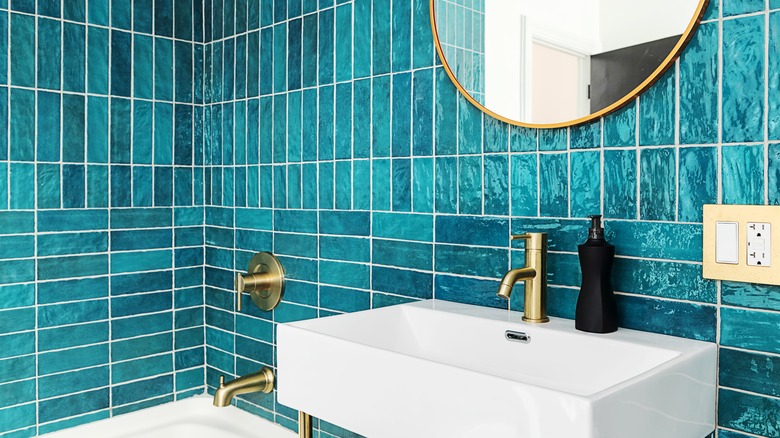 Fio Creative/Shutterstock
Don't shy away from a bright teal. This quaint bathroom features a striking and continuous teal blue shower and wall tile reminiscent of the sea. The contrast is all in the details with the gold fixtures in the faucets and mirror rim and the white tub and basin, as well as the black hand soap dispenser.
7. Green and brass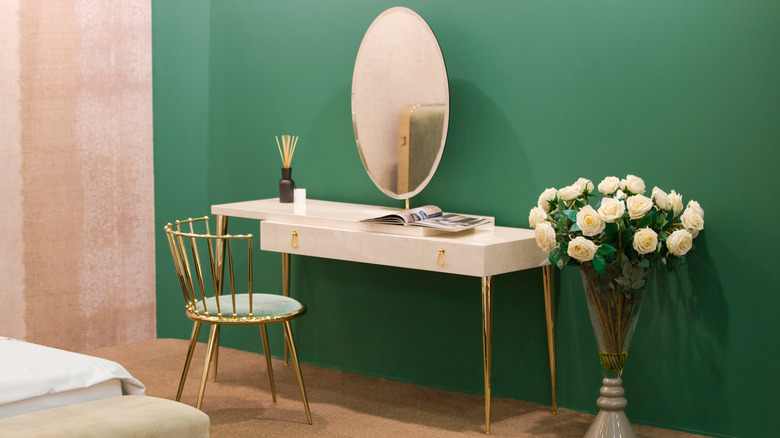 Olga Prava/Shutterstock
Brass is often used in art deco designs, as it balances well with green for a classy appeal. This Hollywood-style vanity appears simple and sophisticated against a lively green wall, including the shiny brass-like chair and table legs. The chic white tabletop is sleek and captivating along with the neutral shades that surround it.
8. Black, red, and white
Ageless and whole, the shades of black and white offer an ultimate contrast, especially when mixed with a passionate, eye-popping color. Here pictured, the yin and yang combo mixes with red in a grand living room with dark curtains, a chesterfield-style couch, and armchairs, including red lampshades and a three-toned rug with a circular pattern.
9. Mustard yellow, blue, and brown
Incorporating vintage furniture is a must within an art deco color design. This image features matching vintage armchairs in a mustard-yellow shade accented with white triangular shapes. Notice the cobalt blue window trim and rich, brown hardwood flooring that accompanies the scene.
10. Gray with vibrant accents
Sometimes a neutral like gray can take precedence within a space. This modern bedroom features gray walls and bed linens, paired with a complementing white on the opposite wall and curtains. The moody vibe comes alive with the energetic yellow chair and long blue table. The round gold table also adds luster to the decorative rug.
11. All neutral
Fresh and clean, you might combine neutral shades that focus on shapes and sizes rather than bold colors. This sitting area features a magnificent white couch centered with distinctive channel backing while surrounded by green palm plants with hexagonal flooring underneath. The complementing wall features an embossed circle that contrasts the gold geometric metal décor pieces.
12. Pink and golden sunset
Luxurious and airy, this bedroom features a light palette of soft pink mixed with golds, browns, and tans through the curtains, furniture, and herringbone wood flooring. Gold metallic elements are present in the sun dial-like mirror and bedside table lamps. Gray, white, and cream are also present in the walls and bed linens.
13. Yellow, brown, and orange
A little mid-century modern, this petite, yet chic urban kitchen features the delightful colors of yellow and orange amidst the chairs, table, and wall accent tile. These appetizing colors blend well with the brown wooden door frame, including the nearly matching yellow valance.
14. Earth and metal
Brown is often associated with being comfortable and grounding, as seen within this image. A vintage-style wooden credenza serves as the focal point while a blend of other brown wooden elements complements it, including the brass metal trombone. The earthy taupe-like wall color slightly contrasts the wooden tones mixed with some black and white accents.
15. Black and gold
Like a high-class party at Jay Gatsby's, black and gold are elegant and timeless in setting the tone. Dark and mysterious, the image above features a black vintage chair with a gold fishnet-like design with a complementing geometric wallpaper pattern amidst the golden glow of the lamp.