The Most Motivating Color To Add To Your Home Office
Your home office is a space that should exude confidence, determination, power, and of course, motivation. When you go in there to work, you should feel driven and uplifted to complete tasks and accomplish your goals. While items like the desk, chairs, tables, and the general decor all play into these emotions and feelings, one of the most important aspects is the wall color. Depending on what shade, tone, hue, or palette you opt for, you're creating a theme and design that will influence your mindset while inside the room.
There's a variety of motivating and empowering colors to choose from for your home. Red, blue, and even green have all been associated with inspiration and stimulation. You could easily incorporate any of these to give your mind and body a boost while working, but there's one color that will really ensure you're productive throughout the day. Applying this option is a great way to transform your space from "office" to "accomplishment haven," and there's a multitude of shades to choose from so you aren't limited. Mike's Quality Painting, Inc. notes that the intensity of a color also makes a difference, as some hues can be abrasive versus appeasing. With that in mind, get ready to meet your home office motivation booster!
Yellow is the color of motivation
Yellow has long been associated with emotions like happiness, positivity, and inspiration. This bright color connects to everything from flowers to the sun, making it a popular paint choice for anyone who wants an instant boost in their home. Because of its power to invoke a bubbly, good-natured feeling in people, it's also a great option for a home office. Redbooth notes that yellow energizes those who are around it and immerse themselves in it, and it can also be a big motivator.
If you feel happy and excited within your workspace, you'll want to spend more time within it and get more done. Walking into an office filled with positive vibes is the surest way to promote productivity. You won't even feel like you're stuck doing a task, but instead might think of this room as your safe place where you can accomplish goals and celebrate achievements. One thing to keep in mind is what shade you want to use, because each one brings a slightly different mood and feel with it.
Which yellow is right for your office?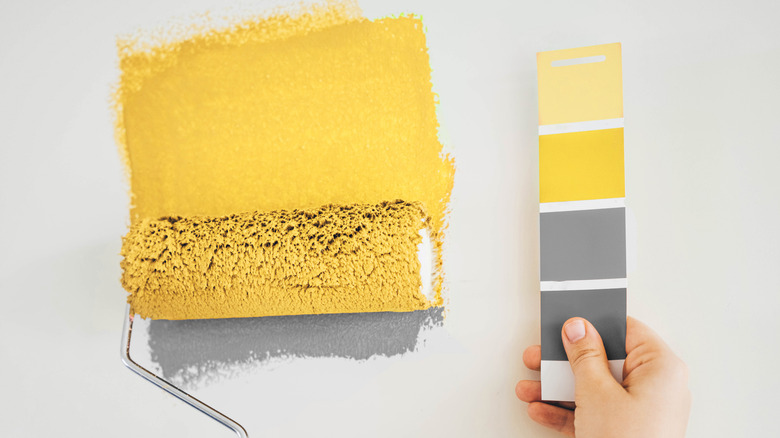 Mariia Korneeva/Shutterstock
One of the best parts about painting is knowing you have a plethora of shades to choose from. Yellow doesn't come in just one tone — there are hundreds of different versions of this bright selection, and you just have to pick the right one for your space. Some of the most popular hues include "Sunlight," "Banana," "Ochre," and "Marigold." These offer a glimpse of the spectrum, encompassing the lighter and darker shades you can pick from. If you're looking for a more subtle paint color, "Canary Yellow" will still boost the mood and vibe of the room, without overpowering it.
Deeper, more burnt yellows are ideal for producing a warm, welcoming ambiance that's ideal for meetings, co-working spaces, or making an atmosphere where friends and family can come visit while you get things done. Depending on the shade you bring in, you can then add in ornaments and decor to complement the undertones, making the paint seem bolder or subtler. According to Indeed, while yellow also boosts people's mood, it's also useful in decision-making and creativity. That's why yellow is the best color for your home office if you're looking to stay on task, get things done, and feel motivated throughout the work day.