The One Overlooked Home Item You Need In Your Kitchen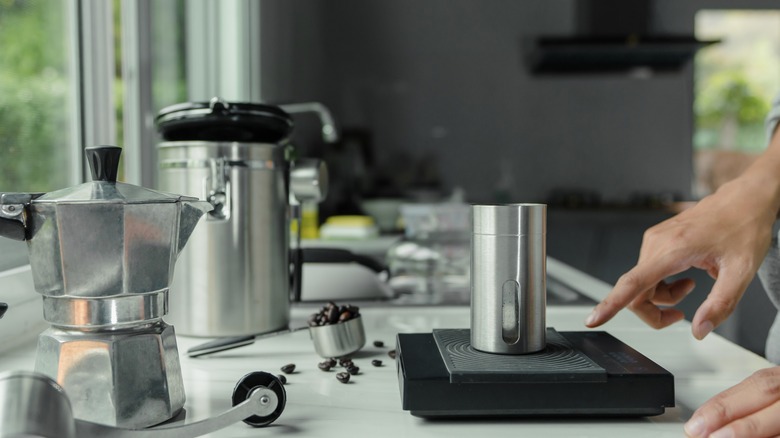 Akira Kaelyn/Shutterstock
We may receive a commission on purchases made from links.
Whether you're a whiz in the kitchen or love fixing simple meals, having the appropriate tools can make your food preparation a snap. With the right pots and frying pans, you can cook your creations quickly, and proper storage containers can ensure that nothing goes to waste. However, your measurements must be correct to get the exact taste you're looking for in classic and new recipes. Although measuring cups can be a valuable tool in the kitchen to maintain accuracy, they tend to be limiting and can only give you readings on the cup scale. This is where getting a digital kitchen scale can save you time, effort, and even space. 
Digital scales have a flat surface on which you can place ingredients or food items and are ideal for small kitchens as they don't take up much counter space. The device can determine weights in various units of measurement, such as grams, pounds, ounces, and fluid ounces, and rapidly display the number on its screen. Kitchen scales can be way more accurate than measuring with cups or spoons and provide you with exact portion sizes, which can help those who follow strict eating regimes, according to Serenity Health & Home Décor. Now let's look at other ways a scale is a must-have item in the kitchen.
How a digital scale can help you in the kitchen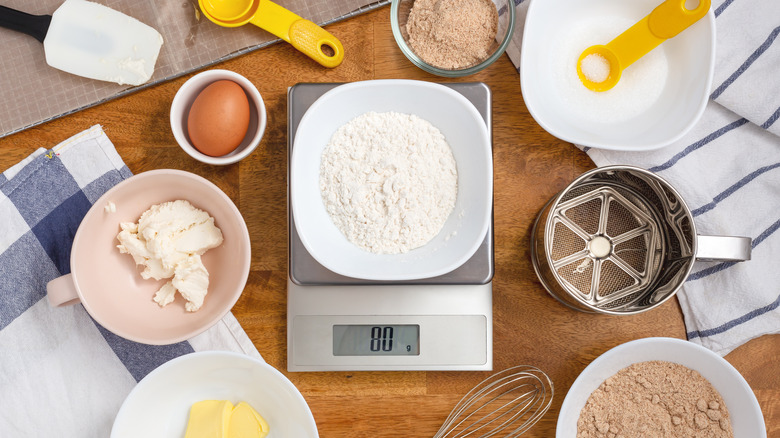 everydayplus/Shutterstock
There are many ways having a digital kitchen scale can help you out the next time you're making your favorite food or drink recipes. Not only is a digital scale more accurate than measuring cups or even an old-fashioned weighted scale, but it can also quickly switch between different measurements. If you need to convert from metric to imperial measurements, then a scale can do that with a simple push of the button, according to MasterClass.
Digital scales can also help you keep track of portions and are useful for wet and dry ingredients. They are easy to calibrate as you work, and you will find that there is much less cleaning involved than there would be if you used a bunch of measuring cups and spoons. If you are an avid baker, you can use one bowl to add all of your items easily. Simply put a bowl on the scale, measure an ingredient, then set the scale to zero and continue adding more instead of mixing all the ingredients in separate bowls only to combine them at the end. Some state-of-the-art scales can also give you accurate readings on nutritional values such as calories, fat, fiber, and even cholesterol contents. So if you haven't already, consider utilizing a scale in your kitchen.
An inexpensive but highly valuable tool in the kitchen
If you have always been accustomed to using measuring cups and are a little hesitant to try out a new digital scale, then there are plenty of inexpensive options available online that could make the switch more enticing. For under $10 on Amazon, you can grab an Elekcity Food Kitchen Scale made of sleek, durable stainless steel and can handle solid or liquid items up to 11 pounds. Available in a wide variety of colors, you can easily switch between measurements with a button push. Of the over 113,000 reviews, it has garnered an overall rating of 4.6, with 79% of the folks giving it a 5-star rating.
Another top-rated inexpensive option is the Ozeri ZK-14S Pronto model, made of polycarbonate and can handle a little over 11 pounds. Super precise and powered by two AAA batteries and with a price tag of less than $10, this little wonder has been reviewed by almost 84,000 people and earned a 4.7 rating. There are plenty of larger and more intricate kitchen scales available online if you are more of a professional who plans on using their scale for full-time use. For those who are trying the new measuring system for the first time, these models could be a great way to test them without breaking the bank.