20 Hacks To Secretly Add More Storage To Your Kitchen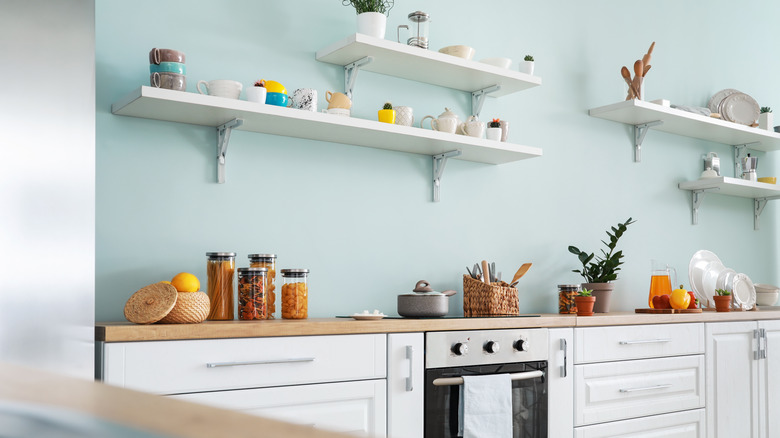 Pixel-Shot/Shutterstock
One thing every homeowner can agree upon is that storage space in the kitchen is never enough because the kitchen needs to accommodate almost everything (via Kitchen Compare). The fact that the kitchen space is bound to get cluttered at some point does not help the situation by any stretch. The daily cooking routines involve using different kitchen essentials that need quick retrieval. Having said that, every kitchen needs optimal storage designs that give you quick access to kitchen essentials and tuck them away neatly when not in use.
Adding more storage to your kitchen area doesn't need a whole kitchen makeover; in fact, with some creativity, you can create other purposeful storage areas to supplement what you have at the moment. If you are stuck and don't know where to start, fret not — we are spotlighting some designer-approved ideas that will give you extra storage and also provide better kitchen organization. Tag along to find out more!
1. Discrete pullout spice rack
A pullout storage area within the kitchen cabinetry is a brilliant way of keeping kitchen essentials like spices out of sight while remaining within reach for quick retrieval. This particular spice rack slides in and out for clutter-free organization in your kitchen.
2. Storage on the island
The island right in the middle of your kitchen does not need to stay idle — go ahead and install discrete storage right underneath. While you have the option of leaving it open as demonstrated above, you can install a sliding door to make the entire storage area disappear.
3. Wall rack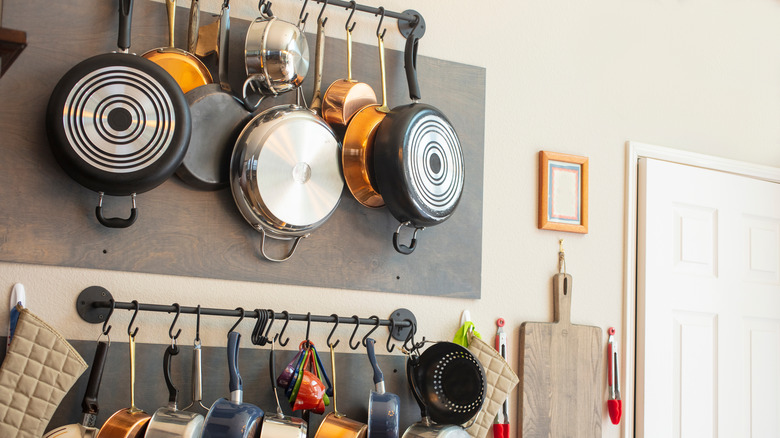 Malisa Nicolau/Shutterstock
A wall rack is a rather simple storage idea that you can DIY right at home. A wall rack allows you to declutter your cabinets, gives you efficient organization, and also provides a stage to show off some of your finest kitchenware.
4. Floating essentials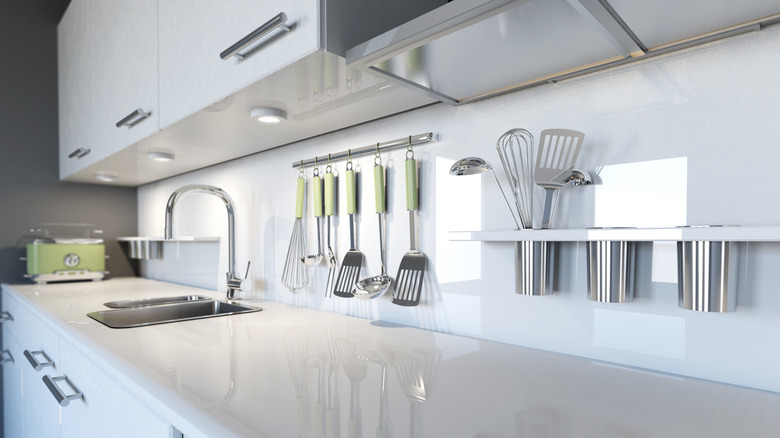 Anna Andersson Fotografi/Shutterstock
The countertop space is where all the slicing and dicing happens; therefore, hooking several cooking essentials on the back wall is a practical way of storing certain items. These essentials will remain within reach whenever you need them and also out of the way when not in use.
5. DIY floating shelf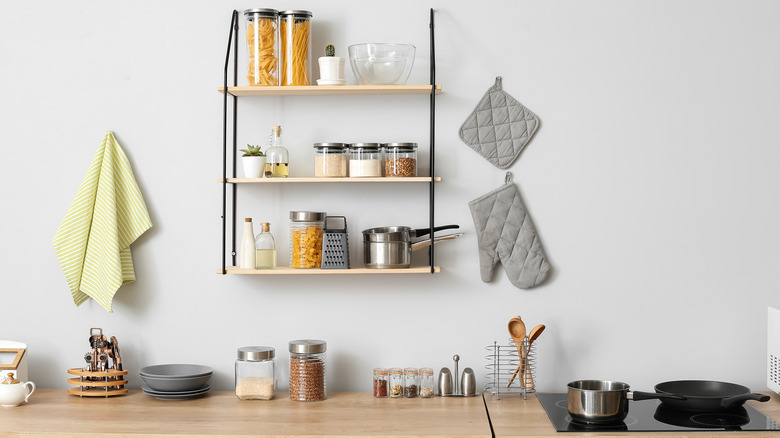 Pixel-Shot/Shutterstock
A DIY floating shelf gives you the luxury of customizing your storage space depending on your unique needs. Other than that, it is also a great opportunity to add some character and personality to your kitchen decor. Take some inspiration from the example above.
6. Discrete corner storage
Cooking pots take up a lot of space in the cabinets. If you have the space, it would be nice to store them in a separate location. This particular pullout corner store is a good addition to your kitchen as it gives you extra storage and also hides the pots away nicely when not in use.
7. All-in-one rack
How about a floating rack that gives you quick access to plates, cups, and knives? Well, if this is something you would want in your kitchen, consider the example above. It would make more sense to install this rack above the sink for quick storage right after cleaning the dishes.
8. Lux pullout vertical drawer
A vertical pullout drawer might just be what your kitchen is missing. It is the perfect hide-away pantry for your spices and even fruits. The best thing about it is that when closed, you will never know that a drawer exists in the first place.
9. Magnetic strip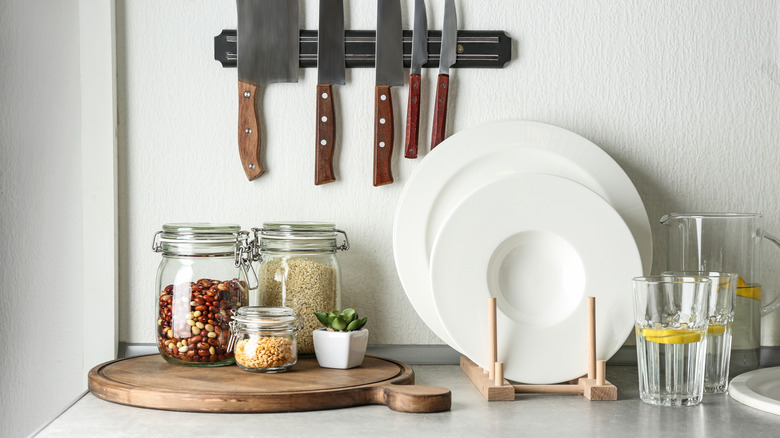 Africa Studio/Shutterstock
Knives are among the most frequently used tools in the kitchen and you want to store them somewhere easy to retrieve. Installing a magnetic strip right above the countertop gives you exactly that. Also, you get to show off your impressive collection of knives.
10. Storage cubbies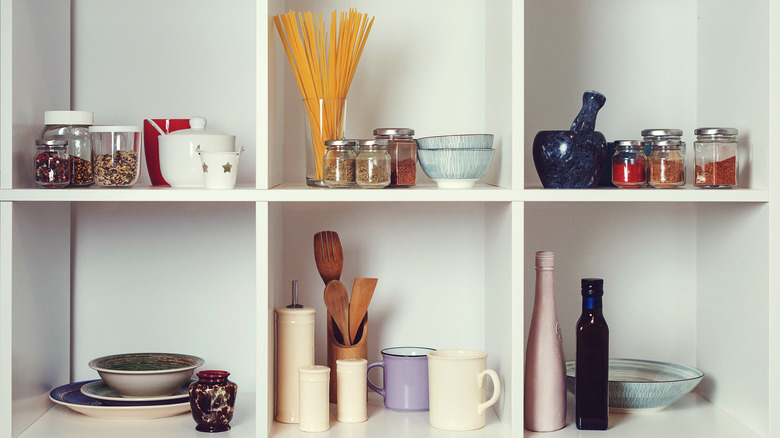 Volurol/Shutterstock
While closed cabinets are nice, open storage cubbies are even better. Think about it — you get additional storage for your essentials and also a little room to show off your impressive assortment of spices.
11. Containers on a rack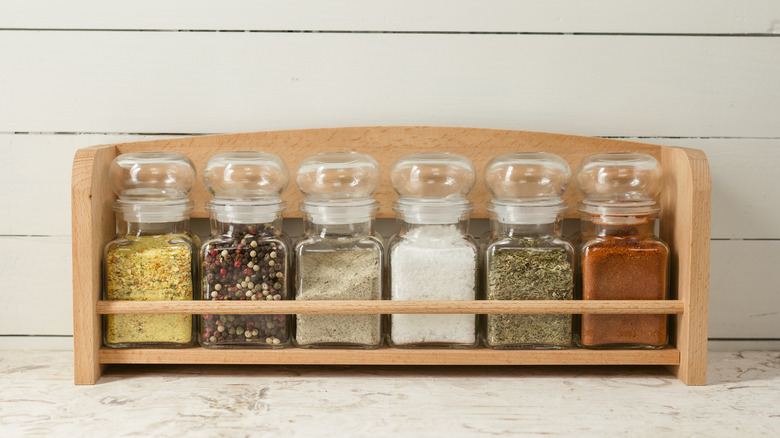 Melica/Shutterstock
Transparent mason jars are modern storage options that are a must-have for any kitchen. However, to add more organization to your kitchen, arrange these storage jars in a neat wooden rack that holds them in position.
12. Get creative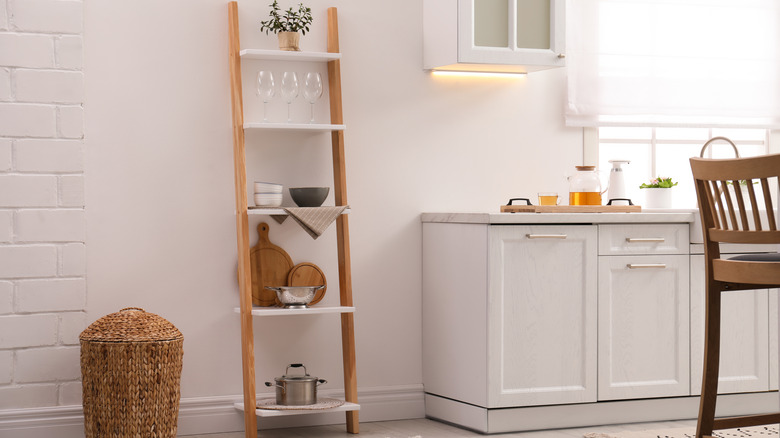 New Africa/Shutterstock
Repurpose the unused ladder in your home to create extra storage in your kitchen. This idea is beneficial if you need a little more storage space in your kitchen while at the same time giving the interior decor some character.
13. Show off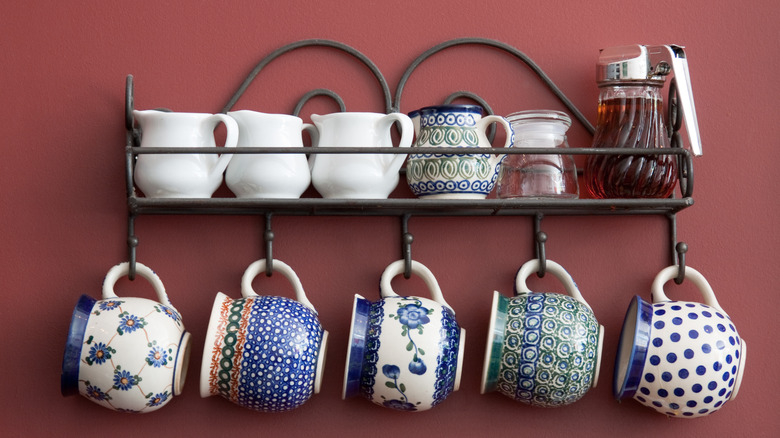 Rohit Seth/Shutterstock
Looking for storage that gives you room to show off your beautiful ceramic cups? Consider a minimalistic floating metallic rack. The metal frame almost disappears and gives the ceramic wear a stage to shine, especially on a blank background canvas.
14. Storage boxes
Installing individual storage cubbies on your kitchen wall is killing two birds with one stone. You get the much-needed decor upgrade while at the same time additional storage for recipe books and other kitchen essentials. Mix up the colors and shapes for added visual effect.
15. Raise the bar
Utilize the extra space on the ceiling to create storage for your liquor bottle collections. The floating storage right in the middle of this kitchen features extra holders for wine glasses. The light bulbs on this floating shelf light up the space beautifully during the night.
16. Wicker baskets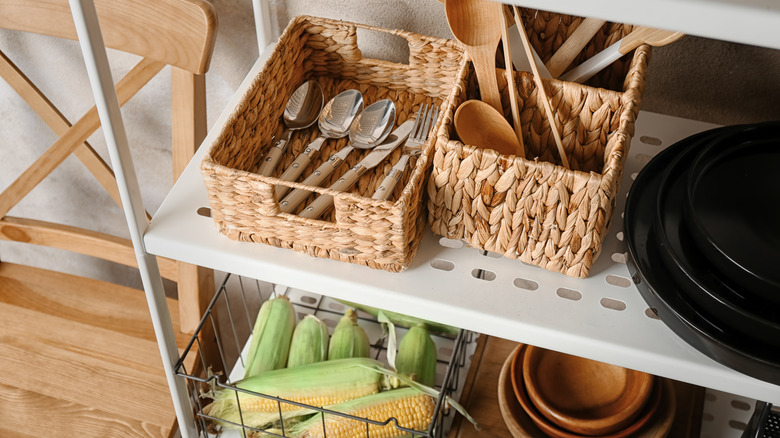 Africa Studio/Shutterstock
Introduce some organization to the open shelves in your kitchen by installing wicker baskets. These woven baskets can hold smaller kitchenware like spoons and spatulas, as demonstrated above. You have the option of installing more than one depending on your storage needs.
17. Custom drawers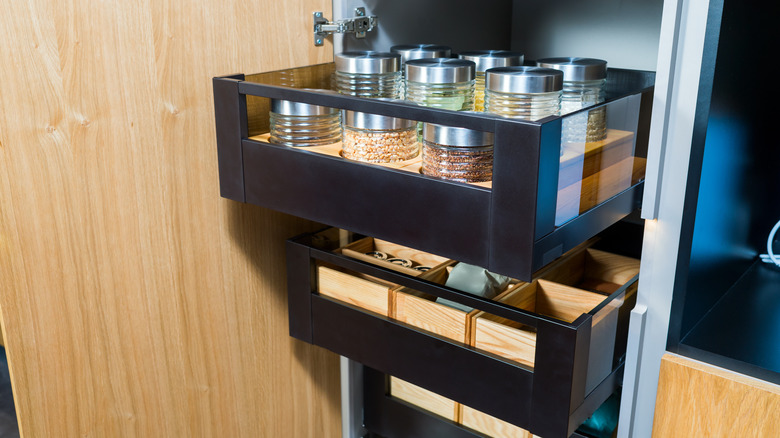 P A/Shutterstock
A creative upgrade to your regular kitchen drawers might be all you need to improve organization in your kitchen. The drawers in the example above feature mini compartments for your spice jars. Notice the glass on the sides of the drawers for easy finding?
18. Essentials arena
You don't need too much sophistication to create a space for your kitchen essentials. Make use of handy organization hacks to put the frequently used items in one spot, ideally near the sink for quick washing, cutting, and dicing.
19. Storage on the cabinet door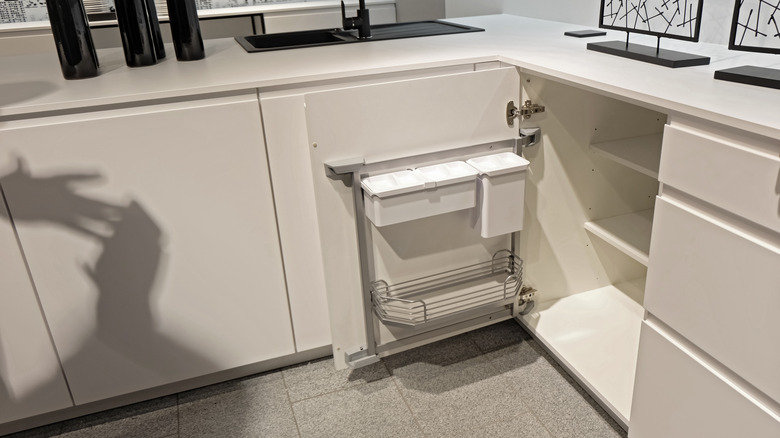 Papah-kah/Shutterstock
Did you know you can create extra storage space inside a cabinet? This example demonstrates how you can install small stainless steel storage racks for smaller items in your kitchen.
20. Stand-alone shelf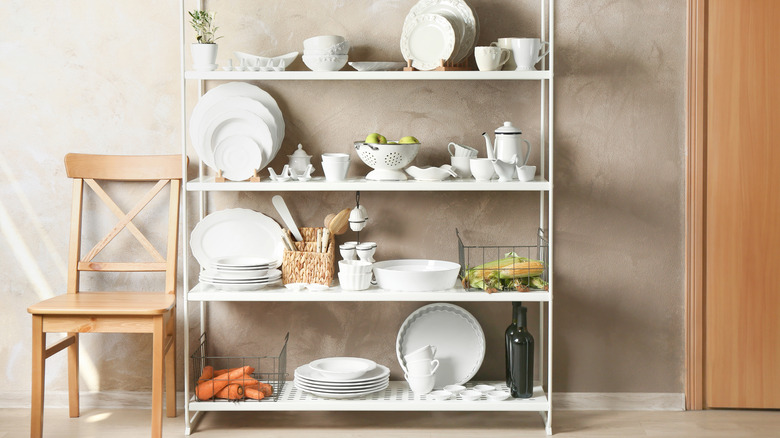 Africa Studio/Shutterstock
What do you do with the idle space in your kitchen? Go ahead and install a stand-alone open shelf that gives you plenty of storage and does not get in the way of future kitchen renovations, as demonstrated in the example above.