Are China Cabinets Outdated?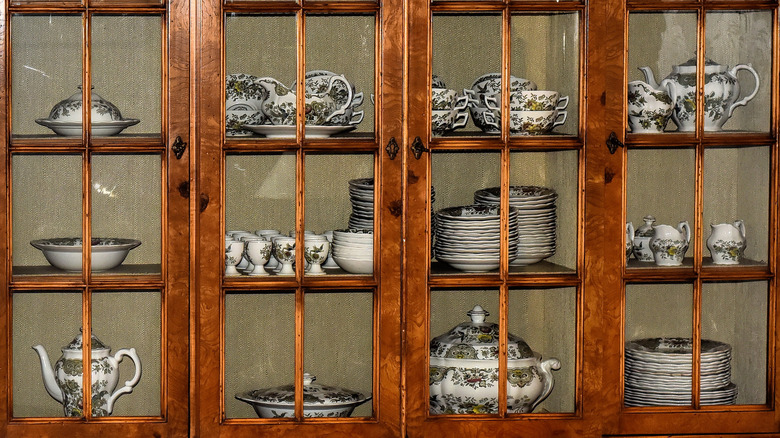 Kenny Simpson/Shutterstock
If you've inherited various pieces of furniture from a relative or have fancy dishes you would like to keep in pristine condition, you might have found yourself with a china cabinet. An item that's often kept in a dining room, you may be aware that it's a display case of sorts that is sure to have glass doors, according to Homemade Ginger. Moreover, a china cabinet is a single intricate item as opposed to a hutch which is a little more casual.
China cabinets are also a kind of furniture that has been around for quite a long time. Home Stratosphere explains that they first came about when Queen Mary requested furniture that was meant to show off her ceramic collection back in 17th-century England. After china cabinets were created for the trendsetting royal ruler, they became a popular item, and additional designs popped up by other furniture makers both near and far. Over the years, Chippendale china cabinets emerged along with Queen Anne and Vernacular designs, among others.
Of course, because they have been around for so long, you might be wondering if they're hopelessly outdated or if they can be used in a stylish modern home.
China cabinets haven't lost their sophisticated style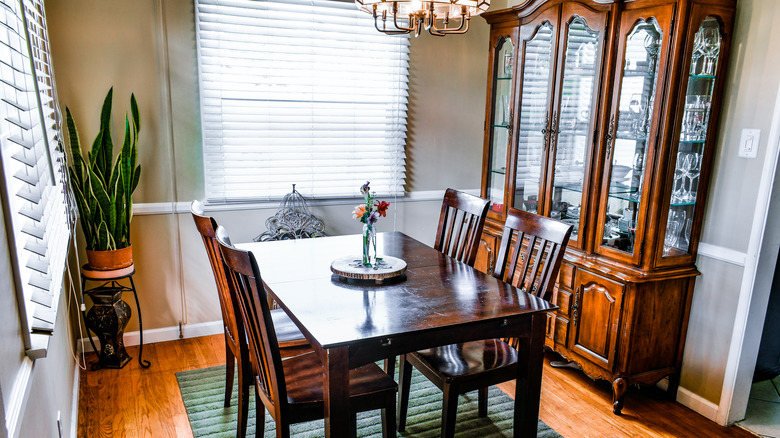 Justin P Bradley/Shutterstock
If you happen to adore this particular piece of furniture, then you'll be happy to find out that you can carry on the décor-related tradition of china cabinets without the worry of having an outdated home. That's thanks to the fact that they are still a stylish option, according to Upgraded Home.
In fact, Upgraded Home notes that a china cabinet is an item that will always hold onto its traditional and enduring trendiness. Although they may not be as popular as they may have been in the past, and we now have other ways to keep our dishes stashed away, or on display, these cabinets will apparently never lose their ability to add an elegant and sophisticated touch to a room.
That's not to mention the fact that they can be more versatile than you might expect. For instance, you can store more than just dishes in them, per Upgraded Home. We're thinking along the lines of your favorite books, art, or whatever pricey, quirky, and beloved collection you want to keep safe but also show off. At the same time, you can give your china cabinet a new life by giving it a modern makeover in several stylish ways.
Upgrade your old china cabinet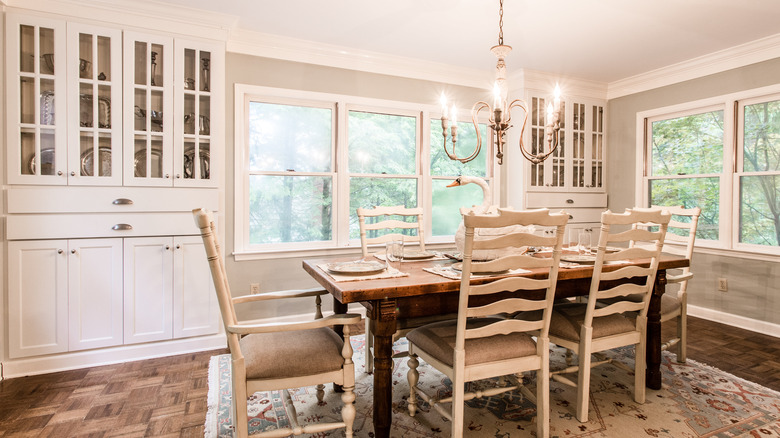 Karen Culp/Shutterstock
Although you might be thrilled to find out that you don't have to ditch your china cabinet or can even pick up a new one, you might also be wondering how to make sure that it suits your contemporary home. While you can opt to buy a china cabinet with a modern design, you can also transform a dated one, according to Thrift Diving. Frankly, giving an older cabinet an entirely new vibe is a trendy option. Just track one down at a second-hand shop or antique market and give it a good coat of paint. You can opt to make it as subtle or as eye-catching as you'd like.
If that piqued your interest, then you might be intrigued to find out that you can also use wallpaper to give your old china cabinet a new look. All you need to do is paste it onto the back section of a natural wood display case, as is done in the tutorial by Pender & Peony. Or, if you feel like your piece needs a little more transformative TLC, then you can add the wallpaper to an already-painted cabinet, per Lizzy Designs Blog.
Once you've found the perfect china cabinet and potentially revived it in a way that suits your home, then you'll end up with the perfect place for your precious dishes or whatever else you'd like to keep in this special storage space.