Movie Fans Will Love This Renovated Bathroom Inspired By A Classic Horror Film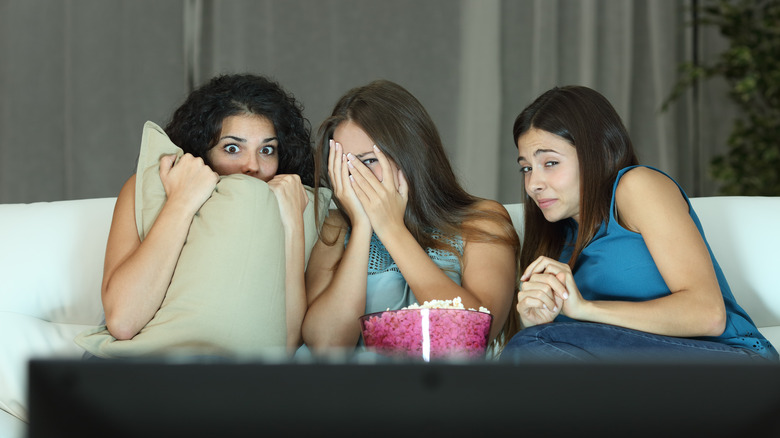 Antonio Guillem/Shutterstock
For the avid movie fan, it might be incredibly tempting but also fairly difficult to match your love of film to your home's decor without it coming off as hokey. But when just the right elements come together, it can look both tasteful and unique. For a great example of how to do a proper film homage to an area of your home, you don't need to look further than the artist/designer and founder of the interior design company Home Ec., Natalie Papier. In a challenge with her friends to do an update to their homes, she chose to give her small bathroom in the basement a horror movie makeover, according to a post she made on her Instagram.
Adding a bathroom can be an ideal way to get a decent return on your investment. If done well it could increase the value of your home by 8.7%, according to HGTV. Although when renovating a bathroom you want it to be to your own taste, if it is done in too niche of a design — for instance, if you are thinking of decorating a room with horror films as inspiration — it could spell disaster for any future value. Let's see what films were in the back of Papier's mind when she set out on this spooky undertaking.
The right shades for a windowless bathroom
Early in the renovation project, designer Natalie Papier took playful inspiration from some of the industry's most influential horror classics. Movies such as Alfred Hitchcock's "Psycho" and "The Birds," as well as Tim Burton's "Beetlejuice" were at the forefront when the project was taking shape, according to Papier's Instagram. However, these films and horror films, in general, could bring about dark imagery, which may lend a designer to deeper shades that might make a small windowless basement bathroom seem closed in. According to Wild Creative Project, to ensure that your small bathroom doesn't feel cramped, it's crucial to stick with paint colors that reflect light. Creamy colors, light gray, or even pale pink can do the trick as well as some black accents to balance the color pallet.
In this case, Papier went with grayish subway tiles on the walls that were bordered by slick black tiles along the outside. The walls were kept pale and matched perfectly with the framed print of Janet Leigh's horrified expression from the famous shower scene in "Psycho." The floors were tiled with a whimsical black-and-white looping pattern that could have been pulled directly from the set of "Beetlejuice." To add some dramatic color to the room, the art deco cabinets were painted a burnt red, making them pop out from the rest of the decor. The look definitely mirrors the classic pre-technicolor era of filmmaking without overloading the seemingly tight space.
A bold decision was made to add more life to the space
When nearing the final decisions regarding her basement bathroom makeover, Natalie Papier found that the pale wall shades weren't doing it for her. She shared with her followers via her Instagram that there was an overwhelming amount of black, gray, and chrome. She added that "there was absolutely no warmth in the space so it was reading [a] little harsh." So she made the bold choice to get rid of the white walls and repaint them with a fire brick color that coexists perfectly among the light and dark-shaded tiles.
Having the walls stand out more intensely also allows the paler tones within the classic movie prints depicting dramatic scenes from "Psycho" and "The Birds" to seem as though they are jumping off the walls. A beautiful balance of warm and cool colors helps to maintain cohesiveness throughout the room — which is important if you want to establish a certain feeling, according to Studio McGee — and the overall tone is welcoming in a creepy kind of way. Little accents around the room also play into the surrealism of the decor. The oval black mirror with white bulb lights is out of the ordinary and even the use of midnight black towels brings out the macabre of the space. So if you want to look for inspiration for a horror-themed room, take some tips from this tastefully done bathroom renovation.