20 Paint Shades That Will Open Up A Small Bathroom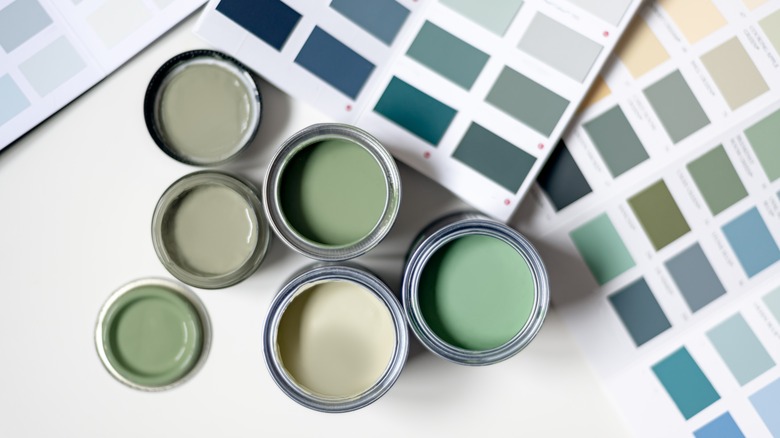 Anna Mente/Shutterstock
Small bathrooms can especially be a pain to design. Choosing the right colors and decor are crucial, as you don't want your bathroom to seem smaller than it already is. You'll also want to factor in the colors present in the rest of your home; the colors in your bathrooms shouldn't disrupt your flow of design. When looking over all the available paint colors, it also may be wise to grab a sample of the current tile in your bathroom to ensure the new colors you're bringing in are complimentary.
There are different colors to create the ambiance you're looking for, according to 21Oak. Colors for the bathroom are typically those that are soothing, but there are also plenty of other colors to choose from if you're hoping to stay on-trend. There are a plethora of colors to choose from, so we've listed some of the best paint colors to use in a small bathroom.
1. Classic white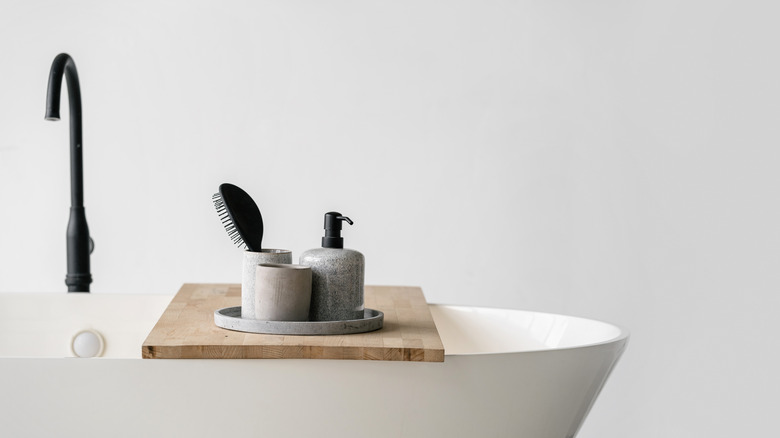 brizmaker/Shutterstock
White is a classic bathroom color, and for good reason. Sharper Impressions Painting Co. says this paint color can make a small bathroom look bright — which can also create the appearance of a larger space. However, avoid using off-white paint colors, as it can make your bathroom look dull.
2. Light gray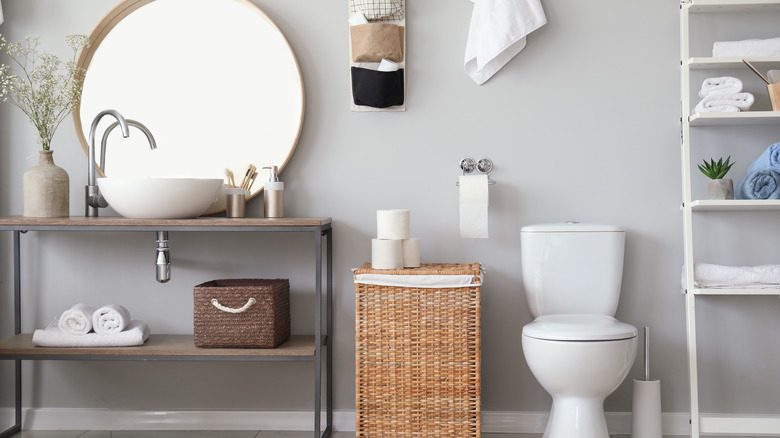 Pixel-Shot/Shutterstock
3. Light beige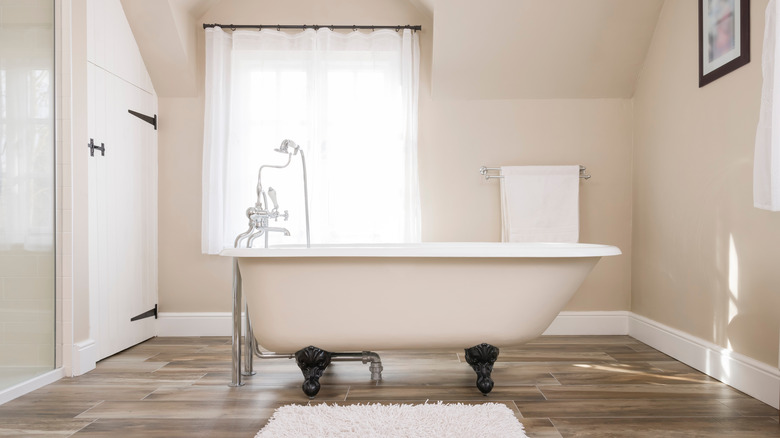 Paul Maguire/Shutterstock
Painting your bathroom a light beige will add a feeling of calm to your space. It's still light enough for the sunlight to bounce off the walls and goes well with white accents.
4. Dark blue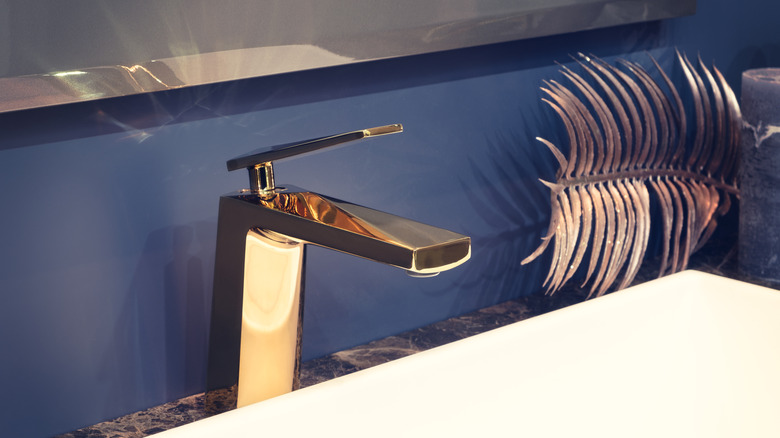 Matveev Aleksandr/Shutterstock
Oftentimes we're told that dark colors make a small space feel smaller. However, if the paint color is dark enough — such as this dark blue — it can actually add depth to your walls and make the space feel larger. Dark blue also pairs well with gold accents.
5. Light blue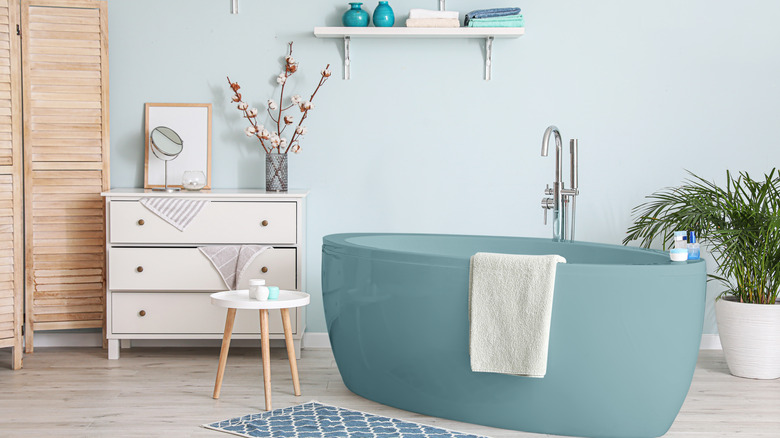 Pixel-Shot/Shutterstock
Light blue is also a good option for those who want a spa-like design. While bathing or taking a shower, the paint color is soothing to look at as you try to destress yourself. This color looks lovely when paired with warm, wooden materials.
6. Mint green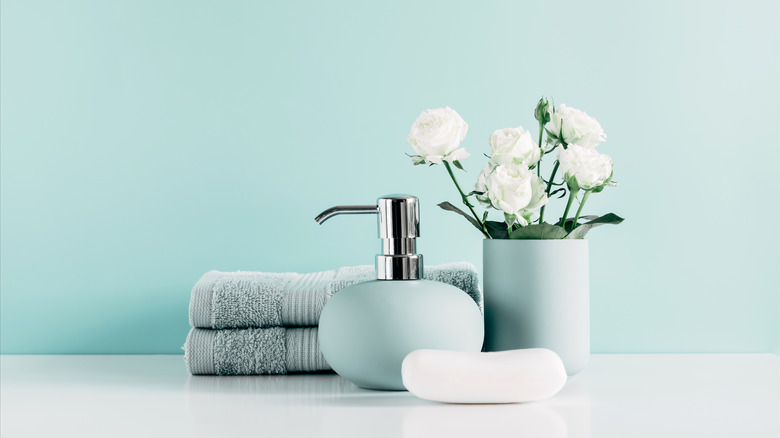 All for you friend/Shutterstock
This mint green paint color is a unique and beautiful color. You could fill your whole bathroom with this color, and it probably wouldn't feel overwhelming. It's very soft on the eyes, which can then have a calming effect.
7. Sage green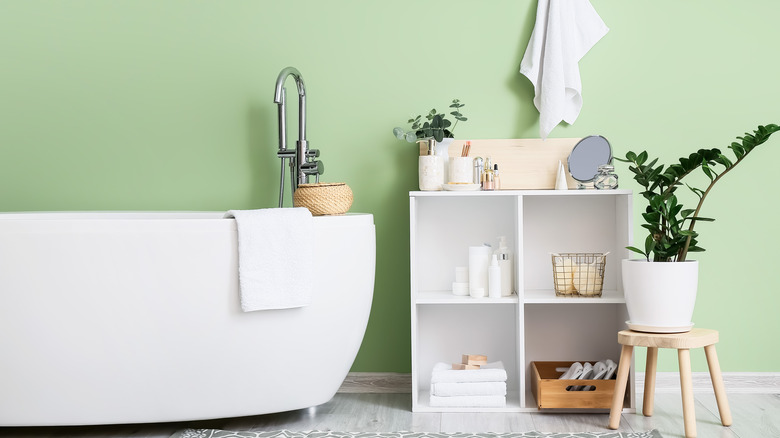 Pixel-Shot/Shutterstock
Whether it's paint colors, home decor, or clothing — sage green has recently been a trending color. Although it's trending, it doesn't technically mean that this color will go out of style. If paired with the right accents and tile, your small bathroom could enjoying this stunning color for years.
8. Dark green
Dark green is also a nice color for a small bathroom, especially when paired with plenty of natural light. It's deep, alluring, and is an excellent color for many design themes.
9. Light purple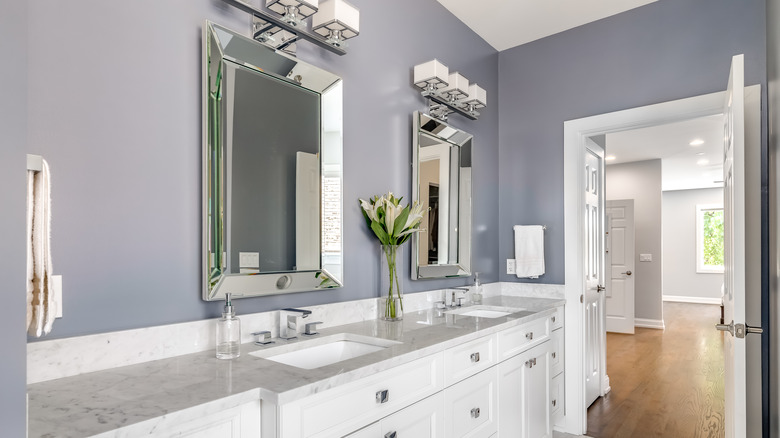 Hendrickson Photography/Shutterstock
Light purple is a beautiful color that can be used in a modern or contemporary design. It pairs well with marble and white accents — creating a small bathroom that is bright, with a feeling of femininity.  
10. Lavender bathroom
For those who love the aromatic smell of lavender, this color might be your favorite choice. It's beautiful and has a touch of class. The bathroom still looks bright even with no natural lighting.
11. Light pink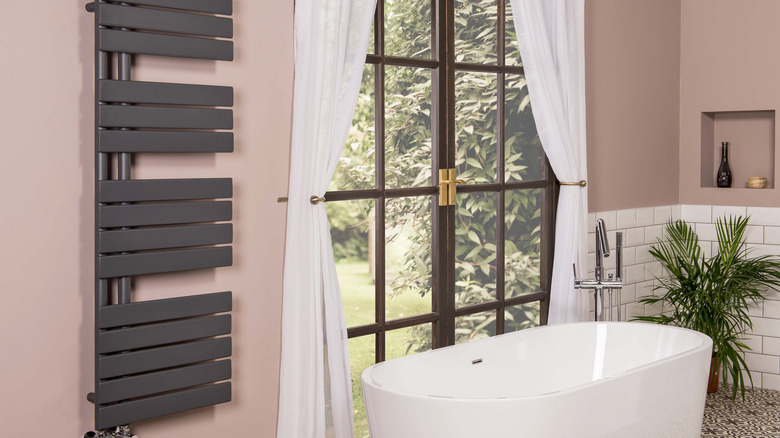 Light and Vision/Shutterstock
Light pink is a gorgeous color that could most likely look good in any room. However, in a small bathroom, this color could be quite impactful as it doesn't absorb light while also making a stunning statement. 
12. Dark pink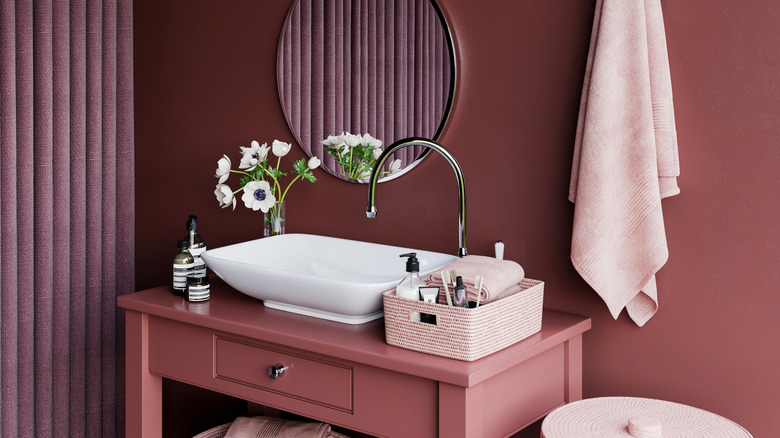 Miljan Andjelkovic/Shutterstock
Since pink is seen as a feminine and cheerful color, even its dark shades will work in a small bathroom when paired with white accents. The white pulls out the color of the pink, and black accents would instead make the color more dull.
13. Brown bathroom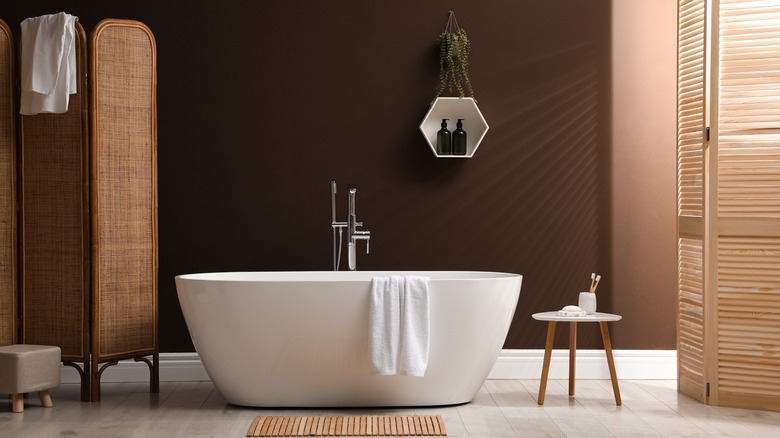 New Africa/Shutterstock
Again, although dark, this brown paint color is a neutral tone and rich tone. It gives off the feeling of elegant simplicity, which is perfect for a small bathroom that cannot be filled with decor.
14. Bright yellow
Bright yellow is a fun and cheerful color that can light up your room with the proper amount of natural light. You can either paint your whole bathroom yellow or create an accent wall with yellow that is paired with white walls.
15. Coral
Coral is not only a beautiful color, but it can be contrasted with either black or white trim. Either way, your small bathroom will feel light and airy.
16. Black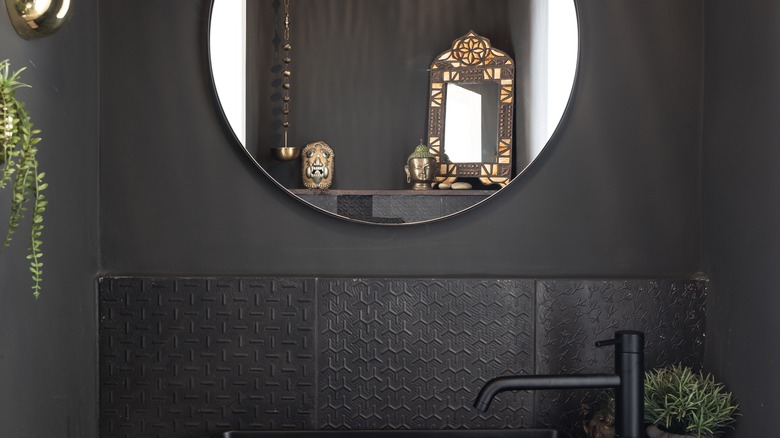 Shai.eps/Shutterstock
Black paint in a bathroom is typically thought of as a no-go. However, if paired with the right tile and accents, you can create a great design that'll go well with either modern or contemporary designs. Ensure there are enough mirrors and lighting as well so light can reflect through the room.
17. Dark gray
If black is too intimidating, you can opt for a dark gray paint color with to create a similar effect. This color can also be complemented with black if there is enough natural light.
18. Orange bathroom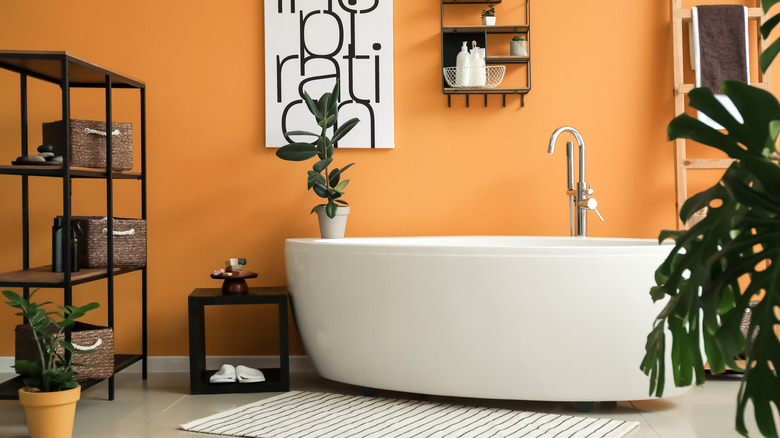 Pixel-Shot/Shutterstock
Orange is typically thought of a bright and fresh color. It easily pairs with colors such as black but could also be complemented by pink or white to create a creative and colorful bathroom that doesn't feel cramped.
19. Burnt orange
Burnt orange can play as a neutral color as it has beige tones. It creates a comforting environment that can be complemented with other soft shades of orange.
20. Blue-gray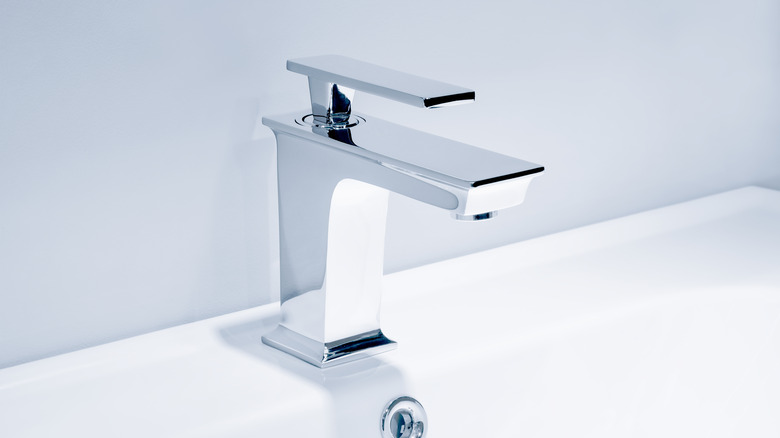 Matveev Aleksandr/Shutterstock
Choosing a paint color that is a mixture of blue and gray can provide you the light color you desire, and it will also be neutral due to the gray component.