Can A New Front Door Actually Add Value To Your Home?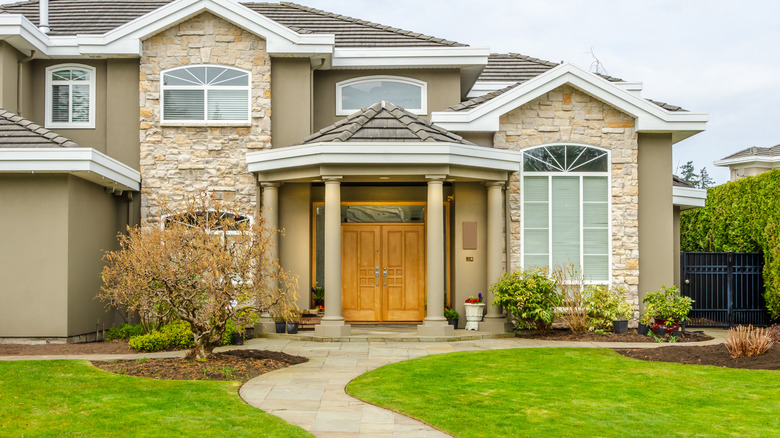 karamysh/Shutterstock
Take a look at your home from the street and specifically check out your front door. Does it encourage people to stop in, or does it look dated, dirty, and dingy? Replacing the entry door to a home is sometimes necessary, for instance, if it is no longer providing enough safety, not closing properly, or if the door is otherwise damaged. Alternatively, you may wish to change out the door for one that offers more aesthetic appeal or just fits your tastes better. There are plenty of reasons to upgrade.
According to Fixr, the cost of a new front door ranges from $800 to $2,000, making this a big investment for some homes. Is it worth replacing your door with a new one? If you plan to sell your property soon, or you hope to have it appraised and want the biggest bang for your buck, you may be wondering if a new door can help. Here's what to expect.
It could boost your home's value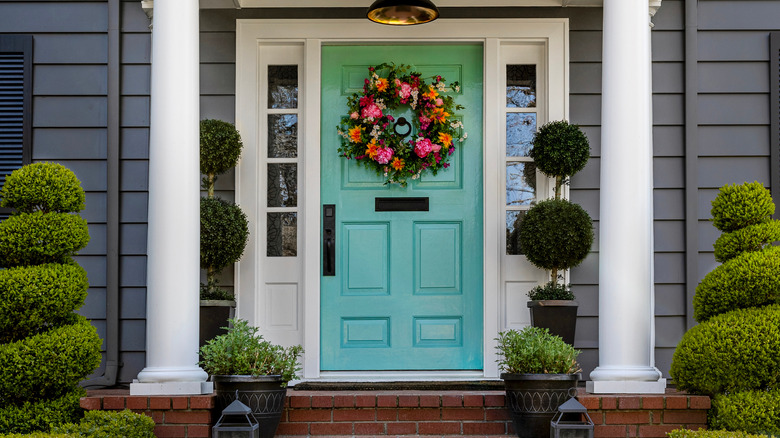 David Papazian/Shutterstock
Adding a new door to your home could offer a nice return on investment, meaning that the money you put into the new door could help to increase your property's value. According to a 2020 national average from Remodeling Magazine, replacing an entry door could lead to a 68.8% ROI. That means you could get back as much as nearly 70% of the cost in added value.
Moreover, according to Quality Overhead Doors, a new door could help bring in home buyers and offer a more welcoming appearance to the stoop. If your old entryway is no longer looking its best or is taking away from the appearance of the home, a replacement could be a smart investment. However, the financial amount of that improvement is not always clearly understood or easy to track. For example, if your existing door is in good condition and not detracting from the house's value, replacing it may not offer much of a benefit.
What you add to your home matters, too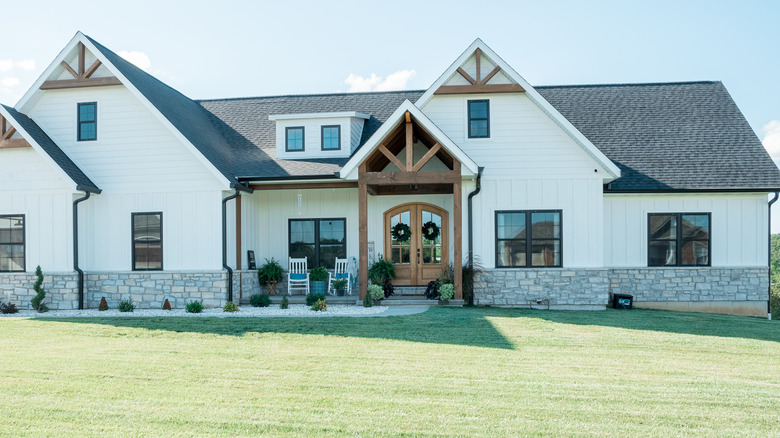 Carla Bullock/Shutterstock
It's important to remember that value is perceived by a buyer, and if you install a door they don't like, you may not get as much out of the home improvement project as you hoped. For example, in 2018, Zillow conducted a study to determine which colors impacted home value, specifically in the area of kitchen cabinets and front doors. The study found that black front doors, including those with a jet-black finish, a smokey look, or a charcoal hue, are likely to offer a significant return of $6,271 in added home value — therefore, picking the right color is a must.
So, should you invest in a new front door? According to Pella, there are lots of reasons to make the investment beyond ROI. A new front door is a way of making a personal design statement by choosing a fun color you love. In addition, the design and style of the door can improve the property's security and privacy.