Home Depot Or Lowe's: Which Has Better Deals On Blinds?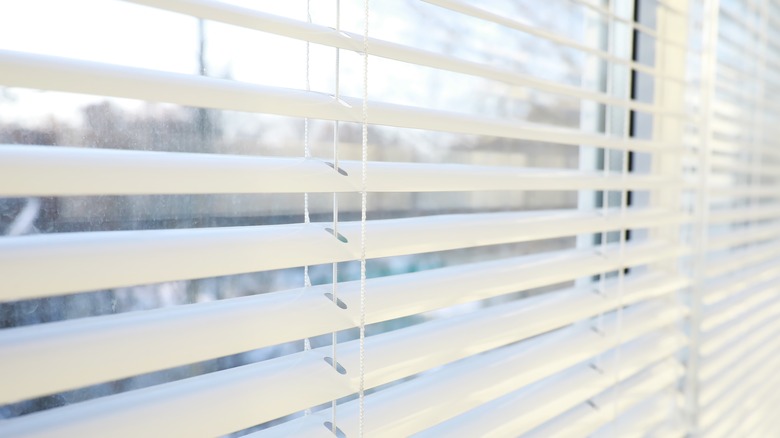 alexkich/Shutterstock
While blinds are often a much-needed accessory, there are a few things to consider prior to buying. As Centurian Window Fashions points out, you have to decide why you're buying them to begin with. Some purchase them for their functionality, while others buy them to enhance their home. You also have to determine what your budget for these blinds will be. This ensures you don't spend more than you have or limit yourself to a cheaper model. Once you've set your pricing, you can then decide on which design of blinds you'd like. It should complement the aesthetic of the room in which they'll reside.
Once these factors have been decided, you need to figure out how much privacy and light you want. If you have children or pets, you may also want to consider the safety of the blinds, specifically those with cords. Next, take measurements of your windows. This is important, so you know exactly the length and width of blinds you need. Finally, you need to choose which retailer you will use to make your purchase. Home Depot and Lowe's each have a wide selection to choose from, and we've broken down the top-selling models at each to see who has the better deal.
Home Depot's Levolor blinds
Home Depot's best-selling blinds are made by the brand Levolor. These 2-inch faux wood blinds are completely customizable, so you can find the style that fits your needs. Prices vary drastically based on size and color. For example, the smallest size available is 9-inches in width and 8-inches in height for around $45. Likewise, the largest dimensions you can buy are 144 ⅞-inches in width and 120 ⅞-inches in length. This size will run you nearly $340.
There are also many designs and colors to choose from, including six classic colors, 20 premium faux wood shades, and 15 cloth designs. You can upgrade these blinds with a cordless design, a motorized lift, a charger kit, and privacy slats. 
Based on over 1,800 reviews, this product received an overall rating of 4.5 stars. This rating was separated into two categories: quality and value. The quality received a 4.2-star rating, whereas the value received a 3.8-star rating. Many consumers stated that these blinds are well-made, visually appealing, and very simple to install. On the other end, more of the negative reviews seemed to have customer service-related complaints, like the product not arriving on time or receiving the wrong order.
Lowe's allen + roth blinds
One of the top-selling blinds available at Lowe's is made by Allen + Roth. These 2-inch slate blinds are made of white faux wood. The dimensions are 64-inches in height and a customizable width size that ranges from 20.5-inches to 71-inches. The smallest size goes for around $38, while the largest is about $93. These cordless blinds are said to block out 85% of light. In addition, you can trim these blinds up to 4-inches in width and 10 inches in height.
Based on over 2,300 reviews, 90% of customers said they would recommend the product, and it received a 4.4-star rating overall. One reviewer said, "these look way more expensive than they were." Another said, "Excellent quality and you can't beat the price." However, many negative reviews stated that the blinds don't darken their room as there are gaps between the slates. Another commented that their blinds came dirty and the pre-cut measurements were inaccurate.
While both brands of blinds appear to be good deals and have overwhelmingly positive ratings, we have to say the better deal is at Home Depot. With so many customizable features, customers can get exactly what they need.