The Easiest Way To Make Your Home More Appealing To Buyers
Sheila Say/Shutterstock
If you're considering selling your house, chances are it's got you thinking about how to make your home as attractive as possible to prospective buyers. With construction costs rising, it's smart to consider cost-effective ways to get the job done. NextAdvisor reports that a small remodel, including landscaping, paint, and repairs, can cost up to $45,000. A kitchen renovation costs around $20,000 on average but commonly goes up to $50,000.
Unless you're okay with dishing out this kind of cash, there are ways to cut costs and make your home more appealing with some practical thinking. According to Maximum Exposure Real Estate, several quick hacks can get your home in top shape for buyers. They recommend decluttering, painting your walls a neutral shade, updating lighting, and increasing your home's curb appeal.
While these are all great recommendations, we're focusing on the one we believe makes the most lasting impression — upping your curb appeal.
First impressions always count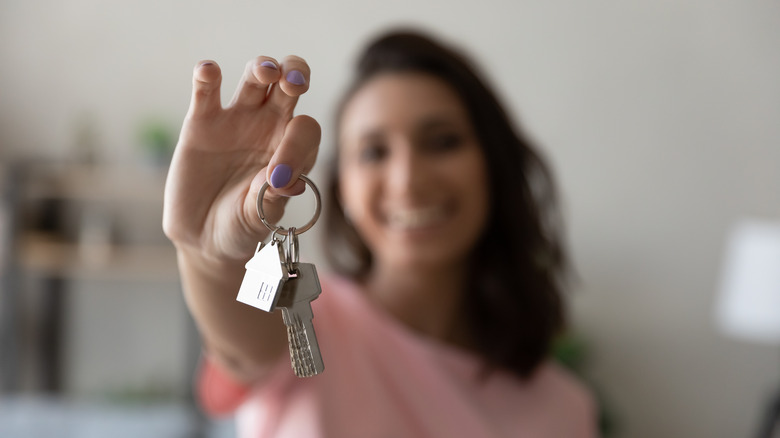 fizkes/Shutterstock
Making a good first impression is key. If you want to appeal to buyers, making your exterior and entryway look as good as they can goes a long way. If you live on a street where the houses look similar, it also helps to make sure yours subtly stands out from the rest. In fact, Landmark Home Warranty explains that improved curb appeal can increase perceived home value by up to 11% — it not only helps your home sell quicker but also increases its value.
Although somewhat obvious, there are several reasons why this is the case. According to MHM Professional Staging, "curb appeal" is a term used to describe the aesthetic attractiveness of a house's façade. To have curb appeal implies a house is visually appealing and gives people a sense of security as they approach it. Because of its impact on purchasers, a home's curb appeal helps it sell quickly and for a higher price.
What can you do?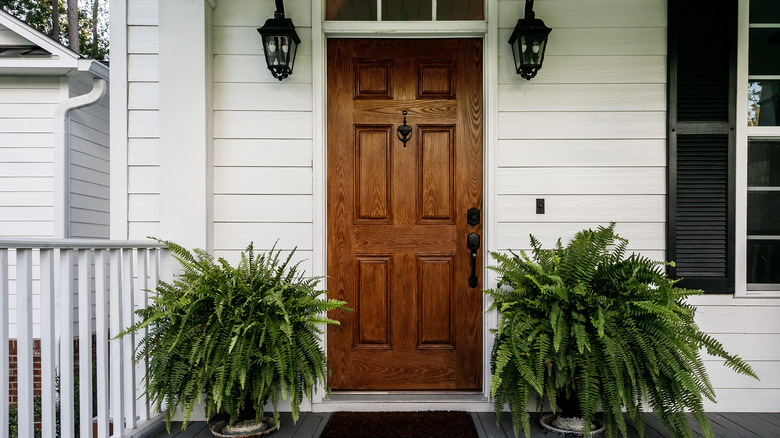 Ursula Page/Shutterstock
Even though upgrading your home's exterior can be expensive if you opt for new siding or windows, there are several affordable and impactful changes you can make. As Better Homes & Gardens suggests, replacing old hardware, painting the front door, adding seating to the porch, outdoor lighting, and even adding some outdoor art can make a difference without breaking the bank. Other suggestions are updating your railings, installing tile on your front doorstep, and building a walkway. However, these may take longer and could cost a little more. If you can afford to invest in a few of these suggestions, you're guaranteed to up your curb appeal.
Another simple idea is to paint your outer walls. Freshly-painted walls will give your home an instant facelift. Coldwell Banker Real Estate recommends sticking to light yellows, deep blues for homes near water, coral pinks, or classic white. They also suggest avoiding colors like black, tree green, lime green, and bright yellow.
Finally, updating your landscaping is a quick fix to make your home look beautiful. New mulching and flowers can be an easy, inexpensive DIY project sure to attract more buyers.