The Price Of Gas Stoves Has Gone Up Drastically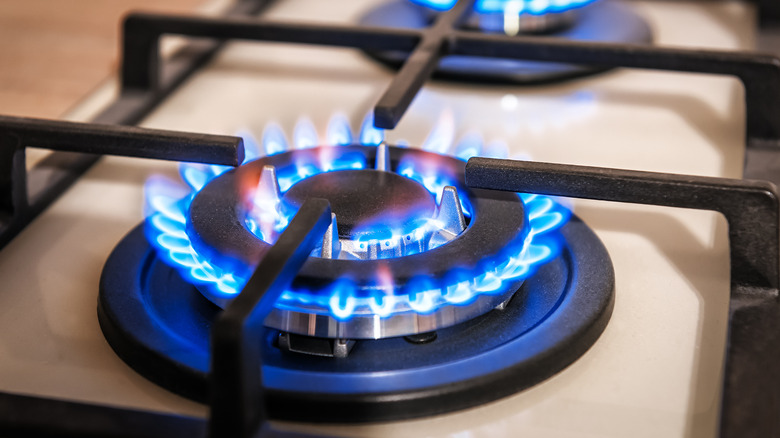 Vova Shevchuk/Shutterstock
It's no secret inflation has jacked up the prices of seemingly anything and everything. If you've recently browsed the kitchen appliance section looking for new equipment, you were probably shocked to see the high price tags on gas stoves. Within the past four years, the U.S. has seen a drastic increase in prices of gas household ranges, ovens, and other cooking equipment. According to the House Digest data provided by the U.S. Bureau of Labor Statistics, prices have increased about 24% since mid-2018. In fact, customers are paying 13% more for their appliances than they did last year, GOBankingRates explains.
The reason for this significant jump is not because of the actual item but the materials it's made of. The cost of copper, steel, and aluminum continue to rise, and will only get higher, CW Service Pros states. COVID-19 has also contributed to the high prices. The pandemic shut down a large amount of production, which put many gas stoves on backorder. As the demand for appliances got higher, so did the price tags. 
How to snag a good deal
The best time to purchase a large appliance is towards the end of the summer, the reason being many appliance manufacturers are trying to get rid of their older models to make room for the new ones set to release in the fall, TheStreet says. To push sales, stores are essentially giving items like gas stoves away by slashing prices. You could also check out stores like Walmart, Home Depot, and Lowe's, which all have price match policies that can help you score a better price on your gas stove, The Krazy Coupon Lady states.
One of the best things you can do to save money is to keep up with any maintenance your gas stove or other appliances require. The easiest way to do this is by keeping them clean, and doing routine checks to make sure everything is looking good, says GOBankingRates. You'll be thanking yourself for taking the proper precautions (and so will your wallet).