Designer Emily Henderson's Savvy Tips For Selecting Kid-Friendly Furniture
Natalia Lebedinskaia/Shutterstock
In many houses, the living room coffee table is home base for kids. It's where they enjoy meals, color, spill just about anything within reach, and even sit near to watch TV. Unfortunately, this popular furniture piece is one of the most common spots for them to suffer an injury, too, especially with problems like sharp edges. According to Nationwide Children's Hospital, more than 11,000 children went to the emergency room in 2019 as a result of injuries from furniture or TV tip-overs. That equates to about one child every 46 minutes.
For many parents, however, a coffee table is an important design feature that's both functional and necessary. Designer Emily Henderson offers some tips and tricks for picking out kid-friendly furniture that not only looks good, but is also a bit safer for children who may be likely to bump their heads. Here are some recommendations to incorporate into your living room design.
Skip the hard surfaces in favor of upholstery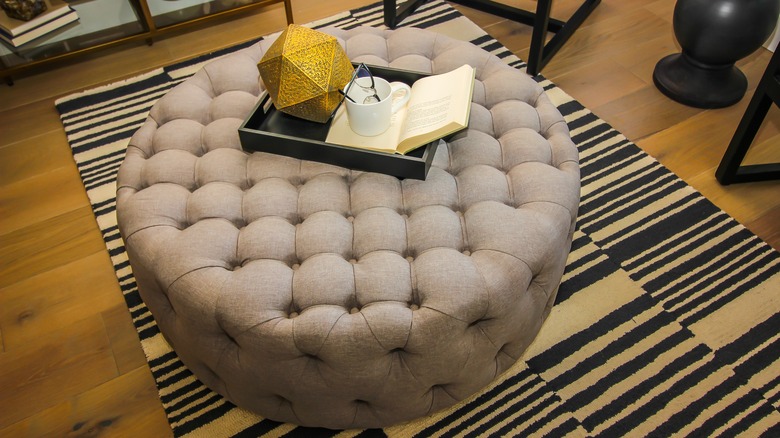 ThomasPhoto/Shutterstock
That sharp corner on the coffee table could be one of the biggest risk factors for bumps and bruises. According to Emily Henderson, not only does an upholstered ottoman work as a better solution to a hard-topped table, but it can also add texture to the living room, creating a more overall pleasing and fun look. Of course, you can choose any pattern and look that works for your and your family's needs. However, Henderson recommends avoiding items that are too "matchy-matchy," as they can take away from the overall look of your living room.
Worried about kids and upholstery? Circle Furniture recommends choosing Ultrasuede or other microfiber products that are better for spaces where children spend time because they can handle more wear. Some products even have an antimicrobial fabric design. These could work well to be a liquid barrier — imagine not having to leap for paper towels! — and work to reduce stains.
Go with an oval coffee table
Radovan1/Shutterstock
Still want a hard surface and just cannot imagine the kids balancing their lunch and Legos on fabric? Emily Henderson has a solution for the most common problem associated with these tables and injuries: Choose an oval instead of a squared-off version. Additionally, it should be sturdy and heavy enough to manage your needs, so that there's no real way for the table to move out from under the children. You also want to reduce any tripping hazards.
This kid-friendly shape may even prevent a few knees from being nicked. You can also choose a classic round coffee table for the same reason. While finding a fantastic oval option may be the ideal goal, if you can't pull it off, then you may want to think about using corner bumpers. Look around your living room to find all those corners that often connect with children's heads to better babyproof your home, recommends Child Safety Store.