Beautiful Dining Table Centerpieces That Will Look Good All Year Long
Followtheflow/Shutterstock
The centerpiece is the most important element when decorating your dining room table. According to Chef's Pencil, the centerpiece should reflect your style and add personality to the table. Additionally, adding a decorative statement piece can make your dining room's whole design feel complete. And it could make your guests subconsciously assume that you've put lots of thought into cooking their food, which could cause them to be more excited about the upcoming meal.
Many people switch out this item with the changing seasons. For instance, you could use pastel pieces in the spring, watermelon dishware in the summer, orange pumpkins in the fall, and snowflake decorations in the winter. However, while this can be fun, what if you didn't have to switch out your centerpiece every season? What if you could use one item throughout the entire year? Below, you'll find dining room centerpiece ideas that would look stunning year-round.
1. A beautiful bouquet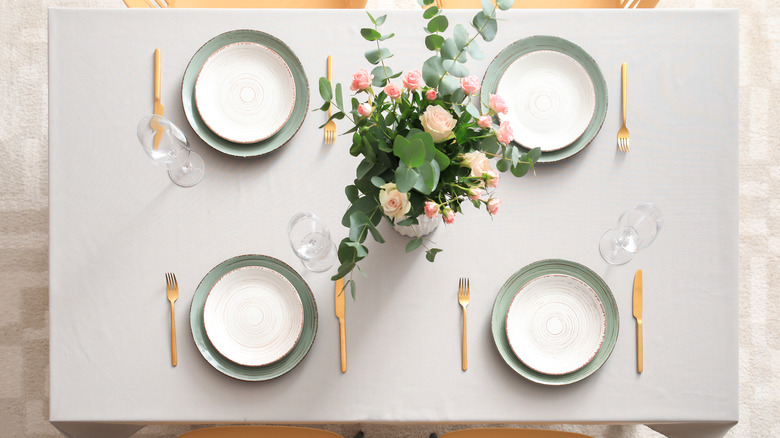 Pixel-Shot/Shutterstock
Bouquets with flowers matching your color scheme can look beautiful every season. If you love fresh flowers, you could switch out your centerpiece every few weeks or invest in some high-quality faux florals that never have to be replaced. 
2. A group of candles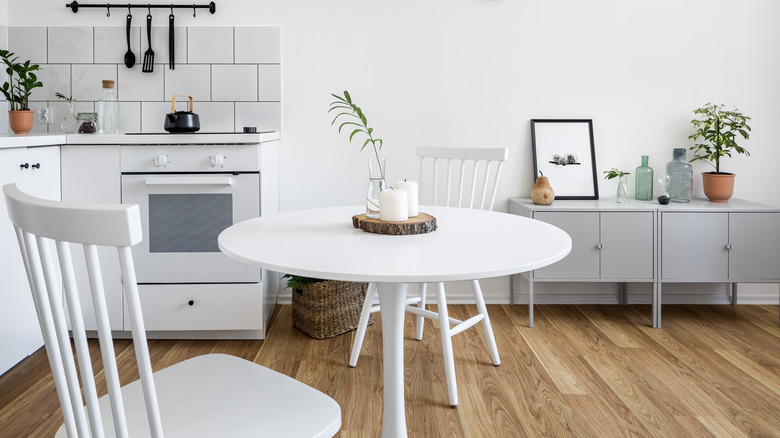 Dariusz Jarzabek/Shutterstock
A group of candles will provide your space with a cozier feel in the cooler months and a moodier look during the warmer months. 
3. A single succulent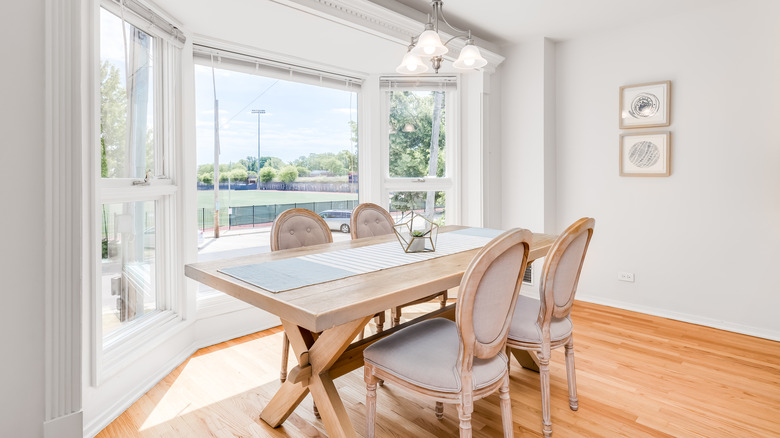 Hendrickson Photography/Shutterstock
If you like a minimalist and simplistic appearance, you could place a single succulent in the center of your table. You could transfer it into a glass container to add some extra decoration. 
4. A collection of bud vases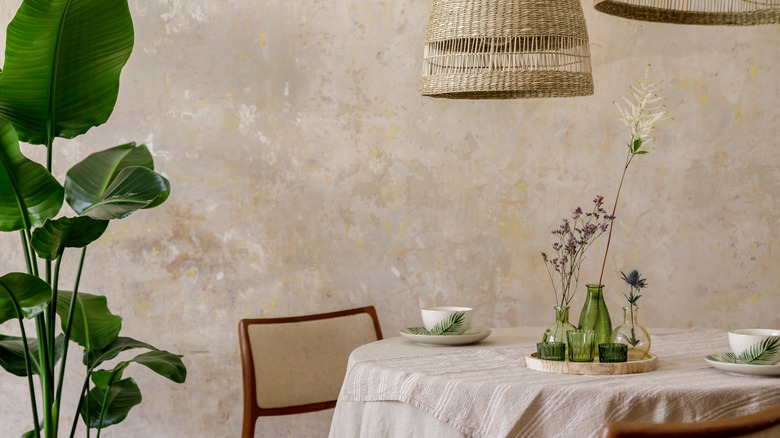 Followtheflow/Shutterstock
If you love an eclectic and delicate appearance, you could use a collection of bud vases as your centerpiece. To corral these smaller items together, use a tray. 
5. Lots of potted plants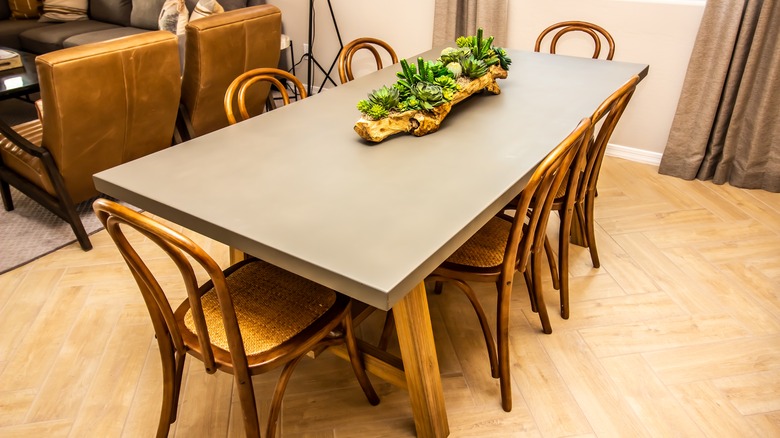 ThomasPhoto/Shutterstock
Plants will make your dining room feel more lively and fun. Choose an interesting planter, like the wooden one above, to give your centerpiece a unique appearance. 
6. A unique sculpture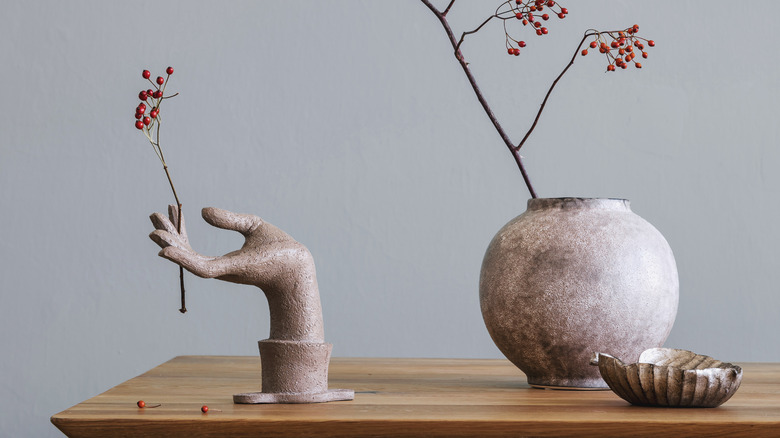 Followtheflow/Shutterstock
If you love a maximalist and glamorous feel, you could add an eye-catching sculpture to your centerpiece, like the hand above. 
7. Tall branches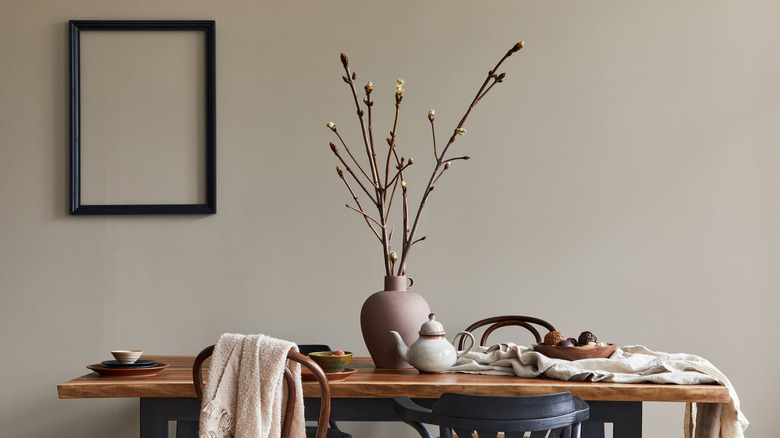 Followtheflow/Shutterstock
Tall branches will emphasize the size and height of your dining room. Place them in a vase or a large jar with texture to increase the dramatic effect. 
8. A fruit basket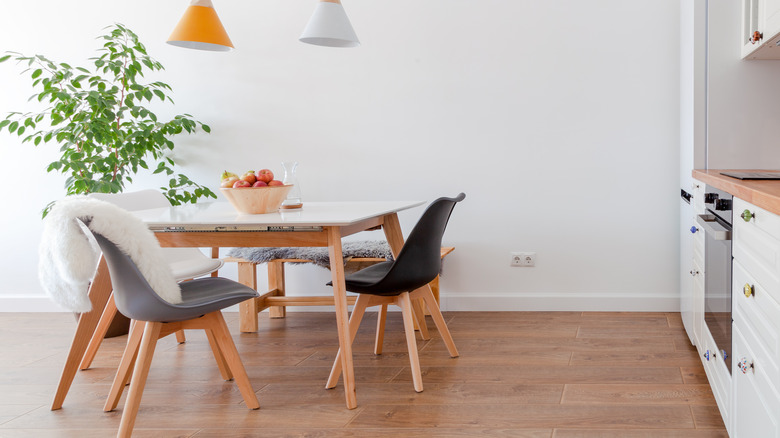 MikroKon/Shutterstock
If you want a practical centerpiece, you could use a decorative fruit basket filled with colorful apples and oranges. 
9. A pair of plants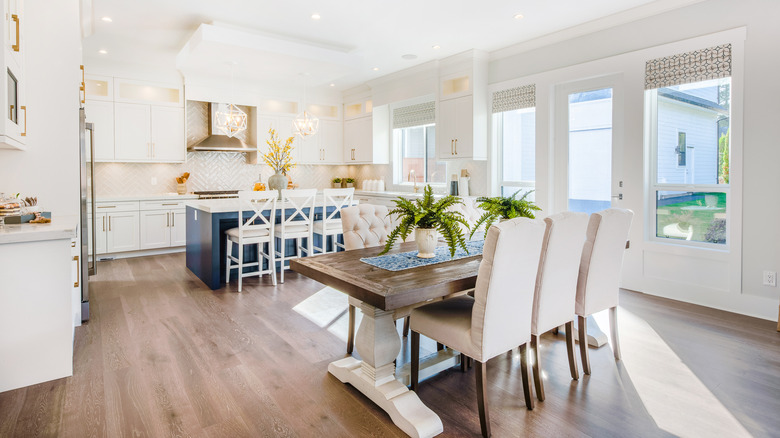 Sheila Say/Shutterstock
For long tables, a pair of plants could look fantastic. The above farmhouse space has two matching plants placed on a runner in the center of the table. 
10. A clear vase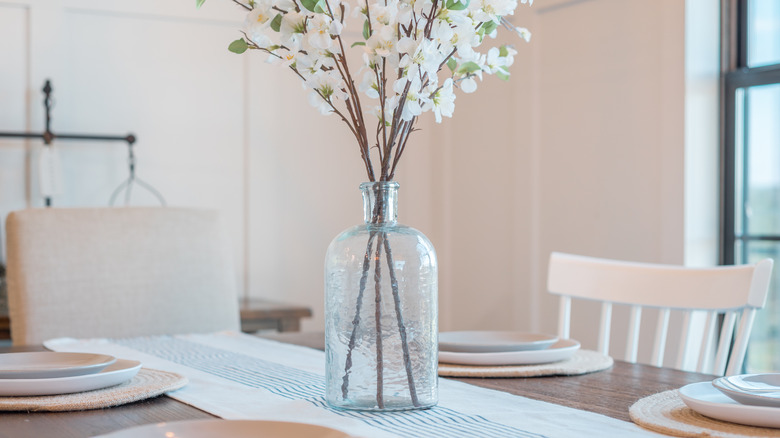 Carla Bullock/Shutterstock
A clear vase with florals will give your space an airy and light feeling that doesn't overwhelm. Glass containers are a great way to make your table appear more delicate. 
11. Lots of dishware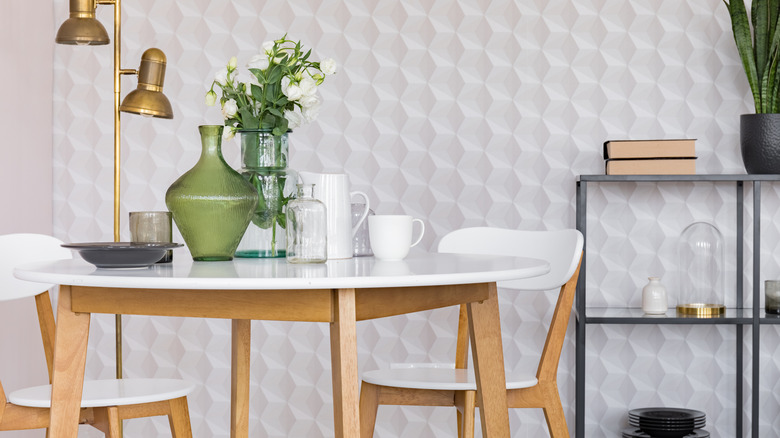 Ground Picture/Shutterstock
If you can't decide on just one centerpiece, you could include a dishware collection in the center of your table. Varying different heights, materials, and colors will provide visual interest. 
12. A watering can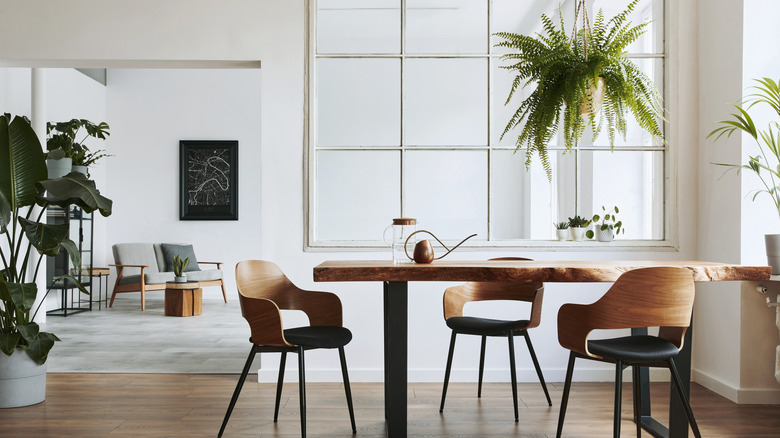 Followtheflow/Shutterstock
A decorative watering can is valuable if you have many plants in your home. It will become an interesting sculptural piece and a functional tool when placed in the center of your dining table. 
13. An oversized item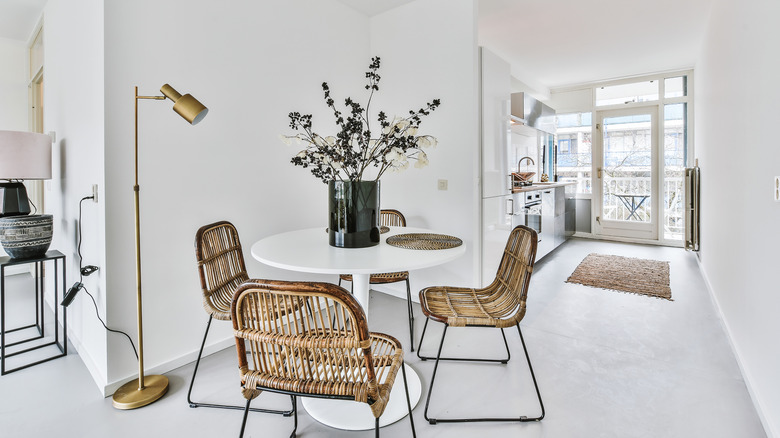 Procreators/Shutterstock
An oversized vase or other decorative element can give your space an extra dramatic flare that makes a statement. This piece could also become the focal point in your dining room. 
14. Dried florals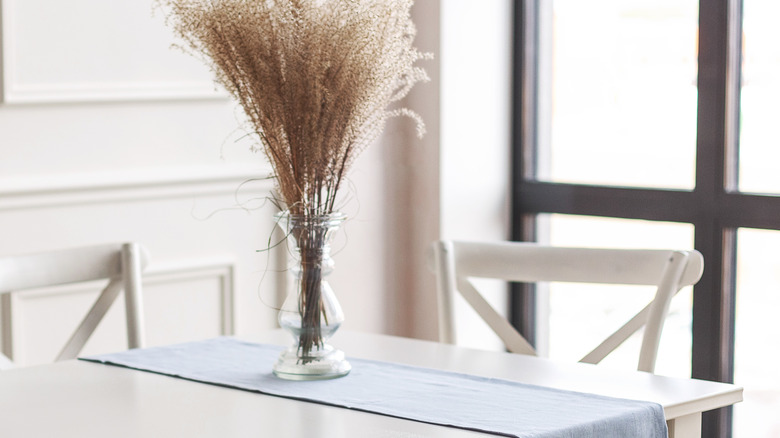 Akasha/Shutterstock
Dried florals or plants in a vase could work as a centerpiece year-round by adding lots of texture and interest to your dining room. 
15. A metal container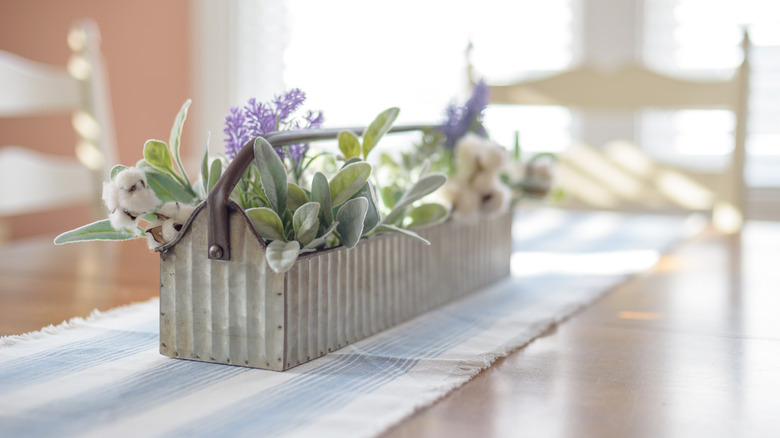 Kristen Prahl/Shutterstock
You could place flowers or plants in a metal container for a rustic or farmhouse look. Rectangular shapes are great for long tables. 
16. Mixing materials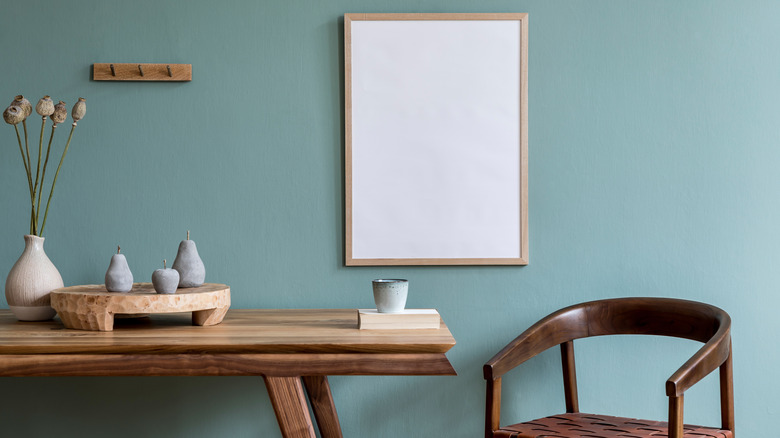 Followtheflow/Shutterstock
Mix lots of materials in the center of your table to add dimension. You could do this by placing ceramic items on a wooden tray with dried flowers. 
17. On a tray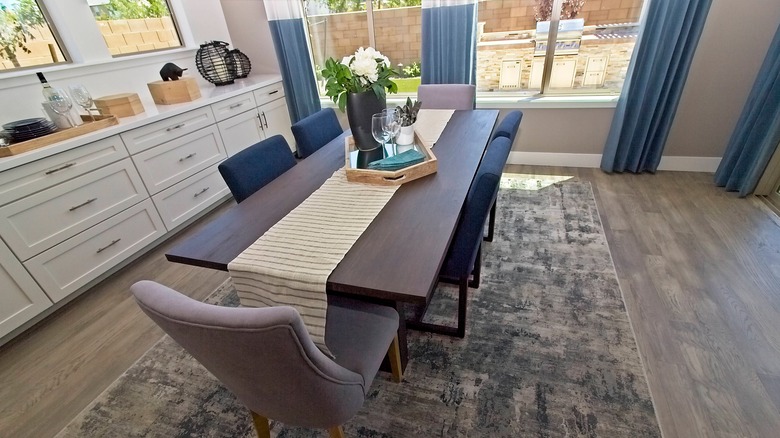 ThomasPhoto/Shutterstock
No matter what centerpiece you decide on, a tray is always a great way to ground it on your table and group smaller items together. 
18. A pitcher and glasses
If you're all about convenience and functionality, you could use a water pitcher and glasses on a tray as your dining room centerpiece. 
19. A group of three
David Papazian/Shutterstock
The number three is pleasing to the eye and typically used in interior design. Placing three elements at the center of your table, such as a large vase and two smaller candles, will create an attractive setup. 
20. Groups of candlesticks
Varying the heights of items will create dimension. An easy way to do this is by including groups of candlesticks of all different heights.