Home Depot Or Lowe's: Which Has Better Deals On Freezers?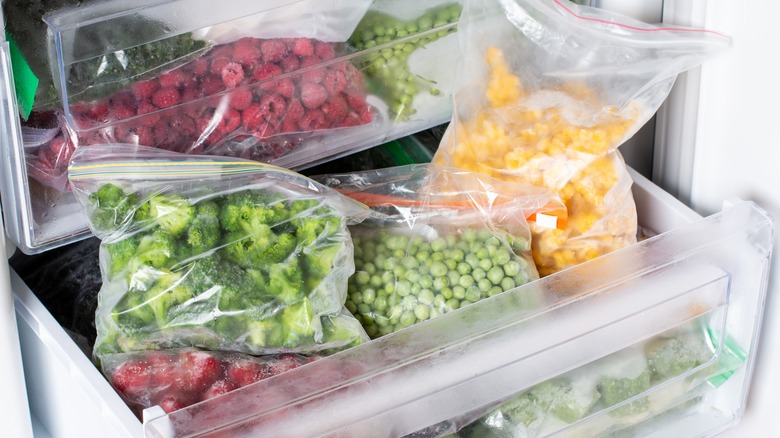 Ahanov Michael/Shutterstock
A standalone freezer can potentially be one of the most costly appliances you'll ever buy. Therefore, before making this purchase, you should decide exactly what you want. As Compact Appliance points out, there are a couple of different types to choose from. The first type is commonly referred to as an upright freezer and looks similar to a refrigerator. These models tend to keep food organized but also use more energy. In comparison, the most popular model is a deep freezer. Also referred to as chest freezers, these types are more affordable, use less energy, and can store more food. However, each of these types has a wide selection of specifications to consider as well.
To decide what you want, Consumer Reports says that one of the first things you should consider is the location of your new appliance. Freezers can be noisy, depending on the model, which can cause a problem if it will be near the living room or dining room. Next, you should consider the size of the location it'll reside in. Most standalone freezers will come in either small, medium, or large sizes, so be sure to verify measurements before purchasing. Of course, with any appliance or product, you have to choose which retail location you will purchase it from. Both Home Depot and Lowe's are known for having a wide variety of appliances to choose from. We've broken down the most popular model at each store to see who has the better deal.
Home Depot's Magic Chef deep freezer
Home Depot's best-selling model is a deep freezer made by Magic Chef. This appliance comes in three different sizes: 5 cubic feet, 7 cubic feet, and 8.7 cubic feet. All three of these sizes come in white, while only the two smaller models come in black. In addition, the price of this freezer varies based on both size and color. The cheapest you'll be able to purchase it for is around $179, while the most expensive amount is $319. Of course, this may vary depending on your region. Some of the features included with this model are adjustable temperature controls, LED lights, and bulk storage baskets. After purchasing, you can't return this freezer; however, there is a 1-year part and labor warranty as well as a 5-year warranty for the compressor.
Based on almost 6,900 reviews, this product received a 4.7-star rating and a 92% recommendation rate. Most reviews are on the positive side, with one consumer stating that the freezer was easy to assemble, easy to clean, and ready to be used in hours. Another user chimed in and said that they were very pleased with their model as it runs very quietly. They went on to add that they waited seven months after their initial purchase to write their review and haven't had a problem. A third consumer warned that while it's a good freezer, you'll need a power strip nearby as the cord is short.
Lowe's Gladiator upright freezer
One of the best-selling freezers available at Lowe's is an upright model made by Gladiator. Sitting at 17.8 cubic feet of space, this freezer is 30 ⅞ inches in width, 72 ¼ inches in height, and 32 ⅜ inches in depth. Costing just under $1,500, the model is available in a matte black color. A stainless steel foot pedal and casters are installed at the bottom to help move it. The interior consists of three heavy gauge shelves, six shelves on the door, and two pull-out baskets. A one-year limited warranty is available at the time of purchase.
Out of 59 reviews, this product received a 3.6-star rating as well as a recommendation rate of 69%. Many of the reviews are mixed, with one consumer stating that their freezer looks great in their garage and provides a ton of extra storage space. However, another purchaser said that they couldn't fit many food items into the door as they kept falling out because the shelves were too narrow. They also stated that the lighting is not great as only the top of the freezer is lit up and continues to decrease as you go down. They concluded that the freezer was not worth the price.
Based on many factors, we'd say the better deal is at Home Depot. Not only is Lowe's model more than triple the amount of Home Depot's, but it also has many more features available and better reviews.