How You Can Get Lowe's To Deliver Your Christmas Tree For Free This Year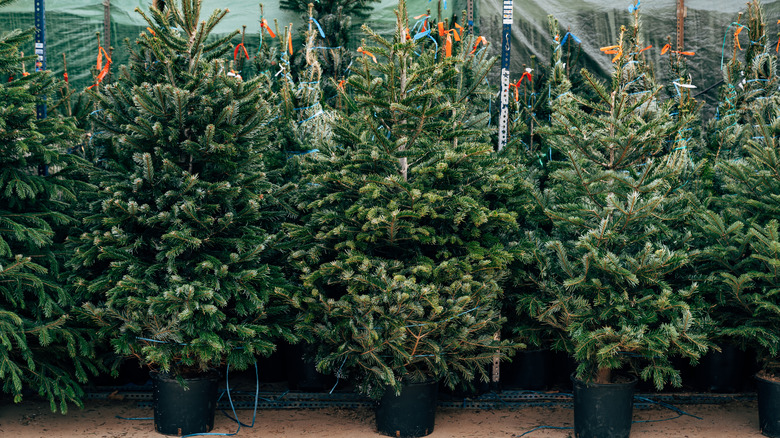 nadtochiy/Shutterstock
For some, spending a night searching through a cold Christmas tree farm for the right tree is an exciting family tradition. For others, Christmas tree shopping is just another stressful task on their to-do list.
Maybe you want a real tree but don't want to go through the hassle of driving to the farm, choosing the right one, strapping it to the top of your vehicle, and lugging it into your house. Maybe you wish the perfect tree could be delivered right to your doorstep.
If so, you're in luck. For the past few years, Lowe's has been offering a free Christmas tree delivery service. A huge pro of this service, on top of the free and easy delivery, is that pre-cut trees are typically raised on farms that specialize in growing, which means they could be larger and fuller than those found at local stores, per Michigan State University.
Below, you'll discover how you can qualify for this service. You'll also find out how to choose the right tree online from the comfort of your own home.
Do you qualify for free shipping?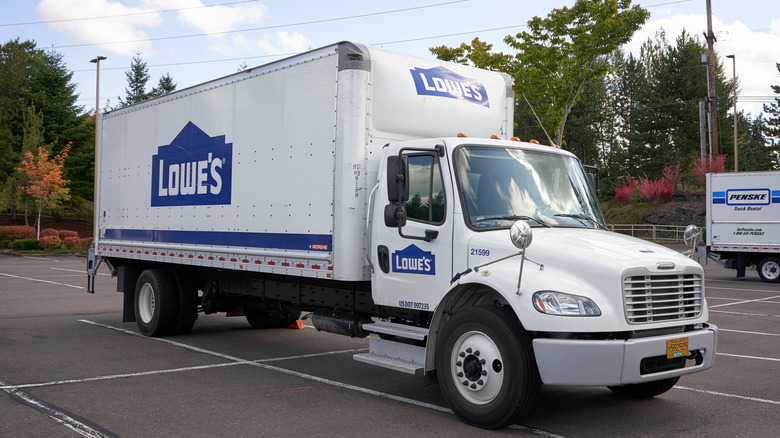 Tada Images/Shutterstock
To get free shipping on your Christmas tree at Lowe's, you'll need to spend more than $45, per Lowe's shipping and delivery policies. This should be fairly easy to do, as most of their trees cost at least $50. However, if you choose a cheaper tree, any other purchase that bumps your price up to $45 will qualify you for free shipping. You'll also need to live close enough to a Lowe's store, per The Krazy Coupon Lady, but because there are thousands of locations across all 50 states, this shouldn't be a problem for most.
Delivery should take about five days. Once your tree arrives, you'll be able to inspect how it looks and decide if it's as fresh as you desire. If it isn't, contact Lowe's help center, and they should be able to either issue you a refund or a replacement, as long as you do so before Christmas, per their holiday item return policy.
Also, keep in mind that Lowe's begins selling their real trees in the middle of November, and they can sell out fast. If you want your tree delivered right to your doorstep, you'll need to be on top of choosing and ordering it quickly.
Choosing the right Christmas tree on Lowe's website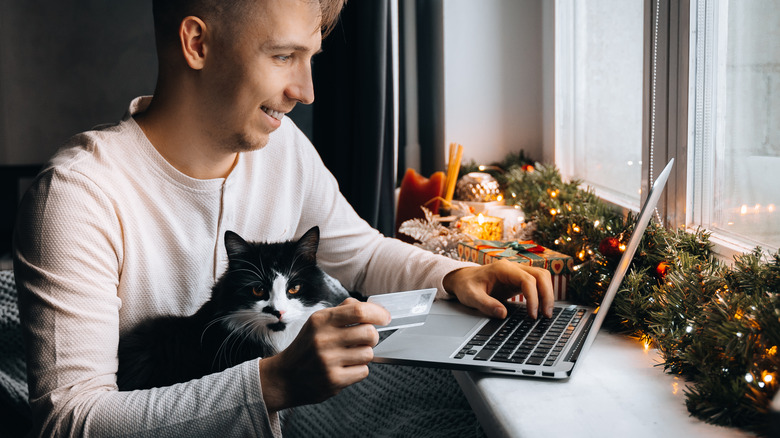 RapunzielStock/Shutterstock
If you want to get ahead of the game, it may be smart to start thinking about what tree you want to purchase this year. According to The Krazy Coupon Lady, Lowe's offers trees from 3 to 9 feet tall. When purchasing, you'll see them grouped into height ranges of one foot (for instance, 5 to 6-foot trees) on the Lowe's website. You'll also see them grouped into types, and the most common are pine, spruce, and fir. You can tell the difference between these types by their needles — pines have needles in groupings of two to five, spruces have round needles, and firs have flat needles, per Lowe's.
You could also choose an artificial tree, which has the same shipping benefits as the real versions. Fake trees can be frosted to look like they're covered in snow, pre-lit with lights, slim or full, and white or green. A tree made of Polyethylene plastic has the benefit of lasting years, so you won't need to repurchase every holiday season.