What Is The Price Of Glass Room Dividers?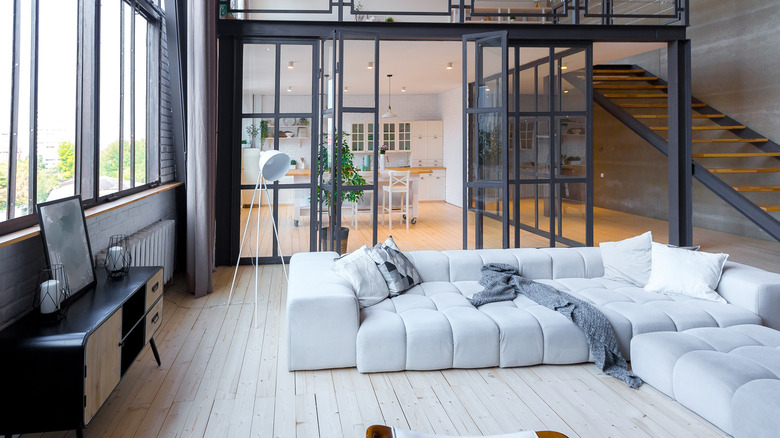 false/Shutterstock
Glass partitions have become an increasingly popular design method, especially when a homeowner is looking to capitalize on natural light and offer separation among living spaces. This design choice can offer a dynamic contrast to a more traditional home style. Contrarily, a tinted or frosted partition might offer some containment and organization to an ultra-modern and open-concept layout that can otherwise feel sterile. 
As people continue to work from home and spend more time in their personal residences, glass partitions can be expected to stay. So how much is this installation? Well, there are a number of factors that influence this cost. Angi notes that the scale of the project, the location of the project within the home, the number of panes, and the type of glass are all of these details that matter when determining the cost of a glass partition installation. Read further for our breakdown of how much you should expect to pay. 
Expect price tiers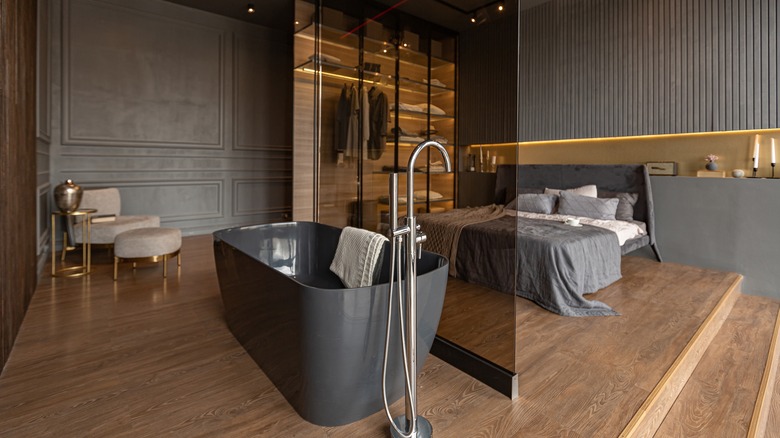 Pinkystock/Shutterstock
Compared to drywall, glass is a more expensive but worthwhile choice, as it is biodegradable and has lower maintenance (as noted by What Blueprint). In terms of window panes, Angi notes that you can expect to pay between $300 and $600 per linear foot. If you are looking to create a luxury aesthetic within your home, you may pay as much as $1000 to $2000 per linear foot. This is especially true if the home has a more contemporary aesthetic and requires extensive installation.
Labor is the next critical factor. The work needed to create this type of installation can range from $35 to nearly $150 per hour, but this might change depending on the type of project. Like a traditional window installation, beware of any contractor that seems too good to be true or anyone who doesn't seem to have a lot of questions about the project. This should be an extensive conversation when making such a structural change as a glass partition.
Account unexpected costs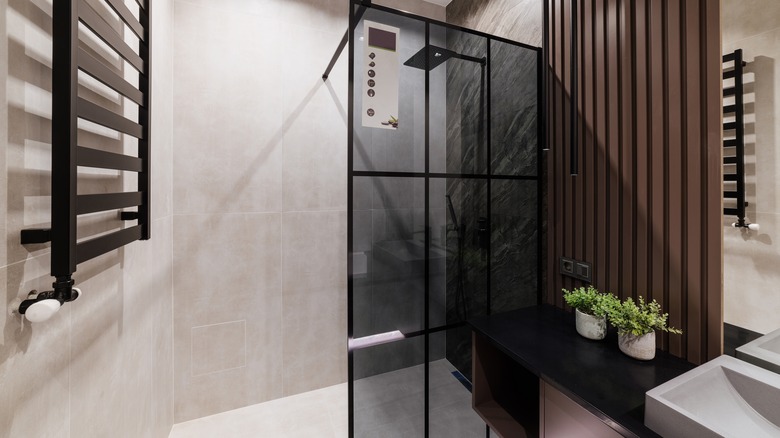 TovtynPavlo/Shutterstock
Tempered glass is the preferred material for this type of project, as it is more durable than a laminated or traditional kind (via Angi). It is also more expensive. If the project involves a structural overhaul, the installation can become a considerably more expensive endeavor. Structural overhauling will likely involve gaining a permit in order to make the changes, which could drive up the cost and time needed for completion by a couple thousand dollars.
Ultimately, what is the ballpark of the total cost a homeowner should be thinking about? It will range anywhere from $2000 or so for a glass door (via What Blueprint) to several thousand dollars for a major installation. While this might seem costly, the return on investment with this kind of structural change is strong. Natural light increases the value of a property. Contemporary finishes like glass partitions place your property in a higher-end aesthetic.