Home Depot Or Lowe's: Which Has Better Deals On Garage Doors?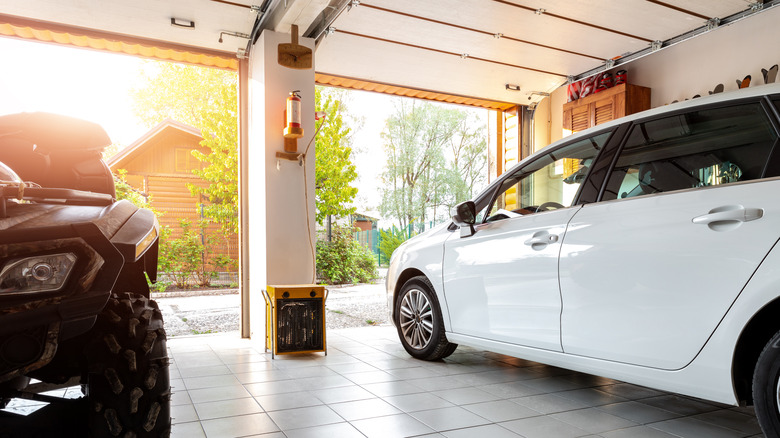 Gorloff-KV/Shutterstock
Looking to buy a new garage door? Then you should be aware of the many options available in terms of style, construction, and design. For example, according to HGTV, there are three primary construction types. First, a single-layer door is made to be durable, but also lightweight. Like it sounds, it houses one layer of material and is one of the cheapest options. Next is the double-layer door, featuring an inner and outer layer of material with a polystyrene board in the middle for durability. Lastly is the premium garage door. Similar to the double-layer model, this version also contains an inner and outer layer with a polystyrene board in the middle. However, it's made of thicker and stronger materials.
Beyond the design features, you'll want to consider a few other factors, such as how much security is needed, per Overhead Door. Some garage doors are already equipped with many technical aspects, including door openers that automatically change codes each time they're used. If you have pets or children, think about installing safety sensors. These gadgets stop a garage door from closing or reverse the movement if they sense something is in the way. Finally, decide where to purchase your newest luxury. Home Depot and Lowe's are your best options, so let's see which has the better deal.
Home Depot's Clopay garage door
One of Home Depot's best-selling options is produced by Clopay. Sitting 9 feet wide and 7 feet tall, this non-insulated garage door sells for $468. Made from one layer of construction, it houses a 2-inch thick 25-gauge steel. While it comes in white, you can always repaint it to better match the exterior of your home. It's also compatible with various garage door openers and contains a replaceable bottom weather seal.
Additional items may be needed during installation, like a rear track hanging kit, a low headroom conversion kit, and an exterior lock. However, these items aren't included in the original purchase. The 90-day warranty options include a paint system for 15 years, sections or delamination for five years, or the hardware or springs for up to three years. 
On a 5-star scale, this garage door received a 4.2 rating, with an 86% recommendation rate. One customer stated installing two doors was rather easy and is happy with the overall quality of the purchase. Conversely, someone commented about not being pleased with the flimsy nature of the door. Due to this, and despite being careful, they damaged a panel when attempting to put it together.
Lowe's Wayne Dalton garage door
Over at Lowe's, one of its most popular garage doors is made by Wayne Dalton and comes in two sizes: either an 8-by-7-foot or a 9-by-7-foot option. The former costs $588 while the latter is $628, although this can vary by region. This white insulated door houses three layers of construction, along with a bottom weather seal. It also contains anti-drop protection, pinch-resistant panels, and integrated struts. Tracks, door sections, a spring kit, and a hardware kit are included for installation. However, you may need additional materials that are sold separately, such as an operator bracket, rear back hangings, slotted angle, and weather stripping. A lifetime warranty is available upon purchase.
This garage door received a 3.5-star rating and a 65% recommendation rate. Reviews are evenly mixed, with one customer stating the door is ideal for its price and made of good quality. However, another buyer disagrees, stating it's poorly designed and easy to dent. They also remarked about the installation materials not being high quality, either. 
Even though each of these models offers its own benefits, we would say the better deal can be found at Home Depot. Although a close call, Home Depot's model has better reviews, a higher recommendation rating, and a cheaper price.