This Unexpected Furniture Piece Can Transform Even The Smallest Bathroom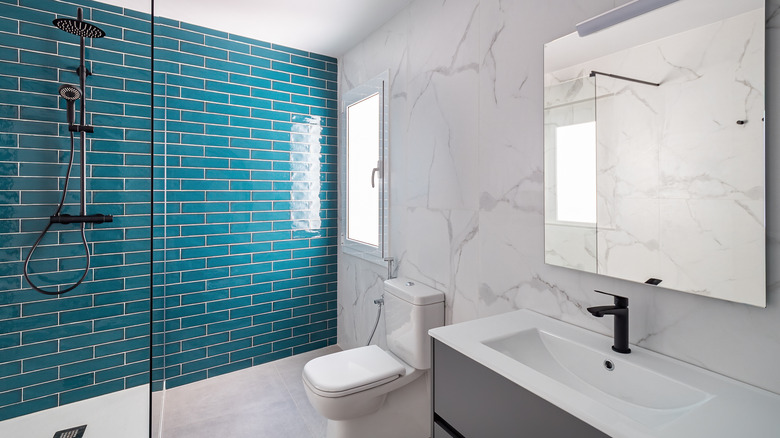 Pavel Adashkevich/Shutterstock
If you live in a studio apartment or a small home, the one major drawback is storage space, but that doesn't mean that your home can't be functional and utterly stylish. In fact, designing a room with a smaller scale might be the inspiration you need to get extra creative. One area where you may be thinking about the different ways you can utilize all the space available is the bathroom. 
Insider has a few tips to give your bathroom the illusion of more space, such as using furniture that doubles as storage, an intelligent recommendation for anyone that is an apartment dweller. Additionally, Wirecutter advised using vertical storage for items if you want to keep your clutter at bay and maximize usable space. So if you're wondering what unexpected piece of furniture you need in a tiny bathroom to create a more functional space, keep scrolling because you may be surprised!
A console table can transform your bathroom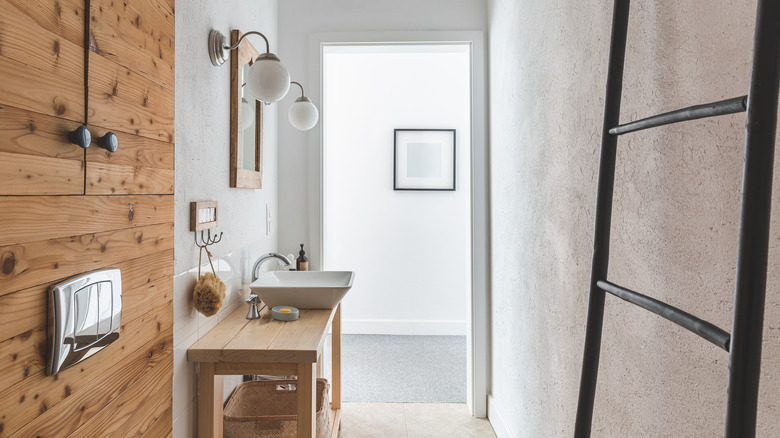 Ground Picture/Shutterstock
If you lack space in your bathroom, consider a console table since these furniture pieces are generally more narrow. Wayfair notes that a console table can be used in more places than just an entryway and that you can use it as a bathroom vanity. You'll just want to ensure that it's sturdy enough to hold a heavy sink, so doing your research is essential. 
1825 Interiors explains that the style of console tables can also add charm to the bathroom. There are many different pieces available in a variety of materials, so surely you can find one to match your décor style. Plus, 1825 Interiors mentions that if you look for an option with shelving, you can use it for storage. For example, cosmetics can be placed in bins, and the shelves can be used to store towels, a definite bonus for a small bathroom. 
A console table is the ultimate piece of functional but stylish furniture, especially for tiny bathrooms. Using one piece of furniture in multiple ways is innovative, which is why most people with small spaces will appreciate this idea.