Flip Or Flop Ft. Worth Stars Ashley And Andy Williams' Savvy Tips For Using Luxe Materials
Veterans, house flippers, HGTV stars, and interior designers Ashley and Andy Williams are all about saving money for their clients. Ashley tells Haven, "Our goal is to show veterans that design and luxury is an affordable lifestyle." Ashley also says, "Renovating a house really can be expensive, but there's places you can play with money — and those are the places the buyer can really focus on," per Domino. In other words, it is possible to create a luxurious design without it having to cost you an arm and a leg.
Maybe you're in the house-flipping business and want some tips on how to create expensive-looking spaces yourself. Or, perhaps, you want to know how to make your home feel more luxurious for less money. If so, you're in luck. Because Ashley and Andy flip and design homes on a regular basis, they have some insightful tips on how to use luxurious materials without breaking the bank. They also have some additional advice on other ways to save money.
Use luxurious materials sparingly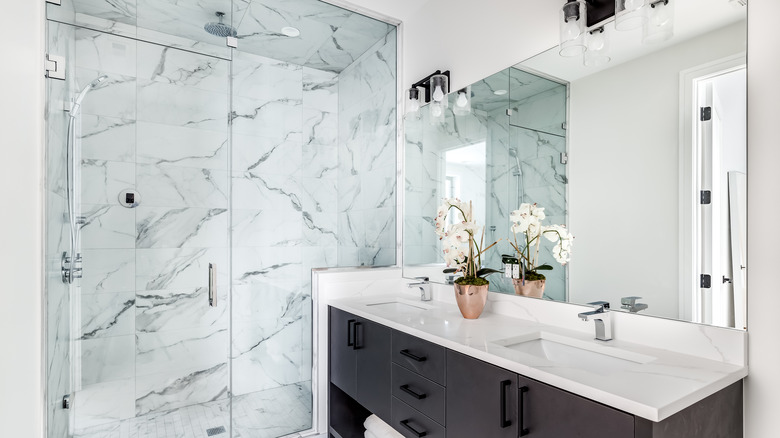 Hendrickson Photography/Shutterstock
When Ashley Williams first began designing spaces, she, in her own words, "learned to be creative without breaking the budget," per DFW Child. Therefore, staying under budget is a huge goal that Ashley tries to complete with every house flip, and she does it by thinking outside the box. 
One of the largest ways Ashley gets creative to save money is by using the most expensive materials very sparingly. To do this yourself, you could use cheaper elements in most of the room and create a focal point with your nicest features. In an interview with Domino, Ashley says, "If you want to splurge and design a [material], use small increments of it, and use that as a design feature."  For instance, if you were designing a bathroom, you could, as Ashley says, "use the expensive tile in your shower to make it look super upscale and really expensive." 
Incorporate some faux pieces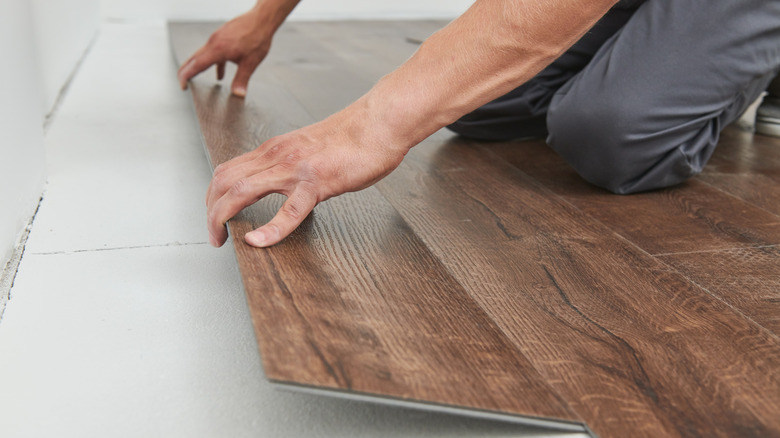 Dmitry Kalinovsky/Shutterstock
However, while the Williams' spaces always look gorgeous, they don't always use expensive materials. Sometimes, they actually use faux materials that look similar to their more pricey counterparts. "Faux finishes are a great way to save money, and in some cases the materials may hold up better than the authentic version," Ashley explains per Showbiz CheatSheet. This allows them to create designs that look extra chic but are still functional for the owners.
Ashley sometimes does this with flooring. In an interview with Domino, Ashley said, "You can play with money on the flooring — you don't have to go with hardwood. You can go with a laminate." Some may not desire to work with this material because they believe it looks fake. However, Ashley eases people's doubts by saying, "Laminate has really come a long way from the hollow, echo-y laminate that it used to be." 
Another huge benefit is that you have more design options when going with the faux version. She says, "you can get [laminate] in so many different colors, so many different styles — distressed looking, super glossy, matte," which could help you personalize your home.