These Tiles Are Perfect For Your Next Kitchen Backsplash Refresh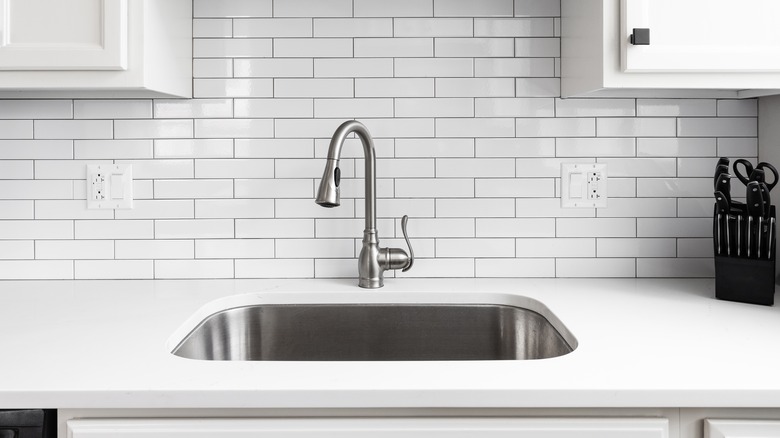 Hendrickson Photography/Shutterstock
Many of us are looking to spruce up our living spaces this year. According to Zippia, 2020 saw 76% of homeowners taking on a new home improvement project. If you're in that majority and looking for some inspiration to upgrade your kitchen, we have just the trend for you — zellige tile.
After the massive changes of the pandemic and the impacts of us spending more time at home, wellness-focused, organic design has been having a moment. Soothing neutrals, free-flowing shapes, and soft textures have dominated our feeds and helped us to bring a little more zen to our interiors. It's no surprise, then, that zellige tile is taking over in the kitchen.
This uniquely textured option for a backsplash combines natural irregularities and classic Moroccan techniques (per Becki Owens) to produce a one-of-a-kind mosaic along the walls, yet its simplicity means it's fit for anywhere, from a minimalist haven to a bold, old-world-inspired cottage. Consider us obsessed.
What is zellige?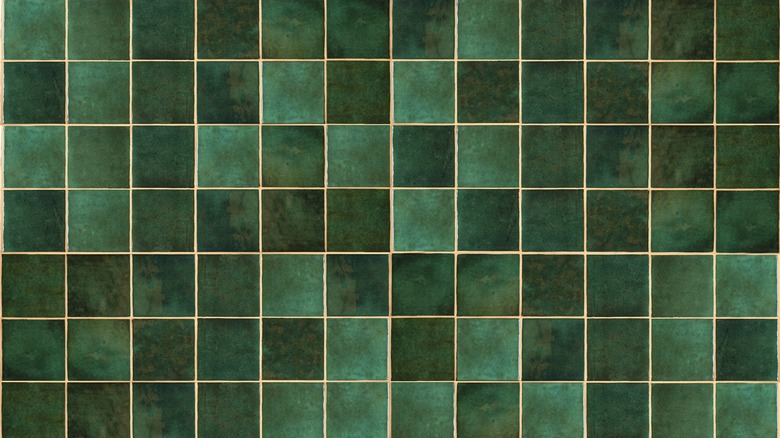 vovidzha/Shutterstock
Zellige, sometimes spelled zellij or zelige, is a classic Moroccan technique of making tile. According to the Mosaic Factory, zellige tiles are made from natural unrefined clay that's been dried in the sun and then kiln-fired. From there, the tiles are glazed with the desired color and fired in the kiln again to produce the final product. Traditionally, different colors of these tiles would be combined to create intricate mosaics, but most designers are opting for a monochromatic look in interiors.
This natural, unrefined process leaves zellige tile with irregular textures, shapes, and glaze colors that give off a more organic look than the typically smooth, uniform options. The minor variations in glaze and color almost create a watercolor effect on the tile and throughout the space. It's a fresh way to add texture and depth to your backsplash that doesn't rely on a bold pattern, and it still reads as subtle and earthy rather than overpowering.
Important considerations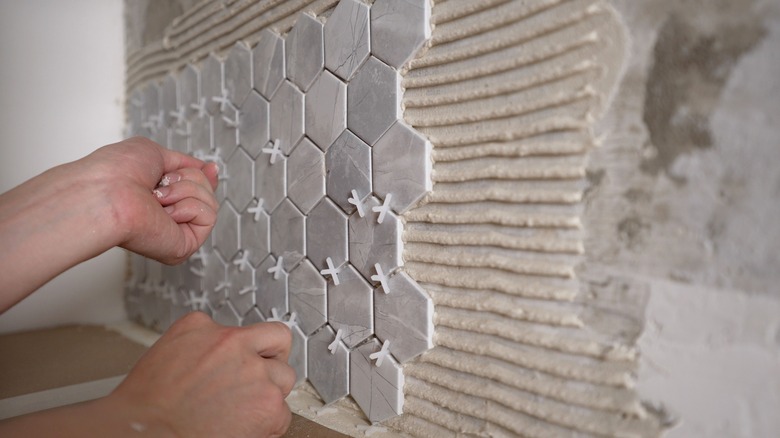 Sidorov_Ruslan/Shutterstock
Because of the unique texture and construction of zellige tile, it's important to know what you're getting into before jumping straight into the installation of your new backsplash. Instead of using spacers and a thicker application of grout, this tile is usually laid on top of an adhesive by hand, edge to edge (via Riad Tile). It's also important to make sure you won't be installing them anywhere that takes a lot of heavy impact — the tiles are strong but they can still chip and crack. As for cleaning, the process is pretty standard despite the uneven edges. Just wipe down with an all-purpose cleaner, making sure to catch any nooks and crannies.
Opting for zellige over other kinds of tile is a great way to bring some texture and organic design elements into your home during your next kitchen upgrade. It may just now be blossoming as a global trend, but this technique has been around for thousands of years, so it's sure to last.