15 Flooring Ideas To Add Some Midcentury Flair To Your Home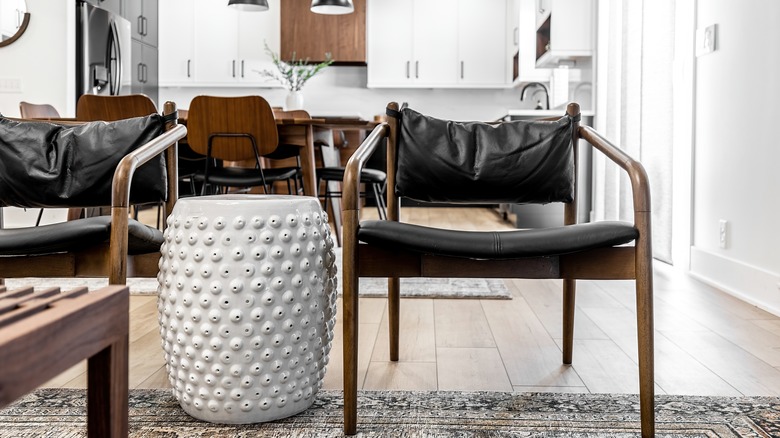 Aspects and Angles/Shutterstock
Achieving the aesthetic you desire for your home means paying attention to all the details. Paint color, furniture shape, lighting, and other design characteristics must be planned to create a cohesive look. According to Kanvi, the material of flooring you pick is also important in creating the right type of atmosphere in a space. For example, hardwood flooring can bring warmth to a modern space and comes in different colors to fit various color palettes.
However, in the end, whatever flooring you choose must not deviate from the design aesthetic of your home. So, those who adore the midcentury style are in luck! We've found a few flooring ideas that are sure to pull your whole design together. LivingCozy says midcentury design typically incorporates styles from the 20th century and uses wood furniture that is smooth and curvy. So, we'll show you exactly the type of flooring that will best suit this design.
1. Wide wood planks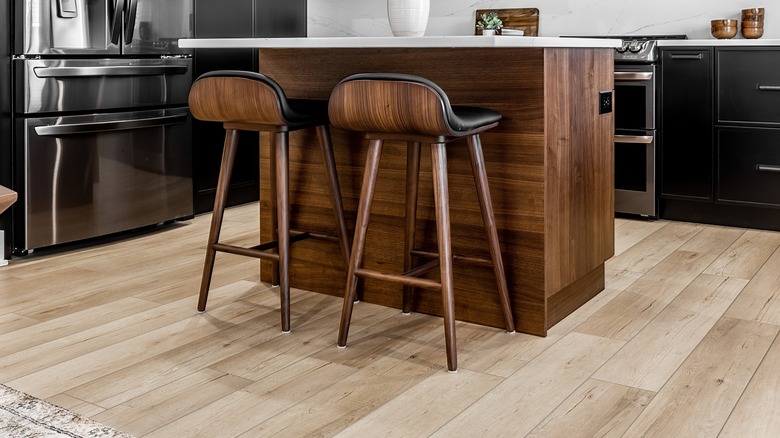 Aspects and Angles/Shutterstock
Installing wide wood planks is a great way to contrast other wood grains present in the space. Large planks have less graining, so they won't clash with other wood decor.
2. Herringbone
If your midcentury furniture is characterized by simple shapes, then you can add interest by installing herringbone floors. The pattern will elevate the design and the direction of the herringbone can either visually lengthen or widen your space.
3. Coordinate colors
The combination of your flooring and furniture should feel cohesive. So, try to coordinate the colors of both so you can have similar tones in order to create a sense of harmony.
4. Terrazzo tile
Introduce different materials in a space to keep it interesting. Since midcentury decor incorporates a lot of wooden furniture, balance that out with tile flooring. This gray, terrazzo floor is simple but has enough pattern to create an impact on the overall design.
5. Dark wood
If the colors of your midcentury furniture aren't bold and there's plenty of natural light pouring into the space, we advise creating contrast with a sophisticated, dark, wooden floor.
6. Use the same color tone throughout your space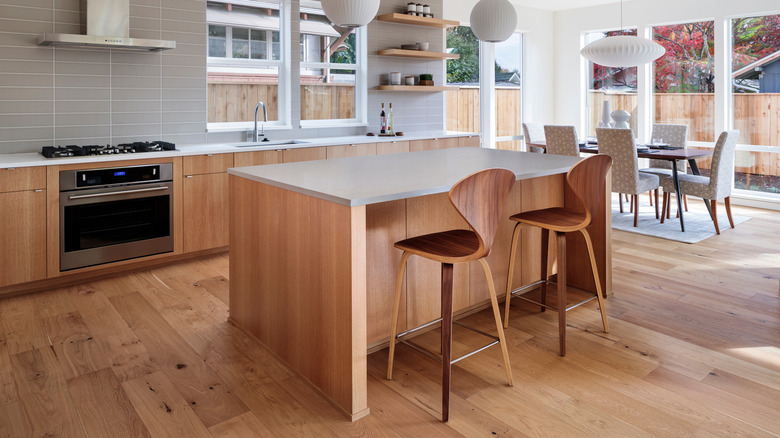 David Papazian/Shutterstock
Some midcentury designs feature wood decor with very similar tones to the wood flooring. This raises the eyes up from the floor and to the decor and is contrasted by either light or dark colors. 
7. Different light tones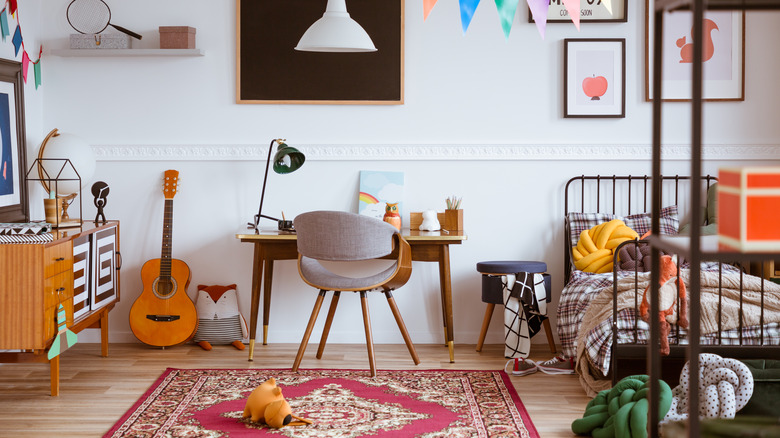 Ground Picture/Shutterstock
If you want light flooring to complement your midcentury design, we suggest installing different tones. This will create interest and you'll avoid a floor that is one solid color.
8. Concrete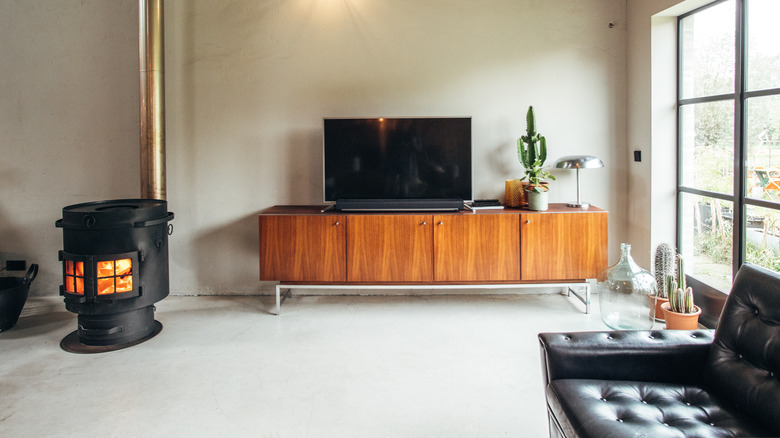 Hugo Goudswaard/Shutterstock
Concrete is also a material we suggest if you want a midcentury design that is light and airy. It introduces a new material and creates a beautiful base for your wooden furniture. 
9. Gray wood
Ground Picture/Shutterstock
Gray wood flooring is also a great option for those who believe concrete will make their home feel too cold. 
10. Mosaic tile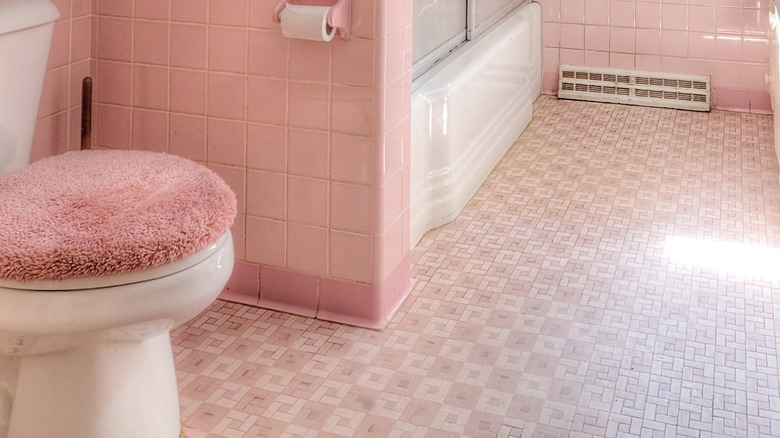 Crystal Alba/Shutterstock
A midcentury bathroom is where you can have fun with pattern and color. Here, you can introduce a mosaic tile to create a playful design.
11. Gray porcelain tile
If you want something more mature, then we suggest incorporating a gray porcelain tile with subtle patterns. However, ensure the gray tones of the floor are complementary to the wood decor. In this example, both the floor and vanity have cool tones.
12. Brown cement
Rawpixel.com/Shutterstock
There are other colors of cement flooring available, such as this brown option. This is helpful for those who want something with visual warmth but the midcentury look that gray cement perpetuates. 
13. Carpet and wood combo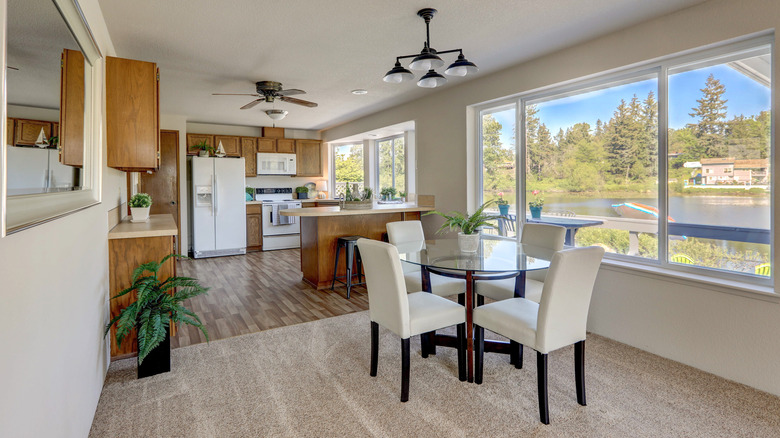 Artazum/Shutterstock
If you can't choose between carpet or wood, you can introduce both and section off the space. Here, the dining room is kept warm and cozy with carpeting, while the wood flooring in the kitchen contrasts the cabinets. 
14. Black wood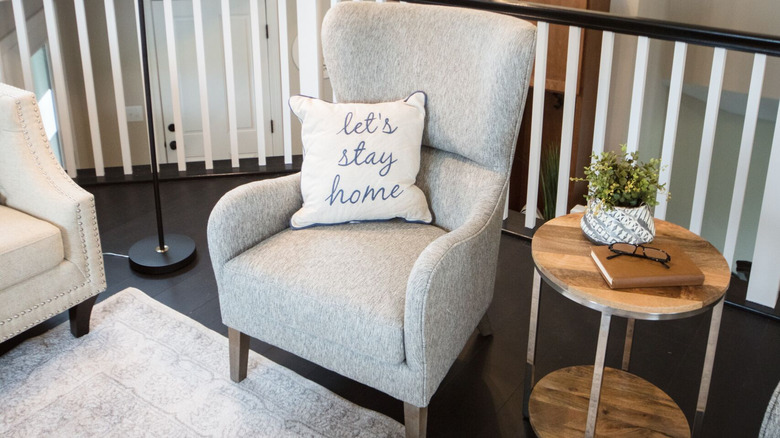 Kelly Harbal/Shutterstock
If you're a fan of light furniture and area rugs, then black wood flooring will provide the necessary amount of contrast throughout your home.
15. Large square tiles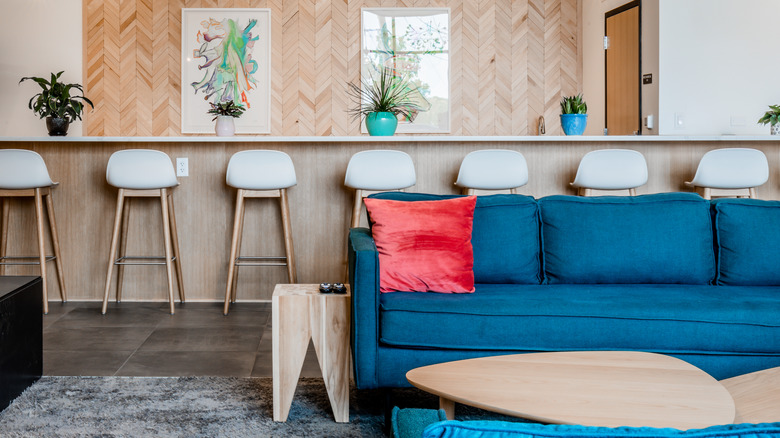 Aspects and Angles/Shutterstock
Large square tiles make a space feel more open since fewer grout lines are needed. Midcentury decor oftentimes incorporates dark flooring, so this is a good tactic to maintain an open appearance for your home.