Home Depot Or Lowe's: Which Has Better Deals On Lumber?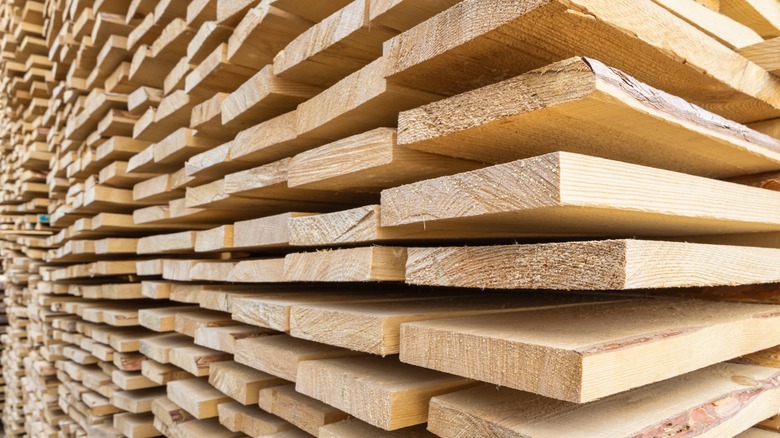 Sergey Bezverkhy/Shutterstock
Buying lumber can be a hassle as there are a lot of steps in the process. According to Instructables, the first thing you should do is figure out exactly what you need for your project. It's best to write down the exact size you need for each section. This way, you don't get too much or too little. Then comes the task of deciding on which type of lumber you desire. You can decide this by where your project is going to reside. For outdoor projects, Capitol City Lumber recommends redwood and cedar, treated yellow pine, or eastern white cypress. However, Duffield Timber states that walnut, oak, or maple are best for interior pieces.
Next, double-check the dimensions of the lumber you've picked out. It's best never to assume that these boards are cut to the size they are labeled as. Usually, it's best to play it safe and go up a size, and most stores will cut it for you. After you get the dimensions you need, check the board for any defects. This can include knots, cracks, or warping. No board will be perfect, but the fewer defects, the better. Making Manzanita also recommends going and buying your boards yourself to ensure you're getting the best quality. While there are many locations you can choose from to buy lumber, two of the most common places to do so are Home Depot and Lowe's. Let's break down the best-selling lumber at each to see who has the better deal.
Home Depot's prime whitewood stud lumber
Home Depot is known for a number of things, including its wide selection of lumber. In fact, one of their best materials is these prime whitewood stud pieces. Available for $3.75 per board (depending on location), these pieces are said to sit at 2 inches by 4 inches by 8 feet in size. However, the two shorter sides are also around half an inch shorter. These universal pieces can be used for anything from an interior craft project to the construction of a home. It must be noted, however, that this wood is not treated. Although according to The Spokesman-Review, you can do this yourself by soaking the boards in a borate solution. If the color is not to your liking, you can prime, paint, seal, or stain it. Unfortunately, a warranty is not provided.
At a 3.8 star rating, this lumber received a recommendation rate of 65% based on over 3,000 reviews. These reviews are primarily positive while being mixed in with a few negative ones. One consumer said that they used this wood to build a workbench and shelves in their storage building and opted to give the lumber a 5-star rating. However, another purchaser stated that they started to bend and warp before they got to their intended location. A third consumer chimed in, saying that these are great pieces for indoor and outdoor usage, and they rarely ever find defects in their boards.
Lowe's southern yellow pine lumber
Lowe's, in comparison, houses just as many brands and sizes. One of their most popular lumber types is southern yellow pine. These pieces come in a variety of sizes, with the smallest being around 8 feet in length and the largest peaking at 16 feet. However, other dimensions are said to be cut around half an inch shorter than labeled. Of course, these different sizes also mean there are different price tags. The cheapest these boards are available for is just under $10, while the most expensive is around $28. Again, this can vary depending on location. Perfect for industrial, commercial, or residential projects, this lumber is said to be known for its strength and stability. A warranty is not included with the purchase.
Based on over 1.4K reviews, this material has received a 4.4-star rating and a 92% recommendation rate. These reviews are mostly positive, with many saying they benefit from the material of the wood. One consumer stated that they are constantly surprised by the quality-to-cost ratio. They went on to add that they've used this wood many times for a variety of projects, and each time it has worked out in their favor. Another chimed in and said they used the lumber to build a deck which turned out great.
Based on reviews and pricing, we believe the better deal is at Lowe's. While Home Depot is cheaper, it appears you'll get more bang for your buck at Lowe's.