Home Depot Or Lowe's: Which Has Better Deals On Doorbells?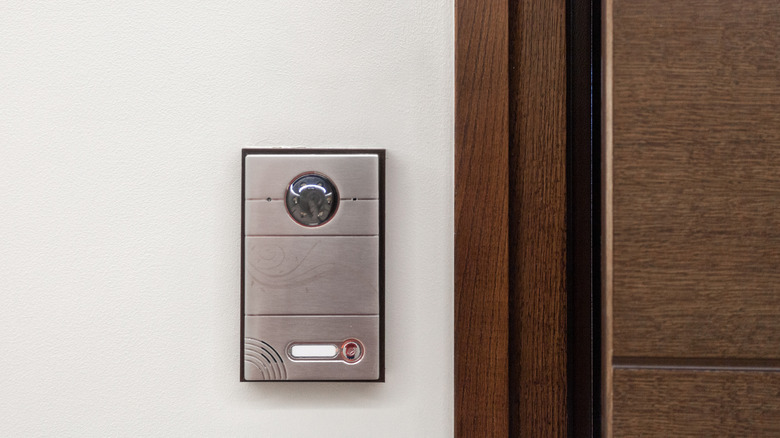 brizmaker/Shutterstock
Technology is ever-changing, which means simple things, such as doorbells, are becoming more advanced. Of course, you can always keep it simple with a standard model. However, if you're wanting to keep up with the modern style, you'll need to consider a few factors. As Commercial Construction & Renovation points out, one of the most important improvements of these gadgets is their security features. Many current models have a camera installed that will allow you to see who is ringing your doorbell and an app on your phone.
Another thing to consider is the size of the doorbell and its location. Some models can fit in with the doorknob while others will need extensive installation on a wall or post. Like with most things, you should also decide and stick to a budget. A simple doorbell can be as cheap as a few dollars while newer models can drift well into the hundreds. Finally, you have to decide where you're going to purchase your new doorbell. Home Depot and Lowe's are known for their wide selection of gadgets, so let's see who has the better deal.
Home Depot's Hampton Bay doorbell
Surprisingly, one of Home Depot's best-selling doorbells is a simple model. Made by Hampton Bay, this gadget is wired and contains a chime kit. Depending on your region, you can purchase this model for around $30. It comes with two white bells, which can be installed at separate entries. In addition, each doorbell, one lit and one not lit, will play a different tone so you know which door your guests are at. The chime itself can be mounted either horizontally or vertically on the wall and includes a 16-volt 10-watt transformer. A single-strand bell wire is required for installation, however, it must be purchased separately.
Out of over 300 reviews, Hampton Bay's doorbell received a 4.4-star rating along with an 82% recommendation rate. Reviews are mostly positive, however, there are a few negative ones mixed in. One consumer stated that they had their doorbell installed within minutes. They also said that the sound is pleasant and the chime and doorbell itself are an appealing shade. Another purchaser said that they would purchase this model again as the instructions were clear and installation only took 10 minutes. However, a third consumer stated that after two years of usage, their doorbell began to crack, turn yellow, and the lights within them blew out. They went on to add that the mechanical chime can also get stuck forcing you to tap the doorbell button.
Lowe's Ring doorbell
In comparison, one of Lowe's most popular models is a video doorbell made by Ring. Costing just under $100, depending on your region, this gadget comes in either a satin nickel or Venetian bronze color. Running on a rechargeable battery, this modern device contains a 1080p HD camera as well as a two-way talk system. This allows you to see, hear, and speak to those at your door while you're away from home. To do so, your doorbell will need to be connected to wi-fi as well as a phone, tablet, or an Alexa-enabled device, which will allow you to receive real-time notifications when someone is at your door. It also contains night vision so you can see in the dark as well as motion sensors. 
Based on over 600 reviews, this doorbell received a 4.5-star rating and an 88% recommendation rate. One consumer stated that they purchased this doorbell after purchasing the alarm system prior. They said that the installation process was simple, the quality of the videos are great, and they enjoy the customizable features equipped. Another stated that they angled the doorbell to its max which allowed them to have a better view of their property.
Out of both models, we believe the better deal is at Lowe's. While it is more costly, it also has a slightly better rating as well as modern features that can help protect your home.