30 Scandinavian-Style Kitchens That Nail The Aesthetic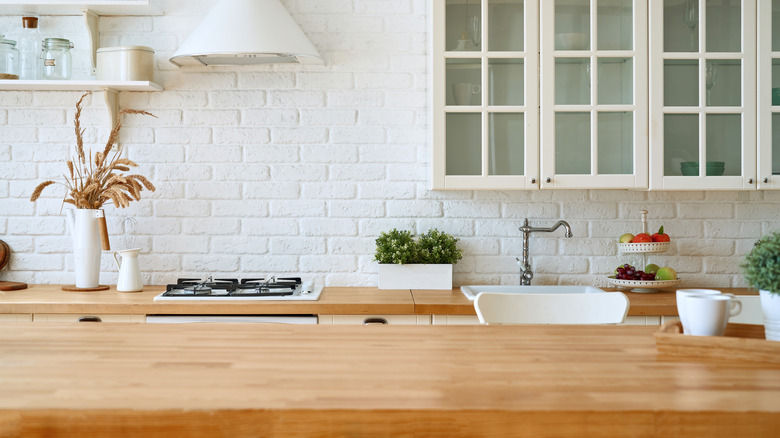 Tanya Sid/Shutterstock
Scandinavian interior design is great for those who love the minimalist aesthetic and desire a clutter-free home, according to Scandinavia Standard. The typical Scandinavian color scheme is usually neutral and monochromatic and includes certain colors, such as bright and warm whites, black, tan, pink, gray-blue, and sage, as well as others that resemble nature. Also, certain materials are commonly used to complement the neutral colors, such as wood, cotton, and wool. Due to its characteristics, we believe the Scandinavian aesthetic is a perfect choice for a kitchen because it will perpetuate a fresh and clean look.
It's always difficult to visualize exactly how you'll pull a design together, so we've found a few Scandinavian-style kitchens to offer you inspiration! You'll be able to get an idea of what type of cabinetry style to incorporate, the typical flooring material that is used, and what paint colors will look best. If you think this Nordic style will fit the current aesthetic of your home, then we implore you to scroll through the different 30 different design options we've found.
1. Keep it minimal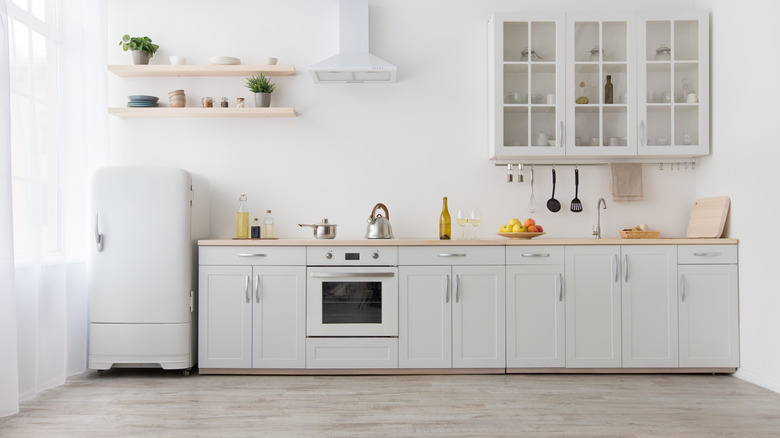 Prostock-studio/Shutterstock
Scandinavian interior design incorporates aspects of nature and has different levels of simplicity. Here, they've opted to not install a backsplash and instead create contrast with wood tones and different shades of white on the cabinetry. 
2. Soft color palette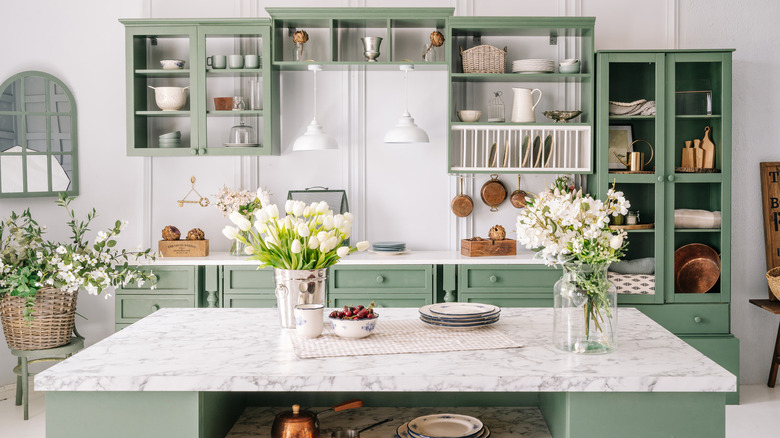 brizmaker/Shutterstock
Sage green is a common color in Scandinavian design because of its soft hue. This color can easily be paired with different tones of white and gray, which is great when you want to complement the Scandinavian decor.
3. Open shelves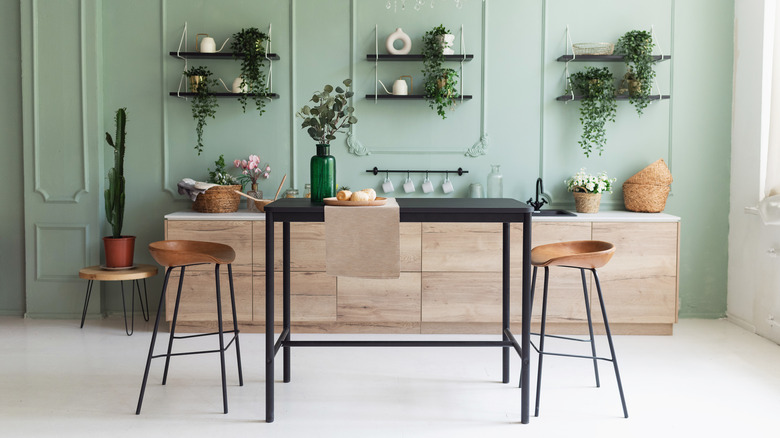 Lysikova Irina/Shutterstock
Scandinavian design incorporates minimalistic aspects, so you'll want to avoid clutter. Installing open shelves can help you decide which decor and kitchen items are a necessity, so you can avoid items that waste space.
4. Extravagant details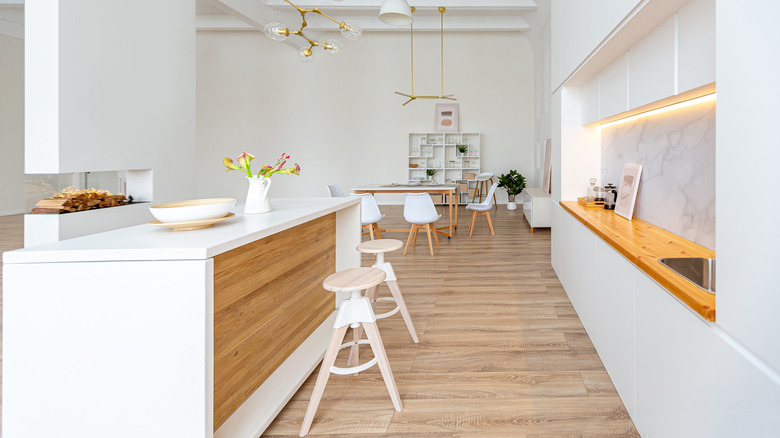 Pinkystock/Shutterstock
Some may consider the minimalist aspects of Scandinavian design to be boring, but if done right, it can create a truly elegant design. Here, they've installed a solid piece of marble for the backsplash, which is illuminated by under-cabinet lighting. There is also a touch of gold with the light fixture over the island.
5. Add texture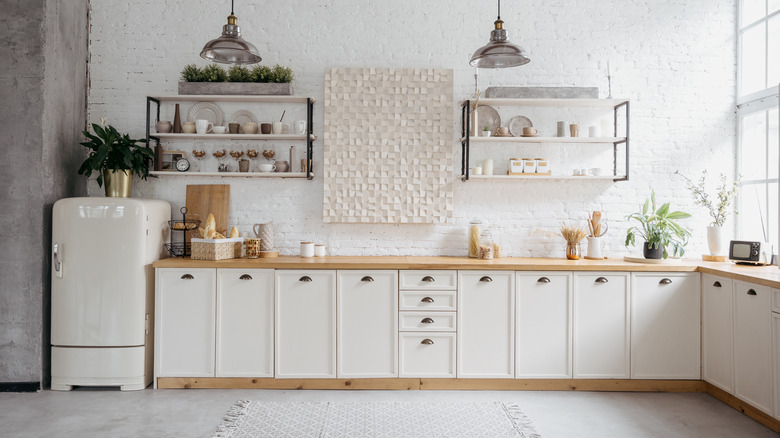 brizmaker/Shutterstock
When you're working with simple, neutral colors, you can incorporate texture to create interest. Here, they've paired warm white with a wood countertop and created a sense of interest with a brick backsplash and textured artwork.
6. Beveled subway tile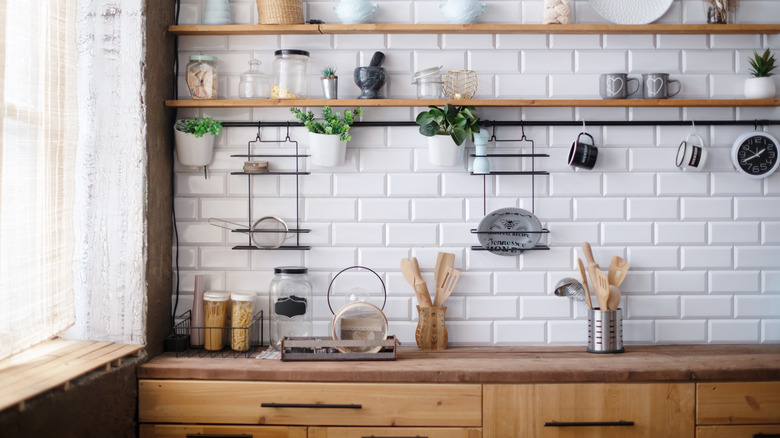 Zakharova_Elena/Shutterstock
If brick is too rough of a texture for your kitchen, a beveled subway tile is also an option. It adds interest due to its shape but still has a smooth finish.
7. Rattan light fixtures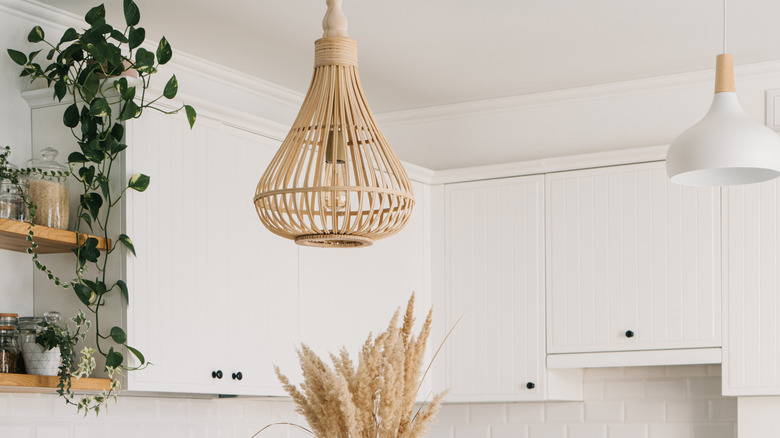 Switlana Sonyashna/Shutterstock
Rattan is a timeless material that is perfect for the Scandinavian aesthetic. Many Scandinavian kitchens have wood countertops, so introducing rattan decor can help create a sense of harmony.
8. Add contrast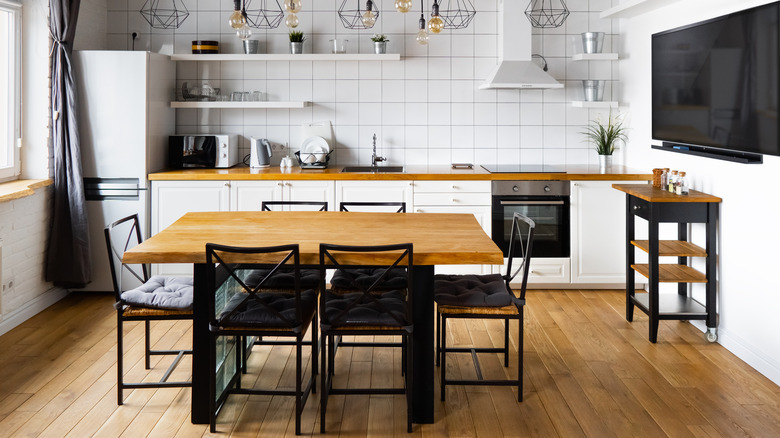 Jin Odin/Shutterstock
You can modernize a Scandinavian kitchen design by introducing intense contrast. This would be best achieved with black decor, as this will have the highest amount of contrast against the typical Scandinavian design scheme. 
9. Subtle contrast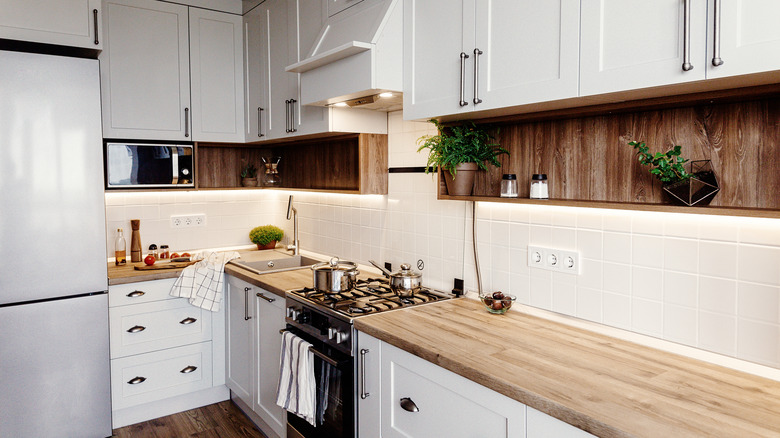 false/Shutterstock
If you want contrast that is a bit more subtle, we suggest incorporating wood of different colors. They should have similar tones, but one would be a few shades darker.
10. Warm and inviting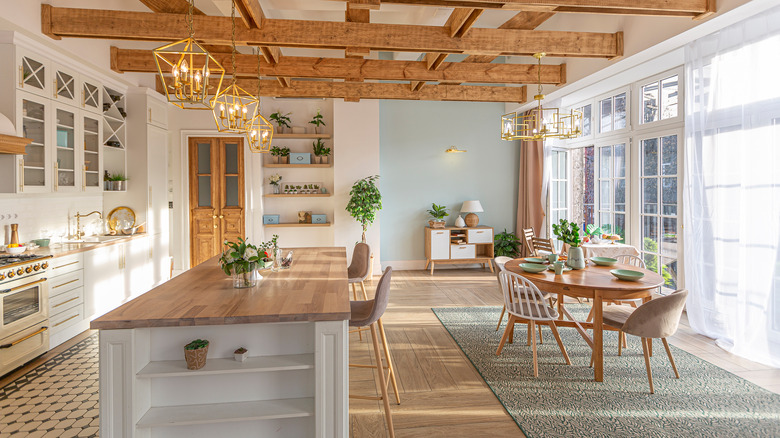 Pinkystock/Shutterstock
Since a Scandinavian design incorporates so much white decor, you can also introduce warm wood tones and touches of gold to create a sense of coziness in the kitchen.
11. A cool touch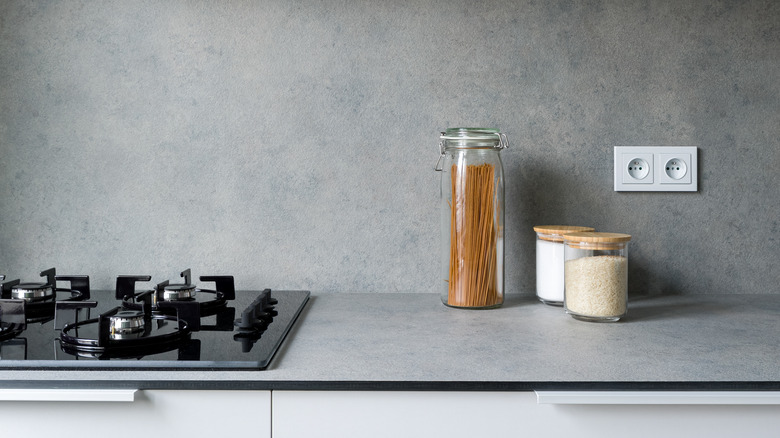 Dariusz Jarzabek/Shutterstock
Those who prefer a cool, minimalist design may instead enjoy a cement backsplash/countertop combo. Here, it is a bit textured and has subtle hues of blue to create a more interesting design.
12. Don't be afraid of color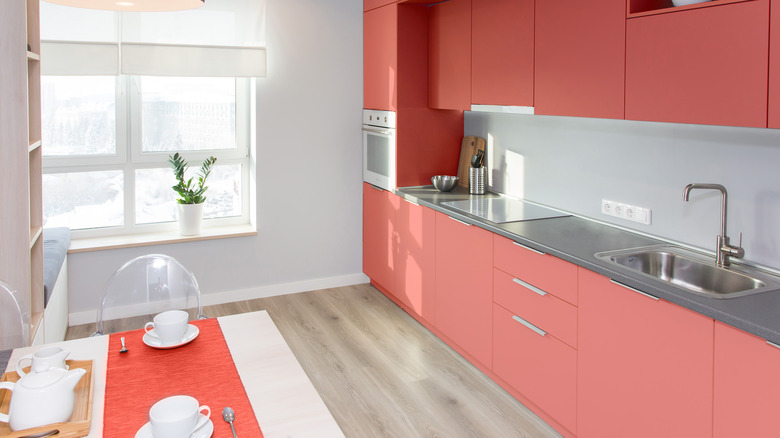 xalien/Shutterstock
Scandinavian kitchen designs do also incorporate playful colors, like these pink salmon cabinets. This design works because the hue is soft and not strong. There are straight, clean lines, and no backsplash to distract from the beautiful color. 
13. Hang your pots and pans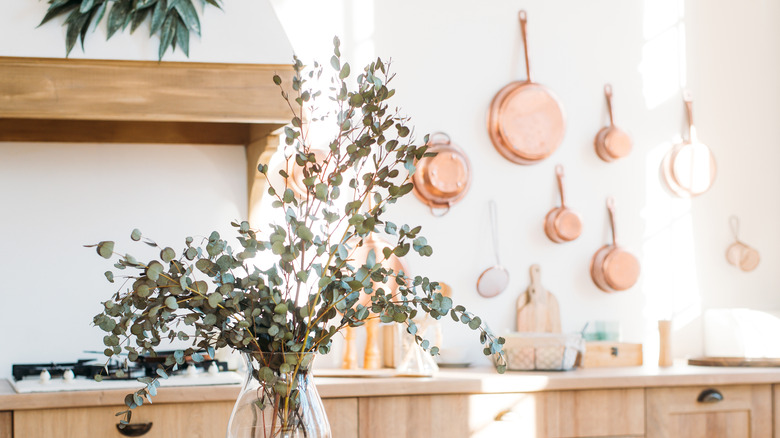 Yarrrrrbright/Shutterstock
A playful design tactic is to hang up your pots and pans where there is empty wall space. Copper pans work well because they don't create too much contrast and are able to complement different wood tones.
14. Vintage artwork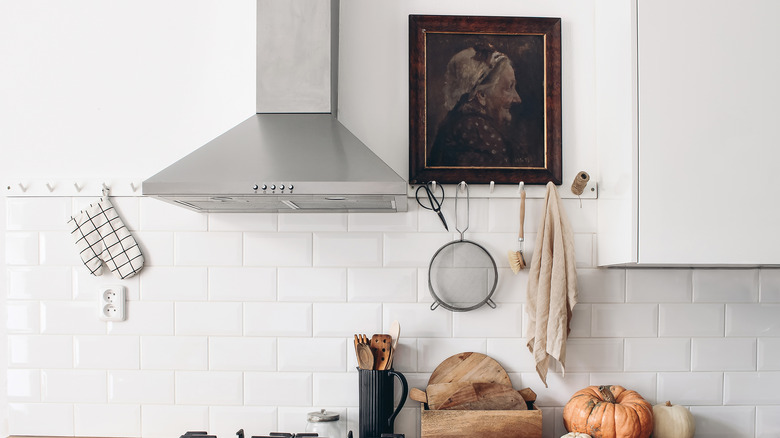 TabitaZn/Shutterstock
In order to add a bit of charm to your Scandinavian kitchen, you can also hang up artwork you've found at a local thrift store.
15. Section off a kitchenette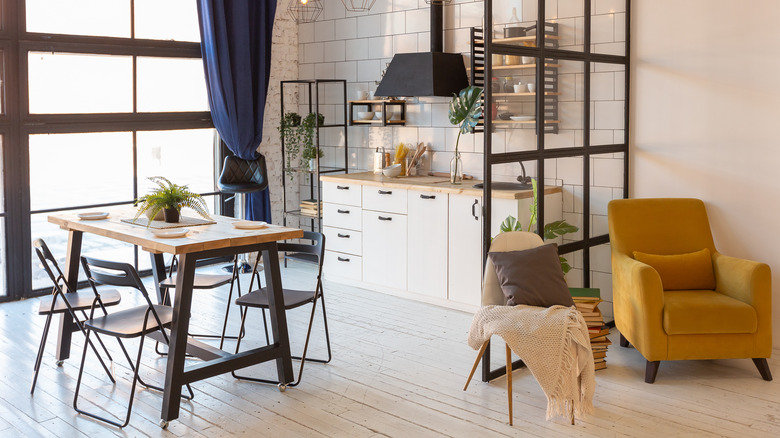 Pinkystock/Shutterstock
This adorable kitchenette has a base of white and black colors, wood tones to warm up the space, and blue drapery for a pop of color. The white subway tiles are large, which also helps create a sense of more space. Additionally, it's sectioned off with a black, metal, and glass grid partition.
16. Large windows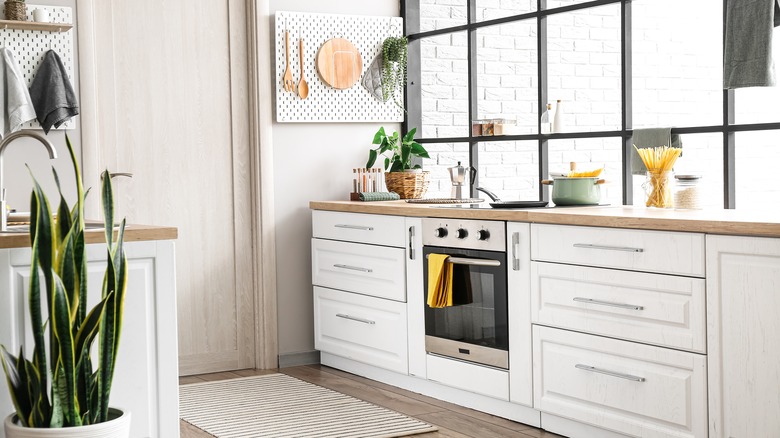 Pixel-Shot/Shutterstock
A Scandinavian kitchen should feel light and airy, and large windows can help create this feeling because they allow for an abundance of natural light to flow in.
17. A mixture of materials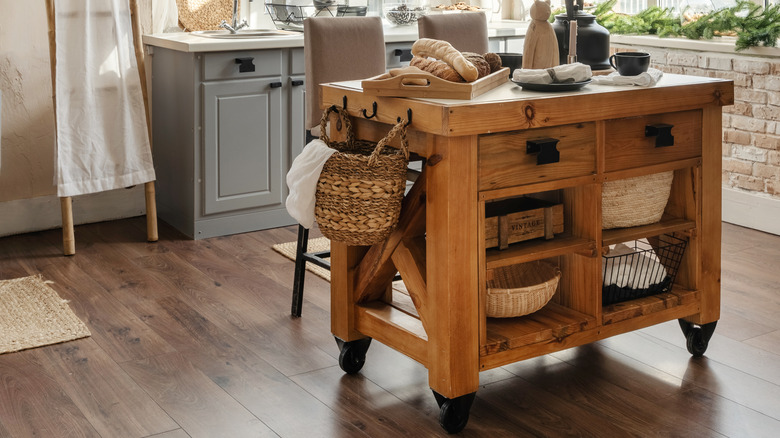 brizmaker/Shutterstock
To keep the design of a Scandinavian kitchen interesting, you can combine different materials. Here, they have a wood island, a brick wall, and plaster kitchen walls.
18. Two-toned cabinetry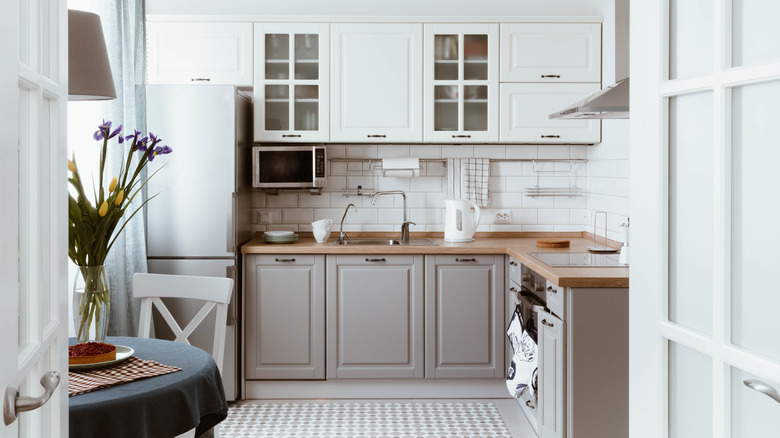 tartanparty/Shutterstock
White and gray is a simple and sophisticated color scheme for a Scandinavian kitchen design. Here, they've matched the gray in the tile floors to the lower cabinets. The upper cabinets are kept white so the kitchen maintains a bright appearance.  
19. Tiles and brick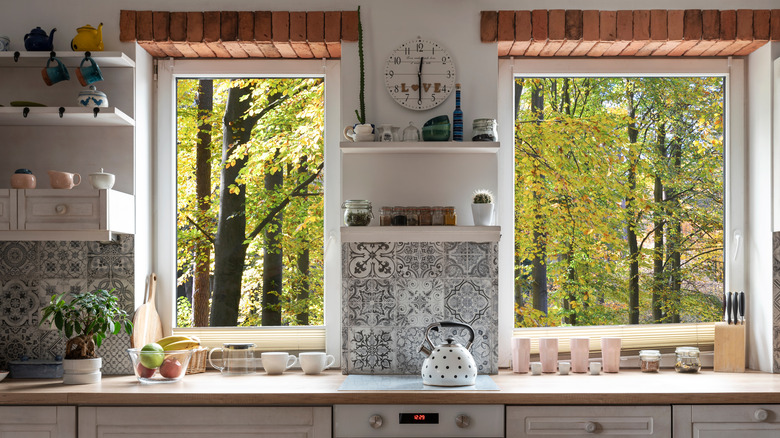 liloon/Shutterstock
Since the cabinets and countertops of a Scandinavian kitchen are simple and clean, you can easily incorporate brick and tile to amp up the overall look. Here, they've chosen a busy tile for the backsplash, but the gray color helps to keep it muted. The brick was used to make an interesting faux window treatment.
20. Different wood mediums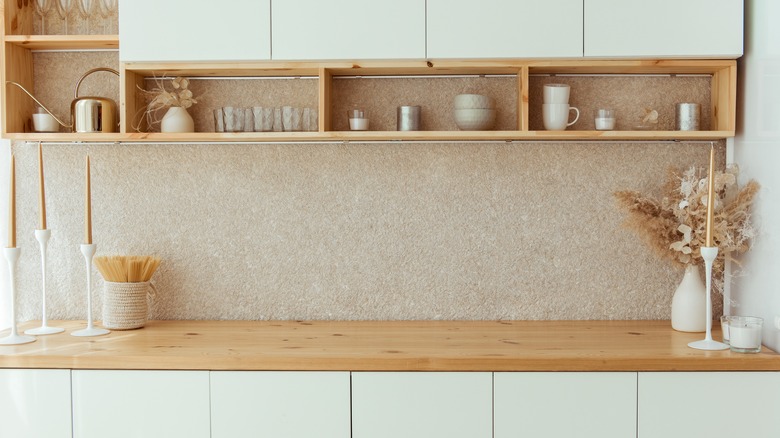 Iren_Geo/Shutterstock
If you love the look of wood, you can incorporate it through different mediums. Here, they've installed a wooden countertop as well as a textured, wooden backsplash. The color of the countertop is dark and the surface is smooth, which creates enough contrast between the two.
21. Tiles installed in different directions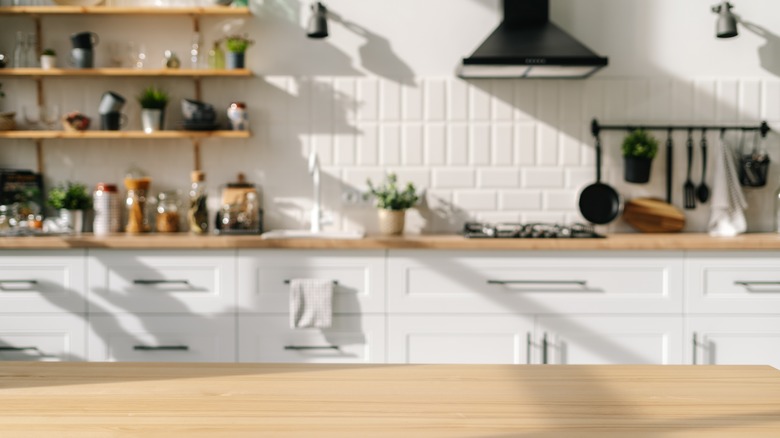 brizmaker/Shutterstock
If you love white subway tiles but want to create a visually interesting design, we suggest laying them out in different directions. Here, they've created a base of horizontally installed tile with a layer of vertically installed tile above.
22. A mix of cool tones
Mixing cool tones can make your Scandinavian kitchen design feel sophisticated even with rustic elements present. 
23. Exposed pipes
To give your Scandinavian kitchen a more authentic feel, we advise installing exposed pipes. This will also help add a rustic sense if your kitchen feels too contemporary. 
24. Brass hardware finish
Scandinavian kitchen designs typically incorporate warm white cabinets and wood countertops, so we believe hardware with brass finishes will be best to create a harmonious design.
25. Shiplap cabinets
Shiplap cabinetry can add texture, which helps create more interest when you're working with minimal decor. Adding a fun, soft blue color will also work, as this color usually complements wood tones and white shades. It's also a great choice to ensure your space feels more casual and less modern.
26. Add a rug for color
If your Scandinavian kitchen is absent of color, then we advise planting a colorful rug in the work area of your kitchen. The colors shouldn't be too vibrant, but bright enough to have an impact. The pattern should also be traditional or fairly simple as anything too eclectic will break up the space.
27. Beautifully organized
For a Scandinavian kitchen to appear clear and simple, it must have an impeccable storage system. Here, there is a mixture of open cabinets and small drawers so that each item has its own space.
28. Pretty in pink
Pink can be used to give your Scandinavian kitchen more of a feminine edge. Blush pink, in particular, is bright and airy, which is perfect for the aesthetic, and can be beautifully paired with marble or wood materials. 
29. Yellow tones
The yellow tones of the cabinetry pair well with the brownish-red countertop and warmed-toned flooring. Introducing yellow-toned decor into the kitchen can help keep a Scandinavian kitchen bright and cheerful.
30. Add detailing
In this Scandinavian kitchen design, they've amped up its style by also incorporating detailed crown molding around the perimeter.