Home Depot Or Lowe's: Which Has Better Deals On Exterior Shutters?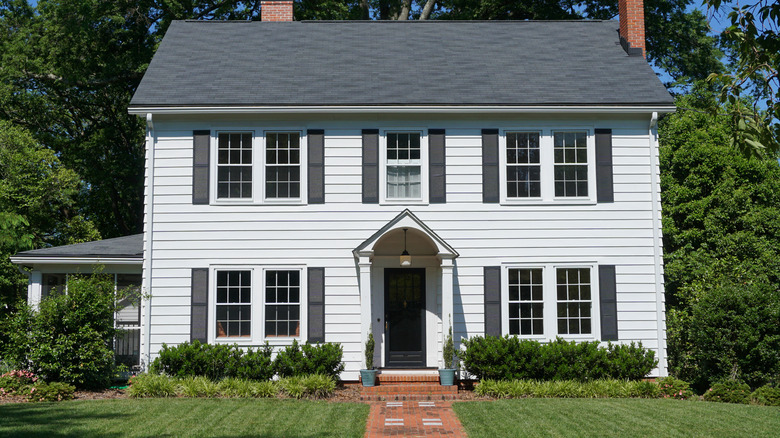 PT Hamilton/Shutterstock
What once was used primarily as protection against the elements is now considered a decorative addition to improve the look of a home, states The Door Store & Windows. Just like your home's interior, your exterior walls can benefit from some accessorizing, and shutters are an attractive way to elevate the look of your house and increase its curb appeal.
When selecting shutters for your home, there are a few things to look for. First, select shutters that match the style of your home. Board and batten options work well on a rustic home but would look out of place on a sleek, modern house. Bermuda-style shutters work well in coastal areas, while louvered options offer a classic look that suits most traditional homes. Since ornamental shutters should mimic their functional counterparts, select an option that is the same size or slightly larger than your window for an authentic look. If you are considering adding these exterior accessories to your home, you probably want to find the best deal, so we compared similar products at both Home Depot and Lowe's.
Lowe's best shutters
This pair of Vantage Louvered Vinyl Shutters at Lowe's are $56.00 for the common 14.5-inch by 60-inch size. This product features a subtle wood grain texture so you get the look of painted wood without the high price and upkeep. Although we are comparing the 60-inch size, these shutters are available in 14 lengths and 16 different colors. Although the colored options cannot be painted, there is also a paintable vinyl option available. With so many options from which to choose, the Vantage brand appears to have exactly what you need to perfect your home's exterior. Although all the hanging hardware comes with this pair, Shutterland suggests using shutter spikes, which can simply be hammered into place.
With an average of 4.7 out of 5 stars from 17 ratings, reviewers seem overwhelmingly happy with their purchase. One customer mentioned the shutters were easy to install and they look great, while another mentioned the quality of the product and ease of installation. Although there were a few 2- and 3-star ratings, those reviewers did not disclose any worrying issues with the product.
Home Depot vinyl shutters
A comparable product to Lowes' Vantage brand shutters are the Builder's Edge Louvered Vinyl Exterior Shutters, at $55.48 for the same size. If black is not your preferred color, this brand offers 19 colors in 14 lengths and two widths. If you have some windows in your home that require a narrower shutter, Hooks and Lattice suggest selecting the same width for all the windows in your home for a cohesive look. Although hanging hardware is included with this product, buyers often tend to purchase extra Shutter Lok Fasteners, which are similar to the spikes
These Builder's Edge shutters are a big seller at Home Depot with over 700 reviews that average 4.5 stars. While most people are happy with their purchase, some mentioned their package was missing the fasteners. One unhappy customer mentioned that even though the product has a limited lifetime warranty against fading, theirs faded within 10 years. Still, with almost 500 5-star reviews, the vast majority of customers were pleased.
With similar pricing and reviews, there is no clear winner of who has the best deals on exterior shutters; however, Home Depot does have a better selection and many more reviews for their product.