15 Creative Ways To Increase Your Home's Curb Appeal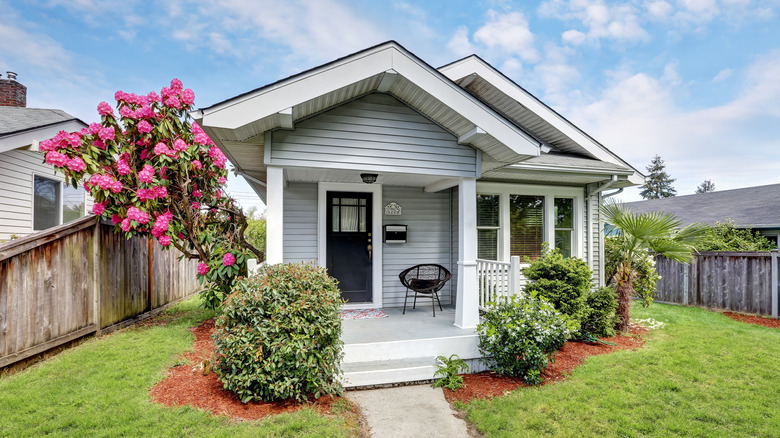 Artazum/Shutterstock
If you're getting ready to list your house, you've probably heard the term curb appeal. But, what does curb appeal actually mean, and why does it matter so much? Most importantly, curb appeal is literally how your house looks from the curbside. If a house looks well maintained, orderly, and inviting then it's got some appeal. Since people looking to buy a house will spend most of their time inside, this may seem minor in the grand scheme of things. However, curb appeal actually has a major impact on first impressions and can result in higher offers than houses that don't look good from the outside, notes Landmark Home Warranty. 
Whether you're selling your home or trying to make a new house feel like home, you probably don't want to call in an expensive construction crew and have to source a ton of materials. Instead, there are plenty of creative ways to transform your home's curb appeal by making small and inexpensive changes.
1. Add character to your front door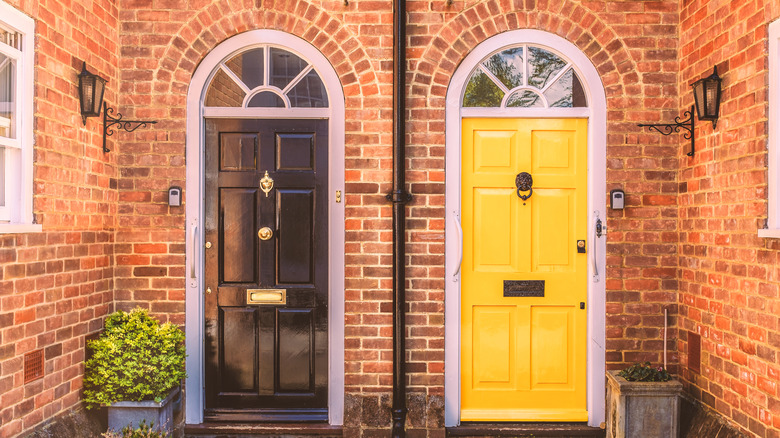 Christine Bird/Shutterstock
One of the easiest ways to make your house stand out from the rest is by giving your door a little love with some fresh paint and upgraded hardware. You can go minimalist with matte white or black, or get a little wild with bright colors like, yellow, green, blue, or red. If you really want to save a little cash, just spray paint your existing door hardware in a contrasting color or metallic finish. To make the door really sing, try adding a few pops of matching color with plants or curtains. 
2. Refresh your mailbox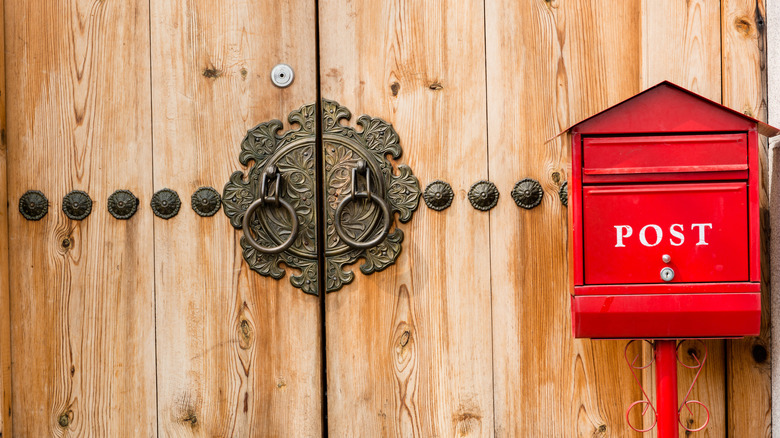 Pairat Pinijkul/Shutterstock
A lot of people don't give their mailbox much thought as it's so utilitarian. But, if your mailbox is just looking worse for wear, consider giving it a little TLC. A fresh coat of paint that matches your front door, a classy black and white decal treatment, or just retracing the house number can make a huge difference. If you have a shared mailbox at the end of the street, make sure it also looks orderly and clean. 
3. DIY a seasonal wreath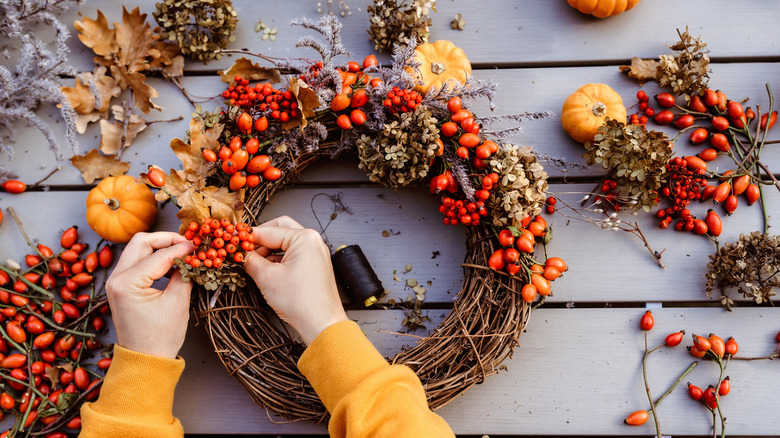 Tatyana Soares/Shutterstock
Creativity doesn't begin and end with a fresh coat of paint — why not make a wreath with some of the seasonal elements. For summer and spring, eucalyptus leaves and white flowers are a great choice. Come autumn, opt for tiny pumpkins and dried grasses. During the winter holidays, you can go wild with ornaments, or just stick to classic pine branches. This simple and fun craft can add a ton of curb appeal. 
4. Create an outdoor seating area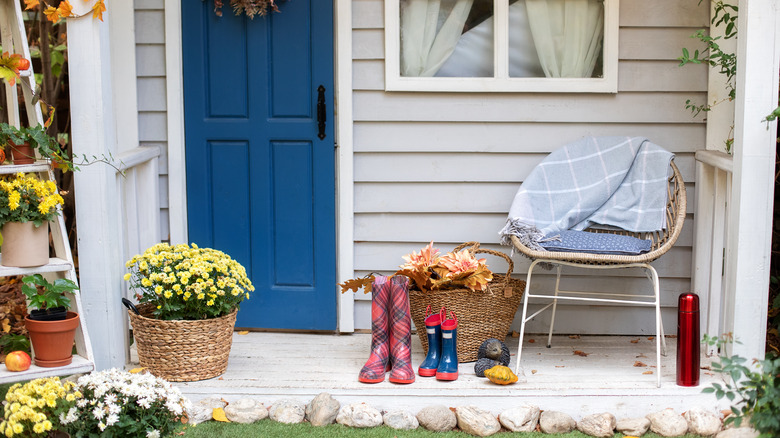 stock_studio/Shutterstock
Front porches can often become a sort of extended junk drawer where we put broken toys we mean to fix, tools we're sure we'll need again, and whatever else we don't have a storage place for. Getting rid of any clutter or junk and cleaning your front porch is the first step. Next, create a sitting area. This signals to potential homebuyers that this house is welcoming right from the get-go. Even adding a single chair, a table, and a small rug can give your porch a facelift.
5. Add a welcome mat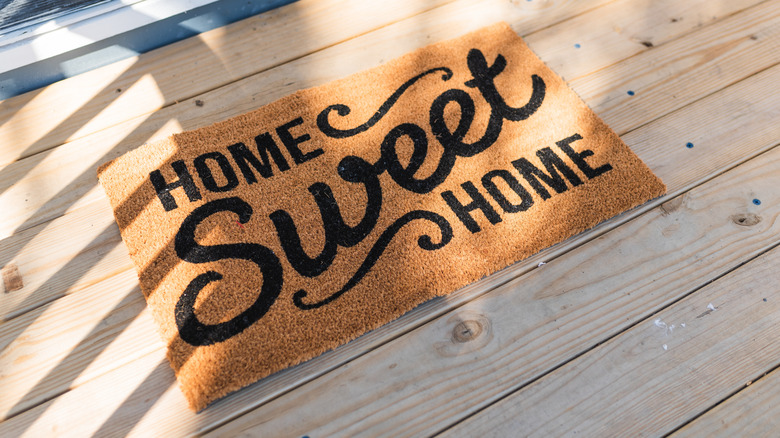 SMRPHOTO/Shutterstock
Welcome mats really do what their name promises — they make folks feel welcome to your home. You can always buy one from any home decor shop, or you can get creative with a bristle mat and some outdoor acrylic paint by adding your own phrase or silhouette design. If you aren't sure where to start, check out this YouTube tutorial from Jami Ray Vintage. As a bonus, a welcome mat prevents visitors from tracking debris into your home during viewings. 
6. Pot some plants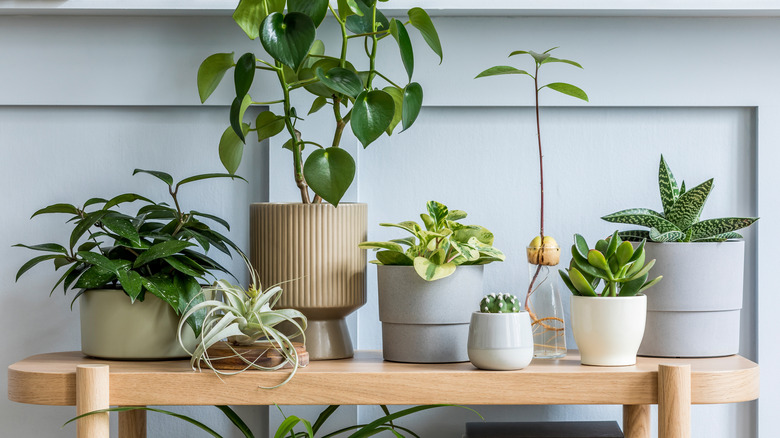 Followtheflow/Shutterstock
Keeping potted plants on your porch, entryway, and front yard is a fantastic way to boost your home's curb appeal. You can opt for vibrant green leafy plants or an array of seasonal flowers, depending on your style and budget. Having well-cared-for plants on display offers more than just a pop of color, though it does that very well, too. It also signals to potential buyers that you care for your home, as you have cared for your potted plants. 
7. Repaint the shutters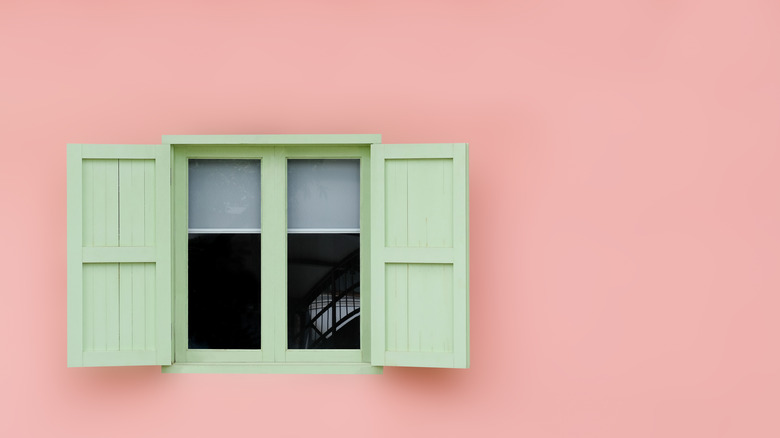 Nudphon Phuengsuwan/Shutterstock
Repainting the shutters of your home, or even just the window frame if you don't have shutters, can really help your house to stand out. However, be sure to speak with a professional before you grab the first can of paint from your garage. The type of paint (and potentially the primer) you'll need depends on the material of your shutters, if it's been painted before, and if you need any sealants. 
8. Give your porch a facelift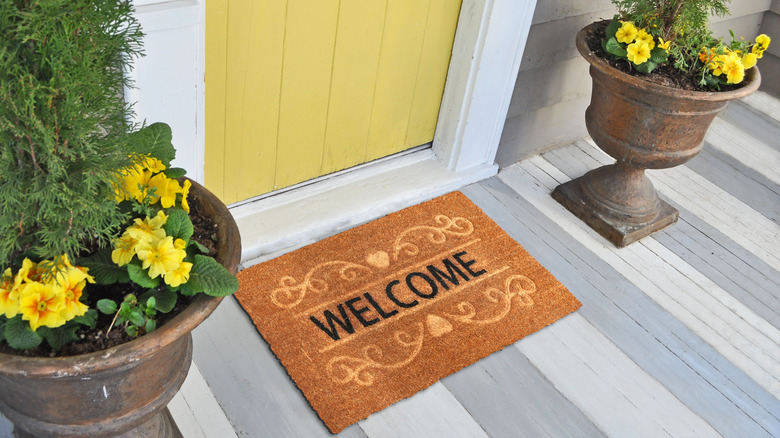 Appz Dreamer/Shutterstock
If your concrete or wood porch has obvious signs of aging and damage like water stains or spills, consider adding a fresh coat of paint. All-white porches are bright and clean looking, but you can also create patterns with taping or stencils if you're willing to put in a little elbow grease. If you're not into crafts and have a bigger budget, you can always re-cover the porch in brick or ceramic pavers. 
9. Add curtains to your porch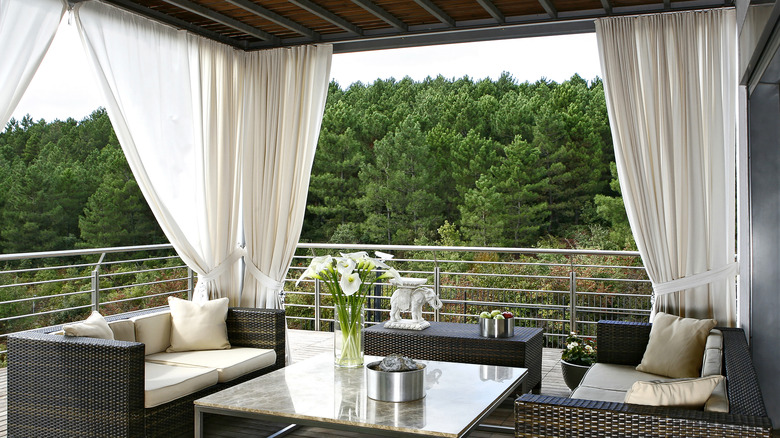 F. Serra Mubeccel Gulturk/Shutterstock
Adding curtains makes any space look elegant, and has the added bonus of selective privacy. While pre-made outdoor curtains can be very expensive, you can achieve a similar look by getting creative with bedding. The Frugal Homemaker has a no-sew tutorial on how to turn flat sheets into gorgeous curtains, making this the perfect weekend craft to add major curb appeal. 
10. Give your garage door a makeover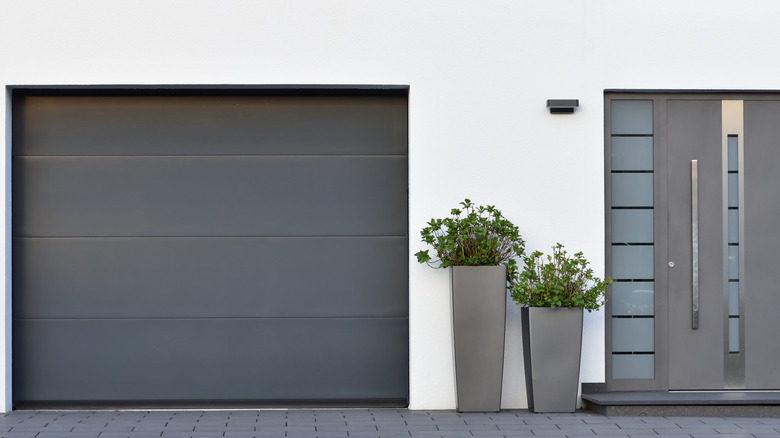 Dmitrii Pridannikov/Shutterstock
If your garage door has a few dings and dents, that's totally normal and can usually be fixed with a little help. Garage doors that look worn out, water damaged, or just rather drab, can benefit from a coat of paint to help make them pop again. Garages take up a lot of visual space from the curb, so it's important to make sure they look well cared for. Plus, who doesn't love a matching front and garage door?
11. Don't forget about house numbers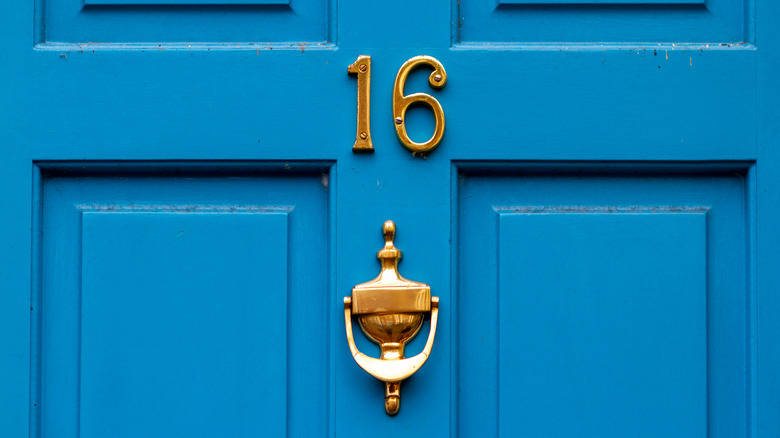 Christina Hemsley/Shutterstock
Similar to the mailbox, we often forget about house numbers. However, they are actually a great way to show your design style through your home's exterior. The numbers should be easy to read from the street, especially if you're trying to sell your home — you don't want potential buyers accidentally driving right past. So whatever font you choose, make sure they are large, and stand out against the exterior of your house. 
12. Upgrade your porch lighting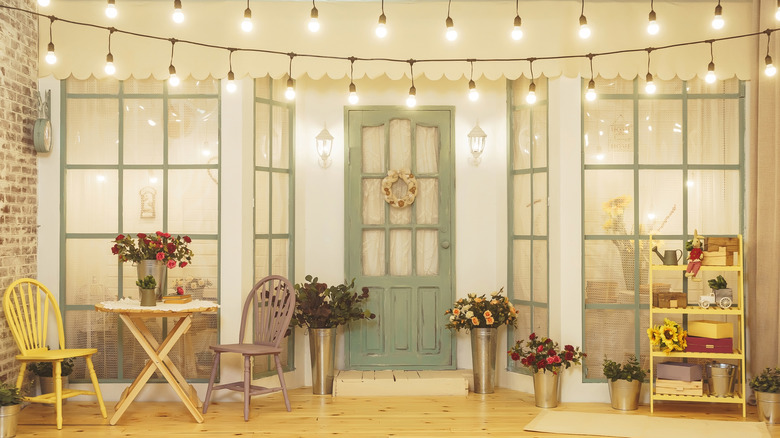 Yashkin Ilya/Shutterstock
Make sure your house looks great at all hours of the day with some upgraded lighting. This makes homes feel warm and welcoming, and you can be sure that if you're selling your house, prospective buyers are checking it out night and day. You can change out the fixtures of course, but bistro and fairy lights also make for a quaint and cozy touch. Regardless of what you opt for, the goal is to add warm lighting that makes the space feel both inviting and safe. 
13. Hang a bird feeder
Linas T/Shutterstock
What says welcome to our home like the sweet serenades of songbirds? Building and hanging a bird feeder is a great way to show how lively and welcoming your place is. If you are listing your home during the winter months, this is also a smart way to enlist the help of birds to give your house some much-needed pops of color. Build your own feeder or snag one at the hardware store for a quick and simple way to add curb appeal. 
14. Add a bookshelf or cart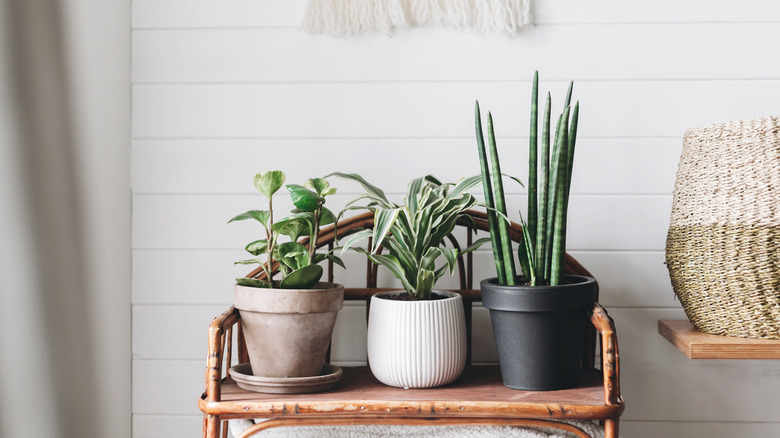 Bogdan Sonjachnyj/Shutterstock
Adding a freestanding bookshelf, rolling cart, or any type of shelving system is a great way to add some personality. They can be used to show off plants, pottery, paintings, or even as storage spaces for toys, and gardening tools. This is a great way to show off your creative side while boosting your home's curb appeal and is one of the tips that real estate agents use when they stage a house.
15. Hang window boxes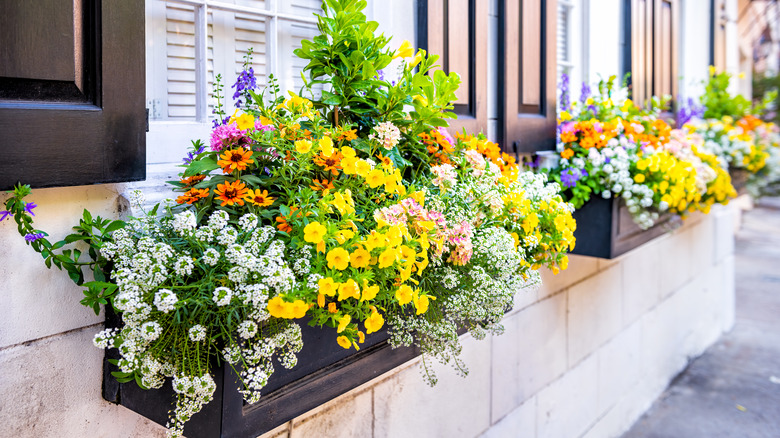 Andriy Blokhin/Shutterstock
Even if you've got a very small yard or porch to work with, you still have a great option in hanging window boxes. These clever gardening accessories range anywhere from about $30 to $150. If you are particularly crafty, you can always try making your own. Once you've got your desired boxes, hang them and fill them with an array of gorgeous flowers. We are particularly fond of multicolor, overflowing arrangements that just seem to make you happy.