The Best Shrubs To Grow In Your Yard For A Colorful Spring, According To An Expert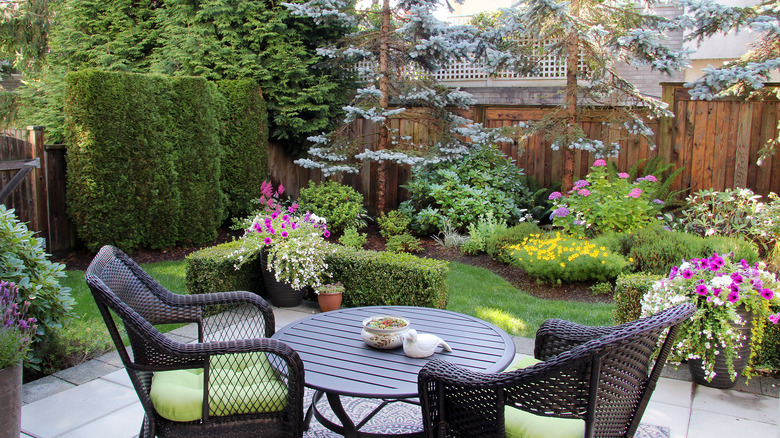 Hannamariah/Shutterstock
Each spring, there are plenty of plant types to add to your landscaping that will create a beautiful, even colorful display. However, as simple as it sounds, a common and popular option that most properties benefit from is the shrub. Oasis Palms & Landscaping says there are several reasons to plant shrubs, including to reduce erosion risk, support other plant growth, and improve air quality.
Liz Will, a Master Gardener, certified garden coach, and founder of Learn To Grow Gardens, offers some insight into the use of shrubs in this exclusive interview with House Digest. "There are many great options when choosing spring-blooming shrubs for a colorful start to the growing season," she says. Moreover, determining where to plant shrubs to get the most out of them is the first step. "Most spring blooming shrubs grow to be 5 feet or more in height and width, so be sure to give them plenty of room to spread out," Will explains. "For the most flowers, plant them in an area with full sun. For the longest display of color, mix and match varieties with different bloom times."
Forsythia offer impressively stunning color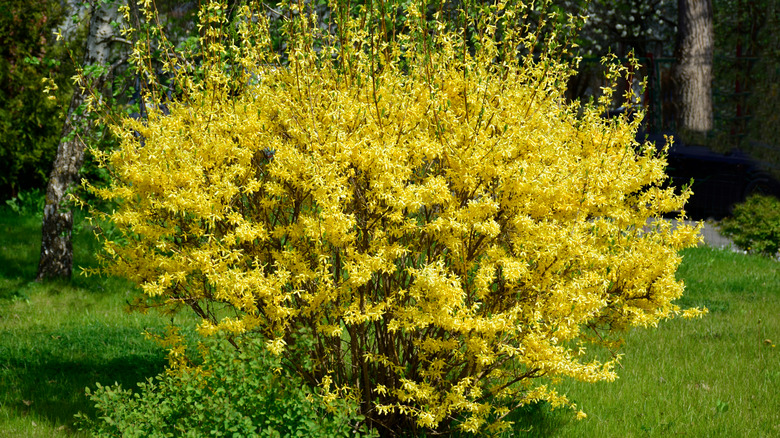 Vlad_art/Shutterstock
Some shrubs offer color that's impressively stunning early in spring, including forsythia. "Seeing the bright yellow blooms of forsythia is an early sign that spring has arrived," Will says.
"Forsythias are one of the easiest of the spring blooming shrubs, and their cheerful flowers can be seen dotting landscapes throughout zones 5 through 9."
These gorgeous shrubs need some careful planning to ensure they thrive, though. Depending on the variety, you'll need to choose a location with ample space or invest time in careful maintenance. "Forsythia can reach 10 feet tall and wide when left to spread out, or they can be trimmed into a more formal shape," she reveals. "The small flowers last one to two weeks." With their notable beauty, Forsythias are an excellent choice to plant close to a window, where you'll see them first thing in the morning during early spring.
Lilacs are classic for a reason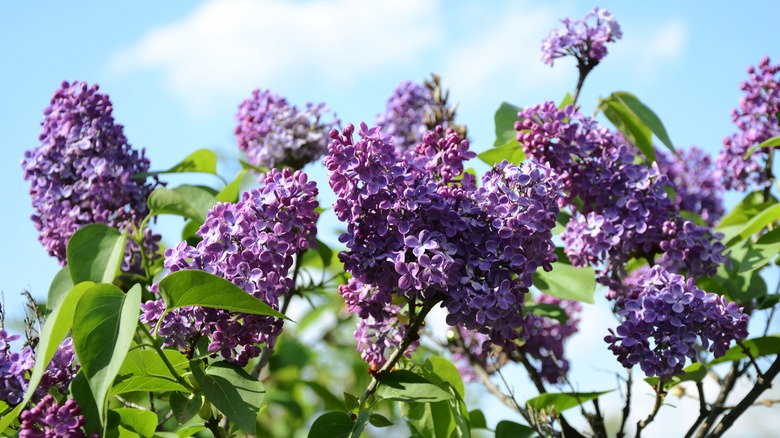 Predrag Lukic/Shutterstock
Though they seem challenging to grow, lilacs are also an excellent choice to brighten a garden or yard. "Lilacs are a long-time favorite spring blooming shrub, and for good reason. Not only are the purple flowers attractive, [but] they [also] let off a delicate sweet perfume," explains Will. To that end, place these shrubs where you can get a good whiff of them when the cool breeze blows, especially as seasonal storms start to usher in the fresh blooms of spring.
Additionally, lilacs are a great option for many garden enthusiasts and novices alike. "Lilacs are easy to grow and care for, and the flowers are excellent for cutting," says Will. She provides a few warnings, though. "Plant lilacs in an area with soil that drains well and receives at least six hours of sunlight per day." In other words, take the time to select an area with reliable sunlight to minimize the risk of not seeing those beautiful colors bloom this spring.
Flowering quince shrubs bring in pollinators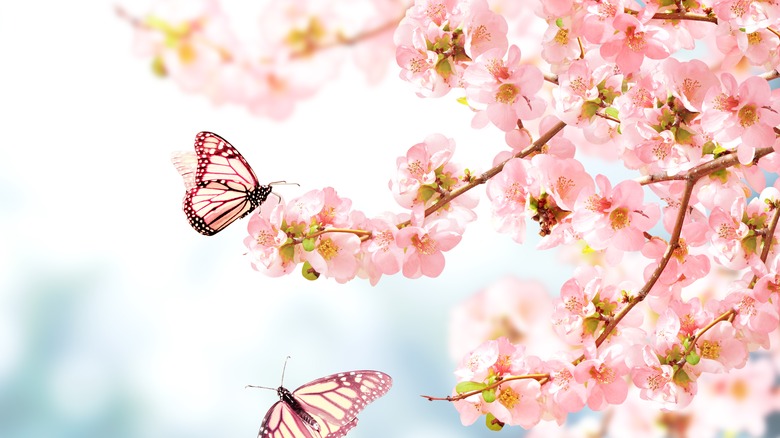 Lukiyanova Natalia frenta/Shutterstock
For those looking to attract pollinators to support other blooms in the garden, flowering quince are an excellent option. "Although flowering quince have a bit of a messy growth habit, they are a sight to behold when in full bloom," explains Will. That's sure to transform a landscape as soon as the spring warmth arrives. She continues, "They bloom early, and their branches are loaded with blooms that attract hummingbirds and butterflies. The blooms are found in red, orange, pink, or white."
Another nice benefit of these shrubs is that you can bring that beautiful color and fresh life into your home. "Flowering quince are one of the easiest spring-blooming shrubs to force to flower indoors," Will states. "Cut the branches just as the buds are beginning to swell, and place [them] in a vase full of water near a sunny window." These may be the first of the spring blooms to bring into your home.
Rhododendron thrive in the shade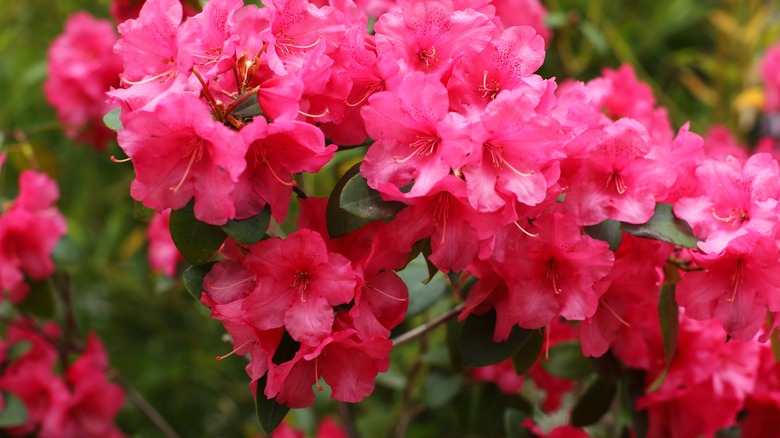 Anna Gonchar/Shutterstock
If the landscape of your garden or yard just doesn't get consistent, quality sunlight, you likely haven't planted anything there over time. But one option may just work. "Rhododendrons are an evergreen spring-blooming shrub, which means they keep their large, glossy green leaves throughout the winter," Will reveals. "Rhododendrons are an exception to the full sun rule, preferring full shade."
"This makes them an excellent choice for brightening up shady areas in spring," she continues. Placing them in areas where you don't typically see a lot of seasonal blooms allows you to make every pocket of your garden pop. "Their flowers form in clusters and are available in pink, purple, red, orange, yellow, white, or cream," Will says. Ultimately, consider choosing a few different varieties to create a powerful, colorful statement, even in areas that may be a bit too dark. For the best results, support them with proper nutrients and water.
Azalea are stunning in springtime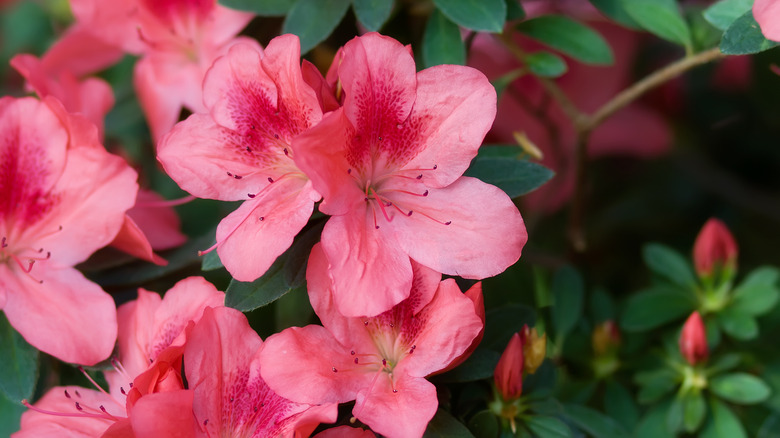 Dobra Kobra/Shutterstock
Here's another exceptional spring bloomer to add to your garden, according to Will. "Azaleas — a sub-group of rhododendrons — are absolutely stunning in the spring, covered in bright blooms," she says. "Their flowers can last for weeks and are breathtaking to behold when seen in mass plantings." If you have a large flowerbed or a yard that lacks beauty and character, consider planting several azaleas in groupings to get the best-desired results. "Azalea flowers are found in shades of pink, purple, white, red, orange, and yellow," Will notes.
Like most plant life, the key is getting the location just right. "They are able to tolerate full sun or part shade locations. If planted in a more shady spot, azaleas will form a graceful habit as they reach for the sun, and although they'll have fewer flowers, the blooms will last longer," shares Will. Indeed, that's an excellent way to add dimension and shape to a garden or landscaped area.
Weigela naturally repel deer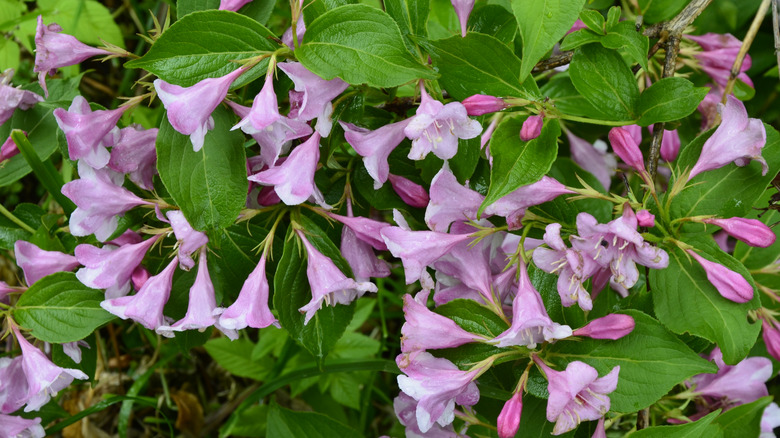 weha/Shutterstock
For those looking for a color that won't bring the wildlife indoors, think weigela. "Weigela are known for both their showy red or pink blooms and for their foliage," shares Will. "Some varieties feature deep burgundy leaves, while others have variegated green foliage." This particular type of plant offers a unique color pattern, allowing for a different element to be added to your space. "Weigela are an excellent choice if you struggle with deer in your garden, as deer tend to leave weigela alone," she states.
These plants are particularly interesting and ideal for tighter areas. "They are a smaller spring-blooming shrub, growing 1 to 6 feet, depending on the variety," Will explains. "Weigela are also fast growers and will reach their mature size in just a few seasons." That makes them great for areas you want to quickly build up to create more of a dense, lush look.
Camellia add character to any space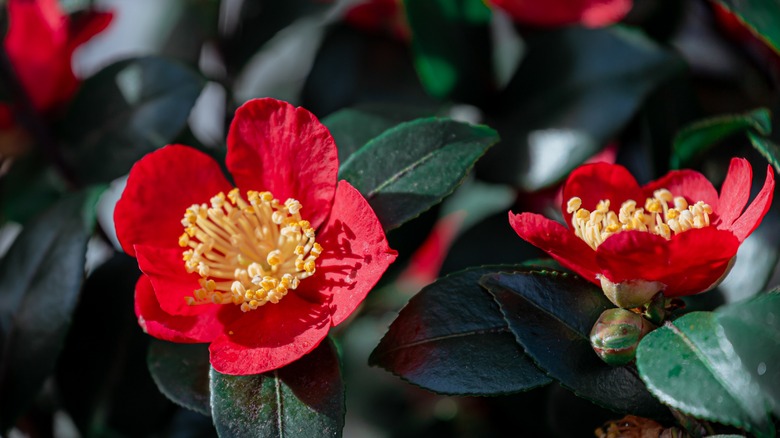 Wut_Moppie/Shutterstock
With all these great ideas, how else can you enhance the color and look of your garden? Will recommends camellia. "Camellias are another evergreen spring-blooming shrub and are excellent companions to azaleas and rhododendrons due to their similar growing conditions." Consider planting them side-by-side to add more character to any space and include different varieties to create a stunning look.
When it comes to appearance and color, camellias stand out. "Camellia flowers are early spring bloomers and can look like roses, peonies, or anemones," Will shares. "The blooms come in red, pink, or white, or a mix of the three colors. In the South, camellias can even be found blooming in the middle of winter." If you decide to plant them, take some time to check out a few varieties or mix them to create a more colorful and interesting space. With these spring gardening tips, it's more than possible to transform your garden or yard into something truly inspiring and worthwhile.