Home Depot Or Lowe's: Which Has Better Deals On Gazebos?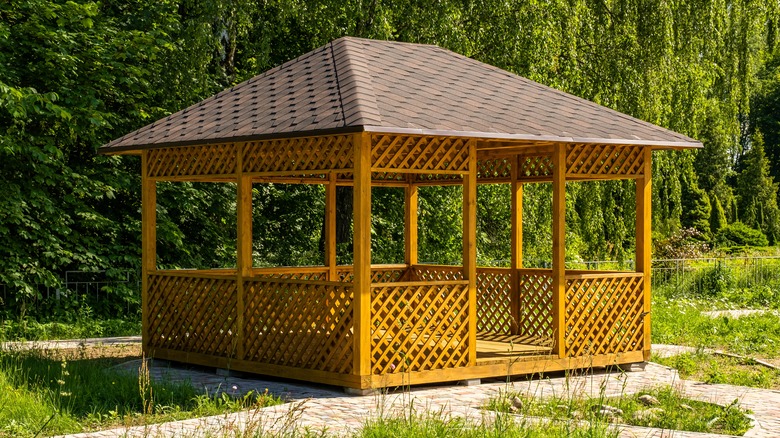 360VP/Shutterstock
A gazebo can bring a lot of joy and enjoyment to your property. However, there are a few things to consider before making a purchase. Per Country Lane Gazebos, figure out why you want to buy one in the first place. Of course, some people enjoy the overall aesthetic, while others like having another hang-out spot. Then decide where to place it and determine what material it should be made from. Typically, there are two choices: wood and vinyl. Each comes with its own benefits, but make sure to give it some thought.
From there, choose the shape and size you desire. According to Soltec, the most common shape is an octagon. However, there are many other custom designs to choose from as well. Regarding size, this goes back to why you're buying a gazebo in the first place. If it's for aesthetic purposes, you can certainly get by with a smaller model. However, for gatherings, it may be best to invest in a larger model. Specific details, such as roofing, flooring, and railings, must also be decided on. Finally, you get blessed with the task of choosing where to purchase your new addition. Since Home Depot and Lowe's each sell a large selection of gazebos, let's see which retailer has the better deal.
Home Depot's Hampton Bay gazebo
Available at $1,649, the 11-by-13-foot Crownhill gazebo by Hampton Bay is a best-seller at Home Depot. Rectangular in shape, it's said to cover about 142 square feet of space. This model is made from cedar wood, which Northern Log Supply points out can act as a natural insect repellent while remaining durable for some time. Meanwhile, the steel double-tier roof allows for easy ventilation. Plus, ceiling hooks come pre-installed, so you can hang lights, netting, or other desirable décor. Additionally, its dual rails allow you to hang mosquito netting, although this feature is sold separately. The Crownhill comes with a two-year manufacturer warranty and can be returned up to 90 days after purchase.
Out of just more than 200 reviews, this model received a 4.5-star rating and an 80% recommendation rate. Reviews are mostly positive, with one consumer stating the gazebo is relaxing and took two people just five hours to install. Someone else commented that it's a beautiful addition to their backyard and they have received many compliments on it. However, this person also pointed out there were a few pre-cut holes that didn't line up evenly with the required bolts and suggested having power tools on standby.
Lowe's Backyard Discovery gazebo
Running for $2,500, the 12-foot, brown wood Backyard Discovery gazebo from Lowe's certainly costs a pretty penny, although pricing may depend on location. Made from paintable cedar wood, it's said to be naturally resistant to decay and rot, as well as water, mold, and mildew. Meanwhile, the 29 gauge steel roof provides dent and corrosion resistance, as well as heat insulation that reduces heat transfer by 20 degrees. Tested by Pro-Tect, this gazebo is certified to withstand nearly 30 inches of snow and up to 100 mph wind gusts. Additional features include beams that contain brackets and hardware accents. A five-year limited warranty is available at the time of purchase.
With nearly 200 reviews, this gazebo has earned a 4.8-star rating and a 97% recommendation rate. One consumer stated the brown wood model is appealing and made of quality materials. However, even with the help of three people, it still took them nearly six hours to build. Another buyer stated they purchased this gazebo to serve as an accent to their house and that it far exceeded their expectations.
Based on the price, reviews, and warranty options of the Home Depot and Lowe's gazebos, we'd say the better deal can be found at Lowe's. Although more expensive than its counterpart, the latter option includes a longer warranty and has a better overall rating.