Gazebo Or Pergola? This Is The Most Popular Backyard Shade Structure - Exclusive Survey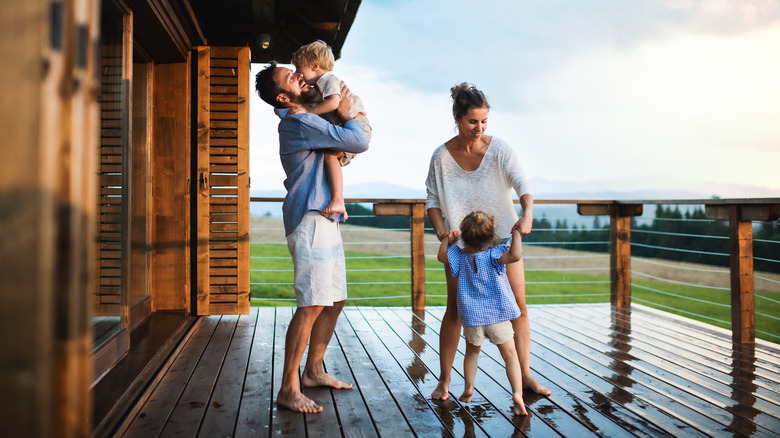 Halfpoint/Shutterstock
Having some sort of shade structure is a great benefit for those who spend a lot of time outdoors either chilling in the sun, gardening, or spending time with friends and family. According to Sunbrella, there are a plethora of benefits to constructing a shade structure, such as the ability to hide from the blazing sun and to cool down. Depending on where you live, the summers are getting hotter and hotter, so having some sort of shade structure in your yard can give you more time outdoors so you're not pressed to go back inside to the cool air conditioning.
However, there are many styles to choose from, so House Digest has conducted a survey asking participants which shade structure looks the best. We gave them six options: pergola, pavilion, shade sails, patio umbrella, arbor, and gazebo. We'll break down which options received the most votes and what characteristics have led to their popularity.
Various style choices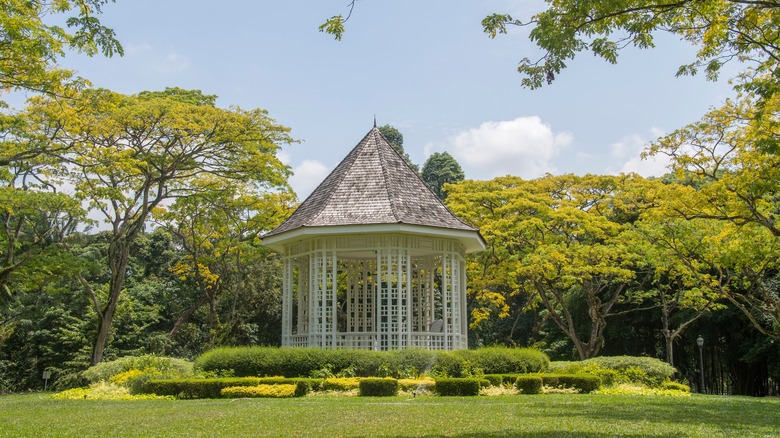 Tang Yan Song/Shutterstock
Out of 606 respondents, 25.58% (155 people) chose the gazebo as the shade structure they believe looks best, according to our survey. Backyard Unlimited explains that gazebos come in different sizes and shapes, such as octagon, oval, rectangle, and dodecagon. Most people enjoy Victorian-era designed gazebos, however, there are many different options to accommodate different aesthetic needs. Due to the different variations available, you are highly likely to find one that will suit your yard — whether large or small.
Backyard Unlimited also says that gazebos can either have an open or screened-in design. If you're someone who enjoys eating meals outdoors, the screened-in option helps to keep bugs away. Some people opt to design their gazebo with a table and a few chairs to create a cozy dining experience. This shade structure is also a great option for those with backyard pools because it can be an area where you can dry off while hiding from the sun.
A garden fantasy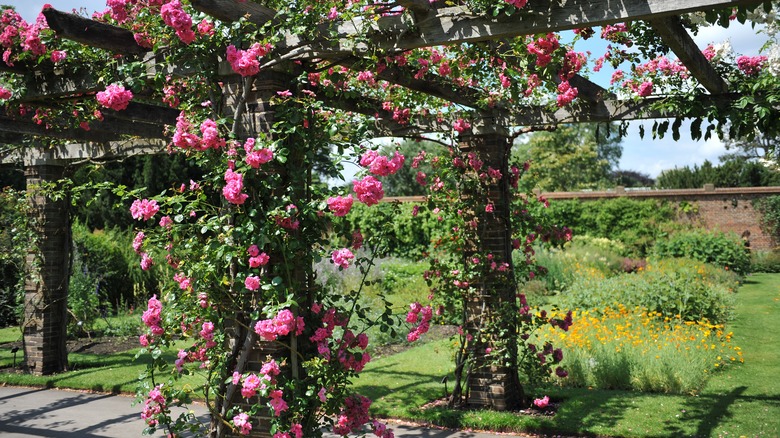 Sergey V Kalyakin/Shutterstock
A close second was the pergola, with 22.77% (138 people) agreeing that this shade structure looks best. According to Renson, pergolas can be designed to look great in different settings. Traditionally, they've been used to amp up the appearance of gardens. One option is to construct a wood or aluminum pergola over a walkway, and use it to place a table and other gardening tools to create a chic working station. You can also use the pergola to hold vines or other beautiful flowers around the tops and sides of the structure to create shade.
If you want to elevate your patio design, Renson also says that you can place a pergola on it to create a comfortable space to chill with friends. Pergolas come in many styles and colors, so you can easily choose one that complements your patio furniture.
The following are the other options from most to least amount of votes: pavilion with 107 votes (17.66%), shade sails with 69 votes (11.39%), patio umbrella with 93 votes (15.35%), and arbor with 44 votes (7.26%).