15 Small Makeovers With A Big Impact You Can Do At Home With Paint Samples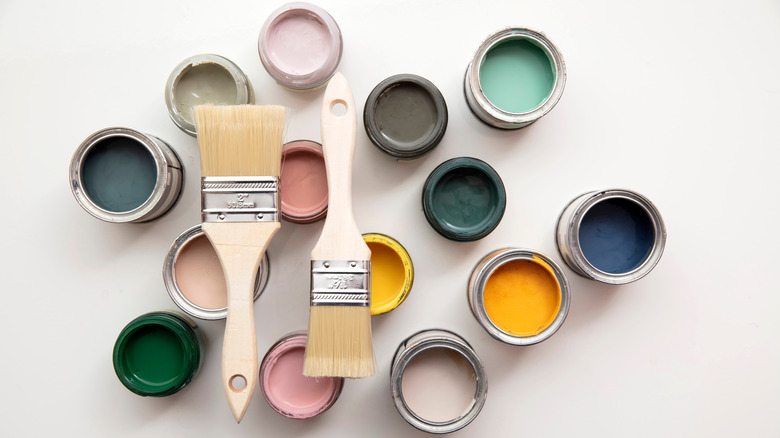 Ink Drop/Shutterstock
When we're inspired to create a personalized statement at home, paint is the perfect medium to help express our vision. It's easy to apply, readily available, and affordable, especially considering its effect. Swatching prospective shades before deciding on one for an interior makeover leaves us with multiple pots of remainders. As reported by Fast Company, approximately 75 million gallons of paint are leftover every year in the U.S. Using what's already on hand for a project is frugal, resourceful, and environmentally conscious. What's more, the act of utilizing waste to make a new object often frees us to try something fun and unusual. The same can be said for paint found in the oops bin, although the random colors may require more imagination to make them work.
The shelves of paint samples at the store offer an ideal way to implement the vision for a creative DIY; there are so many colors it can be intoxicating. However, it's important to note that sample paint is different from the final formulation we buy for walls. Per lifestyle blogger Julie Blanner, while the color can be an accurate representation, it may dry thin and streaky, meaning it's not as durable as regular paint. Choose mixed quarts or a color from the mistake pile for projects that will receive frequent hands-on use or cleaning; alternately, surfaces can be sealed to make them more resilient. Here are 15 ways to use an itty-bitty amount of paint to make a big impact.
1. A unique headboard
A utilitarian wood pallet becomes a feature in this bedroom by way of colorful, painted stripes. A simple DIY project could create something similar, yet headboards can be made with any number of items including canvas, upcycled doors, and room screens. Each possibly will be bettered by a coat of paint. 
2. Wall shelves
Wall shelves have limitless uses and nearly as many means of personalization. For example, a covering of paint in just the right shade polishes and finishes the space. Above, a grayed mint paint beautifully coordinates with the wallpaper to create a charming solution for an awkward nook. Customize store-bought options or check flea markets and thrift shops. 
3. A single chair
Don't discount the solo chair. While we often pass the misfit pieces by, they have loads of potential. A single chair is ideal in the mudroom, next to a cabinet in the hallway, or in a walk-in closet. Bonus points for a seat that can be easily reupholstered in a yummy fabric to match your paint.
4. A feature wall
Sampling paint within the same color family provides leftovers that have an appealingly cohesive palette, like the russet and peach tones above. Or, you could go joyfully chaotic with color the way artist and textile designer Nathalie Lete does to create her one-of-a-kind painted walls. The final look and style are happily up to you.
5. A room screen
While opinions on room screens might be divided, it can't be denied how functional they are. Use one as a pseudo dressing room, a headboard, or to add texture and color without drilling holes into rental walls. They're extremely open to interpretation and paint application. Here, a simple lilac border saves the minimal design from looking boring. 
6. A patterned cabinet
A solid-painted cabinet can be a gorgeous addition to a room, but it requires a fair bit of product. Otherwise, try painting door fronts or drawers by implementing a pattern. Geometric designs are ideal for those less artistically inclined — they require only some basic math and patience (and painter's tape). 
7. Interior doors or trim
Add sophistication and a jolt of color by painting your interior doors or trim. You'll want good quality, durable paint that can be scrubbed, and a finish with some sheen. Alternately, if there isn't much of a single color in the leftovers, the inside of a doorframe is a surprising site for a highlight. 
8. Plant pots
Coordinate plant pots with your decor or with the colorful blooms growing inside of them. Small objects require very little paint, meaning you can create multiples to display or give away — a customized container filled with pretty greenery makes a wonderful present. Some materials need to be primed first, such as porous surfaces and bare concrete.
9. Basic frames
Add flair to basic, clean-lined frames or decorate highly embellished examples to the max; imagine a scrolling and carved oversized mirror lacquered in emerald green or hot pink. A gallery wall showcases several pieces at once, either with a curated, cohesive theme or a fun mishmash. Second-hand finds are excellent candidates for a colorful coat or two. 
10. Original artwork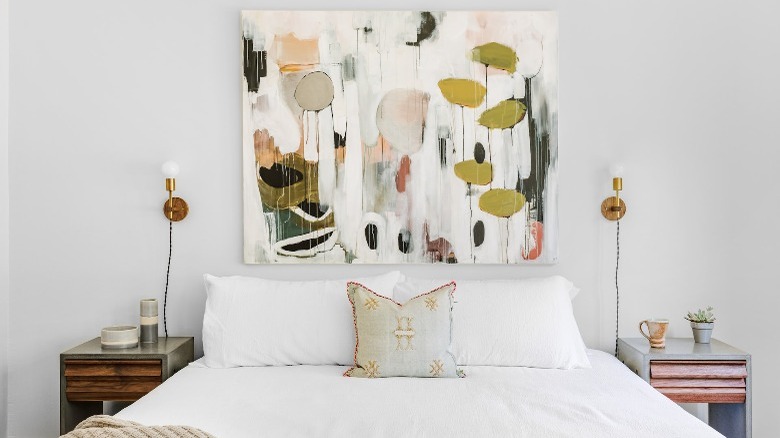 SHOP SLO/Unsplash
Chances are good that the sample colors you already have will be attractive together, or at the very least, they're shades that appeal to you. Grab a gessoed canvas from the craft store and give painting a go. If you're bold and have fun with the process, it'll shine through in the artwork. 
11. A step stool
Step stools are wonderfully multifunctional. From a leg-up for the little ones to a plant stand to a countertop riser, as shown here, their uses are varied. A coat of paint freshens them, though they're just as nice with some wear around the edges. Simulate appealing age with a touch of sanding after painting.
12. Stair risers
Paint has a way of elevating a staircase beyond the mundane. Applied in rainbow stripes like a child's xylophone or complexly mapped, like the geometric pattern above, it calls attention to an item we use without thought. Vertical narrow or wide stripes mimicking runners and their borders are additional options for design.
13. An accent table
Painting furniture in a shade similar to walls or fabrics is one method for achieving a soothing monochromatic color scheme, while also making the room feel stylish and personal. Think how differently this space would appear without the sweet pink side table. For verve, do the opposite — coral nightstands against a jade-green wall? Yes, please!
14. Bookshelves
While bookshelves may be colorful enough for some of us, with their varied covers and dust jackets, it's easy and tempting to introduce more. The turquoise fronts above are ingenious. They're eye-catching, and yet they hold our gaze to allow our eyes a place to rest. Painted baskets or retrofitted drawers could have the same effect.
15. Lamps
A lamp is an ideal spot to charge your interior with color. Rather than a purely decorative item, which can add to clutter, lamps have a purpose. Paint lends the simplest silhouette interest. It can update an old style, or make a new one look more expensive. Be cautious with lampshades, which may require heat-resistant paint.