Best Areas Of Boston To Buy A Home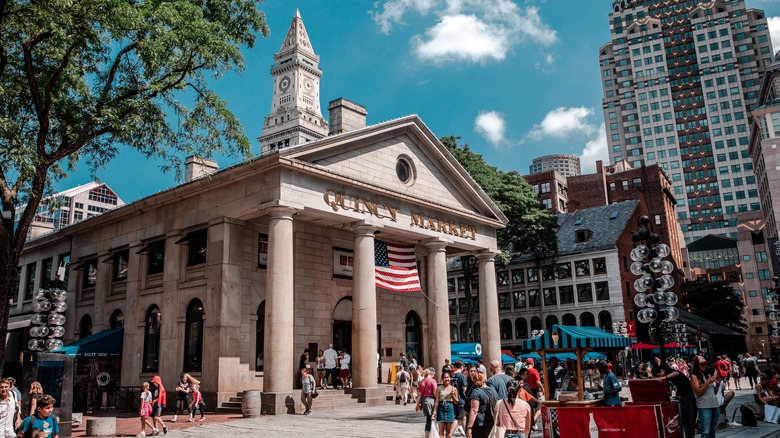 2p2play/Shutterstock
Boston is a world class city and a great place to call home. In fact, according to research by Deutsche Bank, Boston has the best quality of life of any city in the U.S. and is number eight in the entire world. It narrowly beats San Francisco, who slid in right behind it at number nine. The survey looks at a variety of factors and how they can impact a person's social and financial wealth in a particular place. It considers the purchasing power of the local currency, access to healthcare, local crime rates, the cost of living (including housing to income ratios), access to public transportation and traffic patterns, air quality, and of course, climate.
To those already living in Boston, they will say it's a no brainer that their beloved Beantown ranks so well. Boston has it all: It is home to some of the top universities in the country, a stellar public transportation system affectionately known as the "T," and is steeped in American Colonial history. Steeped isn't a pun, as a certain tea party famously took place on the city's harbor. Whether you are renting in Boston and looking to buy, or are moving to the area for the first time, here are all the best neighborhoods and suburbs to consider on your search.
1. Bolton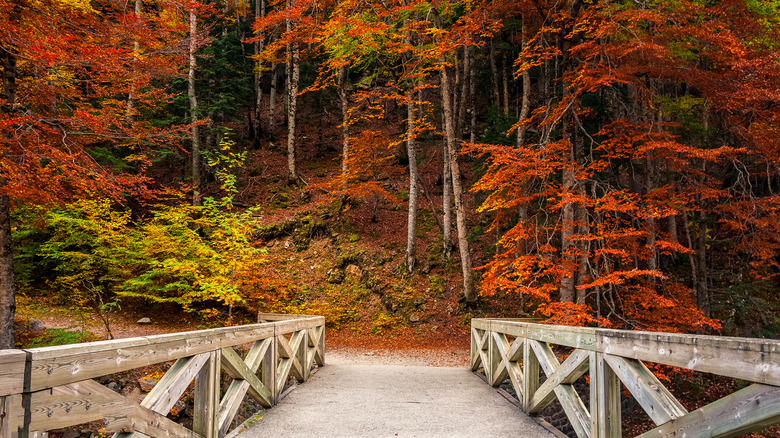 Rusya007/Shutterstock
If you are looking for a place to buy a house to raise your family near Boston, look no farther than Bolton. According to Boston Magazine, it's 45 miles outside of the city. This creates about a 90-minute commute each way from Bolton into the downtown area of Boston, depending on traffic. However, if you work in a suburb of Boston, or can work either remotely or in a hybrid model, the location is well worth it. Bolton is one of those places that looks just like a postcard. It has Colonial houses, big trees with leaves that turn red and orange in the fall, and children riding their bikes around town — just enjoying the neighborhood.
Sharon Mandell is a real estate agent for Coldwell Banker who has lived in Bolton for more than 30 years. Her one caveat about moving to the town is that some might not like the lack of central shops. "We don't have much of a downtown. So maybe in that respect, [Bolton] is a little too sleepy for some people," she said. However, for parents with small children, the overall lack of traffic could also be an appealing factor, as it makes the entire area safer for outside play.
2. Stow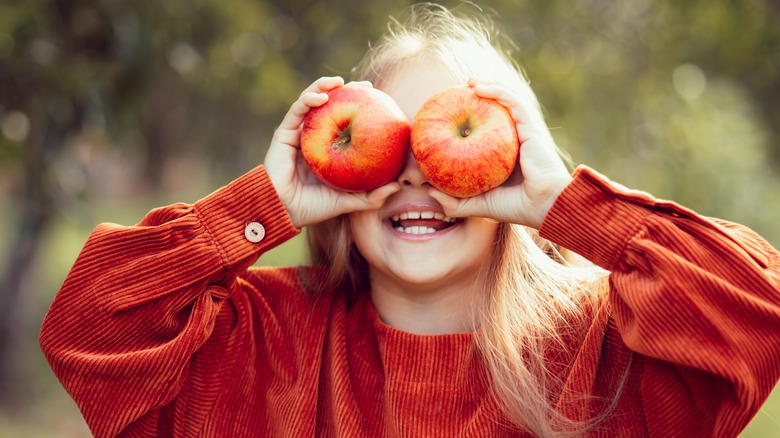 Serenko Natalia/Shutterstock
One of the most popular things to do during the fall in New England is to go apple picking. Stow is a classic New England town, as the area in and around it is filled with orchards. According to the Town of Stow, apple picking (and leaf peeping, as the fall foliage in the area is also gorgeous) isn't the only thing going on there. The town proudly touts itself as a nice place to raise a family, as well as the perfect place to visit.
Stow is a small community, with just under 8,000 residents. However, this contributes to an overall neighborly feel, which makes it such a good place to buy a house. The residents of Stow place a big emphasis on community and preserving local history, too. Stow's prime location in Middlesex County puts it about 25 miles west of Boston and 28 miles east of Worcester. Because of its happy halfway point, commuters to both larger urban centers will find that their daily drives fly by.
3. West Roxbury
Mikey Colon/Shutterstock
West Roxbury is well known around Massachusetts for being a town with access to great parks and schools, like Roxbury Latin School. For parents of school-aged children looking to buy a house near Boston, this makes West Roxbury a definite contender. According to NeighborhoodX, West Roxbury is one of the few areas of Boston that has more houses than apartments — another green flag for families, as they will likely need more space.
If you enjoy the outdoors, it is just a few steps away. Stony Brook Reservation and Bellevue Hill are to the east, and Allandale Woods is to the north. If you walk west, you'll run right into Millennium Park, which is actually a 105-acre natural complex built right on top of an old landfill — the perfect example of reclaimed space. Also to the west of town is the remains of the Transcendentalist utopian community known as Brook Farm. It was started in the 1840s as a place to try to overcome the injustices of modern society, but eventually closed due to financial struggles. However, its values are still popular in the area, and property has since been turned into a park.
4. East Boston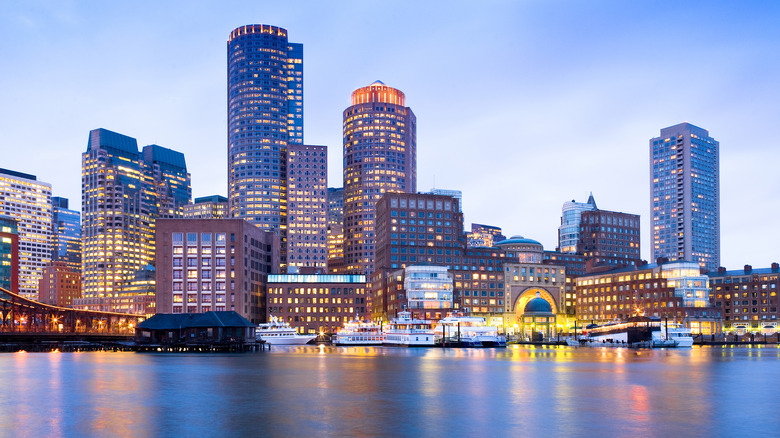 Jose Luis Stephens/Shutterstock
According to Addison East Boston, East Boston is one of the most vibrant neighborhoods in the city. It's also one of the most well-connected, too, as there are plenty of public transportation options, and the community is just across the bay from Boston Logan Airport. Locals affectionately call East Boston "Eastie" and praise its many well-rated places to eat, street art installations, and locally-owned shops. If you are someone who wants to own a home right in the middle of the action, East Boston is the perfect fit for you.
In addition, the neighborhood has one of the best waterfront views in the city (via City of Boston). Before it became a more residential area, it was once a shipbuilding yard, and the area still maintains the overall historical tone through its architecture. East Boston has also always been the home to immigrant families, evolving from mainly English and Irish in early years, to a worldwide community in modern times.
5. Charlestown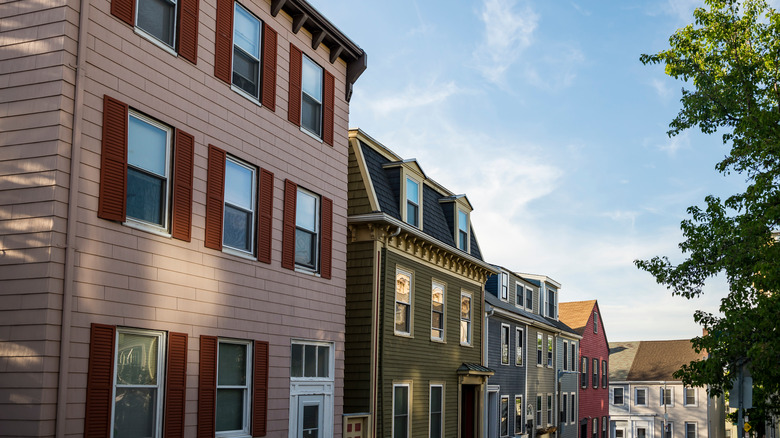 Enrico Della Pietra/Shutterstock
Charlestown is only about 2 miles from downtown Boston, making it an ideal spot for homeowners who don't want much of a daily commute, or who don't own a car and prefer to live somewhere a bit more walkable. In fact, according to Mass Bay Movers, about half of the inhabitants of Charlestown drive to work, while the other half take advantage of Boston's immense public transportation network to get around instead. The area was originally known as Mishawum by local Indigenous people. It was then named after King Charles I by the first English colonists. As such, the neighborhood is famous for its Colonial-era architecture and beautiful homes. Walking through Charlestown really feels like stepping into the pages of a history book. In fact, the famous Battle of Bunker Hill took place not too far from Charlestown. The memorial for the battle, and the park that goes with it, is a favorite place for locals to gather to picnic, play with their dogs, or exercise. 
Just over 16,000 people call the area home, many of which are of Irish ancestry. This is because the majority of the population in the area is descended from people who fled Ireland to settle in Boston during the Irish Potato Famine of the 1840s. The size of the houses in Charlestown depend heavily on your budget, as prices start around $380,00 and can reach upwards of $2,000,000. 
6. Beacon Hill
Jon Bilous/Shutterstock
Beacon Hill is one of the oldest neighborhoods in Boston. Because of its historical charm and convenient location, it also tends to be very expensive. However, for those with the budget, it can't be beat. According to Boston Magazine, the area is the traditional home of the wealthy upperclass known as the Brahmins. The men of this social class, which includes U.S. Presidents John Adams and Calvin Coolidge, are often credited with building up the city. As such, living in the area even in modern Boston retains a sizable amount of social influence (via New England Historical Society).
In addition, residents of Beacon Hill also find themselves owning property in one of Boston's main tourist hubs. Acorn Street, a small alleyway within the neighborhood, holds the much coveted title as being one of the most photographed places in the United States. It embodies the perfect representation of Boston and New England living. Condos in the area start north of $725,000, while family homes with more room will typically sell for about $2,500,000, depending on the market.
7. Allston-Brighton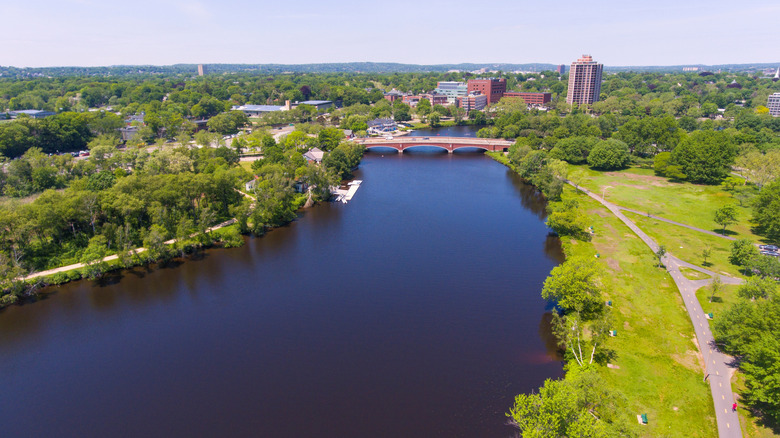 Wangkun Jia/Shutterstock
Allston-Brighton is a historic Boston neighborhood that has seen lots of growth in recent years. According to BU Today, Allston is an affordable neighborhood that borders the Boston University campus, while Brighton is just next door, and encompasses nearby Boston College. The area is young, vibrant, and quite academic as plenty of college students, their professors, and faculty choose to live close to campus. Both of the neighborhoods are very walkable, but if you want to hop on public transportation, the Boston Commuter Rail and the T's Green Line have many arms that run right through it.
"I've seen a real diversification of the kind of businesses here," says Katie Reed, a graduate of Boston University and urban planner. But it's not just businesses they are diverse in the area — it's the people, too. Allston-Brighton is a multi-cultural place to live, as you'll find local residents from Central and South America, South Asia, and even Eastern Europe. These immigrant families brought their favorite cuisines and art forms along with them, creating a melting pot of culture.
8. Jamaica Plain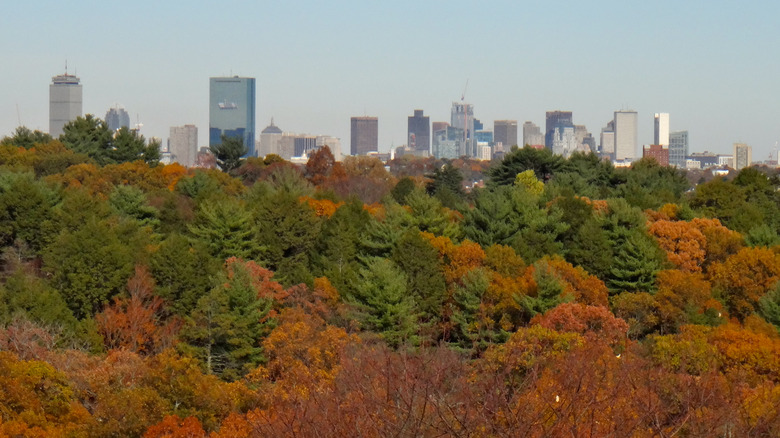 Quiggyt4/Shutterstock
Jamaica Plain is a great place to buy a house if you value diversity in your community, as it's one of Boston's most vibrant neighborhoods. According to BU Today, residents call the area "JP," and value it for its lack of national retail chains and its commitment to local businesses instead. Another reason why JP is prime for those looking to buy property is that it's an area that focuses on renewable energy, ethical agriculture, and fair-trade commerce practices. The neighborhood's buildings are a mix of Colonial and Georgian architecture, with just enough of a modern twist thrown in to not feel like you're entirely living in the past.
The best part of JP, which some might say is its crowning gem, is a network of interconnected lush green spaces known as the Emerald Necklace Conservancy. The sprawling group of parks runs for over seven miles and was designed in the late 1800s by the same man who created Central Park, Frederick Law Olmsted. Residents can hike, bike, and simply lay out in the gardens to enjoy Boston's afternoon sunshine. The green spaces in JP also connect it well to the rest of Boston, so if you prefer to get around on foot or by bike, it's a wonderful alternative to the busy roads. 
9. Cambridge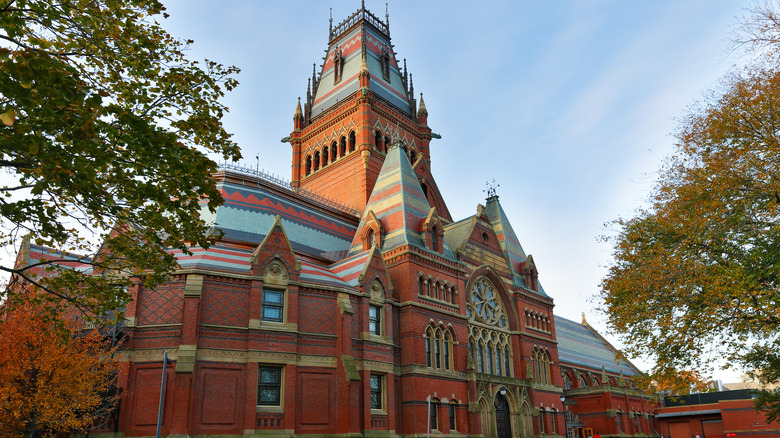 Jay Yuan/Shutterstock
Home of both Harvard and MIT, Cambridge is perfect for academics and those who want a short commute. According to the City of Cambridge, the city officially incorporated in 1846, after first being settled in 1638. The age of the community alone gives it a reverent feel, as most of the buildings in the area were constructed during this period. Later, in 1954, Cambridge leadership formally established 13 neighborhoods within the city, each with its own unique style. There really is something for everyone in this scholarly town on the other side of the Charles River.
Cambridge has a very high score for walkability, and it's not far behind for biking either. While it certainly is feasible to own a car, you might not need one as the town is also well connected by public transport to Boston, the rest of Massachusetts, and beyond. The area is also quite academic, as at least 29% of residents have at least a bachelor's degree, while a further 34.5% have a master's. Because of the high number of college students in the area, locals will find that most amenities are open late and there are a high number of eating and shopping options.
10. Fenway-Kenmore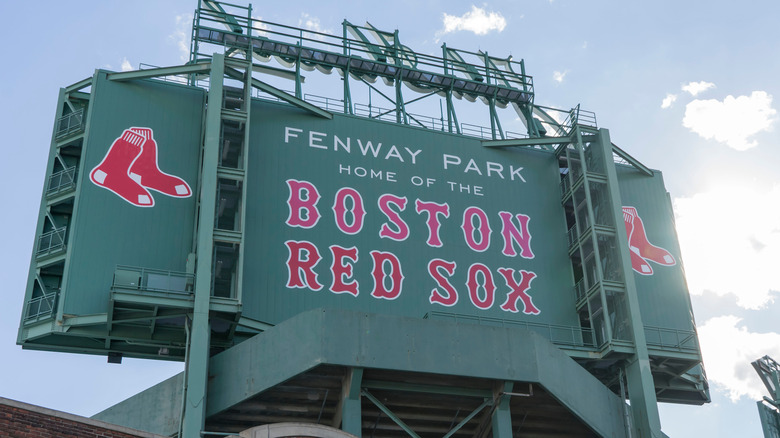 CiEll/Shutterstock
If you're a Boston sports fan, there is no better place to be than in the Fenway-Kenmore neighborhood. You'll be right in the middle of the action, with a short commute and great access to amenities to boot. According to the real estate agent Sage Jankowitz, you can quite literally walk to Fenway Park for Red Sox games from the majority of housing in the area. If the Boston teams make it to the finals, you can easily place your home on a rental platform like VRBO or AirBNB to make a little extra cash during the celebrations.
Even if you don't live and breathe Boston sports, the neighborhood still has plenty of options for you to enjoy. For one, it's not as expensive as the rest of the city. Most of the homes in Fenway and Kenmore are multi-family duplexes or apartment buildings. They typically start at around $500,000 to buy — which, if you take advantage of a program like an FHA loan, only required a deposit of $25,000. With the money you save, you can check out some of Boston's best museums that are right in your neighborhood, like The Museum of Fine Arts and the Isabella Stewart Gardner Museum.
11. Acton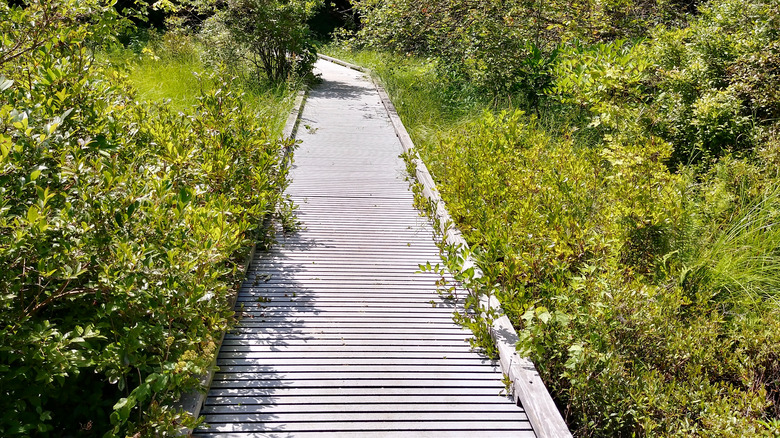 Quiggyt4/Shutterstock
According to Boston Magazine, the once sleepy suburb of Acton can be found northwest of Boston. It takes about 30 minutes to an hour to drive downtown, depending on traffic. This makes Acton a perfect commuting suburb for those who want to live out of the city for lower real estate prices and more land to their name. Acton is just past Concord, and until 2020, was typically overlooked by most homeowners for the latter. When COVID-19 introduced working remotely to more employees, real estate business in Acton began to boom.
Despite growing quickly, Acton still maintains its real old town feel about it. Instead of the latest brunch spots, Instagram-worthy flower shops, and other more modern businesses, you'll find original buildings and shops in downtown Action. There are historical buildings and a town hall, as well as a great local theater scene. However, if you want a special place to eat or a fun spot to grab coffee, just head over to West Acton, which is only a 5 minute drive across the highway. "What people really like about this community is the diversity," said local real estate agent Laura Baliestiero. "There's people of all walks of life."
12. Wayland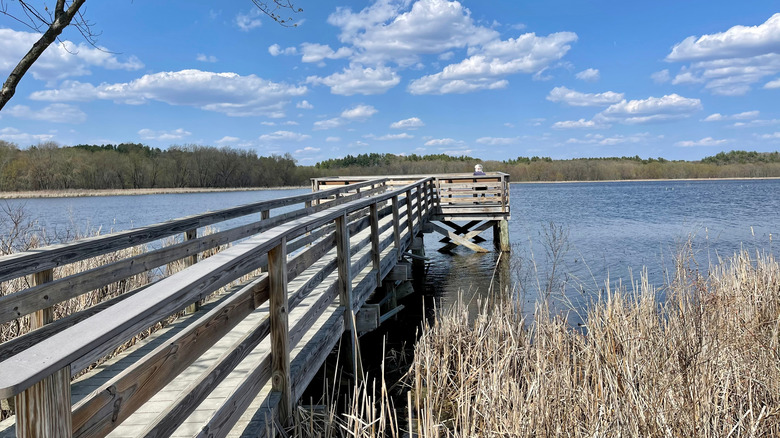 SciTech Photos/Shutterstock
Wayland is a popular place to buy a house around Boston because it has superb schools and is close to nature. Home values have also risen quite quickly, going from a median price of $500,000 in 2013 to over $1 million by 2022. So, by purchasing now, if the trend continues, you will be able to build equity quite quickly. According to Boston.com, Wayland is the perfect mix between urban and rural, as well as modern and colonial, yet it is a bit smaller than other nearby communities. However, the local amenities more than make up for it. "I think most people move to Wayland for the schools," local resident Lauren Alongi said. "It doesn't have quite the cachet of other towns, but I think the schools are as good, if not better, than in other towns."
Something else that residents of Wayland enjoy are the many green spaces in the area, like the Great Meadows National Wildlife Refuge. The area runs through Wayland and a stretch of the Sudbury River, and is the perfect place to spend an afternoon, or even a weekend if you really love the outdoors. Residents can enjoy miles and miles of hiking trails, abundant fishing spots, perfect boat launches, and even places to hunt (via U.S. Fish and Wildlife Service).