Home Depot Or Lowe's: Which Has Better Deals On Kitchen Countertops?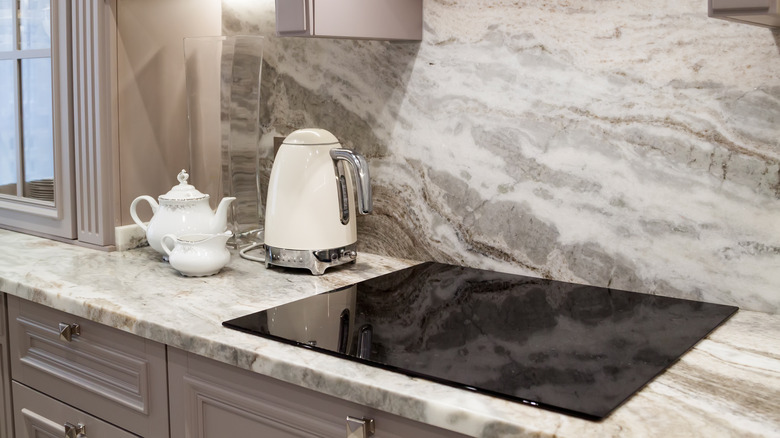 sommthink/Shutterstock
Buying kitchen countertops isn't always simple and should be handled diligently, as there are many aspects to consider. According to Granite Selection, one of your first priorities should be deciding on a budget, including the cost of materials and installation. Next, think about all the other fine details. Not only will you need the exact measurements of where the countertop will reside, but you should also consider whether to replace any cabinets or install a backsplash. After doing so, you'll want to determine an ideal material.
Of course, you have plenty of options, but three of the most popular are granite, quartz, and marble, according to Caesarstone. Granite countertops are perhaps the most popular, as they provide heat resistance and durability, while quartz is a low-maintenance and durable option. Marble, in comparison, is also heat-resistant and will no doubt increase your home value. Other choices include laminate, concrete, and stainless steel, among many others. Now, it's time to figure out where to buy a new countertop, so let's see who offers the better deal: Home Depot or Lowe's.
Home Depot's Hardwood Reflections countertop
One of Home Depot's best-selling countertops is made by Harwood Reflections. Their unfinished model is available in five sizes, meaning there are a handful of price points. The 3-foot-long countertop, which is the smallest option, is available in an island style at just under $160. In comparison, the largest size is 10 feet long and is a standard countertop, which costs roughly $300. Additionally, you can find this design in 4 feet, 6 feet, or 8 feet, and a couple more styles, including desktop and backsplash.
Made of 100% wood, these countertops contain finger-jointed slates to help maximize the strength of the material. Weighing around 110 pounds, you'll need cabinets that can withstand the load. Since the wood is made to be customized, Home Depot recommends adding a sealant within 24 hours of removing its plastic to prevent any cracks or warping. This Old House says to use Weisman's disinfectant and sealer. While a warranty is not known, it can be returned up to 90 days after purchase.
With more than 3,000 reviews, Home Depot's countertops — they can be returned up to 90 days after purchase — have a 4.5-star rating and an 86% recommendation rate. Most reviews are positive, with one consumer stating they were pleased with the material and easy installation. Another said the model worked great for their cabinet color project.
Lowe's Formica Brand Laminate countertops
In comparison, Lowe's most popular countertops are manufactured by Formica Brand Laminate. Available in two sizes, the smaller 96-by-48-inch model sells for a little over $90, while the larger 144-by-60-inch option is $169. These laminate tops can also be cut to fit your kitchen cabinets, as needed, and are finished with a premium reflective coating. This model also features a surfacing technology to enhance scratch resistance and durability. No warranty information is listed.
With just 19 reviews, it has an 85% recommendation rate and a 4.3-star rating. Most reviews are positive; however, a few negative ones are mixed in. One consumer said they would recommend this countertop, as it resembles real granite but at a lower price. They stated that the holographic specs make it look even more realistic.
While this was a close comparison, we believe the better deal can be found at Home Depot. Even though Home Depot's countertops are more expensive than ones found at Lowe's, they also have slightly better reviews and a higher recommendation rate. Additionally, while each listing doesn't contain warranty information, Home Depot has a 90-day return window, whereas Lowe's does not.